While there's a wide range of motorcycle security options out there, only a few of them will actively deter thieves. To help you keep your bike secure, we've analysed the most effective motorcycle locks on the market and assessed them against a range of important criteria including type, size and durabillity. Different locks are suited to different situations, this comparison can help you find the best lock for your motorcycle and lifestyle.
Motorcycle Lock Comparison Table
| | | | | | | | | |
| --- | --- | --- | --- | --- | --- | --- | --- | --- |
| Motorcycle Lock | Our Verdict | Material | Chain Link Size | Size | Weight | Lock Type | Other Features | Check Price |
| Kryptonite | Best Heavy Duty | Manganese Steel | 14mm | 100cm | 6.92kg | Double Deadbolt | Nylon protective cover | Amazon |
| Jacool | Best Lock & Alarm Combo | Alloy Steel | N/A | 120cm | 640g | Brake Disc Lock | 110dB Alarm | Amazon |
| OnGuard | Durable Chain Lock | Titanium-enforced Steel | 12-14mm | 110cm | 3.9kg | Dual Lock | Nylon protective cover | eBay |
| Abus Granit | Best Against Manipulation | Hardened Steel | 14mm Bolt | 20cm | 740g | Brake Disc Lock | Memory cable | eBay |
| Grip-Lock | Highly Portable | Hardened Steel | N/A | 15cm | 330g | Handlebar Lock | Quick to use | Amazon |
| Fosmon | Best Alarm | Plastic | N/A | 10cm | 41g | Vibration Sensor Alarm | Multiple alarm settings | Amazon |
The Kryptonite New York Fahgettaboudit Chain and lock is an intimidating option and effective deterrent. It is heavy (6.92kgs for the 100cm option) which impacts its portability but the incredible security offered may make it worth the extra carrying effort. Either way, it's hard to beat when using it in one place e.g. at home or the office.
The 14mm chain links are made of 3T manganese steel, they are thick and the six-sided shape makes it awkward to use tools to cut through the links. This lock may be the largest and heaviest option on our list but it is highly reliable and offers a huge amount of resilience. Hand tools are ineffective and even a cutting disc or angle grinder will struggle to get through this lock without needing a couple of minutes and making a lot of noise.
This is a suitable motorcycle lock for use in high theft areas. It uses a double deadbolt and has a hardened oval crossbar to offer more strength than round tube locks. The kit includes a nylon protective cover which we appreciate as it not only protects the chain but also helps protect your bike from damage. The set comes with 3 keys, one of which has an LED fob.
While an incredibly effective lock, it isn't quick to use (mostly due to its size and weight). This lock is intimidating, the 100cm option weighs 6.92kgs and acts as a serious deterrent. If you need a lock for regular use in one place, this is the one to choose.
This lock has sensors that will activate a loud, 110dB sound when vibration is detected.
The Jacool Disc Lock can be used on most motorcycles, as long as the brake rotor is less than 6mm thick and cross-drilled you will be able to use this lock. This alarm weighs just 640g as it doesn't require a large steel chain like the Kryptonite lock.
We like how durable the lock is, it is fully water-resistant and is drop-proof so it can withstand the usual wear and tear without issue. The lock also comes with a handy reminder cable so you don't forget to remove it before setting off.
Unfortunately, you cannot set the sensitivity of this unit so it may sound due to high wind. Aside from this, it is a loud alarm and a great deterrent. The lock itself is made from alloy steel and is open and closed using a key.
As this disc lock includes an alarm it does require batteries. It comes with 6 batteries installed and the kit includes 6 replacement batteries too so it is ready to be used immediately.
If you liked the look of the Kryptonite chain but need something a bit lighter, the Onguard Beast Chain Lock is a great alternative. This heavy-duty chain features hexagonal chain links of 12-14mm. It is made from titanium enforced hardened steel and weighs almost half what the Kryptonite does at 3.9kg.
The chain is covered with embroidered nylon for additional security and protection. This lock comes with 5 keys, one of which has a light to help unlock the chain during the night.
Compared to the previous version of this lock, the OnGuard Beast now uses higher-grade materials, improved lock internals and automatic keyway covers. It also has a twist-lock system to make it more user-friendly and easier to lock and unlock.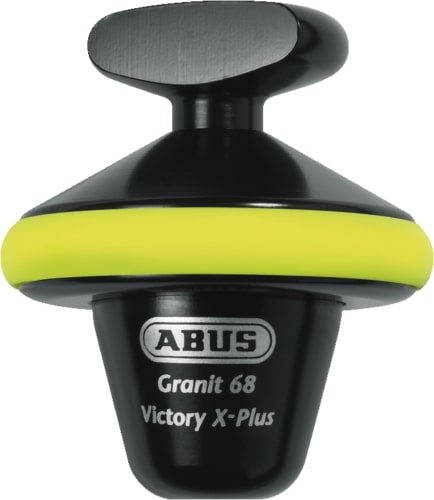 The Abus disc lock is a compact option that is highly portable. It's a great option if storage space is limited when on the go.
This lock is rounded with a 14mm locking bolt which makes it difficult for thieves to target. The lock comes with two keys, one has an LED torch included.
This is a small but strong lock that is made from hardened steel and is highly effective against tools and manipulation techniques such as picking. As it's so small you may forget it is there so a memory cable helps to ensure you remove the lock before you drive away.
For additional security, this can be bought as a chain combination so you can use a lock and chain to keep your bike secure.
This lock mounts onto the handlebar and locks the throttle grip and brake lever in position. It can be mounted to the left or right grip and is one of the quickest and easiest locks to apply to your motorcycle.
At just 330g this is one of the lightest locks of the ones we have reviewed. As it is so compact and lightweight it doesn't need much storage space and can easily be put into the motorcycle storage between uses.
The lock is bright red so acts as a visual deterrent as well as a physical one. It contains four hardened steel cores and is protected from corrosion by the nylon casing. We love how easy to carry this lock is, many others are bulky and heavy making them much more of an effort to use on the go. This one is strong, user-friendly and simple to use.
This bike alarm is slightly different from the others we have looked at. This one is designed to respond to vibration or movement. It has a loud 113dB sound that rings out to prevent theft.
The unit weighs just 41g so you can secure it onto your bike and forget about it, meaning there's no need to worry about removing and attaching it you just need to unarm it and remember to arm it again when you park up.
We like that the Fosmon Anti Theft Alarm has adjustable sensitivity settings and 3 different volume settings too. The 7 sensitivity levels let you can choose the best setting for the location and situation, this helps to prevent the alarm from ringing out because of environmental factors such as the wind. This adjustability is something that was lacking on the Jacool sound alarm.
There is also an SOS function that will beep to signal for assistance if an accident has been detected. The alarm is remote controlled so you can arm it, unarm it or set the alarm to sound from the remote.
This unit can be mounted using the adhesive mount or using cable ties and mount brackets. Keep in mind you will want to mount it to the bike in a way that makes it difficult for a thief to remove. This is a good addition to your motorbike security but it is best to use it alongside other methods.
Motorcycle Lock Buying Guide
This buying guide outlines the most common types of motorcycle locks you will come across and the key factors to consider when deciding how to secure your bike. Choosing a high quality, reliable motorcycle lock will keep your bike safe and bring you peace of mind.
Types Of Motorcycle Locks
Each locking mechanism is designed for use on different parts of your motorcycle. The features, weight, and location are all important considerations to make.
Chain
Heavy-duty chains are popular as they are heavy and can be used to anchor the bike to another strong structure such as a railing or gate. The advantage of chains is that they are heavy and difficult to cut. The downside to these locks is that they are not very portable so are best suited to securing your bike in the same spot frequently such as your garage or outside the office.
Brake Disc Lock
A disc lock is fitted into the holes of the brake disc. A motorcycle disc brake is small in size making it easy to store and carry. They are usually brightly coloured as a visual deterrent and to remind you to remove the lock before you drive away. With a disc lock in place, your bike is effectively immobile (but can still be lifted and placed in a trailer).
U Lock
A U lock has a flat or wheel base that is positioned on the front tyre. This is then bolted in place with a steel shackle. This type of security lock is most popular when securing a motorcycle for a longer period of time rather than for short uses. This is because U locks are not as quick and easy to set up as other lock types.
Alarm Lock
This lock comes with a built-in alarm that sounds when movement or vibration is detected, or when the lock is tampered with. The sound is loud and is designed to attract attention and scare off thieves. These are good because they are small, lightweight, and effective.
Handlebar Lock
This lock goes onto the handlebar grip of the motorcycle. It secures the throttle grip and brake lever making it impossible for a thief to drive the bike away. As the lock mechanism is compact and sturdy it is difficult to cut and manipulate. A handlebar grip lock is another lightweight, highly portable option that doesn't take long to position. This makes it a good option for daily use.
Important Factors To Consider
Material
The lock needs to be strong and resilient, it should be very difficult to damage. Ideally, it should be made from hardened steel or a similar strong metal. For longevity and added security, the motorcycle lock should also be rust-resistant.
Durability
The locking mechanism should be able to withstand manipulation and attacks with tools. Most motorcycle locks come with a tested security rating (out of 10) that lets you know how strong they are. If you are parking your bike in a high-risk area look for 10/10 locks as these are the most robust and make it the most difficult for your bike to be stolen.
The most effective locks are anti drill and take at least a couple of minutes to break with an angle grinder.
Visibility
It is good for the motorcycle security to be highly visible as this will deter bike thieves from trying to steal your bike in the first place. If they can see your motorcycle is well protected they will decide it is not worth the effort of trying to steal it. Bright yellow or orange are the most popular motorcycle lock colours as these can still be spotted at night.
You want it to appear to take a long time to steal. $100 disc lock on rear wheel, $150 chain/lock combo through hard parts not chain and not wheels, if it has to be a wheel put it through the rear one, lockable bike cover, and keep your steering locked.

ex motorcycle thief
Portability
If you park your bike in the same area every evening (e.g. outside your home) then a heavy-duty chain is a suitable lock option. However, if you are looking for a lock you can move around with then a heavy, bulky chain may not be your best choice. A grip lock and a disc lock are both good examples of portable locks that can be easily stored for use in various locations. Some portable locks come with a carry case for protection when in storage too.
Installation
The lock should be difficult for thieves to remove but it should not make your life difficult. The lock should be quick and easy for you to bolt into place and it should have user-friendly features that ensure you can remove it with ease too.
Most locks come with a couple of stainless steel keys so you always have a spare in case, some keys also have an LED light for releasing the shackle at night.
Locks that are positioned out of sight, for example on the front wheel or back wheel may come with a reminder cable so you remember to remove the lock before starting your motorcycle up.
Other Tips
Motorcycle security is most effective when you use a couple of lock techniques together. Paying a little bit more for good quality locks and putting a bit of extra effort in can be what stops your motorbike from being stolen.
Remember the following tips when securing your motorbike:
Use a steering lock.
Don't leave a spare key in your trunk.
Choose locks that will take a long time for thieves to break
When asked what the best motorcycle protection is, an ex-thief commented "[A] quality disc lock on the rear wheel, quality chain and lock, lockable bike cover and theft coverage on your insurance"