With so many excellent models to choose from, there has never been a better time to buy a motorcycle camera helmet to record your ride.
Whether you are looking to analyse your riding skills, capture your stunts, show off the scenery, or as a precaution in case of an accident, we'll help you find the very best model for your bike.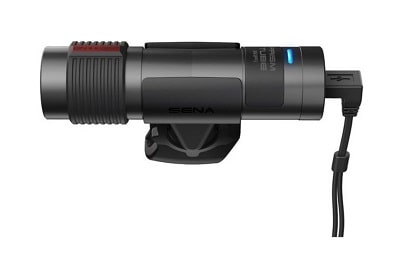 The PT10-10 Prism Tube by Sena combines great performance with ease of use, all at a low price, making it our best overall choice.
Thanks to its 125-degree field of view with full rotation spherical adjustment and a 25-degree camera tilt you can shoot from almost any angle, ideal for catching the best moments of your ride. Use the app to preview your shot on your smartphone and get started with simple one-touch recording.
This WiFi HD action camera attaches easily to all motorcycle helmets with two mounting options, complete with internal and external mics plus wind noise reduction technology for an improved playback experience. At 1440p you get 30 frames per second, although you can benefit from 60 frames per second if you drop back to 1080p resolution.
On the downside, this sleek, compact motorcycle camera has a maximum of two hours recording time and the battery can struggle after one and half hours.
What's more, it can be very slow to transfer videos via the app, making this model less suitable for recording long rides or for frequent uploads. For shorter, occasional videos, however, it's hard to find a better model at this price.
Record your adventure and stay in touch on your ride with the Sena 10C EVO. Not only does it record stunning 4K video, this hybrid motorcycle helmet camera is also a four-way Bluetooth intercom for easy rider communication.
Its Bluetooth connectivity also allows you to listen to GPS directions, as well as taking calls, using voice control, and listening to music, with up to 20 hours talk time. 
HD voice gives you high-quality audio calls, complete with advanced noise control for better conversations and Smart Audio Mix for intercom voice-overs straight to your videos. Fine-tune your helmet camera settings via the app and set up video tagging to create must-see highlights from your ride, the 10C EVO is a top choice for great quality full HD video and images. 
Unfortunately, like the lower-cost Prism, the EVO also has a low total recording time – just one and a half hours. Battery life is not that great either and just like the Prism, you'll also have a long wait to get your videos fully uploaded via the app. Also, it's worth noting that you cannot disable Smart Audio Mix with the EVO, so short of removing all audio, any music or conversations will be on your recording.
Great for staying in touch and for short, high-quality video, the EVO is less suitable if you regularly upload to social media or want to film long rides out.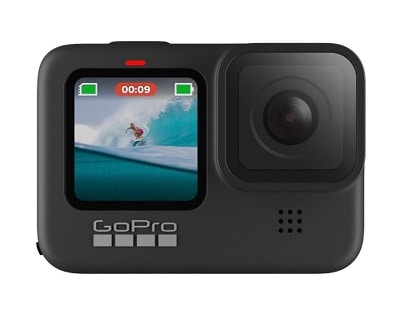 For thrill seekers and motorcyclists alike, the GoPro Hero9 makes a fantastic choice. Fully waterproof and extra durable, you can take it out on your bike in all weather conditions. In terms of image and video quality, this action camera is right up there with the very best.
Thanks to its 23.6MP sensor, you get 5K video and 20MP photos, plus you can adjust your video resolution and frame per second speed. 
For rough tracks, the Hero9's electronic image stabilization feature is unbeatable, smoothing out videos that would otherwise be unwatchable. You can also benefit from using its HyperSmooth Horizon Leveling feature for a steadier shoot when you're riding over uneven open ground.
Compared to previous models, the Hero9 has 30% more battery life although its larger 1720mAh battery adds extra bulk. 
For exceptional footage in all conditions, the GoPro Hero9 action camera is one of the best motorcycle helmet cameras around. It supports live streaming, time lapse and its new Hindsight feature even allows you to capture events that happened just before you hit record. For dirt biking or exploring off the beaten track, you won't find a better model. Areas to improve include its size and microphone quality.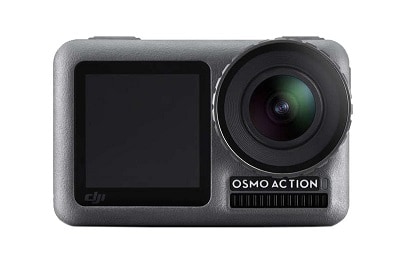 Another excellent action camera that doubles up as a great motorcycle helmet camera, the DJI Osmo Action Cam provides 4K HDR video for stunning footage even in varying light conditions.
Thanks to its 60 fps at 100Mbps video, you get sharp, dynamic details for impressive playback, while its advanced RockSteady image stabilization technology allows for highly watchable off-road filming. 
Use the five voice control commands to film and photograph hands free, this waterproof action cam also supports slow motion at 240 fps.
Designed for extra durability, its three-layer lens is specially designed to reduce glare and distortion even in direct sunlight. Essential for trips off-road, its lens coating repels water, oil and dirt so you can carry on filming even over rough terrain.
This action camera is a lot like the GoPro with crisp, stable images that are of excellent quality, although the Hero9 goes one better with 5K. Like a lot of action cams, the audio is not the very best, but you could pick up an external mic if audio is important to you.
Thanks to its 16% improvement in efficiency, it benefits from superior heat dissipation so it's ideal for longer usage periods. All in all, a great buy for the money with some impressive features. 
While it's not in the same league as the GoPro or DJI action cameras, the F9 HD Motorcycle Helmet Camera by Elikliv is a great budget buy. Ideal for anyone looking to get started video recording their motorcycle rides, it has a full 1080p full HD video resolution at 30 fps.
Despite its compact size, you get an extra wide angle 120-degree field of view, so you won't miss out any of the action in your footage. 
This high resolution helmet cam utilises a high-quality photosensitive element to ensure you get clear images even in low lighting. Robust and highly durable, its aluminium alloy construction can stand up to extreme terrain, while its waterproof case makes it suitable for recording your ride in all weather conditions. As you'd expect at this price, there are fewer control and stabilization features.
Complete with various mounts, including a helmet and a motorcycle mount, this low cost motorcycle helmet camera is well worth trying out if you're new to filming on the go.
It has a good battery time of around 2.5 hours and is TF memory card compatible. While the built-in microphone and poor user instructions could definitely be improved, on the whole, this model a good entry-level helmet camera.
It's easy to record your bike in action with the Blueskysea DV128 Motorcycle Dash Cam. Whether you want to capture high resolution video footage of your bike trip to display on social media or are looking to film permanently in case of an accident, this unit has all of the features you'll need including dual 1080p 30 fps cameras with 130-degree wide field of vision to reduce the likelihood of any blind spots.
Thanks to the drive recorder's 200W waterproof lens you get good images and video footage even in poor light. Use it with a 128G micro SD card to store up to 16 hours of video.
This motorcycle camera will automatically loop, overwriting old files. In case of a sudden shock or collision the G-Shock sensor will prevent your video from being wiped, or you can do this manually via the included wired remote. 
While this model has plenty of good features and camera mounting options, unfortunately, the display is not waterproof. The audio quality from the microphone is not that great and there is no in-built connectivity.
While this is a relatively inexpensive option that could be useful in case of an accident, the picture quality is less impressive than other models with image stabilization technology.
Motorcycle Helmet Camera Buying Guide
There's plenty to bear in mind when choosing the best motorcycle helmet camera. Our comprehensive buying guide will help you find the best model with all the features that you need.
Video quality
Today, even cheap motorcycle helmet cameras have decent video resolution levels. Full high definition video cameras at 1080p are affordable and this will be the very lowest you'll want to go for to ensure that your camera does your ride justice when you play it back on your full screen back home. 
Ultra high definition 4K video quality is becoming more and more common, with some helmet cameras even offering 5K video. If you have the extra cash to spend, it's well worth future proofing your bike videos with superior image resolution levels. 
Durability
Helmet cameras need to be durable to stand up to the bumps of rough terrain, as well as all weather conditions. Make sure that you are looking at a fully waterproof model with a rugged casing. You don't want to have to make frequent stops to check it's holding up alright.
Battery life
Battery life is one of the most important features for a helmet camera. While most models will only run for around two hours maximum, you can purchase additional batteries to extend your runtime for certain models. Otherwise, you can look at using an external power bank, or consider hooking it up to your motorcycle battery if you want to record a long trip.
Connectivity
Bluetooth and WiFi enabled models allow you to transfer your videos without having to physically connect your camera via a computer. Connected cameras typically also have extra features such as gps-tagging and even voice control options. They are also easier to update automatically.
Extra features
Keep an eye out for some of the following extra features for improved video quality and sharing. 
Image stabilization – if you want to capture videos when you're riding off-road, you'll definitely need image stabilization to ensure a clear picture.
Slow-motion – most quality cameras will have a 30 frame per second or 60 frame per second rate. If you want to show off some of your exploits in slow motion, look for models that also have a higher frame rates at 120 fps and above.
Live streaming – capture your stunts live and stream directly to social media. A great extra if you regularly update your channel with new videos.
Time lapse – filming a long day's riding? Time lapse can help speed things up a little without missing out.
Lens protection – make sure you pick a camera with high quality protection to ensure that you don't have to frequently stop to wipe it clean from small droplets and particles.