The best motorcycle GPS not only helps you navigate, it's also an essential device to spend less time planning your route and more time enjoying the ride.
With so many motorcycle GPS units on the market, it can be difficult to know which would suit you best.
In this article, we've rounded up the most popular GPS units on the market and analysed them based on a range of important criteria. Check out our findings below.
The Zumo XT features numerous improvements over the previous top Zumo model, the 595. Not only does it have a larger, brighter, dual-orientation 5.5" screen, but also more features and better processing performance.
The XT comes with preloaded maps and you can display terrain via road or topological maps, as well as satellite imagery. Found a great place? Record and create your track to share with others via the Garmin Drive App.
Like the rugged Zumo 595, the XT also has an IPX7 waterproof rating, however, with this new model Garmin have upped the stakes adding on an additional MIL-STD-810 rating.
This military-grade rating ensures your motorcycle GPS is fully drop, dust, thermal, and shock-proof so you won't have to worry about breaking it on or off the road. Even motorcycle GPS units specifically tailored to the off-roading market don't always offer such high durability levels.
Aside from Bluetooth connectivity, the XT is also WiFi-enabled allowing you to update your maps without the need for a computer, unlike the Zumo 595. Pair with your smartphone to make hands-free calls, listen to your music, and receive live weather and traffic updates.
With its ease of use, improved HD resolution, and Garmin's new adventurous routing option, the Zumo XT is the best overall motorcycle GPS on the market.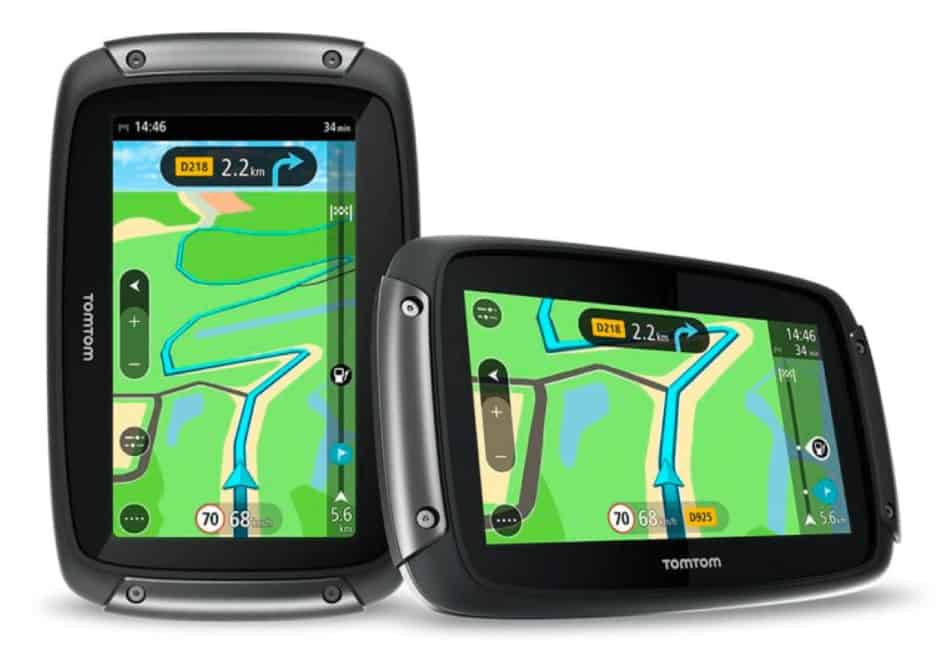 If you're looking for an alternative motorcycle GPS to Garmin, the TomTom Rider 550 makes a great choice. If you are looking for an easy to use motorcycle GPS that quickly plots your round trip this is the one to go for.
Say goodbye to complex route planning and enjoy the ride with MyDrive and TomTom Road Trips. Choose how windy and hilly you want your route to be or sync hand-picked routes directly.
The TomTom Rider 550 has a smaller screen than the XT, measuring a respectable 4.3 inches which puts it on a par with the Zumo 396. Its glove-friendly dual-orientation touchscreen display has adjustable sensitivity levels to suit your kit and preferences.
The Rider 550 is drop-proof, and thanks to its weather-proof IPX7 rating, it's suitable for use in the wet. What's more, its screen sensitivity remains constant even during a sudden downpour. 
Boasting both Bluetooth and WiFi connectivity, like the Garmin Zumo XT and 396 you won't need a computer to update this TomTom model. Connect it to your phone for handsfree calling with Siri and Google now, as well as live traffic updates and speed camera notifications.
If ease of use is your priority the Rider 550 is a great choice for tailored, fun routes without the need for any complex planning.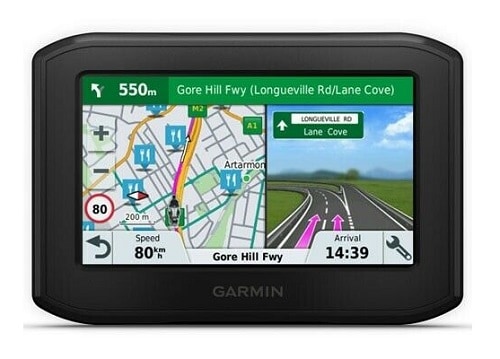 The Garmin Zumo 396 LMT-S is a great budget motorcycle GPS. Just like the Zumo XT and the Rider 550, it comes with both Bluetooth and WiFi connectivity so you can directly update your maps and stay in touch hands free when you're on the go.
Albeit smaller than the 596 GPS navigator with a 4.3 inch screen, the 396 has many similar features at a much lower purchase price, including Adventurous Routing, Easy Route Shaping for on-the-go alterations and Garmin Real Directions for guidance using local landmarks. 
Use the Smartphone Link App to stay connected and wirelessly share your GPX route with other riders in your group. Syncing with your smartphone also allows hands free calling with your Bluetooth-enabled headset, as well as being able to control music and playlists from your phone on your GPS.
The 396 also benefits from a digital fuel gauge to help you plan your next fuel stop, plus a database of motorcycle-specific POIs.
On the downside, the 396's screen is not as clearly visible in strong sunlight as the Zumo XT and you don't get dual orientation. On the other hand, you do get great functionality, easy routing and plenty of extra features, such as a Service History Log, a speed limit indicator and fatigue warning alerts for long-distance rides.
Before it was superseded by the XT, the Zumo 595 LM GPS was the top-of-the-range Garmin motorcycle GPS to go for. It's still a highly popular model, especially since it has gone down in price after the XT's release, making it excellent value for money.
Larger than the Garmin 396 and the TomTom 550, the 595 has a 5-inch touch screen which is visible in full sunlight, just not as clearly as the brighter, higher definition XT.
While the Garmin Zumo XT is for the main part an improvement on the 595, the 595 still has a couple of superior features. Firstly, it is compatible with Garmin's tyre pressure monitoring sensors and its VIRB action camera.
Secondly, it also has a removable battery, which can be handy if you frequently change rides and are not looking to hardwire your GPS to your motorcycle battery. 
Otherwise, if these features aren't of use to you and you have the extra cash to spare, the XT makes the all-round better unit. Also bear in mind that the 595 doesn't have WiFi capability, making the smaller 396 a better buy for anyone without a computer.
That said, for what you are paying, the Garmin 595 really is an excellent full-featured GPS device, complete with Spotify support and 3D terrain view.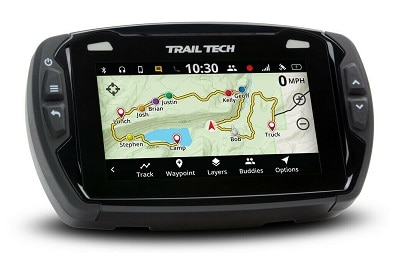 The Trail Tech Voyager Pro GPS is specifically built for dirt bikes and off road adventures. Unlike your average motorcycle GPS, this unit is rated IP67, so not only is it fully waterproof, but also completely dustproof, essential features for dirt biking.
Its 4 inch TFT touch screen has an anti-glare sunlight readable display and fits great on dirt bike dashboards, as well as ADV bikes. 
This off road motorcycle GPS device comes with Bluetooth connectivity to connect your headset and phone. Check on your group with Buddy Tracker, it supports up to 20 members allowing you to view their location on your screen in real-time or to summon them with a Buddy Beacon.
The Pro also supports standard Trail Tech sensors, so you can keep an eye on your bike's vitals as you ride.
Thanks to its excellent maps you get topography lines, hill shading, and trails allowing you to plan your next adventure. Load a GPX trail or record your latest outing and transfer it to or from your PC via Micro SD card.
While this unit certainly isn't cheap, its rugged construction allows it to be used in the harshest riding conditions. Plus you can also quickly remove it from your machine when you take a breather. 
The Garmin Montana 680t gives you the best of both worlds. Not only is it suitable for off-roading, with high-quality topographic maps, it also has routable road maps so you can use it as a road and off road GPS.
Its rugged, waterproof design is exceptionally tough, although it isn't rated dustproof like the Voyager. Thanks to its chunky design it can even run off AA batteries – ideal to have spare just in case.
Its TFT dual-orientation display is a good four inches and is also clearly visible in direct sunlight. Alongside standard GPS, the 680t also provides GLONASS support for more accurate, faster positioning that's especially useful when you're in a hilly area or one with thick overhead vegetation.
While you're out there, take photos of the view with the eight MP autofocus camera that also geotags your images.
Although you can share your waypoints, routes and tracks wirelessly with other compatible Garmin users, the main disadvantage to the 680t is that it is not Bluetooth enabled so you can't connect it to your smartphone. Use Garmin's BaseCamp software on your PC to plan your next adventure with 2D and 3D maps.
This popular Garmin Montana GPS is a great adventure model you can take anywhere.
Motorcycle GPS Comparison Table
| | | | | | | |
| --- | --- | --- | --- | --- | --- | --- |
| Motorcycle GPS | Our Verdict | Screen Size | Glove-friendly | Waterproof | Connectivity | Check Price |
| Garmin Zumo XT | Best Overall | 5.5″ | Yes | IPX7 | BT, WiFi | Amazon |
| TomTom Rider 550 | Best for Easy Round Trips | 4.3″ | Yes | IPX7 | BT, WiFi | Amazon |
| Garmin Zumo 396 LMT-S | Best Budget | 4.3″ | Yes | IPX7 | BT, WiFi | eBay |
| Garmin Zumo 595 LM | Best Value | 5″ | Yes | IPX7 | BT | Amazon |
| Trail Tech Voyager Pro | Best Off-Roading GPS | 4″ | Yes | IP67 | BT | eBay |
| Garmin Montana 680t | Best ADV GPS | 4″ | Yes | IPX7 | Ant+ Wireless | Amazon |
Motorcycle GPS Buying Guide
Having difficulty choosing the best motorcycle GPS for your ride? Wondering if you even really need a motorcycle GPS at all? Here's what you need to consider.
Motorcycle GPS vs Smartphone
A lot of riders get by just fine with Google maps on their smartphone. After all, it saves you paying out for a motorcycle GPS, but it's not really an ideal set up. For a start, we're so reliant on our smartphones.
Do you really want to see how long yours lasts with all the vibrations, dust and exposure to the elements?
Durability aside, motorcycle specific GPS units also provide you with rider specific features and the capacity to plan a route based on user experience rather than just finding the quickest way.
Whether you want to plan your own tracks or to simply hit route for the best windy roads and an adrenalin kick, motorcycle GPS units really are indispensable.
RELATED: The Best Motorcycle Phone Mounts
Riding Style
It's really important to consider your riding style when purchasing a motorcycle GPS navigator. Obviously anyone who mainly dirt bikes is not going to have the same criteria as the owner of a vintage cruiser.
Do you want a GPS unit to help you find winding roads, interesting routes, or just the best way to get to where you need to be with turn directions?
Points of interest and alerts for speed cameras can be essential for some road bikers, yet useless for off-roaders.
Map types are another important consideration. Do you need pre loaded topographic, road or both styles of map? You should also consider how easy it is to plan your route with your GPS system and whether it has the capabilities that you require, such as GPX file support.
Screen
A good, clear screen is essential to any navigational device. Motorcycle GPS units need to balance screen size with durability and bike mounting. While some of the best motorcycle GPS units for road use have a 5 inch screen or larger, most off road GPS units are around 4 inches.
A device that can be used vertically as well as horizontally can give you a better idea of what's up ahead on certain tracks.
Aside from size, it's important to have a unit with a glove-friendly touch screen so you can easily make adjustments en route without having to pull over and take off your gloves.
Your GPS unit needs to be clearly visible even in bright sunlight to make sure that your can easily follow what's up ahead on your ride.
RELATED: The Best Motorcycle Helmet Cams
Connectivity
Whether you want to connect with other riders or stay in touch on the road via your phone, connectivity is more important than ever before.
A Bluetooth enabled navigation device allows smart notifications and hands free calling via a Bluetooth headset. You may also be able to listen to music and control your playlists on your paired phone.
Not everyone uses a computer at home, so if you rely on your smartphone and tablet, you may want to look out for a Wi Fi enabled motorcycle GPS unit so you can update your system without having to plug it into a computer.
Durability
Durability is one of the most important features of motorcycle GPS navigators. Make sure that you select a rugged unit with a good waterproof rating for use in all weathers.
Drop proof and dustproof devices are essential for riding in harsh off-road environments.
RELATED: The Best Motorcycle Lock
Battery life
Obviously, you're going to want to hook up your GPS unit to your motorcycle battery in most cases. Riding in midday sunlight with your display on full brightness will drain the battery in a couple of hours otherwise.
If for some reason you are not going to be hooking up your motorcycle GPS look out for models with a lithium ion battery.