A motorcycle cover is an essential accessory that will protect your motorcycle from dirt, UV rays, and most weather conditions. A heavy-duty cover is best as it will last longer and provide better protection against the elements.
There are lots of motorcycle covers available but they are not all made to the same high standard so it's worth taking the time to find a high-quality option. The following reviews and buying guide can help you find the best motorcycle cover for your bike.
If you're looking for a comprehensive motorcycle cover that protects your bike from the elements the Dowco Guardian Weatherall is a heavy-duty option perfect for daily outdoor use.
This cover is waterproof, breathable, and provides maximum protection against rain, mildew, and UV rays. The cover has a reflective moisture-guard vent that helps to prevent moisture from building up underneath.
The Dowco Guardian Weatherall is a universal fit and features an elastic shock cord, a webbing strap, and sewn-in grommets so you can snugly secure the cover to fit your motorcycle.
The underside of the cover is soft cotton to protect your bike from scratches and there are heat shields that prevent hot exhaust pipes from damaging the cover. The storage bag makes it easy to compress the cover for easy storage.
The XYZCTEM all season cover is designed to fit the majority of on and off-road bikes (up to 116 inches). This cover protects motorcycles against rain, dust, heat, UV, and tree sap.
The high quality oxford material is water repellent, mildew resistant, and non-abrasive. There are 2 aluminium lockholes, 2 buckles, and a windproof strap design to help you fit the cover onto your motorcycle with ease.
The breathable material helps to ensure moisture is released and heat is reduced. This helps to keep the motorcycle paint and seat like new.
The XYZCTEM all season cover is a great value option that can fit most bikes, the reflective strips help to ensure the bike is noticeable at night.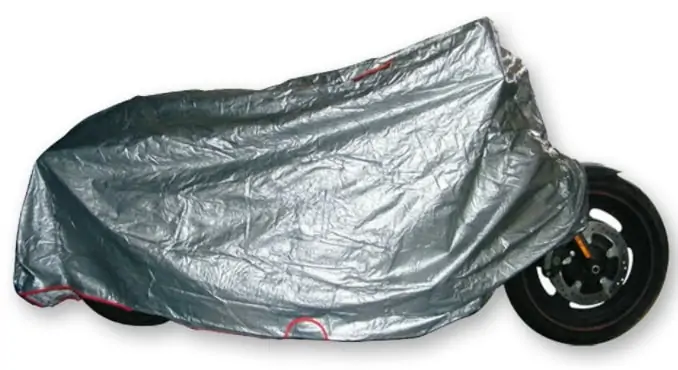 The Autotecnica Stormguard Motorbike Cover is a hard-wearing option suitable for bikes up to 60cc. The inner lining of the cover is soft, plush fleece to provide a non-abrasive, non-scratch surface for your bike.
The cover has an elastic hem which helps to provide a snug fit. There is also space for the cover to be attached to the front wheel using a bike lock if you want to secure it with more than the elastic security straps.
This breathable, UV protected PVC fabric also protects bikes and accessories from harmful sunrays.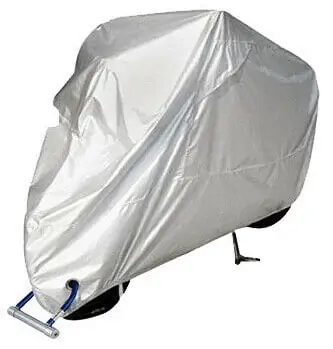 If you're on a budget, this universal waterproof motorcycle cover is a great option. It comes with a matching carry bag for added convenience. This cover is 240cm x 99cm x 124cm so will be able to fit different types of motorcycle.
The cover has a lock hole at the front to secure it with a lock to the wheel. This cover is reversible, the all silver inside is ideal for use on sunny days as it helps to reflect the sun and provide UV protection.
The 210D woven polyester is both waterproof and sunproof. There is an elastic hem that makes the cover easy to position and it also has double stitched seams to ensure the cover is durable and longlasting.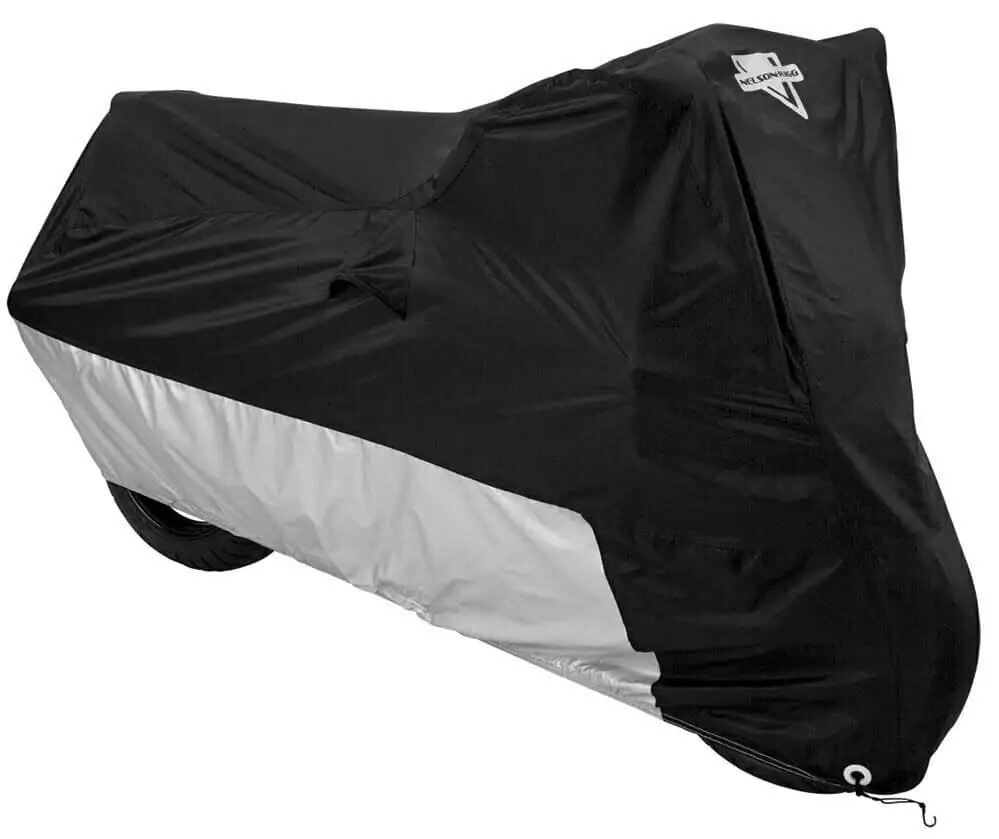 The Nelson-Rigg Bike Cover is a lightweight option that is ideal for light outdoor weather. This is a good option for travelling and for temporary storage as the cover comes with a compression bag for compact packing and does not weigh much at all so won't weigh you down.
This cover is made from UV treated Tri-Max polyester that is water-resistant so can handle light showers. The Nelson-Rigg bike cover features a ventilation system to allow air circulation and has a soft liner that protects the motorcycle against hazing and scratching.
The elasticated bottom has 1 inch lock holes at the front wheel and centre so you can secure it to your bike as preferred. The cover comes in different sizes to suit motorcycles of all sizes. This Nelson-Rigg cover also comes with a 2 year warranty.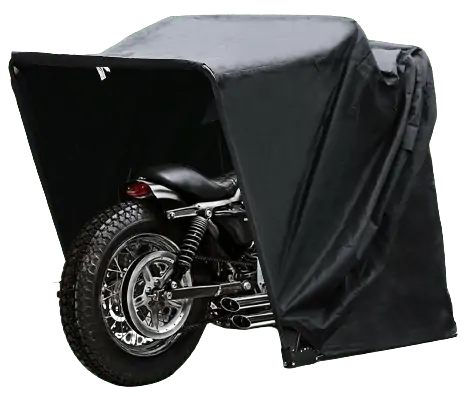 This waterproof shelter features a durable frame that protects your motorcycle from damage as well as the weather. This is a versatile storage solution that can accommodate a large range of motorbikes up to 103″ in size.
The steel frame is easy to set up and can be used indoors or outdoors. It is weather, dust and corrosion resistant and can be bolted to the ground to stand up against severe weather. This makes it a great option for when you park your motorcycle outside your home.
The cover itself is made from 600D polyester oxford fabric which is durable, resistant and fully waterproof. This is the bike cover to choose if you want one that is waterproof, easy to use and protects your bike from being scratched.
It is larger than other options making it unsuitable for use on the go.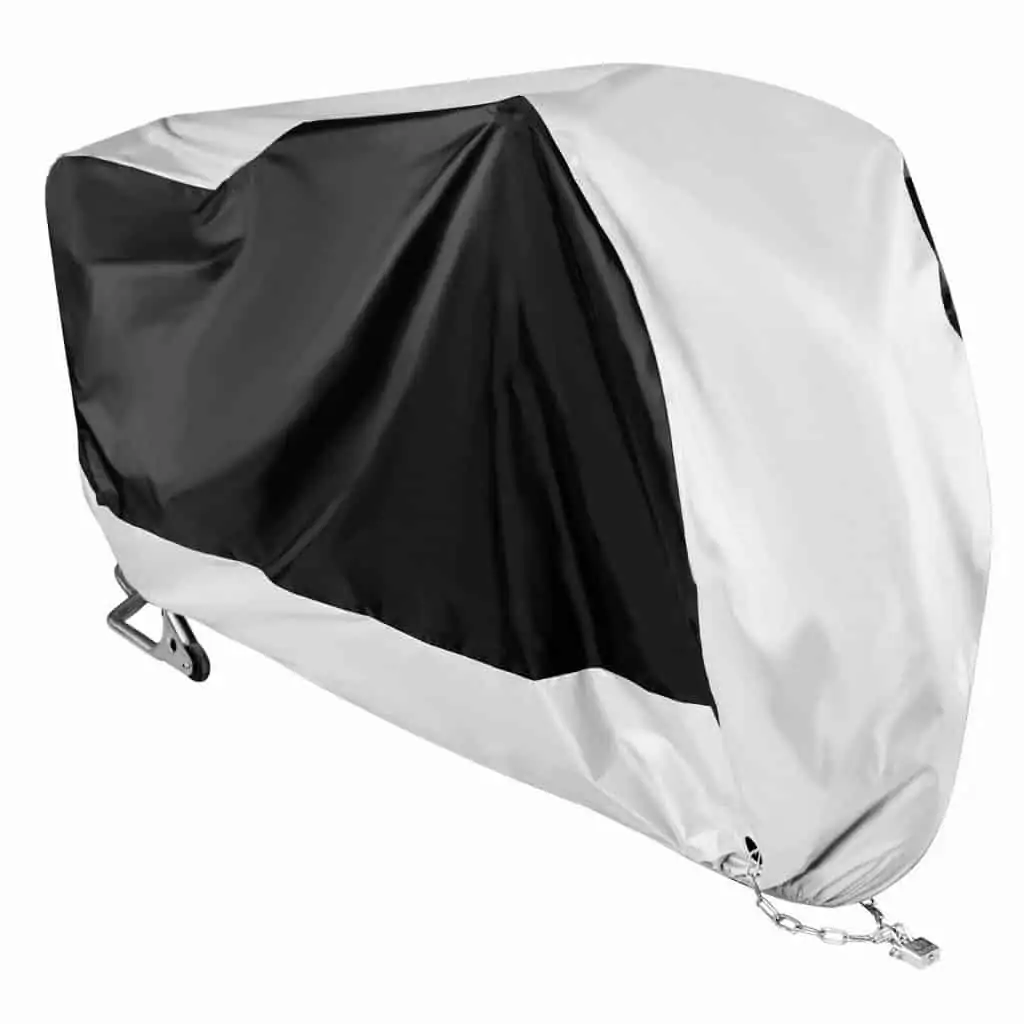 This sun-resistant, rain, snow, and dust proof cover is a low cost option perfect for use on the go. It is durable, easy to use and has an attractive black and silver design.
This motorcycle cover is made with 190T polyester taffeta which can be used indoors and outdoors in all weathers.
This waterproof cover has straps, buckles and an elastic hem making it easy to protect your motorbike. It also comes with a Neverland storage bag so you can easily store it away when not in use.
Motorcycle Cover Buying Guide
There are a couple of key factors to consider when choosing a motorcycle cover. Before you begin to compare options, measure your bike so you know the size of cover to look for and decide if you want to use the cover indoors, outdoors or both.
Material
The cover should be:
Breathable
Lightweight
Water resistant
Most motorcycle covers are made from polyester, nylon, or polyurethane.
Polyester is popular as it is low cost, lightweight, and is water-resistant.
Nylon is very similar but is stronger and more abrasion-resistant than polyester.
Polyurethane is waterproof but is damaged by harmful UV so usually needs sun-blocking protection too.
Size
The size of the cover is important to ensure you can properly protect your bike. Many covers are universal or come in a couple of different sizes (S/M/L/XL etc.). The cover you choose needs to fit the height and width of your bike but without being so large it is awkward to put on or will easily catch the wind.
Ideally, you will want a snug fit that covers the bike, offers complete protection and takes the motorcycle out of view of prying eyes.
Portability
If you will be taking the cover with you in a backpack you may want to go for a thin, light cover as this is easy to scrunch up into a small size for travel. For long term use, a thicker, heavier rain cover is better suited. This will protect the bike from the weather and good quality options have a softer lining to protect the paintwork.
RELATED: Motorcycle Helmet Camera Reviews
Construction of the Cover
The best covers usually have a lower section that is reinforced to prevent abrasion and have a couple of grommets so you can keep the cover in position against the elements. The higher section of the cover is usually vented to minimize condensation and will sometimes be reinforced around the mirrors and windscreen to prevent it from damaging the bike when exposed to the elements.
Other Features to Consider
Heat resistant coating – some covers have heat resistant protection that allows them to be put on without needing to leave your bike for a long time to cool down. These heat resistant areas help prevent accidents and stops the cover from melting on the exhaust.
Soft lining – a soft inner lining will help prevent the cover from scratching the bike's paintwork.
Lock holes – lock holes at the bottom of the cover help to stop the cover from blowing away or being removed by potential thieves.
Installation Support – many covers have elasticated or taped seams that help hold the cover in place by being tighter around the bottom of the bike. Straps are also common for making sure the bike stays fully covered even in high wind.
Weatherproof – choosing a cover that is weatherproof is essential if you will park your bike outside most of the time. A weatherproof cover can effectively provide protection against most conditions. Some covers are listed as water resistant but this means they won't be able to withstand much more than light showers.
Sun Protection – the sun can weaken the bikes materials and cause the paint to fade. It's a good idea to choose a cover that has been protected against harmful UV rays as this will help to ensure the sun is not able to impact your bike through the cover. It will also help to prevent the cover from fading or deteriorating.
Reflective strips – some covers include reflective strips that help keep your bike safe at night. The reflective material can help you distinguish your bike from others and are helpful for seeing where the bike is at night (particularly useful if parked in a car park with dim lighting).