Choosing the best smartphone holder with a magnet mount is far from easy with so many models on the market. We've researched and analysed all of the top models, focusing on adhesion, ease of installation, and general usability. Find out which phone mounts you should be considering in our reviews below.
Small and discreet, the Magnetic Dashboard Car Phone Holder by Ugreen integrates easily into your car interior without obstructing your vision of the road ahead. Designed to make hands-free navigation and on-the-go entertainment much easier to access without removing your hands from the steering wheel, this magnetic phone holder can be easily rotated 360 degrees and tilted to any angle.
Compatible with all smartphones sized under seven inches, it is less suitable for some of the very largest handsets given its ultra-compact size. While the aluminium alloy base provides a solid support, the sticky 3M adhesive requires a smooth surface to correctly adhere, making it less suitable for leather or textured dashboards. 
With four neodymium magnets and a choice of two magnetic metal plates to attach to your phone case, you get good staying power. However, be aware that these plates will interfere with wireless charging and contactless payments with your phone, although they won't affect your phone signal.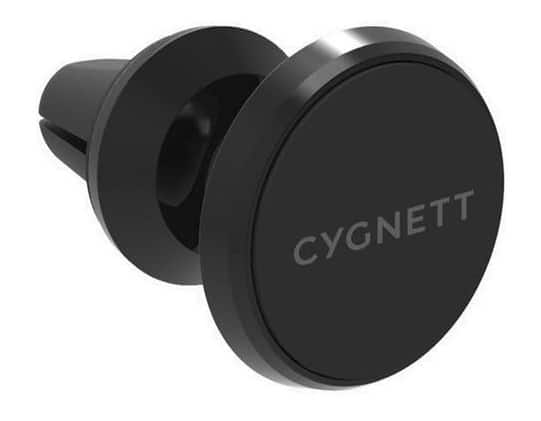 The Cygnett MagMount with Magnetic Vent Mount is a good choice if your car has a long horizontal air vent in a unit that is slightly sloped towards the front. Compact with a premium metal finish, this air vent mount is very easy to install thanks to its simple vent grip – no suction cups or adhesive are required.
Compatible with most current smartphones, you can use this mount with mobile phone cases no thicker than 1.8mm. However, it is not suitable for use with cases that contain payment cards as the powerful magnets can damage them. Thanks to its 360-degree rotation and full pivoting ball joint, you can easily switch your iPhone from portrait to landscape mode for easier viewing and turn-by-turn navigation.
For quick and secure mounting, this model is a popular choice, however, as with all air vent mounts, you will have some disturbance to the flow from your air conditioning. All in all, it makes a good purchase at a great price if you have compatible front air vents.
Unlike standard windscreen phone mounts, this model by Exshow features a powerful suction mount complete with an extra dashboard stabiliser to minimise vibration, making it easier to securely hold your phone in place even on bumpy roads. Like the Cygnett MagMount, this car phone mount also has a swivel ball joint for complete control over your phone's viewing angle and orientation.
This phone mount's suction cup is made from a double layer of TPU material that will stay firmly in place on your windscreen in all temperatures, from -25 right up to 100 degrees C. The extra long 12.6" gooseneck arm can be bent to suit your dashboard allowing you to customise the location of the stick-on stabiliser. 
Compatible with most popular smartphones, including the iPhone12 and the Samsung Galaxy, this magnetic phone holder can securely hold all devices sized between 3.5" and 6.2". Just bear in mind that the magnets will affect any wireless charging capabilities and your phone's compass software, although your GPS will remain unaffected. 
If you charge your phone wirelessly or use it for contactless payments in-store, you may decide to opt for an alternative car phone holder without a magnet. This non-magnetic car mount by Nulaxy features an easy to use one-handed mount and release system, so you won't have to struggle to get your phone secure as with most cradle-style models. 
The included dashboard mount features a strong suction cup that uses a special adhesive gel to ensure that your phone mount stays put. For an uneven or textured dashboard surface, an additional gel pad provides extra strength. Thanks to the adjustable arm and rotational mount, you can easily move your phone out of the way of your CD player or air vents as required.
Compatible with most phones sized between 4.7"-6.5", including the iPhone 11 Pro and the Samsung Note 10 Plus, this car phone holder can be used with even thick phone cases.
If you are looking for a magnetic phone mount to attach to your car vent, this model by Ugreen allows you to position your phone vertically or horizontally, plus it can rotate through a 360 degree turn to give you the perfect viewing angle. Measuring just 58mm high by 38mm wide, this is one of the smallest phone holders around.
This magnetic car mount is suitable for phones sized between 4.7"-7.2" with cases under 1.5mm thick. It comes with a small round metal plate as well as a larger rectangular metal plate, so you can choose the most suitable type for your phone size and road conditions.
Unfortunately, while this magnetic car phone mount is very easy to install, it has a tendency to unclip from the vent when you detach your phone. What's more, the air vent clamp anti-slip protection can become unstuck in the heat. However, it's still a fairly good purchase for the price and it will hold your phone securely above your CD slot. 
Magnetic Phone Holder Comparison Table
| | | | | | | |
| --- | --- | --- | --- | --- | --- | --- |
| Phone Holder | Our Verdict | Attachment Type | Phone Sizes | 360-Degree Rotation | Phone Case Compatible | Check Price |
| Ugreen Dashboard Phone Holder | Best Dash Mount | 3M adhesive | Under 7″ | Yes | Yes | Amazon |
| Cygnett MagMount | Best Vent Mount | Vent grip | Most phones | Yes | Max 1.8mm thick | Kogan, eBay |
| Exshow Magnetic Phone Mount | Best Windscreen Mount | Suction cup, adhesive | 3.5″-6.2″ | Yes | Yes | Amazon |
| Nulaxy Car Phone Holder | Best Non-Magnetic Alternative | Suction, adhesive gel | Most phones | Yes | Yes | Amazon |
| Ugreen Magnetic Vent Phone Holder | Also Great | Serrated clip | 4.7″-7.2″ | Yes | Max 1.5mm thick | Amazon |
Magnetic Phone Holder Buying Guide
If you are struggling to choose which car phone mount is the best for your device, take a quick read through the following essential magnetic car mount features.
Phone compatibility
Even if you've chosen one of the very best phone holders around, if it doesn't fit your phone, it's going to be useless. Most manufacturers have comprehensive lists of which makes and models will work with their phone holders, so make sure you look out for your exact type of iPhone or other smartphone. 
If your phone isn't listed as being suitable for a magnetic mount, you may be able to double-check compatibility by finding out your phone's size. You can compare this to the size guidelines or to other listed models that are the same size.
Phone holder mounting type
Choose your phone holder type depending on your dash layout, as well as your personal preferences.
Windscreen magnetic mount – Installing your iPhone or other smartphone in a windscreen magnetic mount generally allows you to keep your eyes on the road more as you won't have to look down as much to follow your sat nav. Some holders can obstruct your vision, so be careful where you located yours and also make sure that the suction mount is securely fixed before heading off.
Dash magnetic mount – attaching your phone holder to your dash keeps your device clearly visible, yet out of your direct line of vision. If your dash is textured or uneven though, you may have adhesion problems.
Vent magnetic mount – not all models work well with all air vents, so pay close attention to the design to make sure it will work with your car. Also, bear in mind that sticking a large iPhone in front of your vent is going to reduce the amount of cold air you get blowing on you from your AC. As they use clips or grips, vent magnetic mounts can be a lot easier to fit than windscreen or dashboard models.
Adjustable orientation
Make sure that you select a car phone mount that can be angled and rotated in any direction. Aside from allowing you to check what's playing on your iPhone playlist, a fully adjustable mount will allow you to get the best view of your sat nav on your mobile device at a glance, essential for keeping your eyes on the road.