LED lighting technology has really made its presence felt in the 4×4 market and nowhere more so than with light bars. The last 15 years have seen both development and popularity reach fever-pitch, and nowadays it is rare to see a 4×4 without an LED light bar of some description.
The wide range of mounting options, size, light output and performance, reliability, and versatility mean they won't be disappearing anytime soon. Narrowing down the large choice can be overwhelming, so we've made it a little bit simpler by shortlisting what we consider the best light bars in Australia.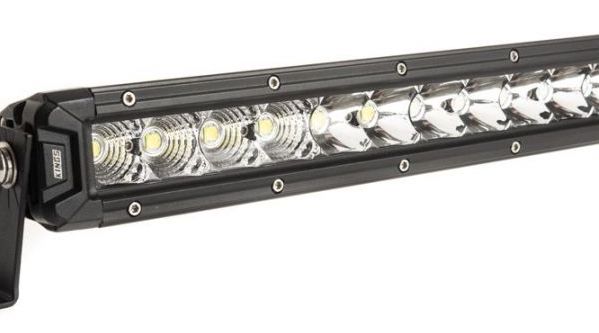 Say hello to the LETHAL MKIII Slim Line LED Light Bar from Kings. This light bar is available in both 20″ (bull bar) and 40″ (roof rack) models and comes at a very affordable price point.
With a 19% increase in brightness over its predecessor, the LETHAL MKIII can shine a blinding 11,152 lumens at your enemies (or the road in front of you), with 1 Lux @ 538.9m.
Its streamlined design is equipped with genuine OSRAM LEDs, and it's rated IP68—meaning it's waterproof up to one metre for an hour.
The Kings LETHAL MKIII Slim Line LED Light Bar has fixed-end L-brackets and mounting bolts, as well as sliding brackets available (sold separately) if required.
Installation is easy. Simply follow this guide from 4WD Supacentre and you should be done in a couple of hours thanks to the Kings Plug n Play Spotlight Wiring Harness.
As a leader in the industry for over 35 years, continuous development has culminated in a range of light bars and driving lights by Lightforce for every conceivable purpose.
The 20″ single row reviewed here is a combination pattern that produces an impressive amount of light; 1Lux @404m.
Built well enough to earn an IP69K rating, you can expect the Lightforce LED light bar to stand up to any abuse thrown at it, be it water crossings or desert treks, night or day. Its 3-year warranty backs that up.
It comes with a wiring harness, making installation all the more simple and any moderately-confident DIYer should be able to attempt installation.
This light bar has a warmer colour range than the rest here (5000K), providing a light that is arguably less fatiguing for extended periods of time. Weighing around 3kg, it's middle of the road for weight but not unacceptably heavy either.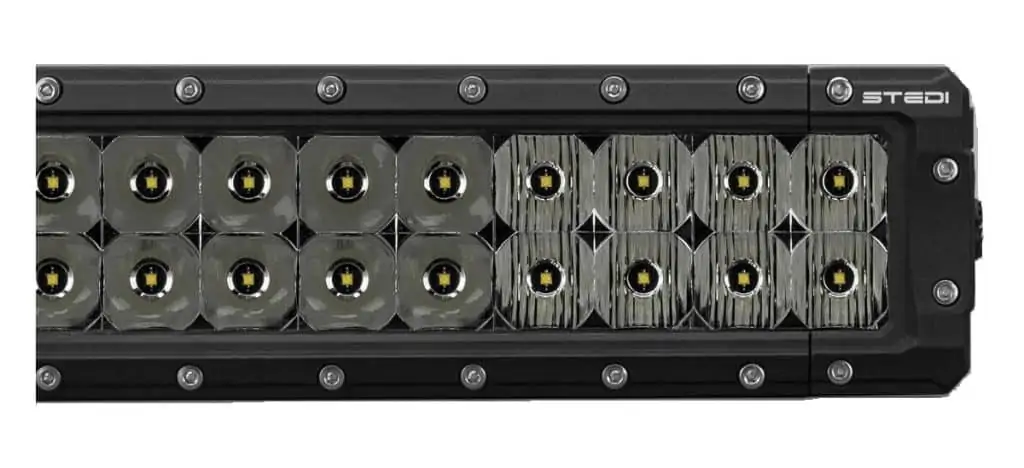 STEDI is a relatively new name but has gained a huge following in the eight years since its inception through clever, thoughtful design and high-quality products. Their sole focus is LED lighting, and it shows.
The 22″ double row light bar here utilises 40 OSRAM LED lights to punch out an impressive 9600 lumens, and punch it does; with a long spot range of 1Lux@663m, there isn't much that will sneak up on you at night. Not to mention a wide 55m spread on each side of the vehicle. This is an excellent combination of a distance and spread beam pattern, so vision isn't compromised.
STEDI have included two options for installation to maximise versatility for installing on any vehicle or accessory; sliding mount bolts to take advantage of existing mounting tabs (for example on a bullbar), or stainless-steel side brackets.
A bargain given its specifications and design, the STEDI STK4-40 light bar has a lifespan of 50,000 hours and comes with a 5-year warranty to further sweeten the deal. It is arguably the best LED light bar on the market today.
This single row LED light bar utilises 20 5W LED lights for a spot beam pattern and produces a total of 9800 lumens. With a claimed 50,000 hour lifespan (and backed up with a 5-year warranty), you could expect to use this light bar non-stop for nearly 6 years.
With the included versatility of a Deutsch connector, installation is made much simpler if you choose to do it yourself with one of the many wiring kits readily available.
Not only is it made from a durable and tough aluminium body and polycarbonate lens, but it is also fully sealed and rated to IP66 and IP68 so it can be completely submerged in water for any period of time.
It isn't the cheapest here, but with this light bar, you're buying into one of the biggest lighting brands in the country. Basically, if you can drive there, the Narva light bar is virtually guaranteed to light the way and for a long time.
For unprecedented visibility, it is hard to go past one of these 50-inch light bars from LIGHTFOX. If you do a lot of night driving and have a roof rack, this might be a great option for you.
With a whopping 356 LED lights, the output is the least of any concerns. Producing a spot range of 1Lux@620m, and 170-degree spread from the floodlights, the LIGHTFOX RFD-QR50BT-L will answer most questions asked of it and enhance vision at night no matter what vehicle it is on.
Clever heatsink housing should enhance reliability, and the IP68 rating gives further peace of mind. That it comes already with a DIY wiring kit means there is little to fault with this ultra bright light bar package.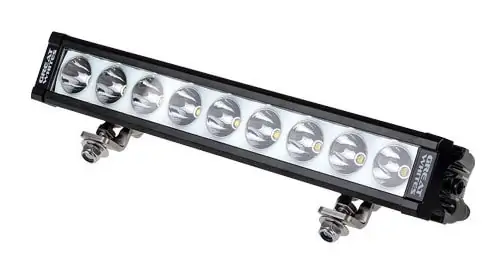 This single row light bar from Great Whites is a great option for mounting on a 4×4 that hasn't got a bullbar. At a relatively compact 350mm in length, it has a small enough profile for mounting in myriad places, including above a number plate or on a nudge bar. A wide light bar can be troublesome to fit in some circumstances.
Producing a strong beam of light with a 1Lux range of 250m, it also has a light colour of 6000K which is in keeping with most of the light bars here.
Great Whites offer a separate number plate bracket mounting kit specifically for this light bar. There's of course some risk of significant damage even with a polycarbonate lens and aluminium housing, something to be mindful of when mounting low on the front of a car.

A double-row light bar made up of 40 3W OSRAM LED lights, the XTM 21-inch is a combo beam meaning both flood and spotlights. 8,000 lumens is a competitive and bright light output even amongst these stellar light bars, some of them more than ten times the price of this one.
With a tough polycarbonate lens and IP67-rated, this light bar can be submerged for up to 30 minutes, so while not as waterproof as some here, it is more than sufficient for most drivers looking to take their 4WD through water crossings.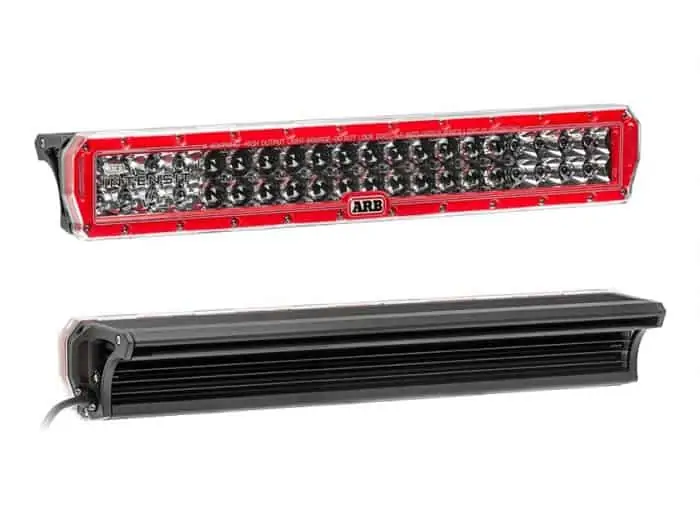 ARB is a leader in almost all things off-road, and its catalogue reads like a wishlist for anyone who wants to build the ultimate 4×4. This light bar highlights how far ARB push the limits with research and development.
Producing a scarcely believable 1Lux @ 926m, no other light bar here can touch the ARB when it comes to illumination in front of the vehicle. 20m of spread on either side also means vision up-close isn't sacrificed.
Over 25,000 lumens is not to be understated, and all this from a 20-inch light bar with just 40 LED lights.
With numerous mounting brackets for attaching to bullbars, nudge bars, or roof racks, the housing of this light bar is also cleverly curved in profile, meaning installation on a bullbar or roof rack can be more integrated (especially on ARB's own bullbars).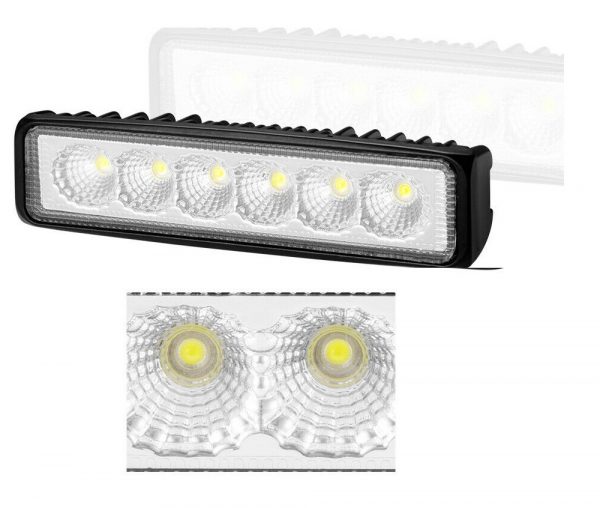 If you want to dip your toe into the LED driving light pool, you could do worse than this pair of single row light bars. While they are small, with a 1Lux @ 150m range they perform admirably for a flood pattern.
While this product may be at the low-end in terms of price, it still has an alloy housing and comes with an IP68 rating.
Each light bar has a central mounting bolt, ideal for replacing old foglights or for installation on a bullbar. A 1-year warranty is by no means earth-shattering, but fair given the price to play.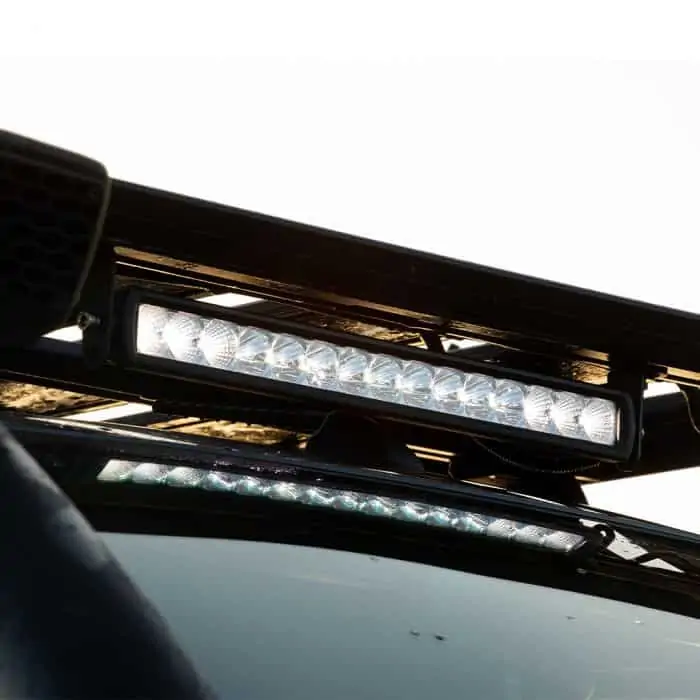 At a red-hot price point, TJM offers this excellent light bar that will make any view ahead as bright as day. 1Lux @ 438m is excellent and on a par with others here, as is the colour temperature of 6000K.
Its only very small negative point is its IP67 rating, which means 30 minutes of water submersion. Where others offer IP68 or IP69K, it is left wanting a little.
Its combo beam pattern makes it versatile, as does the cross-sliding brackets that make installation on any bull bar or roof rack a breeze, and a 3-year warranty is perfectly acceptable. It is light, too; 1.32kg makes it one of the lightest on our list.
Light Bar Comparison Table
LED Light Bar Buying Guide
So, you've decided you want a light bar. What is your primary reason for it? Where will you mount it? Where are you driving when you expect to use it? There are a lot of things to consider when selecting light bars, but we have covered the most important ones here to help with your choice.
Light Bar Length
Before LED light bars there were driving lights, split into two categories; fog lights and spotlights. These were normally 6 inches (150mm) or so in diameter, so installation was relatively simple and straightforward on a bullbar or a bumper bar.
That's not to say light bars are particularly hard to mount; their low weight and slimline design lend themselves to being mounted in many places. However, if you went out and bought the 50-inch long LIGHTFOX (reviewed above) to install it on your bullbar, you're out of luck.
Buy the most appropriately-sized light bar for the intended mounting location. There are so many choices between 6-inch (150mm) and 50-inch (1300mm), so you only have yourself to blame if you don't grab your tape measure beforehand.
Light bars in the range of 20-inch to 22-inch (510mm-560mm) in length are the most common size as installing on most bullbars is straightforward and you have a large range of lighting pattern options and performance on-road or off.
Single Row or Double Row
The biggest difference between a single row and double row light bar is the profile and height; a double row light bar will be higher than a single row option.
This may or may not compromise packaging, but if you can fit a double row light bar it will more than likely be the brighter option (especially if comparing two options from the same manufacturer).
Twice as many LEDs is not an insignificant increase (although like anything, more doesn't necessarily mean better).
Mounting options
An LED light bar can offer supreme mounting flexibility, depending on its size of course. Many 4×4 owners choose to mount a light bar on the bullbar, though this normally limits the choice to anything around 20 inches (500mm).
Mounting above the windscreen, with model-specific or generic mounting brackets to the body or to roof racks, allows for the fitment of these much longer options.
The light bar housing itself can also impact where it may be installed (the ARB light bar above has a clever, curved profile that makes fitting to tube-style bullbars very sleek and integrated).
There are pros and cons to light bar mounting locations. Light bars fitted to the front are much more susceptible to damage. However, many 4×4 drivers with roof-mounted light bars often report light glare shining off the bonnet when they're on, which is not ideal when driving. This issue can be reduced to some extent by careful adjustment.
IP Rating (Ingress Protection)
Waterproofing is an incredibly important consideration for 4×4 owners, especially for electrical components. Knowing what the various IP ratings mean can be the difference between a fully functioning product and endless headaches.
IP is broken down into two categories; the first number is the rating for intrusion, or dust, protection. The second number is for moisture protection.
Almost all LED light bars will be 100% dust tight, so their IP ratings should all begin with a 6. Light bars should also have a high level of waterproofness, but this is not just immersion in water but also protection against jets of water or simply splashes.
Below are the ratings of the LED light bars reviewed here:
IP66 Enclosure – IP rated as "dust tight" and protected against heavy seas or powerful jets of water.
IP 67 Enclosures – IP rated as "dust tight" and protected against immersion for 30 minutes at depths 150mm – 1000mm
IP 68 Enclosures – IP rated as "dust tight" and protected against complete, continuous submersion in water.
IP69 – IP rated as "dust tight" and protected against high-pressure, high-temperature jet sprays, wash-downs or steam-cleaning procedures.
Check out this guide for more information on the various IP ratings.
Lumens Vs Lux Vs Watts
Lumens only tell part of the story. Brightness (visible light) is important, but a lux is a more real-world measurable number when comparing light bars.
1 Lux equals 1 lumen/square metre, or the amount of light produced by one candle that illuminates a one-metre square surface, one metre away from the candle.
Rather obviously, the better the light bar performance, the greater the illuminated distance in front of the vehicle. This is less relevant for a flood pattern than a spot pattern.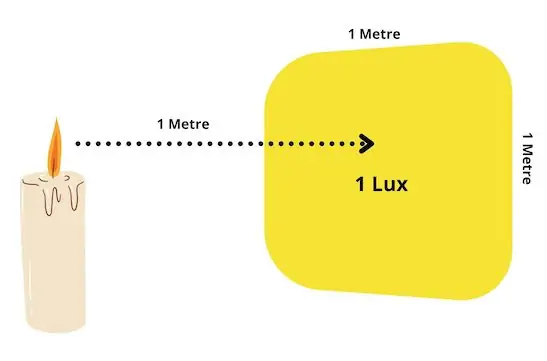 Wattage measures the amount of energy required to produce a certain amount of light per hour. LEDs famously require very little power individually, but when you have something like the 356-LED LIGHTFOX, that will be well over 1000W.
LED Colour Temperature
The colour of the emitted light is an indication of its temperature (measured in Kelvin). Old-fashioned yellow fog lights are around the 2000-3000K range, and what you are also likely to see for interior lighting, described as a warm white.
Moving along, 4000K is a cool white and approaching direct sunlight (4800K). 7000K and above is when the light starts to take on that distinct blue colour.
The LED light bars we have shortlisted are in the 5000K to 7000K range.
RELATED: The Best Battery Box
Lighting Pattern: Distance vs Spread
There are two distinct lighting patterns for LED light bars (or driving lights); spot and flood beams.
A spot beam will still have a small range of spread to the sides, but the design focuses on maximising lighting distance ahead. The lens of a spot beam pattern focuses the light directly in front, while a flood beam will distribute the light out very wide and high (to the detriment of outright distance).
Many LED light bars are described as a combo pattern, offering both flood and spot beam patterns that seem to be the best of both worlds.
There is also a pattern called fog beam. Fog lights are mounted below the headlights, with a very wide pattern but also with a very low cut-off, to avoid dazzling the driver from light reflected back by the fog.
Light Bar FAQ
Are light bars legal to use on the road?
In general, no, but they are allowed to be fitted to a car or 4×4. Australian Design Rule (ADR) regulations mean testing of such lights is often not carried out on every vehicle. Any light bar should be installed in such a way that it does not block the driver's vision, nor cause reflection that impacts vision either. Off-road use at night is of no legal consequence. Additionally, light bars should be installed so they can only come on when the high beams are also in use.
What's better, a light bar or spotlights?
With most LED light bars, you can have a light bar that offers a spot beam pattern, making stand-alone spotlights redundant. If you choose a combination light bar you'll get both a flood and spot beam pattern, which means vision near the car and out ahead is enhanced.