LED lighting has been making inroads across the automotive industry for years, so it was inevitable that the technology would soon come along in a retro-fitting capacity.
However, like with all new automotive technologies, the legislation takes some time to catch up and that is still the case with these replacements for halogen headlights. While there are some legal and physical limitations for fitting a LED conversion kit, there are of course a number of benefits when making the change, too.
Finding the best LED headlight or driving light kit can be a minefield, but luckily there are a number of options here that we think are worth a closer look. Here are our picks for the best LED driving lights in Australia: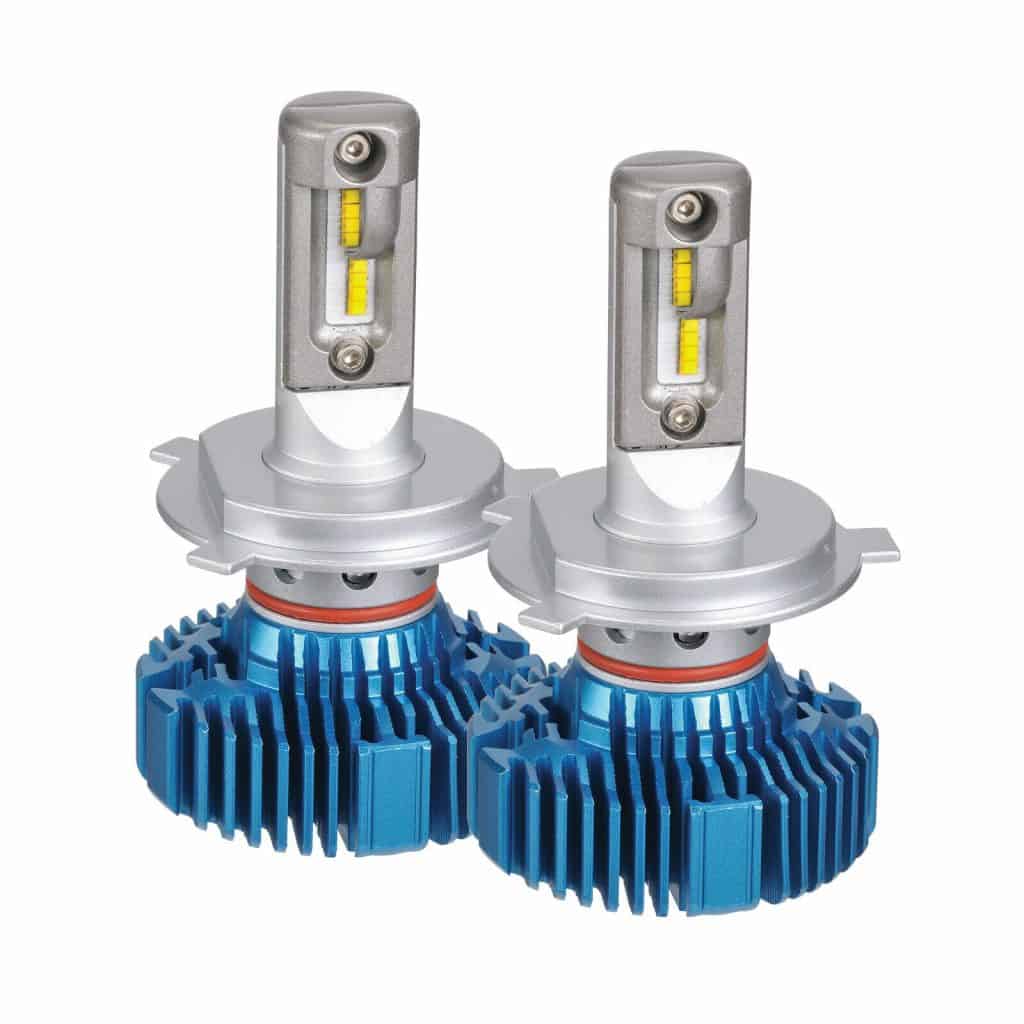 Narva has a lot of skin in the automotive lighting game, so when they release a product it is backed by thousands of hours of R&D. Their LED conversion kits are no exception as they tread the murky waters concerning ADR compliance and the legality of their use.
What does this mean exactly? Narva is well aware of Australian Design Rules and the fact that LEDs NOT factory fitted are in a grey area concerning compliance for use on the road.
However, the design of their LED headlight bulbs replicates that of a conventional filament style with a defined cut-off and beam pattern. So oncoming traffic doesn't get dazzled and where the light is needed it is naturally brighter, as per usual with LED usage.
Narva has also engineered the LED bulbs with an adjustment ring to allow for further adjustment of the beam pattern.
CanBUS and resistor modules are also available separately (to eliminate any warning lights or lighting failures when you complete the swap from halogen lights), and they also come with a pair of T10 wedge-style parking light bulbs for a perfect light colour match.
The bulbs produce 5000 lumens per pair, a more natural 5700K light temperature, and a removable heat sink makes for easy installation.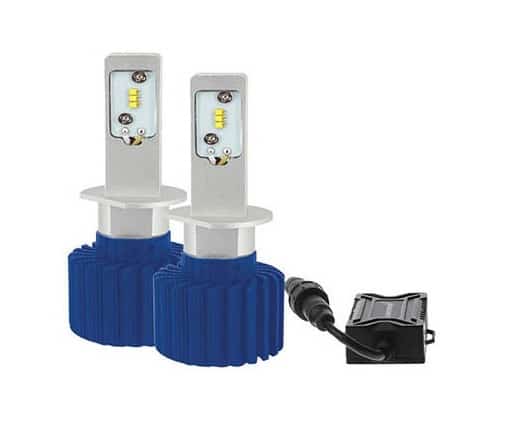 Thunder has made a name in Australia selling a wide range of 4×4-focused accessories as well as electrical products (like inverters, battery management systems, light bars and driving lights, and switches). They have a range of LED headlight bulbs to replace the most common sizes, too.
LED headlights (and LEDs in general) are more able to withstand vibrations and shocks than conventional filament-style, halogen bulbs. This makes them ideal for use on 4x4s or cars that regularly drive on unsealed roads.
All Thunder LED headlights produce 4000 lumens per pair, are IP65- rated, and have a light temperature of 6500K.
While not a simple bulb swap for your existing headlights, the PRO LED driving lights from STEDI are an excellent addition to any 4×4 touring vehicle.
STEDI has really made a mark in Australia with LED-based accessories, and these TYPE X lights are no exception when it comes to light output and quality.
These Type X PRO lights are a pair of auxiliary driving lights, the traditional lighting upgrade before light bars came on the scene. Of course, they've been modernised with a super bright LED array, and thus able to light up the road ahead over 1.1km away.
STEDI make it as easy as possible to wire them up with their vehicle-specific piggyback wiring looms, and installation onto a bullbar or nudge bar is straightforward.
They have an IP68 rating and a 5700K light temperature. Unsurprisingly, we came to the same conclusion about their excellence when reviewing 4×4 spotlights.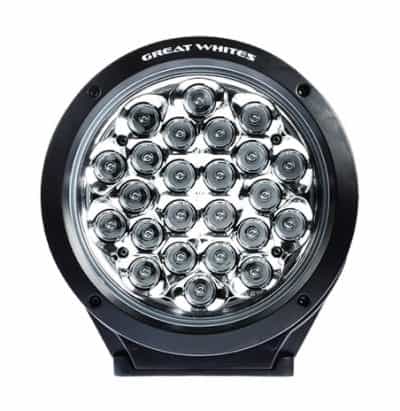 Driving lights like these from Great Whites are an easy way to improve the night-driving experience.
Easily installed and adjusted, this LED light produces a strong 1Lux at 430m, out-performing any conventional high beam.
It is Australian designed and comes with a very generous 5-year warranty. With 13,440 lumens and a 6000K colour temperature, the performance is excellent (but it does come at a price).
Remember this is also just one individual light assembly, not a pair.
The Lightfox LED headlight bulbs are a direct plug and play replacement of your existing standard halogen headlights.
They can be rotated a full 360 degrees to eliminate glare for oncoming drivers by having an adjustable beam pattern.
An LED driver is built in, eliminating the need for an external module. With 12,000 lumens per pair and a 6500K cool white output, they provide a great upgrade over halogen, with the peace of mind of an IP-68 rating.
Beamtech produces a range of LED and HID headlights in the most popular sizes. With over a decade of development, the Asian manufacturer claims to have a pretty good handle on what's what when it comes to replacing conventional halogen bulbs for both headlights and fog lights (in either white light or traditional/classic yellow).
The Beamtech range has both fan-cooled and fanless heatsink designs, important considerations if space under the bonnet is at a premium. Heat dissipation is one of the biggest issues with LED lights and being given different options is certainly useful.
CanBUS shouldn't be an issue, but if it is, Beamtech offers to send a resistor pack to fix this issue. They claim to respond to any customer queries within minutes which provides good peace of mind, and a large number of positive reviews backs up both the customer service and the quality of the products. 8000 lumens per pair, a super white 6500K colour temperature, and IP65-rated.
Sinoparcel claims their LED headlights have no dark spots and, rather boldly, are 200% brighter than halogen bulbs and designed to be anti-glare.
The cooling fan is a replaceable unit and makes the LED installation very easy. They are priced low enough to give potential customers little risk of being disappointed if they don't meet expectations.
A 2-year warranty is very good here, as is lifetime customer support; this is a key distinction these newer Asian companies are able to provide.
CanBUS-ready, 10,000 lumens per pair, a nice white light with the 6500K colour temperature, and IP65-rated; tick, tick, tick.
AUXITO's LED headlights conversion kit has the same light beam pattern as halogen lights and a high-speed cooling fan for heat dissipation. They require no external module to function and thus are an easy to install, plug and play option.
These LED headlight bulbs have a well-defined low beam cutoff to reduce the chance of dazzling oncoming drivers.
12,000 lumens per pair, a bright white 6500K temperature, and IP65-rated.
Aukee's lighting options all claim the relatively standard 30,000 hours lifespan and assurances of no dark spots nor glare for oncoming traffic. Heat is managed by a fan, but they aren't as easy to install as they have an external driver.
Somewhat disappointingly, they're not suitable for newer cars with CanBUS systems, so be aware.
The LED bulb itself is 360-degree adjustable like many here, to better adjust the beam pattern, and they produce 10,000 lumens per pair. With an arguably more comfortable 6000K light colour temperature, these IP68-rated LEDs come with a 2-year warranty to sweeten the deal.
LED Headlight Comparison Table
LED Driving Lights Buying Guide
Types of LED Driving Lights
There are two very distinct categories when discussing automotive lighting, though the terminology sometimes blurs the line:
Primary driving lights. These are your standard low beam and high beam headlights, as per how your car comes from the factory. They are required to meet certain standards of design and lighting output by adhering to Australian Design Rules (ADR).
Auxiliary driving lights. These are additional lights for use in more extreme conditions, like forward-facing fog lights, daytime running lights (DRLs), and of course spotlights and light bars (popular amongst 4×4 owners).
RELATED: The Best H7 Headlight Globes
Since the on-road use of auxiliary lighting is generally not approved, drivers take matters into their own hands when installing and using them.
OE-installed DRLs are useful in countries that mandate daytime lighting like Canada, but otherwise, they dance along the line of legality as they are superfluous to most lighting requirements.
Fog lights are allowed to be used if the conditions are sufficiently poor enough to reduce visibility, like fog, mist, or heavy rain.
LEDs are growing in popularity thanks to their increased reliability and affordability, as well as energy-efficient power usage. More manufacturers are moving away from halogen headlights with every model, and in the aftermarket you can see the plethora of LED lighting gaining more and more momentum.
RELATED: LED Vs Halogen Headlights
LED cutoff and beam pattern
Light beam cutoff creates the required beam pattern, a must for cars to comply with ADR. There has to be a light cutoff to ensure oncoming traffic isn't dazzled or blinded by your own headlights (when operating with a low beam).
If you park your car a few metres back from a wall on a level surface, when you turn on the low beam of your headlights you (should be able to) easily see a distinct lit area with a very clear line, and it should be noticeably lower on the right side of the wall (where oncoming traffic would be). This cutoff is essential and is measured on new cars.
The problem with a poorly-designed LED headlight bulb is the loss of this cutoff and a poorly-defined beam pattern. It means light is wasted and oncoming traffic suffers from being dazzled as a result.
Legality / ADR compliance
To continue from above, on-road use of aftermarket LEDs is a grey area in Australia, and will likely remain the case for some time until it becomes a priority for the United Nations Economic Commission for Europe (UNECE).
Why comply with European regulations? Australia signed on as a member of the World Forum for Harmonisation of Vehicle Regulations in 2000 (it saves manufacturers money and government agencies time and resources if they can use already-available data).
Companies claiming their LED headlight bulbs are ADR-compliant are potentially stretching the truth because the legislation to specifically regulate this use of LEDs doesn't yet exist. Headlight-relevant literature refers to filament-style bulbs, not to LEDs.
ADR also regulates for light colour, and anything beyond the 7000K colour spectrum will more than likely not be ADR compliant, regardless of the style of lighting source.
RELATED: Best H4 Headlight Globes
Projector Vs. Reflector Headlights
The LED headlight bulbs reviewed above are best fitted to reflector-style headlights, but what are they, and how are they different to projectors?
Reflectors work exactly as the name suggests; a headlight bulb is installed in a bowl or cup that is designed to reflect the light in the desired direction in front of the vehicle. They've been around for decades and are cheap to manufacture.
Projectors also use reflector bowls to redirect the light from headlight bulbs, but instead of going out onto the road the light first passes through a lens which serves to further increase the brightness of the light by focussing it where it is needed. There is less wasted light and the cutoff is even sharper.
Projector headlights are a definite improvement over the more conventional reflector style, but many older cars didn't come with the option.
While projector retrofitting kits are becoming available on popular models, once again they tip-toe along the line of legality for road use. This is because projector headlights have regulations that require auto-levelling and headlight washers to minimise the chance of dazzling other road users, but also because poorly-made or installed projectors are simply dangerous and ineffective.