Caring for leather in your car's interior is essential to prevent it from fading and cracking. Unlike most other surfaces in your car, leather cannot be properly cleaned with a general multi-purpose cleaner, instead, it needs a leather-specific cleaner and conditioner. The best leather cleaners are high quality, easy to apply and clean, restore and protect your car seats. Below are some of the best car leather cleaners on the market. 
Mothers All-In-One Leather Care is one of our favourite car leather cleaners for a variety of reasons. First of all, it is a two-in-one cleaner and conditioner so it can simultaneously clean and treat leather interiors. This means caring for your car seats will take one easy step rather than multiple. Being an all-in-one product makes it quick, effective and effortless to use. 
This leather care has a pH-balanced formula that deeply cleans leather car seats and leaves them looking smoother and feeling softer. It also sprays evenly and absorbs in seconds so you don't need to wait for the product to dry.
This is a versatile cleaner that is perfect for cleaning and conditioning your car seats.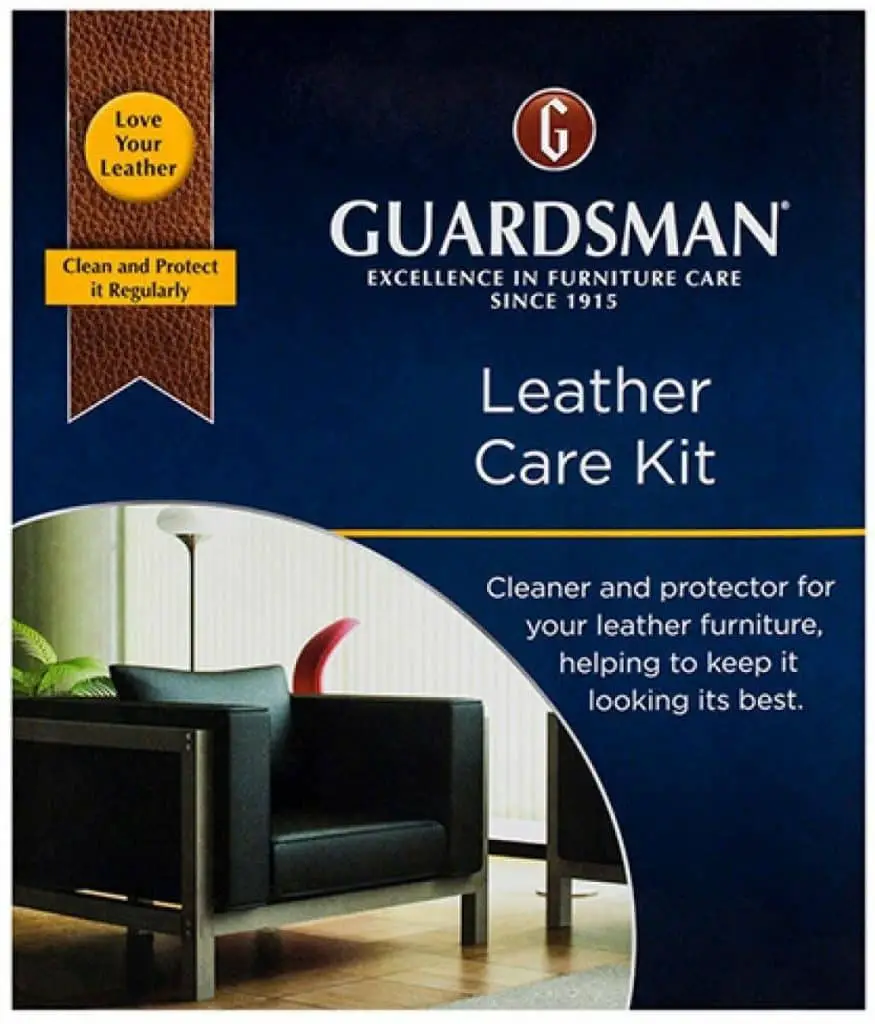 This leather care kit comes with everything you need to care for your car's leather. It has a cleaner, conditioner, sponge and specially-treated ink remover wipes for getting rid of ink or lipstick stains. 
The Guardsman Leather Care Cleaning Kit is ideal for renewing, cleaning and protecting leather. It is gentle yet effective and gives leather seats a protective coating so they will be kept in good condition for longer. 
As this set comes with everything you need, you don't need to buy other sponges or supplies to get started. The only downside to this kit is that it doesn't offer the same level of UV protection that other leather care products do. 
Leather Honey is a tried and tested leather conditioner that has been regarded as one of the best since 1968. It is ideal for use in cars because it is versatile and long-lasting.
The conditioner is smooth, clear and applying it to your car's interior is like a dream. It's clean and easy to apply and it can protect your leather from rain, snow and water. 
This conditioner is the best for car seats and motorcycle seats. It's safe, clear and non-toxic and produces amazing results. The one thing to keep in mind is that Leather Honey is designed for use on real leather only and should not be used on faux leather.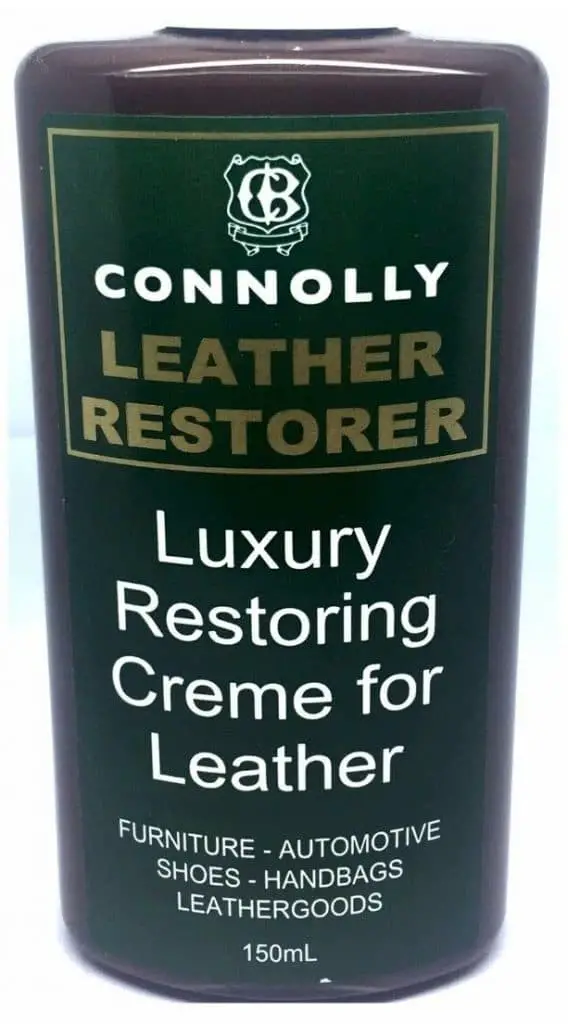 This cleaner and restorer combo from Connolly is high quality, reliable and easy to use. It comes in 16 colours so you can choose the colour that best matches your car's leather. 
The combination of cleaner, conditioner and colour helps to bring old and tired leather back to life. It cleans, nourishes and protects surfaces. 
This set takes a bit more care and time to apply and it doesn't help with weatherproofing leather. 
The Aero Cosmetics Leather Cleaner stands out because it is a Boeing Aircraft certified interior cleaner with D6-17487R rating. If it's good enough for planes, it's good enough for car seats right? This cleaner is easy to apply, effective against dirt and grime and is safe for use on premium leather. 
The cleaner is gentle but fast-acting full-grain. It is safe, non-toxic and is free of fumes and harsh chemicals so it's ideal to use inside a car. 
The Aero Cosmetics Leather Cleaner is designed to be used with protected leather materials so if you have untreated or unprotected leather it may be better to choose another product. 
This conditioning cream from Oakwood is made using premium Australian ingredients including beeswax, eucalyptus, lanolin and tea tree oil. It is a thick cream that effectively refreshes and rejuvenates leather. It leaves leather seats feeling soft and new.
This cream is safe, efficient and easy to apply. It's great for use on new and old leather and is designed to penetrate the material to extend its life span. It also gives leather a water-resistant coating which is perfect for car interiors. 
As this conditioning cream contains eucalyptus and tea tree it leaves the car with a subtle, pleasant fragrance. The downside of this cream is that it is not as effective when it comes to UV protection as other options. Otherwise, this is a refreshing cream that is long-lasting and prevents leather from drying out. 
Leather Cleaner Buyer's Guide 
If you want your car leather to look as good as new it's time to invest in leather cleaning and conditioning products. There are lots on the market, so this buying guide will help you choose the best option and clean your car's leather without damaging it. 
Safely Cleaning Different Leather Types 
The first thing to find out is the type of leather you will be cleaning. Most of the most popular leather is made from cowhide as it is durable and long-lasting. This guide focuses on how to clean different types of cowhide leather as this is the most common leather that is used for car seats. 
Semi-Aniline 
Semi-aniline is what many real leather car seats are made with. Aniline is leather that has been through a specific dying technique. It can be semi, full or pull-up but we are focussing on semi. Semi-aniline leather has a smooth and evenly dyed surface. It is usually easier to clean as it is thickly coated with special sealants. 
Coated Full Grain Leather 
This is a high-grade leather that has visible grain and is lightly textured. It has a more natural look and feel to it than the smooth Aniline leather does. If your car has full grain leather, use a cleaner that has been made specifically for this leather. 
Nubuck Leather 
Nubuck leather is a highly durable and water-resistant material. It is usually sealed but is not treated or coated like the above leathers are. Nubuck leather doesn't need to be cleaned and maintained in the way Aniline and full-grain leather does. If you decide to clean this material you need to be very careful as it can stain and warp easily. 
Suede 
Suede is similar to Nubuck but it is softer and has a more velvety texture. Suede needs to be cleaned with a specific suede cleaner rather than a leather cleaner. It is easy to chaff, stain and damage suede so take care when cleaning this material. 
Tips For Leather Care 
Fortunately, car seats are built to withstand wear and tear making them easier to clean, condition and care for. These tips will help you get your leather looking its best.
1. Use A Leather Brush Or Sponge 
The right tools can make cleaning leather surfaces easier. They help you to get into any folds and crevices so you can remove the dirt and treat the leather without damaging it. A leather brush or sponge is gentle but effective and you will often find they bring better results than using a cloth. 
2. Clean & Condition
You can think of leather cleaner and conditioner like shampoo and conditioner. Cleaners are designed to get rid of dirt, grime and stains while conditioners are designed to restore and protect the leather. 
Some products are 2-in-1 meaning they both clean and protect leather without needing to use multiple cleaning solutions. We'd recommend cleaning and conditioning your car seats. The cleaner will help make them look new and the conditioner will help protect the seats from the sun and elements. 
3. Deep Cleans Are More Effective 
Choose a deep penetrating conditioner for your car seats. Caring for leather is more than just caring for the surface of the material and a deep penetrating conditioner will be more effective. It helps to protect your car's interior from UV rays and ensures your leather car seats will last a long time. 
4. Create A Cleaning Routine 
Clean and condition your car seats routinely to help keep them looking their best. As car seats are usually a high-traffic surface where they get used often they will need regular maintenance. Usually, leather care products will provide you with a rough guideline of how often you need to apply the cleaner and conditioner.