Key finders have been growing in popularity in recent years and a few brands (e.g. Tile) have emerged as big names in the space. However, not all key finders are created equal, and there are many things to keep in mind when choosing one. In this article, we've rounded up the best key finders on the market and assessed them against a range of important criteria including connection range, alert volume, user experience and key features. Below are our findings to help you choose the best key finder for you.
Key Finder Comparison Table
| | | | | | | | | | | |
| --- | --- | --- | --- | --- | --- | --- | --- | --- | --- | --- |
| Our Verdict | Key Finder | Technology | Range | Alert Type | Alert Volume | Receiver Size | Power Type | Replaceable Batteries? | Battery Life | Check Price |
| Best Overall | Esky RF Key Finder | Radio Frequency | Up to 100ft | Sound | 70-80dB | 4.7 x 3.2 x 0.5 cm | CR2032 batteries | Yes | 6 months | Amazon |
| Runner Up | Redpinguo Key Finder | Radio Frequency | Up to 130ft | Sound and LED light | 80-85dB | 5 x 2.6 x 1 cm | CR2032 batteries | Yes | 6 months | Amazon |
| Great Features | Nut Smart Tag | Bluetooth | Up to 164ft | Sound and map location | – | 3.6 x 3.6 x 0.4 cm | CR2032 batteries | Yes | 6 months | eBay |
| Loudest Alert | Tile Mate | Bluetooth | Up to 200ft | Sound and map location | 119dB | 3.5 x 3.5 x 0.6 cm | CR1632 batteries | Yes | 1 year | Amazon |
| Best Shape | Orbitkey x Chipolo Tracker | Bluetooth | Up to 150ft | Sound | 90-95dB | 6 x 1.9 x 0.4 cm | CR1620 batteries | Yes | 6 months | Amazon |
| Excellent Range | Cube Pro | Bluetooth | Up to 200ft | Sound and map location | 101dB | 4.2 x 4.2 x 0.6 cm | CR2025 batteries | Yes | 1 year | Amazon |
| Easy to Use | Seeker Smart | Radio Frequency | 49-98ft | Sound and LED light | 80dB | 4.7 x 3.2 x 0.6 cm | CR2030 batteries | Yes | 6 months | eBay |
The Esky RF Key Finder is simple to use and requires nothing more than what is included in the pack. It relies on radio frequencies to locate the receivers so you don't need your smartphone and you don't need to download an app which makes it suitable for most people to use.
The pack comes with 6 key finders, these are small, slim and lightweight so you can attach them to a key ring, bag, wallet, pet etc. Many key finders come with between 1 and 4 receivers but this pack includes 6 which is excellent value for money.
The range of this key finder is 50-100 feet and the frequency isn't hindered by walls, doors, bags etc. meaning you can still find your keys if they are in another room or hidden away under other objects.
The kit comes with batteries, keyrings, velcro and a stand for the transmitter. The batteries need to be replaced every 6 months or so. You're also going to want to position the transmitter in a central, memorable spot because if you lose this there is no way of locating it. Some other brands let you locate the remote by pressing a button on the receiver but this is not available on the Esky RF Key Finder.
The alert noise of these receivers is good, the volume is 70-80dB. The only thing we will say is that if the buzzer is covered then the sound becomes heavily muffled and quiet.
One of the reasons we think this is the best key finder is it's incredibly easy to use. All you need to do is put batteries in and it's ready to go. The buttons on the remote and each of the receivers are colour coded so you know which button to press. This is a low tech option that offers great value for money.
Similar to the Esky key finder reviewed above, the Redpinguo also uses radio frequency to locate its receivers. Once the batteries are installed the unit is ready to use so there is no time wasted pairing the devices.
These receivers have the added benefit of a built-in light so this can help you locate your lost item at night or in dark areas. Combine this with the loud alarm (80-85dB) and you should be able to locate your lost keys pretty quickly.
The kit comes with 4 key finders, each one is colour coded so there is no confusion about which finder is being activated. The replaceable battery offers a life of around 6 months so these finders require very little maintenance.
The remote comes with a base so you are less likely to lose it. The small size of each receiver gives it many uses and the RF technology can be used to locate items up to 131 feet away. This is impressive but you are likely to get a smaller range in practice as this is the max reach across an open space.
The Nut 2 Smart Tag is a Bluetooth tracker so to get started you need to download the app and pair your device to the tracker. Once connected, you will be alerted if the paired device is more than 30 meters (98 feet away). The key finder tag and app will both beep if they lose connection.
One of the useful features on this tracker that isn't available on the RF trackers is the phone find feature. If you have the key finder but your phone isn't where you thought you can use the tag to call the phone.
Another handy feature is the location record that shows you where your item was last located on a map within the smartphone app. The tags are very small and lightweight so you can attach them to everything from keys to wallets. If you have lost an item and it is out of the 164 foot range you can put a lost statement on the app and this allows other users to help you find your item.
As this is a smart tag that requires a smartphone to be used compatibility should be considered. The Nut 2 tag works with iOS systems 7 and higher and Android 4.3 and higher. The kit includes 1 tracker tag but you can manage up to 6 tags at the same time if you did decide to buy more to track more than just your keys.
If you like the look of the Nut 2 smart tag but you need something with more range then the Tile Mate is a good option. This is the updated version that has a longer 200ft range which is the best range on this list. Tile also produce the Tile Pro, which offers a 400ft range and is a higher alert volume but costs more too.
A key improvement of the Tile Mate compared to past versions is the switch to a replaceable battery. Previously you'd need to buy a new Tile if the battery ran out but now the battery will last a year and when it runs out you can just replace it with a new one.
As Tile Mate is a Bluetooth Tracker it works with a smartphone app and can be used to find your item when it is close by using a sound alert. If you have the tracker but you can't find your phone you can double press the button on the Tile to get your phone to produce a sound. This works even if your phone is on silent.
If your item is out of range then the app displays the most recent location of your item. If you can't find the key finder then you can share it with family/ friends or use the Tile Network to help you find it. The Tile Network is one of the largest lost and found networks so there is a good chance someone will come within range of your item and the app will let you know where it is.
This pack comes with 4 trackers, they are small, slim and have a keyring hole so you can easily and securely attach them to a variety of items including car keys and pet collars.
The Tile Mate tracker is water-resistant and durable. When activated the tracker produces a loud 119dB alert so you will be able to hear it from a fair distance away or from another part of the house. This loud alert on the Tile is actually the loudest of the trackers we've reviewed.
While you can access all the basic features on the app, there is also a Premium option that gives you more features such as smart alerts (geofencing). The premium service also includes free battery replacement.
The Orbitkey x Chipolo Key Finder is a Bluetooth enabled tracker is designed to fit perfectly in an Orbitkey key organiser so you'll never lose your keys again. The design is long and thin rather than round like most other trackers. This shape makes it easier to tuck the tracker away and fits nicely with your keys. The tracker also comes with a tassel for attaching it to larger items.
As with the Tile Mate and the Nut 2 trackers, you can also use the Obitkey x Chipolo tracker to do a reverse search to locate your phone. The key finder range is 150ft and you can locate your items quickly by using the app to make the finder ring. The alert volume is loud at 90-95dB so you'll be able to hear the alert with ease from anywhere in the house.
A unique feature of this device is that you can use the key finder to trigger your phones camera shutter. This is a neat feature that allows you to take group photos and selfies with ease.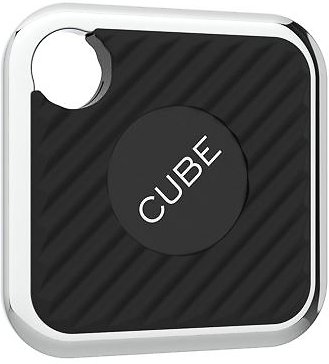 The Cube Pro offers double the volume and range of the original Cube. It has a replaceable battery with a lifespan of 1 year so your finder will last a long time.
In addition to finding your keys, the Cube can also locate your phone and will cause your phone to ring, vibrate and flash making it easy to find.
The tracker app will display the last known location of the device and the Bluetooth connection lets you know if it is nearby or not. There is also a useful separation alarm to let you know if you've dropped something or left something behind.
As with the Tile, Cube also lets the community help you find lost items. Although, it's worth considering the size of the community as this will only be useful if enough people in your area are using Cube trackers.
The Cube Pro is sleek and has a metal casing, it boasts an IP rating of 67 so is very durable and waterproof. When you press "find" on the app the Cube will ring and the sound is very loud (101dB). You can add the Cube Tracker app to your Alexa skills and then it will work with Alexa.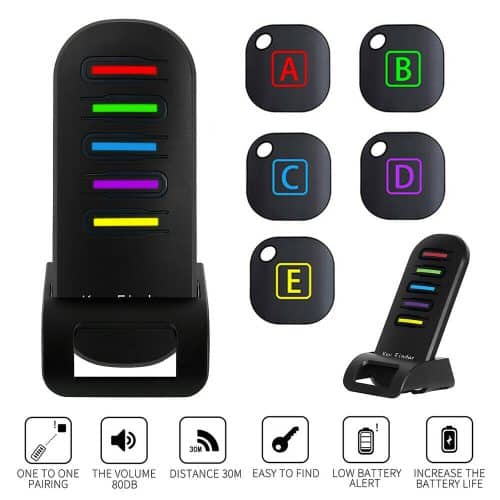 The Seeker Smart Locator is an RF key finder that comes with 5 receivers. The receivers are all colour-coded and are also labelled with letters. This helps users who are colour-blind as the first button on the remote corresponds with the receiver marked "A", the next is "B" and so on.
The receivers are small in size and can be attached to items using key rings or double-sided tape. When you press the corresponding button on the remote, the receiver will beep and flash if it is in range. The LED light helps users find objects in dark areas and is a feature we have only seen on the Seeker and Redpinguo key finders.
As this works using radio frequency the signal remains strong even when there are objects in the way. The sound alert is 80dB so it is not the loudest of the key finders we have reviewed but you should still be able to hear it relatively easily.
This system uses a replaceable battery and has a low battery alert so it is always ready for use.
Key Finder Buying Guide
Bluetooth Vs Radio Frequency
Bluetooth devices need to be paired with a compatible Smartphone and usually work with a specific app. The Bluetooth range can be up to 200ft but the range is often less due to items blocking the signal. Bluetooth trackers are great because they usually offer other functions such as location history and reverse search to find your phone.
RF devices come with a transmitter that is used to keep track of the receivers. The benefits of RF include ease of use, minimal set-up, low cost and no smartphone needed. However, the features are simplified compared to Bluetooth trackers.
Range
The range varies a lot depending on the individual key tracker, the ones reviewed tend to offer a maximum range of between 100 – 200 feet.
A useful find feature that comes with some of the Bluetooth key finders (such as the Nut 2) is an alert that lets you know when your paired device gets too far away. This helps prevent you from leaving stuff behind.
Power
Most key finders now use replaceable batteries so you can simply put a new battery in when the old one runs out. The standard battery life of a replaceable CR battery tends to be between 6-12 months.