Gone are the days where you need jumper leads and a second vehicle to restart your car battery. Modern portable jump starters are affordable, efficient, safe, and easy to use.
These handy devices can make all the difference if you experience troubles with your car battery, especially if you are far from home. What's more, they usually incorporate other helpful features such as USB charging for electronics, and a flash light, making them a no brainer to include in a vehicle emergency kit.
To help you find the right option for your vehicle, we've rounded up six of the most popular jump starters on the market and analysed them against key criteria such as amperage, engine size, features, and ease-of-use.
With the Rooboost portable jump starter, you'll never have to worry about a flat battery again. This device is one of the most popular on the market thanks to its reliability, exceptional build quality, and affordability.
In addition to providing an emergency boost for flat battery situations, it also serves as a flashlight, phone charger, and USB charging unit for other electronic devices.
The digital display makes it easy to operate with diagnostics that give status information on capacity levels and voltage readings so there's no guessing when repairs are needed.
This jump starter is the perfect tool to keep in your car and it's also a great gift for anyone with an older vehicle. With just a few minutes of charge time, you can start up any vehicle that has lost engine power – even at very low temperatures.
The set comes with everything you need including the jumper cables, AC plug wall charger, cigarette lighter socket and USB cables so both driver or passenger can get their phone charged on demand. For added peace of mind there's 1 year warranty included too.
The Gooloo jump starter is available at a similar price to the Rooboost but has a higher peak amperage so is able to start slightly larger vehicles.
It includes all the features you expect to find on a modern jump starter including smart jumper clamps and various overload protection mechanisms.
This device features a Type C Input and Output. This means you can charge it via a USB C cable but you can also charge your electronic devices from the unit. In addition, it has Quick Charge 3.0 USB ports which can be used to rapidly charge USB powered devices. This is a great safety feature if your phone is dead and you need to call for help.
Another nice touch on the Gooloo jump starter is an ultra-bright LED light that can be set to flash light, strobe, or SOS mode, depending on your requirement.
While this is undoubtedly a great product, we've ranked it behind the Rooboost because based on user feedback it appears slightly less reliable.
The NOCO GB70 is a compact, lightweight jump starter that is ideal for storing in your glove box or boot. This is a highly portable model that is able to jump start up to 40 times on a single charge. It takes just a few seconds to start a dead battery with this jump starter. 
This user-friendly model makes sure anyone can safely operate it. It has reverse polarity protection and features spark-proof technology. The GB70 also has a built-in light so you can see what you're doing if you need to jump start a battery at night. 
In addition to the safety light, this jump starter has a USB port so you can charge USB devices in an emergency. You can also use it to power tyre pumps and other 12V devices. The indication light on the front of the panel indicates the remaining battery life so you always know how much power is left. This is a versatile, user-friendly and compact jump starter suitable for anyone to use. 
This device can jump start 10L petrol engines and 5L gas engines without needing a battery. As the RM1000 does not have a battery it does not require recharging. Instead, it charges when you need it. 
The OzCharge jump starter is ready to be used in just 90 seconds. It uses super-capacitors that efficiently store and discharge energy. This means the unit can even charge from a flat battery. 
For added convenience, this jump starter can be charged via a cigarette socket or a USB port. If you are looking for a low maintenance but effective jump starter, this is the one to go for. 
The NOCO GB40 is a high-quality jump starter that is designed for 12V batteries. This model is rated at 1,000 amps and is able to provide up to 20 jump starts on one full charge. 
This jump starter also features a USB port for charging your devices and it has a built-in flashlight that can continuously run for over 6 hours. If you're worried about the remaining battery life, a quick glance at the unit will tell you if it is at 25%, 50%, 75% or 100% power thanks to its colour battery indicator lights. 
The GB40 is spark-proof and comes with reverse polarity protection to keep users safe. It is an efficient unit and can get a dead battery going in just a few seconds. The jumper cables are quite short so you may not have as much manoeuvrability as some other jump starters offer.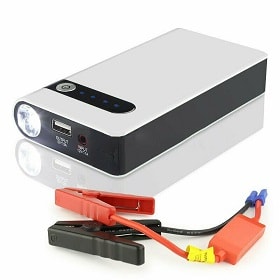 If you find yourself in need with a dead car battery, this multifunctional jump starter is ideal. It is small in size so you can easily put it into the glove box, backseat pocket or boot of the car without it taking up too much space. 
This jump starter has a user-friendly design and a number of safety features including overcharge protection, short circuit protection, voltage regulation protection and anti-reverse protection. There is a battery indicator that tells you the remaining power and there is an obvious power button so you can turn it on when you are ready to use it.
The jumper cables are marked with +/- for ease of use and the kit also comes with an LED light so you can see what you are doing. The built-in USB port gives you the ability to charge devices when needed. 
Jump Starter Comparison Table
| | | | | | | |
| --- | --- | --- | --- | --- | --- | --- |
| Jump Starter | Our Verdict | Amp | Jump Starts Per Charge | Max Engine Size (Petrol) | Max Engine Size (Diesel) | Check Price |
| Rooboost | Top Pick | 1500 | 25 | 7L | 5L | Amazon |
| GOOLOO | Runner Up | 2000 | Not stated | 10L | 7L | Amazon |
| NOCO Genius Boost GB70 | Upgrade Pick | 2000 | 40 | 8L | 6L | Amazon |
| OzCharge RM1000 | Most Innovative | 1000 | Not stated | 10L | 5L | Amazon |
| NOCO Genius Boost GB40 | Best for small vehicles | 1000 | 40 | 6L | 3L | Amazon |
| VicTsing | Budget pick | 1000 | Not stated | – | – | eBay |
Jump Starter Buyer's Guide
A jump starter is a compact, lightweight device that can be hidden away in the boot of your car until you need to use it. They are an important part of a vehicle's emergency kit and many models come with added features to help you in an emergency such as a flashlight and even a USB charging port. 
This buyer's guide takes a closer look at some of the factors it is worth considering when buying a jump starter. 
Compact Is Usually Better
There are large jump starters available but these are more awkward and difficult to use. The compact devices we have looked at above are just as effective with the added benefit of being user-friendly and easy to carry. 
Make Sure The Jump Starter Has Safety Features 
It's easy to make a mistake, particularly when you are flustered and worried about your car. To prevent accidents and damage and ensure you are safe, the jump starter should have a number of safety features built-in. Look for models that include: 
Reverse Polarity Protection – this protection stops the battery from being damaged if you attach the clips the wrong way around. Some models will make a noise or display a light that lets you know the clips are not positioned correctly so you can rectify the error. 
Short Circuit Protection – this feature prevents the system from short-circuiting if the clamps are touched together. The short circuit protection stops the high current from passing through. 
Overcharge Protection – to help keep the battery in good condition this stops charging when the battery is full. 
Over-current Protection – this feature prevents damage by stopping the unit from supplying more current than its limit. 
Overvoltage Protection – this makes sure the jump starter does not receive more voltage than it needs when it is being charged. 
Overload Protection – this protects the unit by stopping it from receiving more current than it should receive when it is being charged. 
Spark-Proof – if the unit is spark-proof it will stop sparks from occurring when you attach the clips to the car. 
Using a jump starter safely is extremely important and these features help keep you safe and keep the battery and the jump starter in good condition.
RELATED: The Best OBD2 Scanners
Understanding The Specifications 
When you are comparing jump starters you may see a few terms you are unfamiliar with. These include: 
Peak Amperage (PA) – this is how much power the unit provides in the first few seconds. 
Cranking Amperage (CA) – this is how much power is being constantly provided by the unit (in above freezing temperatures).
Cold Cranking Amperage (CCA) – this is how much power is constantly being provided by the unit in below-freezing temperatures. 
Durability 
A jump starter is a device that you need to be able to rely on in an emergency. It needs to be high-quality, durable and well made. The clamps should be strong and easy to clip into place. If the area you live in commonly experiences below-freezing temperatures it will be worth looking for a jump starter that has been designed to work when the battery is frozen. 
Most high-quality jump starters are able to jump start a frozen battery but only if the jump starter itself is at room temperature. It is unlikely to work if the jump starter is also freezing cold.
RELATED: The Best Car Battery Charger
Useful Features 
Some models only offer the ability to jump start a battery while others offer a range of features to help make the emergency situation more manageable. These may include: 
Flashlight – most jump starters will have a built-in light so you can see what you are doing if your car stops working during the night. Some models let you adjust the brightness of the light or set the light to flash/ SOS. This is a useful feature that is worth considering. 
USB Charging Port – the last thing you want is for your phone to be dead when your car battery runs flat. The best jump starters include one or two USB ports so you can top up your electronic devices when needed. 
Charging Outlets – some options may include other 19V or 12V charging outlets that let you charge a range of items from laptops to heated blankets or lanterns. If you tend to go away camping or on long road trips you might appreciate having this in your car kit in case. 
Air Compressor – another useful feature some units include is an air compressor. This means you can top up a tyre if it gets flat. 
Warranty 
An included warranty can be an indication of a good quality product. Try to choose a jump starter with a warranty and make sure it allows you to return or replace the device if it fails within the first couple of years. 
Charging A Jump Starter 
A jump starter is no good if it isn't charged. You will need to fully charge it straight away. The way you do this depends on the unit you have bought and there should be clear instructions of this in the user manual. 
The most common ways of charging a portable jump starter are via: 
Car Cigarette Lighter Socket – as you will have the jump starter in the car it makes sense to be able to charge it up using the vehicle's cigarette lighter. This is quick, easy and convenient. 
Wall Socket – the other way to charge a portable jump starter is through a wall socket. How long the device needs to be plugged in in order to fully charge will depend on the model purchased. It is best to fully charge the jump starter each time you plug it in. 
Jump Starter FAQ
How Long Does It Take To Charge A Jump Starter? 
It depends on the jump starter but as a general rule, it will take around 5 hours to fully charge. Even if you charged the device and haven't used it, it's best to top up its charge each month so that it remains fully topped up and ready to be used in an emergency. 
How Many Times Can I Use a Jump Starter Before Recharging? 
The number of times a jump starter can be used on one charge will depend on the jump starter you are using and your car's engine size. Most jump starters will indicate how many starts they can perform with each charge (for example the NOCO GB40 can provide up to 20 jump starts from one charge).