Jockey wheels are an essential component of trailers and caravans however most people don't think about them unless they are encountering problems.
These problems can vary from a bent bracket or shaft to the realisation that you can't move your caravan on a campsite's uneven terrain.
It's essential to inspect your jockey wheel regularly and potentially replace it if the fitted one is not suitable for where you are usually camping or towing your trailer.
To help you in your search for the perfect jockey wheel, we've reviewed the best products on the market in a range of different categories. We've also included some notes on the different types of jockey wheels and tyres available.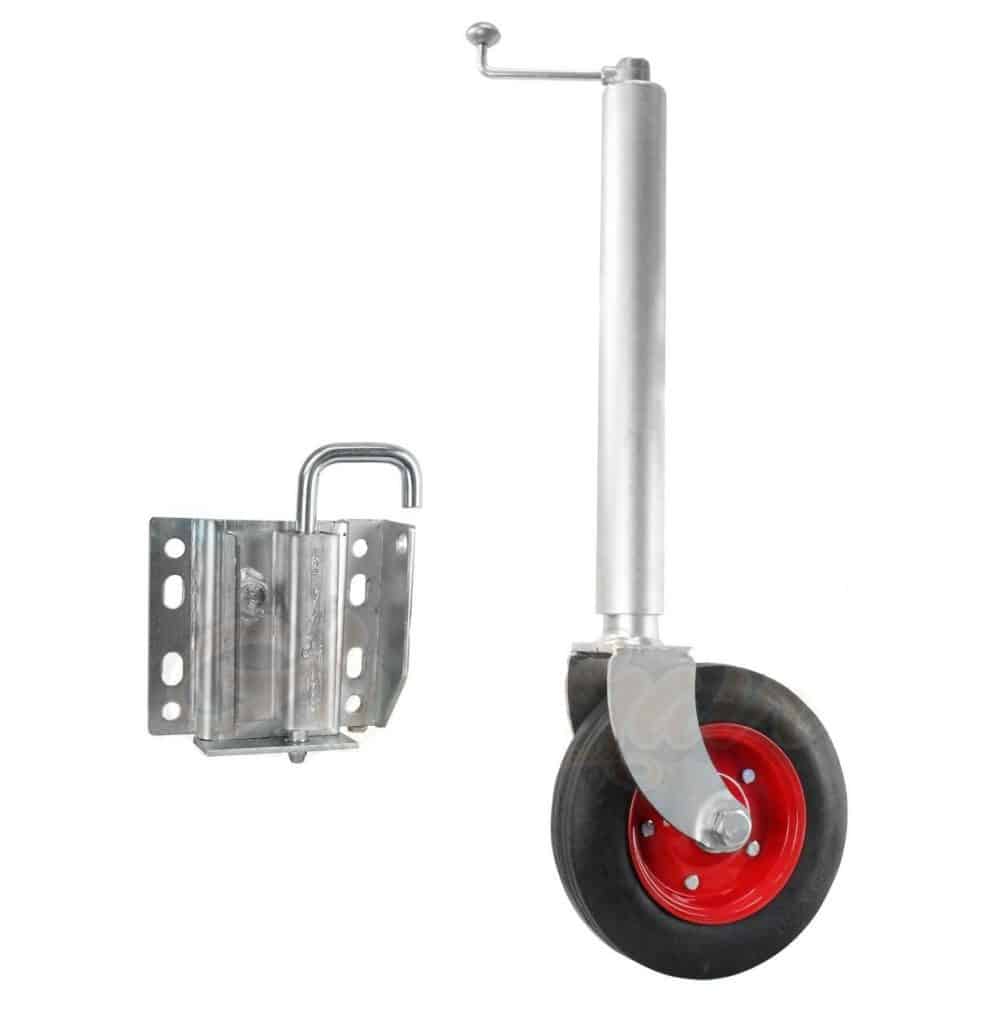 LOAD RATING: 1000kg
The Easy Lift 10-inch Jockey Wheel is the ideal fixed jockey wheel for both heavy-duty trailers and domestic applications like caravans.
What sets it apart from most other fixed jockey wheels is that you purchase it with a loose bracket. This allows you to weld the bracket exactly where you need it to suit your application. Simply weld the loose Easy Lift bracket to the jockey-wheel at the required height, and then weld or bolt it with 75mm or 100mm wide U-bolts to the trailer's A-frame on the spot where it will function the best.
Whether it is welded or bolted, this fixed jockey wheel and bracket shouldn't buckle or pivot when the trailer or caravan is loaded or moved around.
Some people may be turned off by the price tag on the Easy Lift. If you do make the investment, however, this sturdy jockey wheel will most probably be the last jockey wheel you'll ever need to buy for your caravan or trailer.
LOAD RATING: 350kg
The Alko Power Mover is a very popular 10-inch Ratchet Jockey Wheel. Not only is it durable and reliable, but it can be purchased for less than half the price of the Easy Lift, making it a wallet-friendly option.
The Power Mover has a lever ratchet mechanism which is normally found only on more expensive jockey wheels. The mechanism is located on the side of the solid 10-inch rubber wheel and has steel ratchet teeth – another feature often found on more costly wheels.
A long lever handle allows the user to manoeuvre anything from a jet-ski or small boat to a caravan or trailer into a tight space with ease.
Unfortunately, you cannot use the Alko Power Mover with a very heavy trailer or caravan. The static capacity of the jockey wheel is relatively low, and can't be used if the maximum downward force on the wheel will be more than 350kg.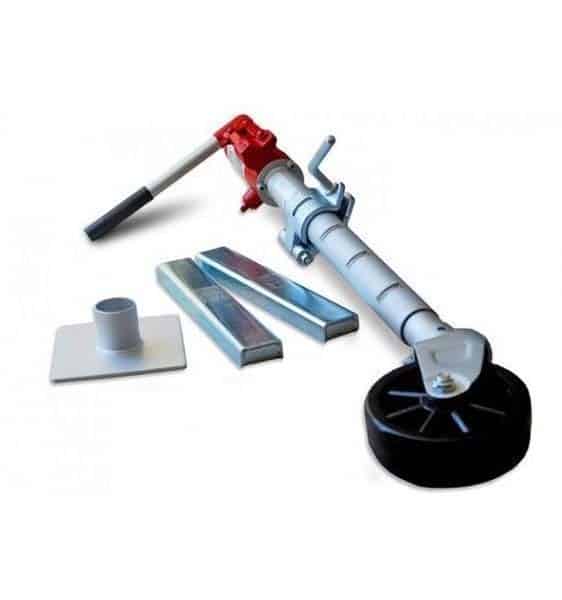 LOAD RATING: 1000kg
The Trail-A-Mate Jockey Wheel is another very popular option that is suitable for a wide range of uses including caravans, trailers, motorhomes and horse floats.
This versatile hydraulic caravan jockey wheel converts into a solid base jack when you need it. You can, amongst other things, level out your rig with it or use it to change a wheel. It is safe to use as it fully complies with the Australian mandatory safety standards for jacks. Also, as it is an adjustable hydraulic tool, it takes little effort to operate.
This versatile product will be appreciated by everyone who has at some time or another forgotten to pack a jack when going on a caravan holiday or struggles to fit a jack into the already full car or caravan.
Its working load limit (WLL) is 1000kg, so it can handle heavy loads when you use it as a jack or a jockey wheel.
LOAD RATING: 750kg
The Ark XO Series 750 jockey wheel is an excellent jockey wheel for taking your caravan or trailer off-road. Unsealed and uneven campsites need a tough jockey wheel of good quality to be able to support your trailer and allow you to position it as desired.
The Ark XO Series 750 is specifically designed for off-road use and is part of the Ark's extreme off-road series. It is one of the toughest, most advanced jockey wheels for caravans and trailers used in extreme conditions.
It features a unique, height adjusting swing-up clamp. This, together with the 8mm thick backing plate and 4 securing bolts, and 4 adjustable height positions, provide ample functionality and strength for most purposes.
It also features 5 different yoke locking positions, allowing the user a variety of options for stowing the jockey wheel in a position that doesn't interfere with the vehicle or other equipment.
Whether you're taking your caravan to the desert, seaside, or bush, the Ark 750 will be well protected against the elements. It comes with a rust-resistant finish that has withstood a 600-hour salt spray test.
LOAD RATING: 272kg
The T-REX Striker 12V Motorised Jockey Wheel is the solution if you often have problems manually moving your caravan, trailer or boat to the right spot where you want to park it. It makes manoeuvring your trailer, caravan, or boat easy and is specifically convenient if you are travelling alone so have to do all the pushing without assistance.
The T-REX jockey wheel allows forward and reverse motion, and it also features an automatic brake function. While best suited to flat ground, this motorised jockey wheel can also be used on slight inclines.
This jockey wheel has a vehicle load of 3500kg and a jockey wheel load rating of 272kg. You don't need an electric socket to power the 350W motor as it can also run off a 24Ah battery. A standard car battery is sufficient to get the motor running.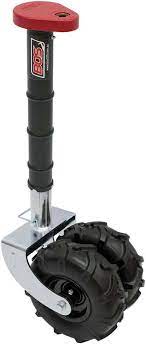 LOAD RATING: 240-400kg
Choosing a caravan jockey wheel can be difficult, but the variety of BOS Jockey Wheels makes it easy to identify the one you need.
Engineered and manufactured in Australia, BOS jockey wheels are strong, durable, lightweight, and reliable.
Some of the features offered in the BOS range include:
Wide range of products to suit a variety of applications
Easy and smooth operation
Option to include security bolts
Stabilising footplate allows you to park on most surfaces
Some products are suitable for o

ff-road camper trailers

While not the cheapest option, some models are fairly affordable, starting at around $250
Types of Jockey Wheels
Jockey wheels come in a variety of shapes and sizes, and it's crucial to select the type that best suits your vehicle, trailer, and specific needs. Below we cover the main types of jockey wheels available to help you choose the best option for your trailer.
Standard / Fixed Jockey Wheels
The standard jockey wheel that you commonly see on trailers or small caravans are mostly fixed jockey wheels. Generally, they have solid tyres and a standard clamp. The clamp is welded or bolted onto the A-Frame.
With a fixed jockey wheel you move the shaft up and down to adjust the height of the jockey wheel to get the correct height when it is parked. When you are hauling the caravan or trailer you have to take out the wheel and put it somewhere out of the way.
The standard jockey wheel is good for simple hooking and unhooking and when not much movement is needed to park the caravan or trailer. However, for heavier loads or when you often have to park where the caravan or trailer has to be manoeuvred into small spaces, this type of jockey wheel is not the best option.
Swivel Bracket Jockey Wheels
With a swivel bracket jockey wheel, you don't have to attach the jockey wheel each time. This type of jockey wheel allows you to pull its handle to release the locking pins and then rotate the wheel down. When you're not using the wheel you just rotate the wheel up again and secure it with the locking pins.
This design can help save on setup time as the wheel is already in place – you just have to rotate it down. However, keep in mind that swivel bracket jockey wheels are generally more expensive than the basic fixed jockey wheel versions.
Ratchet Jockey Wheels
Although ratchet jockey wheels are more expensive than fixed and swivel bracket jockey wheels, they offer an advantage to people who frequently have to move a heavy caravan around on uneven terrain.
The ratchet mechanism is built onto the side of the wheel – generally a solid 10-inch rubber wheel – and you drive the ratchet and wheel easily with a long lever handle. This allows you to position anything from a jet-ski or small boat to a caravan or trailer into a tight space with ease.
Motorised Jockey Wheels
A motorised jockey wheel is a solution if you often have problems manually moving your caravan, trailer or boat to the spot where you want it. It makes it easy to manoeuvre your trailer, caravan, or boat and is specifically very convenient if you are travelling alone and have to do all the pushing on your own.
These types of jockey wheels generally allow forward and reverse motion, and often feature an automatic brake function. With these features, you should be able to use a motorised jockey wheel on slight inclines, provided it is powerful enough.
With most motorised Jockey wheels you don't need an electric socket to power the motor they can normally run off a 24Ah battery. Your standard car battery will also be sufficient to get most motors running, so it is not necessary to take an extra battery along.
Solid vs Pneumatic Tyres
Jockey wheels can either have solid or pneumatic tyres. Solid tyres can wear out but can never go flat, and when one has worn out you can easily replace it.
A pneumatic tyre can go flat over time but can also be punctured by sharp objects on the terrain's surface.
This is the main reason tyres of jockey wheels for off-road use are generally made from solid rubber.
However, while solid tyres are best for use on solid ground surfaces, air-filled pneumatic tyres can be more suitable for loose ground such as beach sand and muddy soil. Pneumatic tyres can also make the moving and pushing of a trailer or caravan easier than solid tyres.
Finally, solid tyres are basically maintenance-free, while the pressure in pneumatic tyres needs to be checked regularly.
Jockey Wheel FAQ
How much does a jockey wheel cost?
Many factors are determining the price of a jockey wheel. The type of product, range of features, the brand and quality, load rating, and the materials used for the bracket and tyres can all play a role. The products on our list range in price from around $170 to $500+
What size jockey wheel do I need?
Most jockey wheels are 10-inch wheels. A general rule is that the heavier the load the larger the wheels should be. Larger wheels also work better in sand or muddy terrain.