The best iPad mount for your vehicle depends on what you will be using the iPad for; an iPad that's keeping passengers entertained during a long road trip will require a different mount to one that is being used to display GPS information for the driver.
The best mounts are safe, durable, and adjustable so can be positioned exactly as they are needed.
While a cheap mount might seem tempting, the last thing you want is your iPad falling from the holder when you are driving. Below we've reviewed some of the most reliable iPad car mounts on the market.
If you're looking for a solution for entertaining your kids on long car journeys, this is one of the best options.
Compatible with a wide range of tablet sizes, the TFY Universal Tablet Mount uses adjustable straps to securely fasten to the back of the cars headrest. The angle of the tablet car be adjusted so it's at the best viewing position for the person watching.
A big benefit of this holder over other options is that it doesn't require any suction cups or plastic arms, which tend to get in the way during car travel.
Also, this product allows tablets to be attached without removing the case. This is not only very convenient but also helps ensure your tablet remains protected at all times.
The Arkon Suction iPad mount is a heavy-duty option that is easy to install and stays in position well. It uses a sticky base that attaches to the windshield or dashboard and the suction works effectively in all climates.
One of the great features of this iPad car mount is the adjustable leg design. The set comes with 10 support legs with short, medium and long versions so you can select the ones that best fit your iPad or tablet. This makes it much easier to have a mount that properly fits your device.
As the legs are adjustable it also helps for keeping the ports and side buttons free so they can still be used. This holder works with devices from 8.9″ – 18.4″, meaning it is suitable for most full sized tablets. The spring-loaded design makes it easy to insert and remove your device.
The Arkon Suction Tablet Mount also comes with a 2 year limited warranty.
The Satechi Universal tablet holder fits into the CD slot of most cars. This means it doesn't require any tools to install it and you can still play CDs when it is in position.
The arm can be tilted up and down and there is a ball joint that allows you to rotate the mount with ease to give you the best visibility.
This mount is able to support tablets of 5-11 inches meaning it is great for a large phone as well as an iPad mini, a full size iPad and a range of other tablets. This mount has a sturdy grip and a one-stop lock so it holds your device securely for the duration of the journey.
The only downside to this tablet mount is that it needs to be removed if you want to insert or remove a CD from the CD player.
If you're looking for a sturdy tablet holder that won't leave marks on your dashboard or windscreen the Cellet Cup Holder Mount is a great option.
This is a stable, durable, and easy-to-use option that offers universal fit compatibility. The base is adjustable so it is able to fit 2.86″ – 3.47″cup holders.
The arm of this tablet mount is extendable and the cradle has a 360 degree swivel capability allowing you to position it as needed. The holder grips hold the device securely in place and make sure it doesn't get scratched. These grips are important for ensuring the tablet won't fall or get damaged during bumpy or off road drives.
The Ohlpro dashboard tablet holder is suitable for devices between 7″ – 10.5″. It has a 360 degree rotation ball joint and the arm can be adjusted 190 degrees too. This makes it easy to move your device for optimal viewing.
The suction cup has a locking function to ensure the bond is strong and the holder remains in place even during bumpy journeys. It takes seconds to install this mount and it can be positioned on the windshield too.
Although the suction cup is strong, this isn't the best option if your dash has a leather covering as the mount won't hold its position as well. This iPad car mount comes with a 30-day money-back guarantee and a 1 year warranty.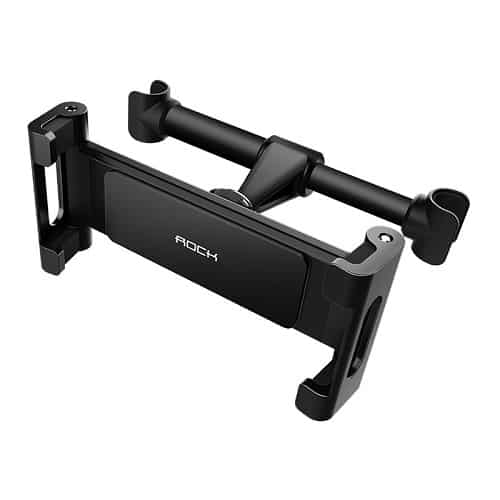 The Kogan Premium Headrest tablet mount is one of the best options for hands-free entertainment in the car. It clips onto the back of headrests so people in the back seats can watch their favourite shows and films during long trips.
This lightweight holder is safe, convenient and easy to use. The 360 degree swivel lets you adjust the viewing angle to suit the situation. The holder has a soft sponge back that protects against scratches and the holder can be folded away when not in use for easy storage.
One of the great things about this headrest mount is its versatility. It is able to hold devices between 4.7″ – 12.9″. It also has a universal design so it suits most devices and most car seats.
This APPS2Car tablet holder is strong, sturdy and ideal for driving on bumpy roads. It holds its position and provides extra support so your device will not fall or get damaged.
The adjustable loading button and spring locking system makes it effortless to load 7-11″ tablets into the holder. This mount has a long, flexible arm that lets you position your tablet within easy reach for safe and convenient operation. This is a great option for hands-free navigation as well as entertainment for passengers or when taking a break from the journey.
The suction cup has two-stage locking to ensure it holds securely. This is a durable,long lasting option. If the suction cup starts to get dirty it just needs to be washed with warm water and air dried to restore its condition.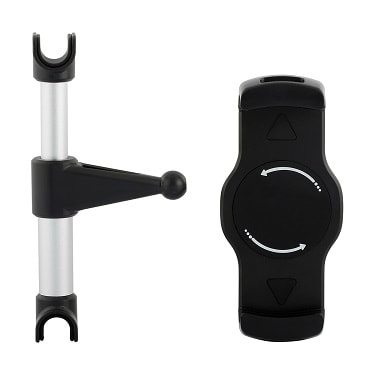 If you're looking for a simple, low-cost headrest holder, take a look at this one from KMart. This iPad car mount will only set you back $10 making it one of the most affordable options available.
The holder works with headrests of 11-18cm and can fit tablets with screens of up to 10 inches. This makes it suitable for most vehicles and for most devices too.
For ease of use, the mount can rotate 360 degrees making it quick and easy to adjust the viewing angle. This is a great option for keeping your kids entertained on road trips.
The Klsniur extendable backseat headrest tablet holder is great for keeping children entertained during long journeys. The iPad mount offers excellent compatibility and is able to work with all tablets between 6″-10.5″ and can be used to hold phones between 4.5″-8″ too.
The holder has a strong and flexible arm that can extend up to 8.6″ allowing users to read books or play games as well as watch movies. It also has a 360 degree rotation and a tilt mechanism too so positioning it as needed will take no time at all.
The headrest has a mechanical switch design that holds the tablet tightly. The holder features a sponge pad that protects the tablet and creates a stronger grip so the tablet won't move around or fall during the drive.
iPad Car Mount Buying Guide
When looking for a car iPad holder, you'll see there are far fewer options compared to phone mounts. When selecting iPad holders for cars it's important to find one that is high quality and holds your tablet in position safely, securely and in a way that does not obstruct your view of the road. This buying guide will help you find the best tablet holder for your needs.
Size
iPad mounts vary considerably in size so make sure you know the dimensions of your tablet when looking for a mount. The most versatile options offer a larger size range e.g. being able to hold 5- 12 inch tablets thanks to the adjustable grips. These are good if you want to use a mount that can hold different devices depending on who is using it. When looking at the size guides just make sure you know the size of your iPad and any other devices you want to use in the holder before buying.
Positioning
Before you buy an iPad mount think about where in your car you would like to position it. The device needs to be positioned in a way that the screen can be seen properly but does not block your view.
Different mounts have different requirements so look at how much space you have available. For example, you should check the space between the windshield and dashboard if you are considering a suction mount or look at the shape of the air vents if you are considering vent mounts.
RELATED: The Best Car Phone Holder
Mount Type
There are a few different types of mount you may consider for your vehicle. The most popular options include:
Suction Cup Mount – this is a mount that can be attached to the dashboard or the windscreen. It is a versatile option but the suction cup needs to be strong and secure to be able to hold a larger device such as an iPad. Look for options that have a suction lock that helps keep the cup in place. Be careful not to obstruct your view when positioning an iPad using a suction cup mount.
Cup Holder Mount – this is an effective and sturdy mount. It's a great option if you want something that doesn't attach to the windshield. The mount secures in the cars cup holder, it does not get in the way and is very easy to install and remove.
CD Slot Mount – a CD slot mount is a secure, convenient and universal option. The good thing about using the CD slot is that it stops your iPad from obstructing your view of the road by positioning it lower and more centred than a suction cup mount would. Some CD mounts allow you to continue playing CDs while in position but it means removing the mount completely each time you want to change the CD which isn't ideal.
Air Vent Mount – an air vent mount fits to the vehicle air vent to securely hold your device. This is a secure, easy to install option. Different air vent types work with different mounts so keep this in mind when choosing one.
Seat Headrest Mount – if you want to use your iPad for entertainment for your passengers then a seat headrest mount is going to be the best option. This is secure, easy to install and puts the device in a great viewing position for the people in the backseats. This means watching films, playing games or reading ebooks is much more comfortable for passengers.
Whatever mount type you choose it should be quick and easy to attach and remove your tablet.
Versatility
An iPad holder needs to be strong and should be able to hold the iPad in place securely. Choosing a versatile iPad mount can be incredibly useful as it allows you to do more with little effort. Consider the following when choosing a new mount:
Are the charging ports and side buttons still accessible?
Are you able to put devices of different sizes in the holder?
Can you switch between landscape and portrait viewing?
Being able to do these things makes using the holder much more enjoyable when driving. If it is adjustable it allows you to attach your iPad, iPad Mini or other tablets securely and you can adjust the viewing angle and position to suit your use.
Safety
In order to drive safely, the iPad mount needs to hold the iPad securely. It should not drop down onto the car seat or vehicle floor when you are driving and it should not be positioned in a way that will distract you or obstruct your view. Look for a holder that has strong grips and makes it easy to use the device.
Flexibility
The best iPad car mount offers 360-degree rotation so you can position it exactly as you need to. This makes it effortless to position the screen to give you (or your passenger) the best view.
Protection
Ideally, you want a mount that has a soft padding. Padding helps to prevent your iPad or iPad Mini from getting scratched or damaged and also makes it easy for you to slot it into position.