Power inverters are a huge help when 4X4 camping, caravaning, or on any adventure away from home. They can provide you with power and peace of mind no matter where you are.
Inverters are ideal for powering a range of appliances and devices, such as laptops or fridges, and help make sure you have your equipment powered in case of an emergency.
Choosing the right inverter for your adventures means considering what inverter size you need and what features are important for your requirements. Below we've listed some of the best inverters on the market and after that, we discuss some of the key things to consider when making your selection.
Inverter Comparison Table
| | | | | | | | | | | |
| --- | --- | --- | --- | --- | --- | --- | --- | --- | --- | --- |
| Inverter | Our Verdict | Power | Input Voltage | Output Voltage | Pure Sine Wave | AC Outputs | USB Outputs | Weight | Warranty | Check Price |
| Renogy | Best Overall | 2000W | 12V DC | 220-240V AC | Yes | 2 | None | 4.8kg | 1 Year | Amazon |
| Enerdrive ePOWER | Upgrade Pick | 2000W | 12.5V DC | 230V AC | Yes | 2 | 1 | 5.5kg | 5 Years | My Generator |
| Certa | Best Budget Option | 2000W | 12V DC | 240V AC | Yes | 2 | 1 | 1.72kg | 1 Year | Kogan |
| Dometic MSI 412 | Also Great | 700W | 12V DC | 230V AC | Yes | 1 | 1 | 0.80kg | 1 Year | Snowys |
| GIANTZ | Also Great | 2000W | 12V DC | 240V AC | Yes | 2 | 1 | 3.92kg | 1 Year | Amazon |
| Elinz | Also Great | 1000W | 12V DC | 240V AC | Yes | 1 | 1 | 0.50kg | 1 Year | Elinz, Amazon |
The Renogy 2000W inverter is a compact, lightweight and efficient inverter that can be used to power a range of appliances. This is a reliable and powerful addition to any off-grid system.
This is a highly portable inverter, it weighs just 4.8kg and can be powered from the dedicated 12V DC battery or a solar power bank. This offers users versatility and convenience when on the go. The inverter is optimised for 12VDC system voltage and has 2 universal AC plugs that are compatible with Australian sockets.
This Renogy 2000W also has several safety features included to protect the inverter and battery from errors. These built-in features include overload protection for DC input and AC output, low volt protection, over-temperature protection, automatic shut down when necessary, internal backup DC fuse and short circuit protection. This all comes together to create a safe, reliable and efficient inverter.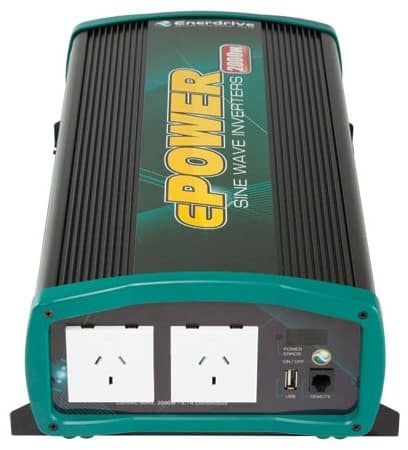 The Enerdrive ePOWER 2000W Pure Sine Wave Inverter is a reliable, user-friendly and modern inverter that provides users with everything they need from an inverter.
This model provides AC and 5V USB power and is suitable for all off-grid situations. It has Australian GPO outlets and offers high-efficiency conversion of battery power to AC power.
This inverter comes with a range of safety features that help to prolong the life of the inverter and ensure it is safe to use. The set also comes with a mounting bracket which is useful if you want to permanently install it in your camper or vehicle. For additional peace of mind, this ePOWER Pure Sine Wave Inverter comes with a 5-year warranty.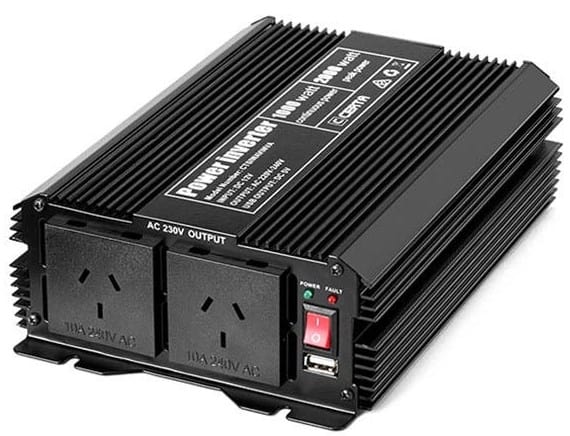 Inverters can be a big investment but the Certa Modified Sine Wave Power Inverter offers all the key features at a low price. The Certa Modified inverters offer great value for money. This is ideal for off-grid caravan/ RV life and offers up to 240V power supply.
This inverter converts DC 12V to AC 240V. It can work with any 12V battery and offers continuous 1000W power. The steady and precise output makes it suitable to use with even sensitive appliances.
For added convenience, this power inverter includes a USB output so you can continue powering your smaller devices too. Its built-in safety features include temperature, overload, voltage and short circuit protection.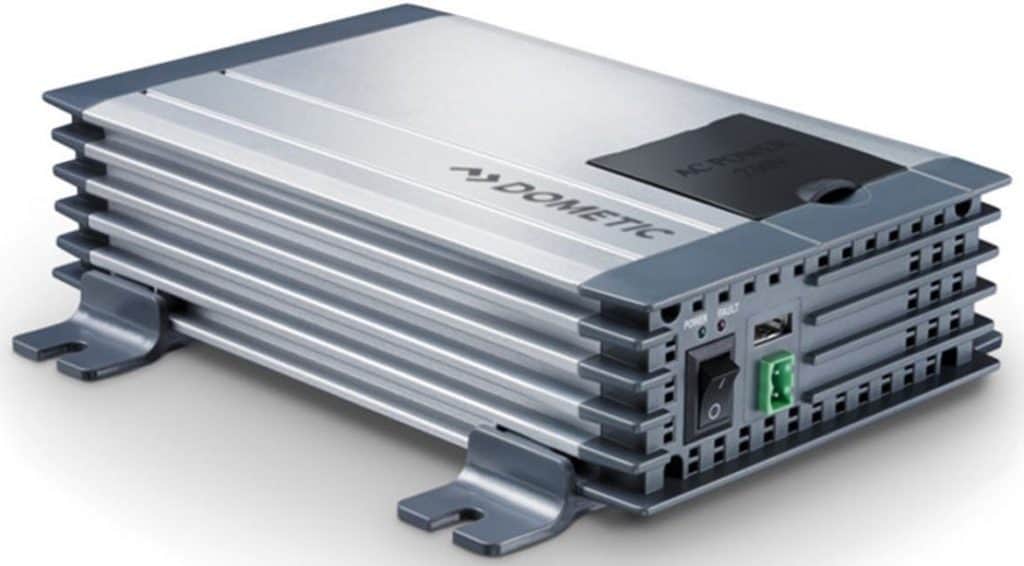 The Dometic Sinepower MSI 412 Inverter is lightweight, compact, and is perfect for travel. It converts 12V battery power to 230V AC voltage and has a 230V socket on top of the unit for quick and easy access.
This inverter is one of the best options for use with sensitive appliances such as laptops, TVs, DVD players etc. It is sleek, extremely user-friendly and comes with a 1-year warranty.
The alloy case looks smart, is strong but is not waterproof so should be kept away from water. This is a great option for 4WD adventures and camping trips as it only weighs 0.8kg and won't take up much space in your kit bag.
This is an ideal power inverter for charging more than one device at a time. The Giantz fast charging inverter has two 240 AC outlets and one USB charging port. It can be used for charging laptops and tablets as well as USB devices. The inverter is compact, easily stored and comes with a 1-year warranty.
The Giantz Pure Sine Wave Power Inverters are designed to offer 90% inversion efficiency so they are safe to use and prevent crashes and glitches.
The 12V power cables are suitable for a range of uses so you don't need to worry about a loss of power. This inverter also features two-stage heat dissipation so it keeps cool no matter if you are using it for high loads or low loads. This is a high-efficiency option perfect for using multiple appliances at once.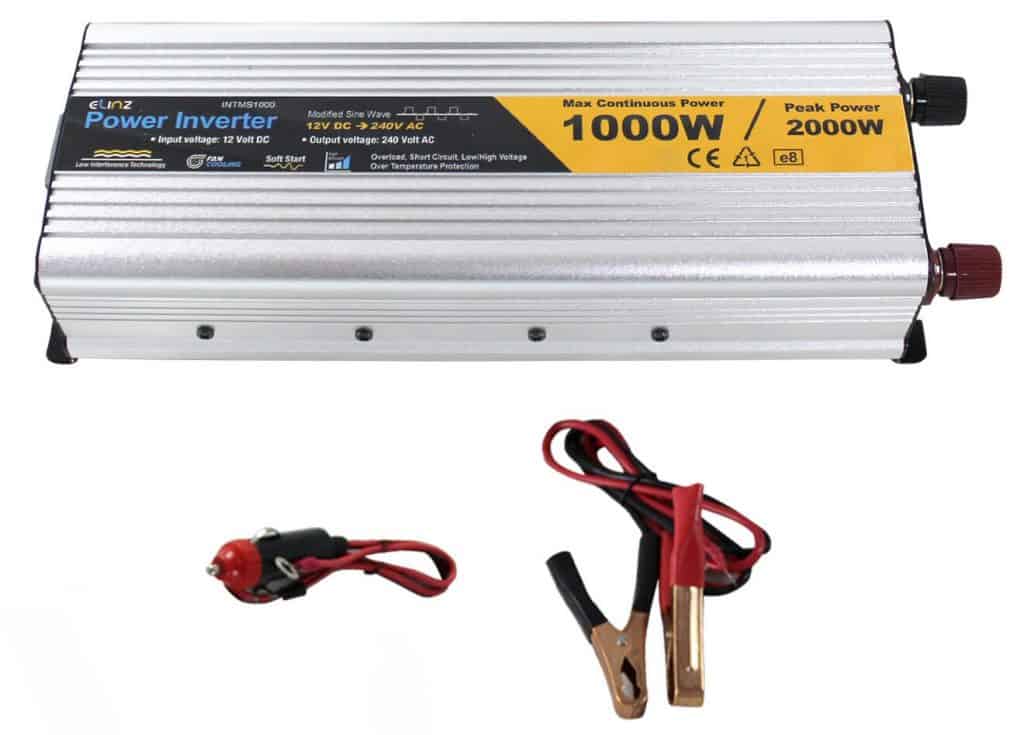 This Modified Sine Wave Power Inverter from Elinz is an efficient, economical solution that is ready for off-grid adventures. It is user-friendly, compact and comes with a car charger, alligator clips and DC battery cables.
The inverter offers 1000W of continuous output and a peak output of 2000W. It achieves 90% efficiency so is reliable and can be used with more appliances as well as USB devices.
The Elinz power inverters come with a range of safety features including high and low voltage input protection, overloading protection, over-voltage and overheat protection and short circuit protection. It also has a built-in cooling fan and has an Australian standard socket. The unit has a simple on/off switch and has two indicator lights "power" and "fault" so you can clearly see what is happening.
Inverter Buying Guide
Power inverters can give you mains power wherever you are. They are perfect for 4WD adventures and 0ff-grid camping. However, different inverters offer different capabilities. As there are lots of inverters available it's important to take time to find the right inverter for your needs. This buying guide takes a look at a few of the key features to consider before making a purchase.
Ports
Always check what outlets the inverter has. Consider how many appliances you need to run at once and the type of devices they are (AC or USB). Some power inverters only have one port meaning they can only be used to charge one device at a time while others offer a couple of AC outlets as well as USB charging ports. It is more convenient to have more ports but is only worthwhile if you will be powering multiple appliances at once.
Wattage
When looking at the wattage the general rule of thumb is that the higher the watts produced, the more items the inverter can power. A power inverter can offer anything from 150 watts up to 2000 watts so the watts should not be overlooked.
Cheaper units are usually low wattage and small in size. Low watts means they can handle low power devices and often feature a USB port and plug. A high wattage power inverter is best for running high demand appliances such as heaters. An inverter that offers high watts are large in size but offer a lot of power and capability.
When it comes to watts, consider both the continuous and peak ratings. The continuous rating is how much power the inverter can handle over a long period of time while the peak rating is the maximum load the inverter can handle over a short period of time. The peak rating offers more power at first to make sure appliances, such as fridges or microwave ovens, that need an initial high burst of energy will work as they should.
RELATED: Best Deep Cycle Battery
Sine Waves
There are two types of sine wave outputs, modified and pure. There used to be square wave outputs but these have been largely phased out and are best avoided as they are not as versatile or effective as the sine wave types listed below:
Modified sine wave inverters deliver consistent power and are efficient, small in size and a popular option. A modified inverter costs less than a pure sine wave inverter and is a good option for running basic camping accessories such as lights and fans. They shouldn't be used for powering microwaves, phones, TVs or similar equipment as the imperfect sine waves can damage these more sensitive devices.
Pure sine wave inverters are more expensive because they consistently deliver wave output to the highest quality. A Pure sine wave inverter is best for powering sensitive equipment such as computers, laptops, TVs, coffee machines and medical devices. This is because they generate pure sine waves and have a fully isolated input and output to protect against short-circuiting and overloading. This power inverter is also quieter and produces less heat than modified inverters.
Safety
Safety features are important to safeguard you and your appliances. There are several safety and protection features that are often included within a power inverter, including:
Low battery voltage protection – this will shut down the inverter if the battery drops too low. The inverter can be used again when connected to a battery with a higher output voltage. Some inverters will have an alarm that lets you know when batteries need to be recharged.
Overvoltage protection – this feature shuts down the inverter and protects appliances when a certain volt limit is exceeded. This is because it is bad for the devices and for the inverter to be connected to a battery with overvoltage issues.
Overheating protection – an inverter can get hot when in use so it is important for them to be used in well-ventilated areas. If the inverter gets too warm the unit will automatically shut down so it can cool. Many inverters have a built-in fan to help them keep cool but a temperature or overheat protection feature is also necessary.
Output overload protection – this feature prevents a short circuit by turning off the inverter when there is too much AC electricity being produced. It will also shut down if the device or load exceeds its functioning limits.
Battery Capacity
The battery is an important part of an inverter. The quality of the battery impacts the performance and life span of power inverters. Look for one that has a high Ah (Ampere Hours) value as the higher the value the stronger the unit will be. Common Ah values include 100 Ah, 120 Ah, 150 Ah, 180 Ah and 200 Ah.
An in-vehicle inverter can work while the vehicle's engine is running while a large inverter/ charger uses batteries that can provide power for extended periods of time. Also, keep in mind what cables are needed to connect batteries to the inverter and whether these are included in the kit.
RELATED: The Best Battery Box
Solar Inverters
A solar inverter can be used to transform DC power from solar panels to AC to power your devices. If you want to use solar power then one of these inverters is necessary. Some inverters such as the Renogy 2000W Pure Sine Wave Battery Converter can be powered by a solar power bank so it's worth keeping your eye on the specifications if you plan to use solar power.
There are a few different types of inverters for solar power available but many are larger systems designed for household use. One key solar option is hybrid inverters. These are a type of solar string inverter that can connect to a storage battery. A hybrid inverter is an expensive option and requires a compatible battery to work.
Size and Weight
One of the best things about an inverter is how compact and lightweight they are. They are highly portable making them ideal for travel. When considering the size of the power inverter you need, think about where you will be using or installing the inverter and which devices you want to run. You can add up the wattage of the devices you will run simultaneously to give you a minimum total wattage the inverter needs to supply.
It's good to add 20% to your basic requirements to ensure your inverter can handle your needs now and in the future. The more powerful and heavy-duty the energy needs are, the larger the inverter is going to be.
Warranty
A high-quality inverter should be reliable, efficient and offer a long life span. Choosing an inverter that comes with a manufacturer warranty indicates it is built to last and has been manufactured with quality materials. Some brands let you send power inverters back to them for routine maintenance which can help increase battery life and longevity. A standard warranty seems to be around 18 months but there are products offering 3+ years of coverage.