Whether embarking on a DIY or professional project, the bolting and unbolting of screws, nuts and bolts are a guaranteed task. This can quickly become time-consuming and frustrating, particularly when you come across a stuck or rusty bolt.
This is where an impact wrench makes all the difference. The high torque output requires minimal effort from you and produces efficient and effective results.
To help you in your search, we have analysed some of the most popular impact wrenches on the market and assessed them against a range of important criteria including max torque, power levels and key features. This review and comparison can help you find the best impact wrench for your needs.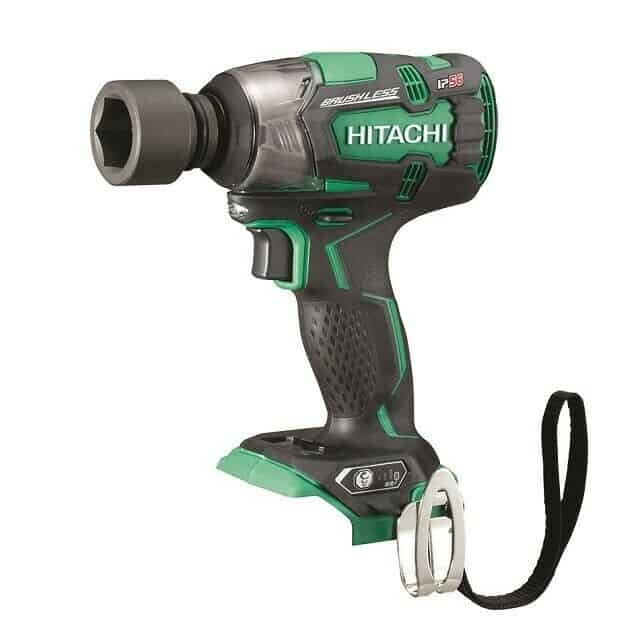 The Hitachi Impact Wrench is an excellent tool to have in your kit, offering high torque, efficient control and multiple power modes so you can select the best setting for your application
The max tightening torque of this cordless impact wrench is 305Nm. This is one of the highest torque options on this list, although it is not as high as the Dewalt (our upgrade pick). However, this tool does offer enough power for most uses.
This 18-volt wrench has 4 power modes, which along with the Makita and Milwaukee, is the most control levels of the listed models. This lets you switch between low, medium, high and single modes giving you great control for different requirements.
One of the things we like about the Hitachi tool is that it features electronic switches rather than conventional pull switches, which makes it easier and more efficient to use. The Hitachi 1/2 inch impact wrench has an ordinary bolt (M10 – M20) and a high tension bolt (M10-M16).
The battery life indicator is a convenient feature that ensures you won't get caught out with a dead battery during larger jobs. In terms of user experience, the tool weighs just 1.2kg and is well balanced making it comfortable to hold and the built-in LED light is nice and bright for working in darker spaces.
The Makita DTW300Z is another excellent cordless impact wrench that is well suited to professional use. It offers slightly more torque than the Hitachi at 330Nm and also offers 4 stage impact power selection.
This is a lightweight, compact and durable option that has a soft grip designed for easy handling. It can be used for multiple jobs without leaving you feeling fatigued.
This 1/2 inch impact wrench requires an 18-volt lithium-ion battery and has a brushless motor for ultimate efficiency. The high torque and adjustable speed let you handle a variety of jobs and there is a handy auto-stop function too.
As you may expect, this Makita impact wrench also comes with LED lights. Something that makes this stand out from other models is that the light has an after-glow and pre-glow function so you can select the best setting for the situation.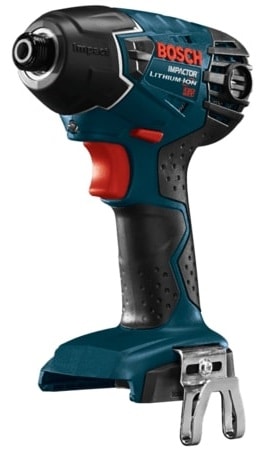 If you need an impact wrench for DIY jobs, the Bosch cordless impact driver is ideal. It offers a maximum torque of 130 Nm which is great for working with wood and metal.
This is a compact tool that fits comfortably in your hand and weighs only 1.3kg. This makes it easy to control and means you can use it for larger jobs without getting tired.
This model features a 1/4″ hexagonal tool holder for screws up to 8mm in diameter.
This impact driver comes with 2 18V lithium-ion batteries and the motor runs on reduced current meaning it offers a longer runtime. Unfortunately, there is not a battery indicator but the fact you have 2 batteries means you can easily switch them if one runs out of power.
The Dewalt Brushless High Torque Impact Wrench is a heavy-duty option that can handle all jobs. It offers 700 ft-lbs of torque (or 950Nm) which is the highest torque of the listed units.
This is one of the most powerful impact wrenches available, it can handle everything from rusty lug nuts to anchor bolts, cranks and tyres. It has a three-speed control which ensures it is versatile enough for a range of applications.
Despite the incredible power, this 1/2″ heavy-duty impact wrench weighs just 2.9kg. While this is more than the other trade models we have reviewed, the power to weight ratio is excellent and the rubber grip makes sure you have full control when in use. The LED light with a 20-second delay is a nice feature for visibility in dark spaces too.
This impact wrench comes with a 1/2 inch anvil with a detent pin which helps to prevent dropping sockets. One thing to keep in mind is that this works with product specific 20-volt batteries only.
The DCF899B is built to be strong, it is ideal for use in construction sites and can handle being dropped without damage. This comes with a 3-year warranty, one of the longer warranty coverages available for impact drivers.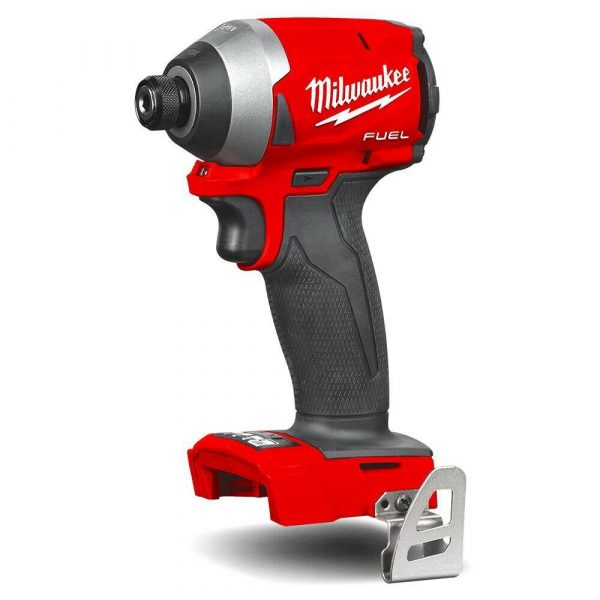 This Milwaukee Cordless Impact Driver offers a combination of high power and fast speeds. It is perfect for use in tight spaces as it is only 11.6cm and weighs 1kg (the lightest of the listed impact drivers).
The brushless motor offers a maximum torque of 226Nm and there are 4 power modes to choose from giving you full control over the amount of power.
This 1/4″ impact wrench delivers high performance and power without breaking the bank. On top of the value for money, Milwaukee has a great reputation for producing durable tools that are built to last so you can be confident you won't need to buy another tool for a long time.
If you need a small, lightweight impact driver this is definitely the one to choose. The battery doesn't last quite as long as some other units but the compact size and high power help to ensure a high level of productivity.
This 1/2″ impact wrench is a great solution if you need power tools for home use without the high price tag. Of course, a lower price means you won't get some of the features seen of higher-priced models. In this case, the TOPEX impact wrench is the heaviest of the listed tools at 3.68kg.
A heavier weight means this is better suited to smaller jobs where you won't need to hold the impact wrench for long periods of time as you will get tired more quickly.
With that said, this is a great tool that offers a maximum torque of 200Nm making it perfect for jobs such as tightening and loosening nuts and bolts, bolt removal and automotive repairs.
While there is only one power mode, the variable speed trigger helps you to have control over the impact wrench while in use. The compact size and LED light help you see what you are doing in tight spaces.
This 20-volt impact wrench kit comes with a lithium-ion battery, charger and case. This is excellent as many impact wrenches do not include the battery and charger.
Impact Wrench Comparison Table
| | | | | | | | | | |
| --- | --- | --- | --- | --- | --- | --- | --- | --- | --- |
| Impact Wrench | Our Verdict | Category | Brushed/ Brushless | Max. Torque | Power Modes | Weight | Battery Type | Warranty | Check Price |
| Hitachi | Best Overall | Trade | Brushless | 305 Nm | 4 | 1.2kg | 18V | 1 year | My Deal, eBay |
| Makita DTW300Z | Runner Up | Trade | Brushless | 330 Nm | 4 | 1.2kg | 18V | 3 years | Amazon, eBay |
| Bosch | Best For DIY | DIY | Brushless | 130 Nm | 1 | 1.3kg | 18V | 2 years | Amazon |
| Dewalt DCF899B | Upgrade Pick | Trade | Brushless | 950 Nm | 3 | 2.9kg | 20V | 3 years | Amazon |
| Milwaukee M18DIF2-0 | Best Value | Trade | Brushless | 226 Nm | 4 | 1kg | 18V | Not listed | eBay |
| Topex | Budget Option | DIY | Brushless | 200 Nm | 1 | 3.68kg | 20V | 1 year | Amazon |
Impact Wrench Buying Guide
An impact wrench is one of the most useful power tools in a professional and DIY kit. It can save time and frustration by bringing more power to help loosen or tighten nuts and other assembly or disassembly tasks.
There is a wide range of impact wrenches available so use this buying guide to make sure you choose the best impact wrench for your uses.
Torque
The most important spec to look at is the torque the cordless impact wrench offers. Consider the maximum torque you need, the higher the Nm or ft-lbs of torque the higher the force. As an example, a wheel bearing is tightened to around 120Nm, take a look at a relevant torque chart to help you know the required fastening torque for your jobs.
The listed impact wrench models offer between 130 – 950Nm. When comparing tools, it's best to look at the maximum torque rather than looking at the nut-busting torque (which is when the impact wrench uses a burst of additional power to loosen extremely tight nuts and bolts).
Most impact wrench models offer variable torque settings which makes them more versatile.
RELATED: The Best Torque Wrench
Drive Size
For most uses, a 1/2 inch impact wrench is the best option. This is an excellent tool for a wide range of professional and DIY applications. Other tool sizes are 1/4″, 3/8″, 3/4″ and 1″.
The smaller sizes (1/4″ and 3/8″) are best for use in tight spaces for bolts 10mm in diameter or less. They are good for accuracy and precision rather than power. The larger sizes (3/4″ and 1″) are best for use in professional settings such as on construction sites. They offer very high power (too high for use on home projects).
If you are removing old lug nuts then it's best to go for a 1/2 inch drive size. This offers enough power while not applying too much torque. This is also the best drive size for changing tires and other automotive work. If you have a larger vehicle or truck then a 3/4-inch tool may be better suited.
Ease of Use
The impact wrench needs to have an ergonomic shape and a comfortable grip on the handle to reduce strain. The cordless impact wrench should be lightweight too as this helps to reduce fatigue and makes it easier to handle and control the tool even at its highest power.
If the tool has multiple power settings it should be quick and easy to switch between settings and there should be an indicator that lets you know which power setting has been selected. Using an impact wrench on the wrong setting for the application can lead to more physical strain and other issues such as damage to the bolts.
Power Source
Most cordless impact wrench models are 18V but there are some 12V and 20V options too. The higher the voltage, the more power the impact wrench offers.
There are also corded impact wrenches that use mains power but these are generally best for situations where they will need to be used all day (and they don't tend to be as powerful as cordless options).
You may find an impact wrench kit that comes with the batteries and charger but for a lot of options, the battery and charger need to be purchased separately. It's best to buy 2 batteries so that you have one to use while the other is charging.
Electric Vs Air Impact Wrench
An air impact wrench is often used by professional mechanics as they are much more powerful than electric options. They are too powerful for DIY and woodworking tasks but are great for professionals who spend their day using max torque to remove rusty lug nuts.
An electric impact wrench is perfectly suited to simple tasks and day to day jobs. These are jobs an air impact wrench would be too powerful for. Unless you have an extremely heavy-duty use that is ongoing rather than one-off, the tool to choose is an electric impact wrench.
You may also see standard chuck impact wrenches and friction ring (also known as hog ring) impact wrenches. Standard chuck options use a ball bearing to hold the socket in place while a friction ring uses a hole and rubber ring to hold the socket in place.
RELATED: The Best Socket Sets
Other Features
LED Light – this is a useful feature that helps to increase visibility when working in compact or darker places. Some impact wrench models offer adjustable lights or other features such as a light delay or pre/after-glow.
Reverse Function – this will let you unscrew nuts and bolts quickly and easily.
Variable Speed – having different speed options helps you to get the most out of your impact wrench as you can use it with different materials.
Safety Features – a high-performance impact wrench needs to include safety features such as cooling and anti-overloading.
Brushed vs Brushless
The new generation of cordless power tools is brushless. This means they don't use brushes to send the rotor electricity but instead, the rotor uses permanent magnets.
While brushed tools have their place, we recommend investing in a tool with brushless motor technology as it offers better performance and a longer life cycle. If you're still not sure, this quick comparison may help:
Brushless Advantages
Increased durability
Increased power density
Longer lifespan
Minimal maintenance
Can run forwards and backwards with the same level of power
Can reach high and low speeds with ease
Less heat production
Brushless Disadvantages
Brushed Advantages
Inexpensive
Reliable
High torque-to-inertia ratio
Brushed Disadvantages
Require maintenance
Components can wear out
Low max speed
Low heat dissipation
Brushed and brushless motors have the same operating principle, they just have different designs which results in a slightly different user experience. Brushless motors cost more but their increased efficiency makes up for this. Overall, brushless motors are superior to brushed motors and will give you the best results.