A vehicle heads up display is a gadget that projects driving data onto the car windshield to help stop drivers from taking their eyes off the road. These devices improve safety, are quick to install and are affordable for all budgets. Some high-end vehicles now come with HUDs included but there's no need to wait until you get a new car to enjoy the benefits, you can buy your own aftermarket heads-up display without breaking the bank.
To help you find a HUD model that works with your car and has all the features you need, we've reviewed some of the best heads up display units on the market.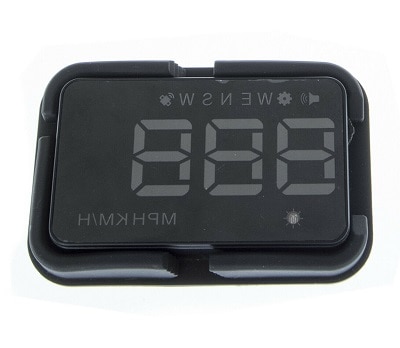 This Heads Up Digital Display from Adventure Kings is designed to suit all vehicles. It comes with a flexible plastic combiner that attaches to all windscreen shapes.
The bright green LED display projects your speed and direction of travel onto the windscreen and is adjustable to suit any light. The system needs to be plugged into the car's cigarette lighter so it can be installed and removed with ease.
The projection is directly in your line of sight so you don't need to look away from the road to make sure you are travelling within the speed limit. The Adventure Kings head up display uses GPS so it does not rely on your old speedometer for data and it is not affected by other factors such as changing tyre sizes.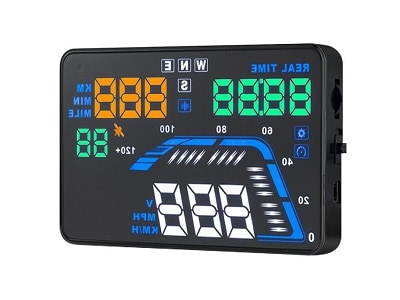 This Car Head Up Display boasts a simple plug and play system that can be installed in any vehicle. It makes sure crucial information is clearly projected where you need it most.
The system uses GPS satellite to retrieve key driving information including your speed and projects it onto your car windshield. All of the essential dashboard data is projected into your line of sight so you can keep your eyes on the road.
The GPS Car Head Up Display automatically adjusts its brightness to decrease glare and ensure total visibility day and night.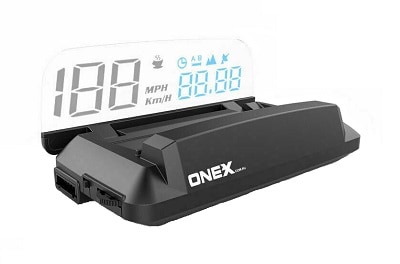 The Onex Universal Car GPS HUD is a multifunction display that works with all vehicles. It doesn't matter what the make or model of your car is, you can quickly and easily install one of Onex's head up displays.
The display has 6 modes so you can set it to show only the speed or you can select which other information you want to be displayed. The options include a clock, driving distance, driving time, altitude and satellite number. For an improved driving experience, this HUD also has a fatigue driving alarm and an overspeed alarm.
The G3 heads up display uses a semi-transparent and semi-reflection lens to ensure you can always see a clear and sharp image without seeing a blurred or double image. The auto-brightness sensor adjusts the brightness according to the light but you can adjust it manually too if needed. This smart HUD has an auto on/off feature that works when you turn on/off your ignition.
The iKiKin HUD offers two modes so you can switch between OBD2 and GPS as needed. The system automatically turns on/off with your car and has a large, clear display for ease of use.
The built-in lens hood makes sure data is clear to read and there are no double images. There are four driving data display modes allowing you to choose the data you want to be shown including speed, voltage, engine RPM, water temperature, travel time and mileage.
This Head Up Display works well in all conditions including full sun as well as in low temperatures during winter. For added safety, this HUD will let you know when the data exceeds the safety data. The iKiKin also comes with a 2 year warranty.
This heads-up display from Scosche is high-quality and reduces the number of times you take your eyes off the road when driving. It displays important information including MPH/ KmPH, engine RPMs and status indicators.
The multi-colour display uses bright LEDs and automatically adjusts the brightness to suit day and night.
This unit is suitable for use on all vehicles from 2001 and newer. For added convenience, users can also program alerts for speed, voltage and temperature.
This HUD from Sangmei features a high-definition display, multifunction readings and a range of safety alarms. This is one of the best heads up displays for safety as it will alert you to voltage, water temperature, overspeed and engine failure. It also has a gear shift reminder and a fatigue driving reminder.
On the display, you can get information on your speed, engine RPM, voltage, water temp and driving distance. The display lens makes sure you can clearly view the information without the need for film.
This HUD is simply "plug and play" so no other tools or professional equipment is needed to install and use the unit. The Sangmei display includes everything you need and switches on and off with your car to help preserve battery life.
Heads Up Display Comparison Table
Heads-Up Display Buying Guide
A heads up display is a device that makes driving safer by keeping those behind the wheel looking at the road. Some newer cars even have head up displays included while others offer it as an additional extra. There's no doubt these futuristic displays are gaining popularity and we can see why. There are now lots of affordable options on the market so everyone can enjoy the benefits of HUDs. This buying guide will help you find the best head up displays available.
Why Choose A Heads Up Display?
There are many benefits to buying a heads up display for your vehicle. Installing one can help you read important car data and travel information without needing to look down at the dashboard. Some of the key advantages include:
Improve safety when driving
Avoid speed violations
Shows real-time car data
Gives access to trip data otherwise not available
Easy to install
Affordable
Some connected with your phone
Customisable
Can be used day and night
Important Information
Different HUD models will project different dashboard information (with all models displaying speed as a standard feature). This means you need to think about what data you want to be projected onto the windshield. Key data you may be interested in includes speed, the direction of travel, altitude, water/ engine temperature and information like fuel level, fuel consumption and engine check.
A model that offers various display modes lets you customise what information you would like to see on the windshield. When choosing between HUDs consider if you just want the basics (speed and direction of travel) or if you want a more advanced model that displays a lot more including GPS, navigation directions and access to engine-related information.
RELATED: The Best Dash Cam
Safety Features
In addition to showing you your real-time speed, some heads up displays can alert you when you are driving over the speed limit, when the data suggests driving fatigue and when something is outside of the normal parameters e.g. voltage. These kinds of features can help drivers stay safe and help to make people aware of important data and potential issues far sooner than they would be if just relying on the dash. A HUD limits distractions while improving safety and these features help with that.
Power Source
HUDs can be powered via the cars cigarette lighter, USB port or OBD II port. The power requirements depend on the product you choose but it's important to check to make sure your car has the appropriate power port. Older vehicles still use a cigarette lighter so a HUD powered in this way will work but newer cars are often without this port and will work better with the device connected to the OBD II port. Make sure the car and the unit are compatible to save time, effort and money.
How To Set The HUD Up
HUD displays are simple to set up, they can usually be plugged into the car via USB, the cigarette lighter or via the OBD II Connector located near the driver's seat. Most HUDs are plug and play to make them as easy to use as possible. Once plugged in, the projector needs to be positioned and then it's ready to be used.
Some models automatically power on and off when the car does, this is convenient and helps to keep the car battery in good health. If the unit does not automatically power off, make sure you turn it off or unplug it at the end of each trip otherwise your car battery might run down.
RELATED: The Best Throttle Controller
Screen Size
The best heads up display clearly shows you the information you need without overcrowding the screen or windshield. The size and format of the display play a big role in this. A HUD will show you everything you need to know but if it's crowded or in a colour that is difficult to see it won't be of much use. Look for a HUD that has a good-sized display, shows the information you need and organises it in a way that is easy to read at a glance.
Having the information sectioned off and shown in different colours can help make it easy to see the relevant data at a glance. Look at the HUD in action before buying it so you can see the screen layout and decide if it will work for you.
Screen Film
One of the features you will see on HUDs is either a screen film or a separate screen that's used for projecting the information. The film needs to simply be stuck to the windshield to prevent the distortion that can occur when projecting directly onto the windshield. A separate screen means the data won't be shown on the windshield but on the screen instead.
Auto-Brightness
The brightness of the display is important as the driver needs to be able to read the information even when the sun is shining down onto it. To give the best driving experience many HUDs automatically adapt to suit the light meaning they will become brighter in the sunshine and will be dimmer during the night to avoid causing eye strain.
Phone Connection
Some of the best heads up display models can connect with your smartphone and will display call and message notifications as you receive them. We all value the ability to stay connected so this may be a feature to look out for (phone connectivity is not available on all HUDs).
Being able to connect your phone to the display through Bluetooth means any phone notifications will be shown on the car windshield in front of you. You won't need to reach for your phone before answering calls etc. which will reduce distractions so you can keep your hands on the steering wheel and eyes on the road.