Have you noticed your car headlights have become foggy, scratched or discoloured? This is extremely common as the headlight becomes worn and oxidised over time. This age-related wear can affect how well your lights work. Many people decide to replace the headlights completely in an attempt to fix this problem. 
There is actually a far simpler, cheaper way of dealing with this. A low-cost headlight restoration kit is all that is needed to clear the headlights and make them look as good as new. After using a high-quality restoration kit you'll find driving in the dark safer and easier. We've reviewed the best headlight restoration kits below so you can choose one with confidence.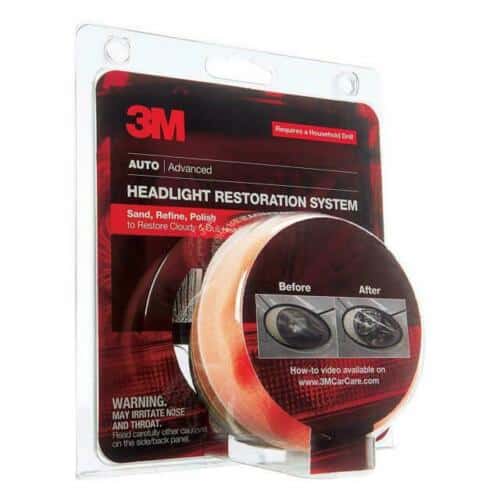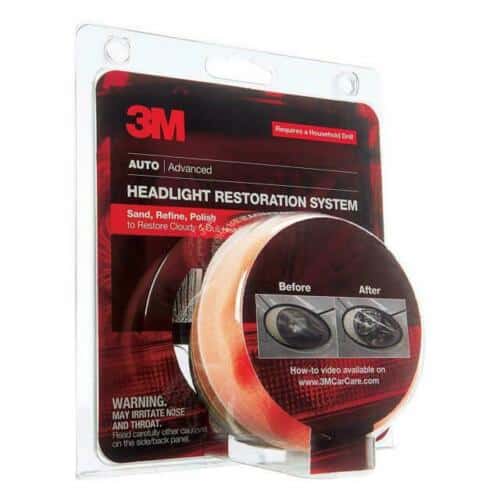 This 3M product is one of the best headlight restoration kits available. It can be used with or without tools and helps you sand, refine and polish your headlights to remove any dirt, cloudiness, marks and yellowing.
The pack includes sanding discs and polishing compound and can be used on any of your car lights. One kit includes enough product to restore two headlights. Although not essential, using this restoration system with a household drill can help you achieve professional results with ease. 
Ths sanding discs are used to remove any imperfections in the headlights and the polishing compound provides clarity and protects the surface against future wear and tear. This is a simple, easy to use home kit that makes a considerable difference to your headlights.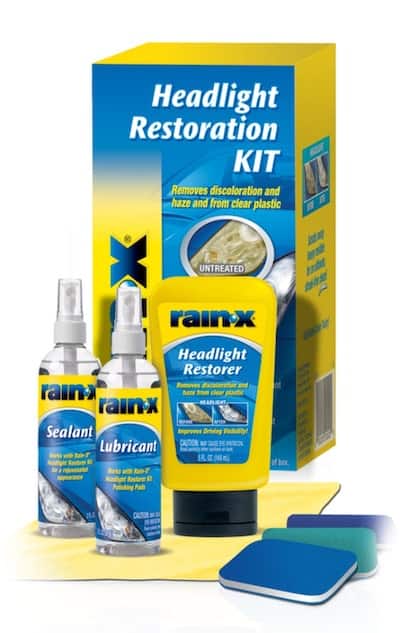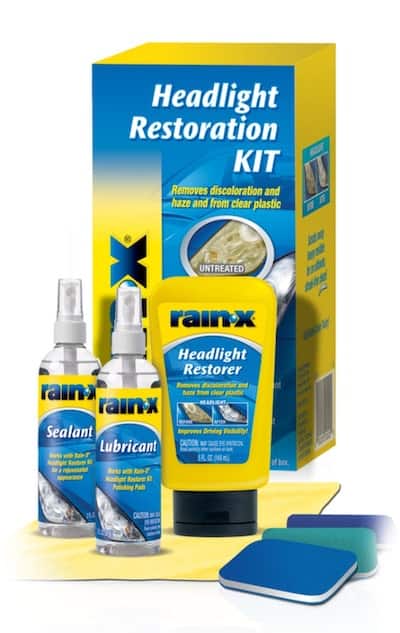 This low-cost restoration kit comes with headlight restorer, sealer, lubricant, 3 polishing pads and a microfiber cloth. It has everything you need in the pack so no additional equipment is required. 
With this product, it takes 3 simple steps to get headlights clean and clear. There are three grades of sandpaper which can be used with the included lubricant to remove any haze or yellowing, then the Rain-X polish is used to remove scratches and finally the sealer should be applied to protect the headlight from future damage. 
This restoration kit is straightforward to use and provides a deep, long-lasting clean of vehicle headlights. Using the Rain-X restoration set will clear plastic headlights with ease making driving with your lights on safer.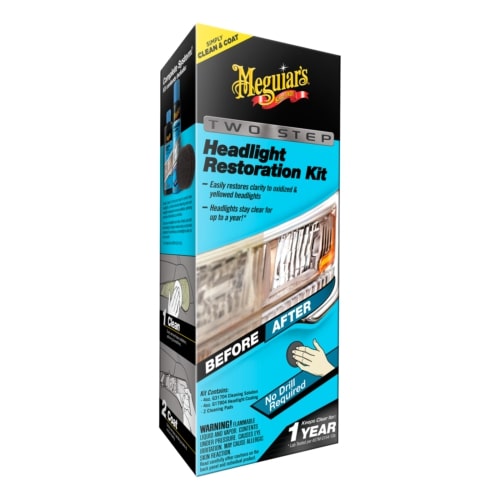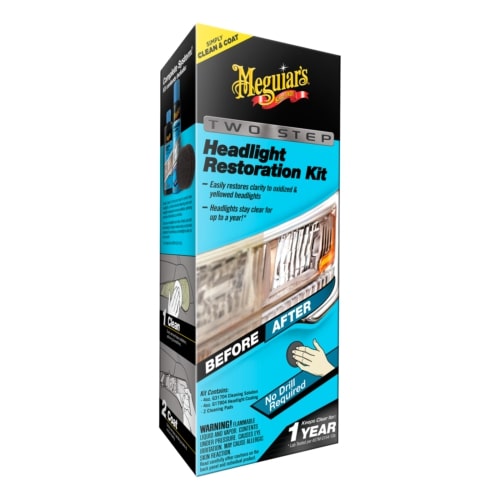 The Meguiars restoration kit removes marks and protects headlights against oxidation for up to a year. This two-step process is quick and simple making it ideal for use at home. The kit is designed to be used on uncoated clear plastic. 
This method requires no tools and no sanding, you simply use an abrasive pad and cleaning compound to clean the surface and then apply the headlight coating. The results are immediate and you don't need to do anything else.
If you don't want to sand the plastic down but still want to see great results, this is the restoration kit to choose. It produces a clear finish that will ensure the lights can shine as brightly as they should when you are driving in low light conditions.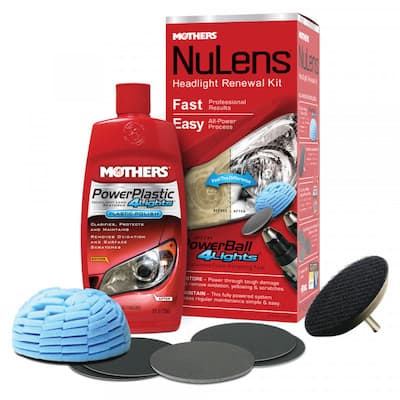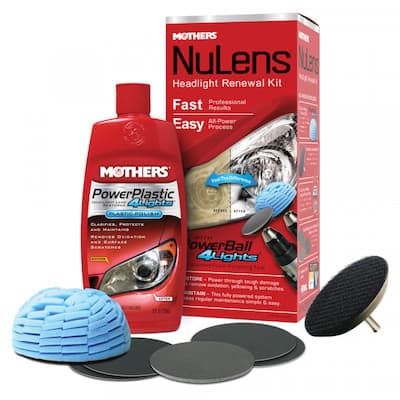 Many of the kits available are single-use but this set from Mothers can be used time after time. The pack includes restoration discs, a PowerBall 4Lights polishing tool, a backing plate and liquid polish. 
The NuLens headlight renewal kit is powerful enough to remove all flaws from plastic and acrylic headlights to make them look as good as new. It is safe, quick to use and delivers professional results. 
This product is designed to be used with a cordless drill. Using a drill helps to get the best results and means it will only take a couple of minutes to fully restore each lens. The polishing tool can be washed and reused and the liquid polish helps protect your headlight against damage in the future. This Mothers NuLens set is ideal for long-term maintenance of your headlights. 
Headlight Restoration Kit Buyer's Guide 
Restoring your vehicle's headlights at home is a quick, simple and affordable way to make your car safer, increase its resale value and save money on repairs and replacements. As you can see from our reviews above, there are lots of restoration kits available. 
The best headlight restoration kit for you will depend on the condition of your vehicle and whether or not you want to use tools to carry out the restoration work. Use this buyer's guide to make sure the product you choose offers everything you need.
RELATED: The Best H4 Globes
Where To Start
Before you do anything else, look closely at the current condition of your headlights. The key thing to look at is whether your headlights have major damage (enough marks and discolouration to impact the light clarity) or minor damage (a few scratches and imperfections here and there). You will also want to note the headlight material. Once you have looked at your headlights decide if you need a:
Single-step kit – a single step restoration kit is great for fixing minor issues. It will get rid of any light scratches and marks while also applying a coat to protect the headlight from future damage. This is a lower-cost option best for dealing with headlights that are still quite clear. 
Multi-step kit without tools – a multi-step kit helps you restore headlights that are more damaged. A kit without tools is effective but may take some elbow grease to restore headlights with deep scratches. 
Multi-step kit with tools – if your headlights have lost a lot of clarity due to fog and yellowing we'd recommend you choose a multi-step kit that uses tools. This helps you get professional-level results without having to use too much elbow grease. The drill will do all of the hard work for you in regards to removing any scratches, yellowing and fog. 
Headlight Material 
Some older vehicles use Plexiglass for their headlight covers rather than plastic. Plexiglass is harder to deal with because it is much more brittle than plastic. 
If your vehicle uses Plexiglass it is best to choose a single step restoration kit to avoid damaging the headlight further. Strong chemicals or sanding methods can make the headlight worse so take care with this.  
If your vehicle has a plastic lens (as most newer vehicles do) then you can use multi-step kits. Plastic is more resistant and is able to withstand stronger treatments to give better overall results. 
Tools Vs No Tools
Some restoration kits are designed to be used with tools and others are not. If you choose to use tools you are more likely to achieve better results without spending any extra time on the job. 
However, not using tools can produce great results too (and can help save you money). It comes down to personal preference, whether or not you have the relevant tools available and the condition of your headlight. 
If your headlight has considerable discolouration, fogginess or dullness it is best to use tools to help remove this and get the best results on the first use of your new kit.
Complete Kit 
Some restoration kits come with everything you need in one pack while others come with the key items but you need to buy the clothes, abrasive pads etc. separately. Double-check what's included in the set you are buying so you know whether you will need any extra equipment or if it is an all-in-one option. 
Other Important Factors
Abrasive Pads – abrasive pads play an important part in restoring headlights. They are used to remove scratches and can be made from a number of materials. The most common sanding material in restoration kits is silicon carbide, this is ideal for use on plastic or Plexiglass headlight covers. Other abrasive pad materials include aluminium oxide (best for removing light damage) and garnet (best for making the headlight smooth). 
Sealant – once you have removed the damage from the headlight applying a sealant will help to protect it and prevent future damage. This simple step makes sure your hard work lasts a long time. A common cause of headlight discolouration and damage includes UV exposure and applying a sealant helps to provide long-term protection against the sun and weather.
Potential Uses – some kits are designed to be used on two headlights and nothing else while others can be used on a range of plastic surfaces, windows, lights etc. The best kits are versatile and offer a range of potential uses as they give you the option of restoring all of your car lights and so much more.