A Bluetooth car kit helps you stay focussed on driving and ensures you keep your hands on the wheel rather than becoming distracted by your phone or devices. Bluetooth kits are convenient, easy to install and let you safely use your phone while you drive. However, not all hands-free kits are created equal, the below reviews will help you find the best hands-free car kit for your needs.
The Besign BK03 works with Bluetooth 4 .1 to provide the best experience with lower power consumption and wider device compatibility. Once the Bluetooth car kit is plugged in and you start the car it will automatically power on and sync with the last connected phone.
To help provide the best sound quality, there is a ground loop noise isolator included with the kit. This isolator can be used to get rid of any buzzing noise interrupting the audio. For safe use when you are driving, the controls can be clipped to the air vent and there is a button to activate Siri or voice control.
The multipoint technology lets you connect two phones at the same time and you can also charge additional devices thanks to the dual port car charger that connects to the 2.1A cigarette lighter power adapter.
The Aston Innovations SoundTek A2+ is impressive, easy to use and features smart voice assistant, backlit control buttons and multipoint technology.
This kit uses Bluetooth 4 .2 which works with the majority of Bluetooth devices and supports high-end audio codecs. For ease of use, the unit will turn on and connect to the last connected phone when you start the car.
You can make hands free phone calls when driving and the built-in noise isolator makes sure the sound quality is excellent while the mic picks up your voice clearly. For added convenience, you can connect up to two phones at one time.
This Bluetooth car kit clips onto the visor and uses a rechargeable battery so there are no cables to get in the way. The built-in rechargeable battery lasts up to 22 hours of use, over 600 hours of standby time and can be recharged in 2-3 hours.
The Avantree CK11 works with Siri or Google Assistant so you can make hands-free calls, send texts and ask for directions without distractions. The built-in speakers, echo and background noise-reduction help to ensure every phone call is crystal clear and you can adjust the volume using the volume knob on the panel.
You can connect up to two devices and switch between them for music streaming and calls. One of the key features is the built-in motion sensor that detects when the car door opens and turns on.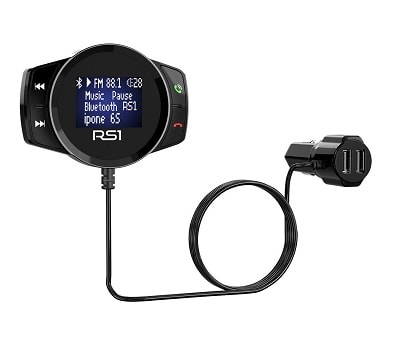 This Bluetooth Car Kit can do it all so is perfect if you want to listen to music or FM radio, answer calls or charge your phone. This system supports external TF cards, USB flash drives and Mp3/WMA format files so you can enjoy all different media and file types with ease.
The multiple modes let you switch between Bluetooth 4 .2, TF and FM at the push of a button. It has an adjustable magnetic base so you can position the control panel on the dashboard.
This unit has a large high definition display and you can switch between 6 EQ modes to enjoy the best sound for the type of music you are listening to. The dual USB charge adapter lets you charge mobile devices on the go and the unit automatically detects the car battery voltage so you will be alerted to any potential problems.
This Kinivo BTC450 is a compact hands-free system that is easy to install, user-friendly and looks smart. It features a multi-function button that lets you answer calls and control music.
This device works with any Bluetooth smartphone and Bluetooth enabled music players. It lets you seamlessly stream music and has a built-in noise-cancelling microphone for high-quality calls. After you have first paired your device, the device then automatically connects each time it is turned on.
The USB charger can be connected to the car cigarette lighter so you can charge devices as you drive. This product also comes with a two-year warranty.
Car Kit Buying Guide
A Bluetooth connection is a great way to enjoy music and take calls without needing to actually touch your phone when you're driving. A new car usually let you connect at least two devices to the car stereo system via Bluetooth but older vehicles are limited in their capabilities. This doesn't mean you should miss out though. A hands free kit is low cost, easy to use and there are lots of options to suit a range of situations and connection types.
Types
Visor Clip On
Visor Bluetooth car kits are self-contained systems that include a speakerphone and wireless connection.
As they clip to the visor in front of the driver they are well-positioned for phone calls. Thanks to the speakerphone the audio doesn't have to go through the vehicle's speaker system meaning conversations are clear with no feedback or distortion.
This is the most expensive product type because the visor clip-on has a built-in speakerphone to output its own sound. The top use for this type is phone calls but music streaming is an option too.
Aux in
Aux-in is the least expensive option as it simply plugs into the aux port of the car. If you choose an aux-in product, it's a great idea to add a docking station or clip as this can help you position the controls within easy reach and helps keep the car organised. While this is a great option, not all cars have an aux port so make sure you check your car before buying this one.
FM Transmitter
If your vehicle does not have a built in aux or USB plug-in then your best bet is an FM transmitter. This usually plugs into the cigarette lighter in the car and connects your phone to the car via FM signals.
If you choose one of these, it needs to be good quality in order to send a strong enough signal so your car stereo can pick it up. The downside to this is that FM signals tend to be noisy and unpredictable so the sound quality might not be great through the car stereo or speaker system.
Why Use A Hands Free Kit?
Using your phone when you are driving is illegal and doing so can result in fines and incurring demerit points. A hands free system allows you to still use your phone without physically touching it (using it through Bluetooth or voice activation instead). This makes sure you are acting within the law and driving in a way that is safe and responsible.
Integrated Bluetooth Car Kits vs FM Transmitters
An FM transmitter is a Bluetooth connection that uses FM to play your audio through your car's speaker system. You simply plug it in, connect your phone and tune into the relevant FM station to listen to your music. FM transmitters are best-suited to people who want to stream music as a priority.
An FM transmitter is also a good choice if your car doesn't have an aux or USB connection port. There are a couple of downsides to this system though, the music controls and phone controls are only accessible through the device itself and the call quality isn't great as there is no external mic.
An integrated Bluetooth kit connects directly to the stereo head unit via the cars CD changer port. This means the car's stereo system controls will work in controlling the music, call volume etc.
As the integrated Bluetooth is connected to the head unit it provides excellent audio and call quality. This service is one of the best as it provides a more permanent, high quality solution but it does come at a higher price and isn't as easy to install.
Key Features To Look For In A Bluetooth Kit
Controls – controls are generally kept to a minimum to ensure the products are user friendly. One or two large buttons can be useful for answering calls or adjusting the volume but more than this can become fiddly and complicated to use while driving.
Display – a display isn't essential but it can be good for displaying the caller ID, song name and (if the kit is powered through the car cigarette lighter) the car battery voltage.
Built-in Mic – the best Bluetooth car kits offer high quality calls with a built-in microphone. Some even have built-in noise-cancelling capabilities that remove background sounds and echoes to ensure the phone call is clear and easy to hear for both parties. A Bluetooth kit that is clipped to the driver's visor often provides better audio quality as the microphone is positioned closer to the driver.
Sound Quality – in addition to the quality of phone calls, the audio quality needs to be good too. You should be able to enjoy your favourite music without hearing interference, echoes or interruptions. The biggest factors that impact the quality of the sound are signal strength and clarity. If the signal strength is not good it will impact the clarity too.
Power Supply – if you choose a battery-powered option, make sure you check how many hours of talk time you can expect from each charge. Some offer hundreds of hours of standby and 20+ hours of talk time while others will need charging every couple of days.
Connection – a Bluetooth kit usually connects to the car via the aux input, USB port or through an FM transmitter. Some kits are only able to connect with one device while others can connect with multiple devices. If you tend to drive with several people in the car it may be worth looking for a Bluetooth audio system that connects to multiple devices.
Pairing – The best Bluetooth kit will automatically connect with your device when you get into the car (after the initial set up/ pairing). This stops you from having to pair devices each time you need to use them. If you have two phones that will be connecting to the Bluetooth system it is handy to choose an option that remembers all paired devices and automatically connects with them.
Other Functions
Auto Off – an auto-off feature is great because it saves battery power and stops your phone from connecting to the system when you are within range but not actually in the car.
Motion Detection – some new products feature motion detection which detects when you get in and out of the car and uses this to know when to turn on and off.
Voice Activation – voice activation is useful for controlling the unit without needing to physically touch it.
Built in charger – this is usually internal charging that connects to the car's cigarette lighter.
Aptx – this enhances sound quality.