Driving at night with low-quality headlights can increase fatigue and eyestrain. This might be okay for short drives but upgraded H7 bulbs can be brighter, safer and more effective (and they look great too).
To help you in your search for the best new bulbs for your vehicle, we've analysed the best H7 bulbs on the market and assessed them against a range of important criteria including lumens, kelvin rating and lifetime. This review and comparison makes it easy for you to find the best H7 bulbs for your car, preferences and style.
The Philips H7 WhiteVision Ultra Headlight Globe is one of the whitest headlights available that is completely road legal. They offer a combination of style and vision that we love.
These halogen bulbs offer a colour temperature of 4200K, this is a much cooler (whiter) colour than many alternative headlight bulbs. Even the Philips standard WhiteVision bulb offers just 3200K, which is a big difference. This is the bulb to go for if you want a crisp white light rather than the standard yellowish light of halogens.
This is a high-performance headlight that provides 1400L, this is 60% more light output than standard halogens. This can help drivers see better and spot obstacles and dangers more quickly when night driving.
The only downside to having light bulbs that produce such a bright white light is the lifespan of the bulb is reduced to around 350h. This is certainly not the worst but it doesn't come close to the Philips Long Life Ecovision's 1500h lifetime.
The Osram Night Breaker halogen bulbs offer great value for money. They offer an impressive brightness output of 1500L and a colour temperature of 3200K. This means they produce a bright yellowish light.
These bulbs are easy to install and the difference in performance compared to a standard bulb is instantly apparent. The downside is that this bulb has a shorter lifespan than a standard halogen bulb.
The beam of these lights reaches up to 130m and the bulbs are bright without being too white making them ideal for improving your visibility without causing glare for oncoming drivers.
This is a halogen headlamp that produces a Xenon look with a bright light and cool colour. The Cool Blue Intense H7s have a colour output of 4200K, making them the bluest legally approved halogen headlight.
In addition to the blue colour, these headlights offer a brightness of 1500L so you won't be sacrificing any performance for colour.
These halogen headlights are definitely targeted towards drivers looking to upgrade their headlights for improved style. These bulbs are reliable but they won't last as long as the Osram Night Breaker H7s or a standard halogen.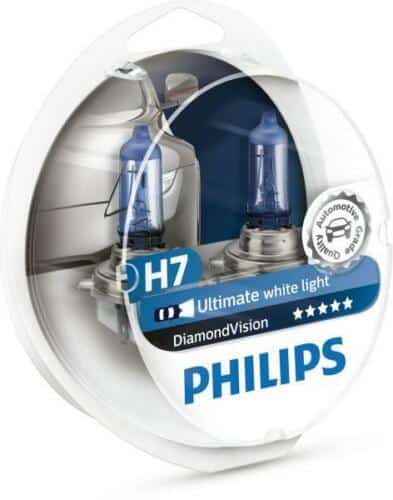 If you're looking for a styling bulb for off-road use, the Philips H7 Diamond Vision is worth a look.
These bulbs offer an impressive 5000K colour, producing an ice blue-white light. This is the whitest upgrade available and cannot be used on-road. This is the halogen bulb to go for if you want a Xenon-style bright white light without worrying about compatibility issues of an LED bulb.
These lights offer a brightness of 935L, the lowest of all the H7 bulbs we have reviewed so don't expect too much brightness from these.
RELATED: The Best 4×4 Spotlights
If you want to upgrade your car headlights with a bulb that will actually last, the Philips Long Life Ecovision is the one to choose. These low maintenance globes offer reliable performance in all situations.
These bulbs offer 1500 hours of use, this is 4x the life of other halogen bulbs and they still manage to produce an impressive 1500L brightness.
The light output of these bulbs is a yellow colour as they are rated 3100K. This means they will be bright but offer a similar temperature to the halogen bulb you are replacing. If you are looking for functionality and longevity, the Long Life EcoVision bulbs are ideal.
The Narva Halogen Plus H7 headlights offer an increase in brightness and beam distance without increasing the power consumption or heat. This is a brighter light that is road legal and is designed to improve safety on the road.
The bulbs offer a 150% increase of light compared to standard globes. The beam also offers 60 metres of additional visibility so dangers can be seen earlier. The light temperature produced is 3200K which is on the yellower side of the colour temperature range, similar to a standard car headlight.
This bulb uses a high output coil with a blue ring coating offering high performance without additional heat or power. They are suitable for use with polycarbonate headlights and can easily be used in place of other H7 halogens.
The Philips RacingVision GT200 h7 headlights are the highest performing bulbs offered by Philips. They are completely road legal and produce a bright, vibrant light.
Installing these bulbs is quick and easy thanks to the universal fit and you can enjoy an improved, brighter field of vision immediately. These bulbs are up to 200% brighter than standard halogens as they offer up to 3500 lumens. This makes this bulb the brightest H7 halogen bulb by far.
These bulbs make a drive at night more enjoyable as you can see up to 80 metres farther without causing eye strain. The features of the RacingVision GT200 make them a great upgrade. They are made from quartz glass and have a new bulb coating that helps to deliver maximised and precise light.
With a lifespan of 250h these are not the longest-lasting bulbs but they are certainly among the brightest so a lower lifespan is to be expected.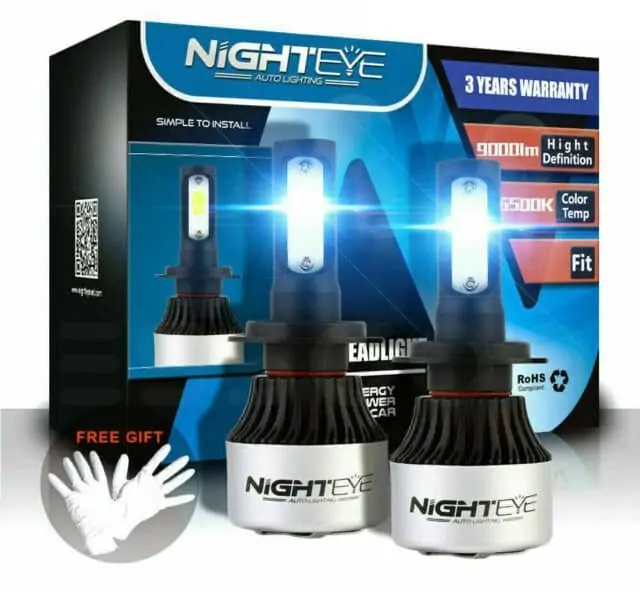 The Nighteye H7 is an LED bulb that has been created to be efficient and long-lasting. The LED light comes on instantly and has low power requirements.
These globes come with built-in two ball cooling fans that dissipate heat. This cooling technology is one of the key reasons these headlights offer a lifespan of 100,000h. The LED bulbs are also waterproof and rain resistant so they are safe whatever the weather.
These LEDs are plug and play, they have an all-in-one driver with a smaller size that can be connected to the original car lamp connector. The upgraded design ensures these bulbs are compatible with a canbus system making installation easy.
The light produces by these lightbulbs is bright white producing 4500 lumens and a colour temperature of 6500K. This makes the Nighteye H7's the brightest and whitest bulbs on this list.
Another great offering from Philips is the X-tremeVision globes. These have been created to offer a much higher vision range of 130 metres. This is a light pattern of up to 45 metres more than a standard halogen headlight meaning you can see more of the road and have more time to react to hazards.
Compared to a standard halogen headlight, the light produced by the X-tremeVision is whiter at 3700K and brighter at 1500L. This gives you an all-around safer and more comfortable driving experience.
These bulbs also give drivers 450 hours of use so they are reliable and offer good longevity for the price.
The final headlight bulbs on our list are the Osram Ultra Life H7s. These bulbs offer a life span of over 3,000 hours, the longest-lasting halogen bulbs of all of the reviewed options.
The bulbs offer 1500L and a colour of 3200K so they are pretty standard in their offerings but cannot be beaten on longevity. These Ultra Life bulbs come with a 4-year guarantee and are suitable for use with all vehicle types.
These Osram halogen bulbs have been developed to be able to produce continuous light without overheating so they can handle professional applications as well as casual use. They are a good choice for any driver looking for reliability and longevity rather than the brightest light.
H7 Bulb Comparison Table
| | | | | | | | |
| --- | --- | --- | --- | --- | --- | --- | --- |
| H7 Globe | Check Price | Type | Lumens | Kelvin Rating | Watts | Road Legal? | Lifetime |
| Philips WhiteVision | Amazon | Halogen | 1400 | 4200 | 55 | Yes | 350h |
| Osram Night Breaker | Amazon | Halogen | 1500 | 3200 | 55 | Yes | Not Listed |
| Osram Cool Blue | Amazon | Halogen | 1500 | 4200 | 55 | Yes | 300 – 400h |
| Philips Diamond Vision | eBay | Halogen | 935 | 5000 | 55 | No, off-road use only | 400-500h |
| Philips Long Life Ecovision | Amazon | Halogen | 1500 | 3100 | 55 | Yes | 1500h |
| Narva Halogen Plus | Amazon | Halogen | Not Listed | 3200 | 55 | Yes | Not Listed |
| Philips RacingVision | Amazon | Halogen | 3500 | 3500 | 55 | Yes | 250h |
| Nighteye | eBay | LED | 4500 | 6500 | 36 | Check with local laws | 100,000h |
| Philips X-tremeVision | Amazon | Halogen | 1500 | 3700 | 55 | Yes | 450h |
| Ostam Ultra Life | Amazon | Halogen | 1500 | 3200 | 55 | Yes | 3,000+h |
H7 Headlight Globe Buying Guide
Replacing your car headlight bulbs can be confusing but once you know what to look for you can quickly find the best light bulbs for your preferences and requirements. This guide will help you know what to look for.
Technology
Halogen headlight bulbs remain incredibly popular in automotive applications making them affordable and easy to find. There are lots of different halogen bulbs available offering a range of colour and brightness options to suit a variety of situations.
A LED headlight bulb tends to be the brightest option with the best lifespan. They use less power and generally produce a crisp white colour but these bulbs and kits are still relatively new for automotive use. Unfortunately, they are not always suitable for the car model and may not always be legal according to the Australian Design Rules.
This means research is required before buying LED bulbs to ensure they will work with your car and remain compliant with government rules. This also applies to the installation and use of HID bulbs and HID kits.
RELATED: LED vs Halogen vs HID vs Laser Headlights
Kelvin Rating
The light temperature of the bulb can make a difference to the overall visibility. A yellower light is more useful when driving in bad weather while a whiter light will be helpful if you do a lot of night driving. A whiter light also tends to be popular thanks to the overall styling benefits.
LED H7 bulbs offer between 5000 – 6000K while halogen H7 bulbs can vary from 3100 – 5000K. Between 4300 – 5000K producer a neutral white while anything higher than this begins to have a cooler blue tinge.
Brightness
The headlight bulb brightness is measured in lumens, the higher the lumens the brighter the bulb is going to be. The technology and features you choose will impact end results but overall LED H7 bulbs are the brightest, followed by HID and then halogen.
H7 Headlight Bulb FAQ
Which H7 bulbs last longest?
LED headlights last the longest but there are also long-lasting halogen bulbs such as the Philips Long Life Ecovision and Osram Ultra Life.
What cars does H7 headlight bulbs fit?
H7 bulbs are used as headlights in many cars including Audi, BMW and Mercedes. It's best to check your vehicle's handbook to see if it is compatible with H7 bulbs.
Is H7 bulb high or low beam?
The H7 bulb is primarily used for the low beam.
Are all H7 headlight bulbs the same?
No, they will have similar specifications but each bulb can offer a different technology (halogen, LED or HID), brightness level and colour temperature.
What is the difference between H7 477 and 499?
These bulbs are the same, the only difference is the packaging.
What is the difference between H4 and H7 headlight bulbs?
The H7 bulb has a single filament and is used for the low beam while H4 headlight bulbs have a twin filament meaning they can work both the high beam and the low beam.
How do you remove a H7 headlight bulb?
H7 bulbs tend to be quite tight and often need to be pried from their position. Tilting them up can help to loosen and remove them. Always check the manufacturer's instructions as the way you remove it will be based on the brackets being used.
Can I replace my H7 bulb with LED?
Yes, but care needs to be taken to ensure the LED bulb is road legal, suitable for your vehicle and properly fitted.