Driving at night can cause eyestrain and make you feel tired but this can be partly mitigated with high-quality headlights. Buying decent globes can improve safety and visibility when driving and also offer better overall aesthetics to your vehicle.
There is a wide range of automotive headlight bulbs available, each promising long life and maximum brightness. To help you in your search, we've analysed the best H4 bulbs on the market and assessed them against a range of important criteria including brightness, colour and lifetime so you can find the best upgrade for your car.
This is the latest generation of Osram Night Breaker Laser bulbs and is the brightest Halogen bulb produced by Osram.
These H4 bulbs offer up to 150m long beam for improved visibility. The Night Breaker Laser uses a pure Xenon gas filling that produces a light that is 150% brighter and 20% whiter than the minimum legal standard so drivers can see further when driving at night. The window on the bulb helps to optimise the distribution of light (and they also look great).
For the low price of these bulbs, they offer a huge amount of light, providing greatly improved visibility compared to factory lights. They are German manufactured and Osram has a strong reputation for producing quality bulbs.
The downside to having such a bright and powerful bulb is that the Osram Night Breaker Laser is less durable and has a shorter lifespan than standard bulbs.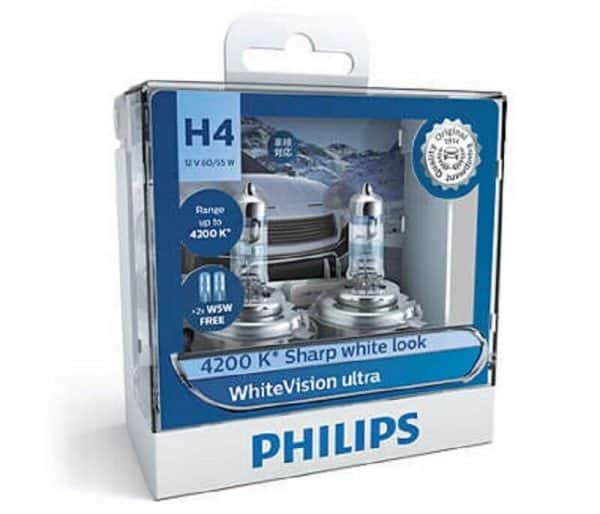 The WhiteVision Ultra Light Globes are the whitest road-legal halogen lights offered by Philips. They are a great option for anyone looking for a cool light that is both bright and stylish. These H4 globes produce a 4200 Kelvin white light.
These headlights produce a light that is similar to LED but they actually use halogen technology. One of the upgrades seen on the WhiteVision globes is the high precision coating formula that helps to provide great visibility and style.
These bulbs are manufactured to a high standard, they are ECE certified and meet all relevant regulations. These bulbs produce an increased vision of 60% to give drivers better clarity, improving safety and increasing the time available to react.
This is a set of two H4 bulbs so you can change both headlamps at the same time.
The Philips LongLife EcoVision H4 Globe is the one to choose if you are looking for a low maintenance, high-quality option. These globes are the perfect alternative to cheap headlight bulbs as they are not only low cost they are also built to last. This means you will save money in the long run as you won't need to replace them for a long time.
This bulb is made with UV-quartz glass making it much more durable than hard glass. The EcoVision H4 offers a lifetime of up to 1500 hours which is considerably longer than a standard halogen headlight and is the best lifespan of all of the halogen bulbs listed.
The EcoVision bulbs can withstand vibrations and temperature changes. They produce a powerful light and is a well-suited option for high voltage cars. This Philips globe complies with the standards of ECE approval.
As the Auxito 9003 bulbs are LED they are very bright and durable. This is a plug and play kit so the installation is quick and easy. The design is compatible with most vehicles but it's always worth double-checking against your vehicle specs before buying.
The light produced by these headlight bulbs is 6500K white. We like that these LED's come with warranty coverage. The 2-year warranty can help give drivers the confidence to upgrade to LED as many bulbs don't offer a return or refund policy.
These bulbs are fanless and use an aluminium base as a heat sink system to prevent overheating, this eliminates fan noise and fan failure issues. Each bulb produces 4500 lumens. The beam pattern is 360-degree adjustable to get perfect positioning for your vehicle and to avoid glare for other drivers.
The Osram Night Breaker Silver Halogen Bulbs are not quite as bright or long distance as the Osram Laser bulbs but they do offer a longer lifetime. This gives an excellent performance: lifetime ratio so you can enjoy bright lights without compromising durability.
The Night Breaker Silver produces 100% more brightness than the legal standard and the beam is 130 metres long. These are high-performance bulbs that are made in Germany.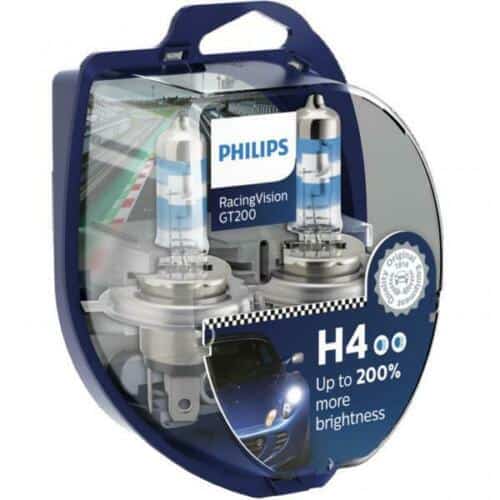 The Philips Racing Vision H4 Bulbs are high-performance lights offering 200% more light than a standard halogen. They also offer 80 metres more projection length.
These impressive numbers show that the Philips Racing Vision is going to produce excellent results but the downside is that the lifespan of these bulbs is among the lowest of the listed options. The increased light output and high performance of the halogen headlight bulbs mean they burn out a lot quicker, these bulbs have an expected lifespan of 200h compare to the Philips WhiteVision Globes that offer 540h.
With that said, these bulbs offer impressive performance and style. The bulb uses Philips quartz glass technology and is resistant to temperature changes and thermal shock. It also has Philips patented bulb coating which ensures clear light projection.
This LED headlight kit is an all-in-one design that is simply plug and play. This makes installation as easy as possible and the Lightbox headlight is 20% smaller than the original car headlight bulb to ensure the new bulb fits well.
These headlights have a metal heat sink to ensure the system does not overheat and the bulb output is regulated. This helps to keep the bulb operating at optimal performance without you needing to do anything.
This is the updated version which features an improved lighting pattern for safer and more precise light beams.
This LED headlight produces a whiter light of 6000k and offers a lifetime of 30,000h which is much more than the halogen bulbs can offer. These LED bulbs aren't a universal fit and some vehicles may need to use a canbus convertor.
The Narva H4 12V Halogen Headlight is a bright and high-quality option that offers a simple replacement for a standard halogen bulb.
These globes offer 30% more light while keeping the traditional light colour of around 3200K. While most of the headlight bulbs we have reviewed have offered a white light colour, this is the yellowish colour that is common for a halogen light.
These headlight bulbs are ADR approves, street legal and can be used with polycarbonate and glass lenses. The lights have been UV cut and contain two filaments, one filament for high beam and one for low.
H4 Headlight Comparison Table
| | | | | | | | |
| --- | --- | --- | --- | --- | --- | --- | --- |
| H4 Bulb | Our Verdict | Check Price | Type | Wattage | Lumens | Kelvin Rating | Lifetime |
| Osram Night Breaker Laser | Best Overall | Amazon | Halogen | 60/55 | 1650/1000 | 3900 | 80 – 400h |
| Philips WhiteVision | Best White Halogens | eBay | Halogen | 55/60 | 1560/ 960 | 4200 | 540h |
| Philips LongLife EcoVision | Most Durable | Amazon | Halogen | 60/55 | 1650/1000 | 3100 | 1500h |
| Auxito | Best LEDs | Amazon | LED | 40 | 4500 | 6500 | 30000h |
| Osram Night Breaker Silver | Best Value | Amazon | Halogen | 60/55 | 1650/1000 | Not Listed | 250 – 900h |
| Philips Racing Vision | Brightest Halogens | eBay | Halogen | 60/55 | 1650/1000 | 3600 | 200h |
| Lightfox LED | Easiest Installation | Amazon | LED | 36 | 6000 | 6500 | 30,000h |
| Narva Headlight | Best like-for-like replacement | eBay | Halogen | 60/55 | Not Listed | 3200 | Not Listed |
H4 Headlight Globe Buying Guide
Light Temperature
The Kelvin output of the light refers to the type of colour of light that is emitted. Headlights can be a warmer yellow or cooler white light. The highest Kelvin rating a headlight can be is 6500, higher than this and the light colour becomes blue which is not good.
Lifespan
One of the main considerations with brighter bulbs is their lifespan. An upgrade to the brightest road legal halogen lighting you can find may seem like a good idea but the chances are the bulbs will need replacing a lot sooner as they will burn out quicker. It's best to find a high-performance bulb that offers brightness and longevity.
The lifespan of a car headlight can be anything from 60h to 1,500h for halogens and up to 30,000h for LEDs. When you upgrade your lighting, take a look at the life expectancy of the bulb.
RELATED: The Best Headlight Restoration Kits
Halogen Vs LED Technology
Halogen lights tend to be more affordable and easier to replace than LED or HID car headlights. However, halogen bulbs are also less energy-efficient, are more prone to heating up and have a shorter lifespan than LED and HID options.
HID bulbs are similar to halogen and use Xenon gas (HID are sometimes called Xenon lights because of this). These bulbs are more energy-efficient and produce a brighter light than halogen. They are more expensive and some drivers find Xenon lights can be too bright for road use.
LEDs are becoming increasingly popular thanks to their durability and efficiency. Although more expensive than HID/ Xenon and halogen, the LED headlights should last a long time without needing to be replaced making them cost-effective in the long run. LEDs are not quite as bright as HID headlights but they offer a balance between Xenon and Halogen.
The best technology for your automotive depends on your priority, budget and personal preference.
RELATED: The Best H7 Globes
Brightness
Brighter halogen bulbs are excellent at short range while LED bulbs are better at providing a brightness that extends further to improve visibility over longer distances.
Check Your Vehicle Handbook
Not all vehicles work with H4 bulbs so it is important to check which bulbs are appropriate for your car.
FAQ
What does H4 mean in headlights?
H4 are bright, high-performance bulbs that contain two filaments allowing them to produce high beam and low beam light with a single reflector. These bulbs were originally developed for use in European race cars but are now widely available.
Is 9003 the same as H4?
While these bulb types are not the same, you can use them interchangeably providing the traffic laws don't state otherwise. The two bulbs are very similar but they have slightly different structures.
What is the brightest headlight bulb that is legal?
The Philips Racing Vision currently offer 200% more brightness than a standard halogen headlight bulb making it the brightest of the halogen bulbs. LED bulbs such as Lightfox V10AU are even brighter and have the bonus of a long life.
What vehicles use H4 bulbs?
H4 bulbs are very common and are used in a wide range of vehicles. The quickest way to find out if a H4 bulb is suitable for your car is to check the vehicle handbook.