A garage door opener is one of those day-to-day items that doesn't get the attention it deserves. As soon as you install a garage door opener you're going to wonder how you ever coped without it. They are easy to use, improve the security of your garage and make it safer (and easier) for you to open the garage. The following reviews take a look at some of the best garage door openers available.
If you're not sure what type of garage door opener you need or which features you should be looking for, take a look at the buying guide at the end of the article.
Garage Door Opener Comparison Table
| | | | | | | | |
| --- | --- | --- | --- | --- | --- | --- | --- |
| Garage Door Opener | Our Verdict | Motor power | Auto close | Max door weight | Max door size | Warranty | Check Price |
| Merlin MR850EVO | Best Roller Opener | 100W | Yes | 130kg | 18m² | 5 Years | eBay |
| ATA GDO6v3 EasyRoller | Runner Up | 100W | Yes | 110kg | 16.5m² | 5 Years | eBay |
| Merlin MR855MYQ SilentDrive | Upgrade Pick | 100W | Yes | 120kg | 18m² | 7 Years | Amazon |
| B&D Control-A-Door | Also Great | 100W | Yes | 110kg | 16.5m² | 7 Years | eBay |
| Merlin MS105MYQ | Best Sectional Opener | 150W | Yes | 110kg | 16.5m² | 7 Years | eBay |
| Vevor | Runner Up | 120W | Yes | 80kg | 12m² | 1 Year | eBay |
| Gogogate2 | Smart Feature Upgrade | n/a | n/a | n/a | n/a | – | Amazon |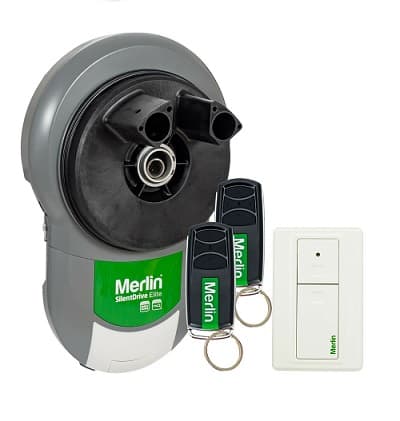 The Chamberlain Merlin MR850EVO is a powerful roller door opener that is ideal for use with single or double rolling garage doors.
It is quiet, reliable and has energy-saving features to ensure energy costs are kept low. The kit includes the motor, 2 keyring remote control transmitters and a wall button.
The included instructions manual ensures installation and programming of the Chamberlain Merlin devices is quick and easy. For safety, the motor also has thermal overload protection built-in.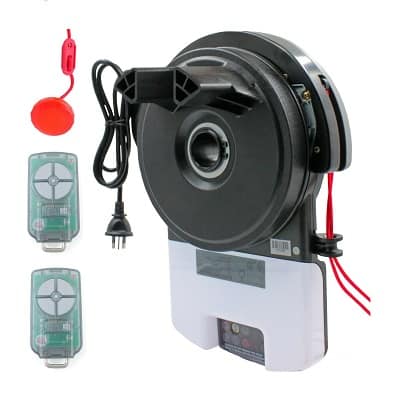 The EasyRoller Gen2 offers a range of features including soft start, soft stop and obstruction sensing. This kit is suitable for most garage roller doors including those in tight spaces.
This door opener is quiet and efficient, it offers a range of modes including vacation mode, pedestrian mode and it has an automatic close function. The set comes with a corded remote, two keyring remotes and two locking bar covers.
This model also includes automatic LED lighting and has a service indicator light that lets you know when the door needs servicing. The EasyRoller is a complete kit that comes with a 5 year manufacturer warranty.
This is Merlin's flagship residential roller model. It offers high quality, quiet operation and collision detection. The SilentDrive Elite can be used with single and double roller doors.
It boasts energy-saving features, secure EVO encryption and impressive lifting strength. Another great feature is that the motor monitors and adjusts the force to suit your garage door.
The motor has LED lighting, a manual release cord and auto-reverse to help make this door opener as user-friendly as possible.
This is B&D's most popular rolling door opener, it offers a range of useful features and can be used with a smartphone if the smart hub kit (not included) is also installed. The Control-A-Door opener is suitable for use on most single and double residential rolling doors.
This garage door opener is powerful yet quiet. For convenience and ease of use, this opener offers soft start and stop, comes with two remote controls as well as a wall mount remote control. The opener also has long-lasting automatic LED lights.
Another benefit of the Control-A-Door opener is that it can be used with a battery back up or solar panel depending on your set up.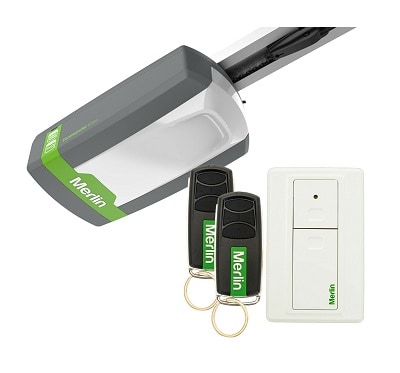 The Commander Elite from Merlin is powerful, quiet and secure. It has the ability to lift 150kg, is myQ compatible and has built-in safety reversal technology.
This is one of the most popular garage door openers thanks to its premium features and capabilities.
The remote controls use a rolling code encryption that ensures your garage is highly secure and cannot be opened by code grabbing devices. The remotes also work across three frequencies which eliminates interference to ensure your garage opens each time you push the button. If you are concerned about garage safety, the Commander Elite is worth a look.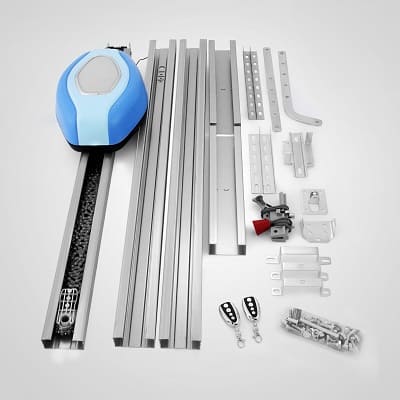 The Vevor Roller Door Opener is easy to install, reliable and offers smooth operation. To reduce impact to the garage door, this opener has a soft start and soft stop feature. There is also a display that indicates the running situation.
The galvanized steel rail on this automatic opener is sturdy, high quality and reduces vibration and noise. The auto-close function can be set between 1-9 minutes so you don't need to worry if you have forgotten to close the garage.
Safety features on the Vevor garage door opener include stop sensors and automatic safety reverse when obstructed. There is an emergency manual release in case there is a power failure to ensure you can always open your garage when you need to.
The Gogogate 2 is a great solution for remotely monitoring and controlling your garage door. This system is extremely convenient as it works with a smartphone or email.
This opener monitors whether the gate is open or closed and sends alerts to your phone or email. There is also an app which lets you easily check on your garage wherever you are.
The wide magnet gap on this door opener means it can work with gates or roller doors and is suitable for outdoor applications. Installation of the Gogogate 2 is easy and it is straightforward to use.
Garage Door Opener Buying Guide
A good garage door opener is essential for convenience, safety and security of your garage. There are lots of opener models to choose from and the best option for you will depend on the size and type of garage you have and the features you would like. If you buy the right one for your garage, a garage door opener is easy to use, reliable and cost-effective. This guide can help you find the best one for your needs.
Types Of Garage Door
The type of garage door you have will impact the type of garage door opener you can use. For example, a roller garage door will need a roller opener while a tilt door or sectional doors will require a lifting opener.
Also, take into account the size and weight of the garage door as the openers are made to fit with certain sized doors. Garage door openers designed for a single door garage will struggle to open a double door while a double door opener will be too powerful when used on a single door.
Common types of door openers:
Belt Drive – A belt drive garage door opener uses a steel-reinforced rubber belt that lifts and lowers the door. A belt drive system is smooth and slow making it great for garages that are next to homes. The downside to a belt drive garage door opener is the maintenance that is required.
Direct Drive – In a direct drive garage door opener the motor functions as the trolley meaning it moves along the rail to move the garage door. The reduction in moving parts results in quieter operation.
Chain Drive – Chain drive garage door openers are one of the most common types of door openers. The chain drive uses a metal chain to move the trolley to open and close the garage door. A chain drive garage door opener costs less but is louder due to the vibrations caused.
Screw Drive – a screw drive opener uses a threaded rod to open and close the door. A screw drive is a good system for larger, heavier doors and it operates relatively quietly compared to a chain drive.
Automatic or Manual?
An automatic door opener will open via remote or wall controls on/ near the door. This option is convenient and allows you to open and close the door without needing to get out of your vehicle every time. Automatic openers also automatically lock when closed so can help keep your garage secure without any extra effort from you. Some openers on the market also let you link to your home security system.
Even if you choose an automatic system, it is worth considering installing a manual release feature. The manual release lets you disconnect the door and the opener so you can open it manually. A manual release installation is helpful during power cuts and for diagnostic purposes but the downside is that it can also be taken advantage of by thieves trying to get past your garage door.
Importance Considerations
Quality
The best garage door openers are simple yet use advanced technologies. They are strong, reliable and quiet. Some feature soft open and close to ensure the garage never slams or makes a lot of noise. High quality garage door openers offer high performance with quick responses and minimal noise.
Horsepower
The garage door opener needs to have the right horsepower (lifting power) levels. Too much horsepower and it won't be energy efficient, too little horsepower and the garage door opener will be overworking causing wear and tear. There are also safety risks associated with having an under- or overpowered garage door opener.
While it may not sound like much, most standard garage doors only require 1/2 – 1 hp. It depends on how heavy the door is. If you are unsure how much power your new opener needs to be able to efficiently open and close your garage door, it's best to check with a professional before making your purchase.
AC Vs DC Door Motors
The best garage door openers have Direct Current (DC) motors as they are lightweight, quiet and powerful. Garage door openers with DC motors tend to offer smooth operation, slow start and stop and are generally considered safer.
Many older garage door openers used Alternating Current (AC) motors. These are no longer used as they are noisy, heavy and are rough. An opener with AC power also does not offer soft start and stop which is a feature many owners (and garage doors) benefit from.
Key Features
Automatic Close – this feature means you never need to worry about forgetting to close the garage again. Automatic close will close the garage after a certain period of time, you can usually set a time that suits you.
Sensors – if the system has sensors it can ensure the door doesn't knock into any obstacles. As well as stopping, some openers will automatically move back if an obstruction has been detected.
Security Code – it is best for your new garage door opener to include an encrypted or rolling code technology to prevent hackers gaining access. Rolling code technology means the remote and opener randomly choose a different code with every use making it as secure as possible. This is one of the best features to have on your opener.
Battery Backup – having to rely on mains power can be problematic but if your new garage door opener has a battery backup it means the garage can still be opened in the event of a power cut.
Control Button – many garage door openers come with 2 remotes and 1 wall button. Some controls also include a keypad that goes outside the garage and lets you open the door with a code.
Smartphone Control – as with many items in modern homes, we want to be able to control them through our smartphones. This feature is available for garages too, a smart garage will need to be connected to your homes wi-fi network in order to work. Once connected to wi-fi the smart garage can be opened and closed through a smartphone app. Some apps will send you notifications to alert you if the garage door is left open for a long period of time.
Security Lights – you may see newer and more expensive openers come with one or two security lights as well as motion-activated lights. These help keep you safe and ensure you can see inside the garage at night.
Warranty – the best garage door opener should come with a 2-5 year warranty coverage. This helps you get the most out of your opener and ensures it will be fixed or replaced at no extra cost to you if it stops working within the warranty period.
Top Garage Door Opener Brands In Australia
The following brands are well known for producing high-quality garage door openers. Choosing an opener from a trusted brand is important not only for reliability but also for ease of use and maintenance. These brands not only offer great warranty periods, they are also widely supported by local repairers.
Merlin
ATA
B&D
Steel-Line
 Chamberlain