Being able to play your favourite music can make a commute or road trip much more enjoyable. However, many older cars are limited in their media capabilities and don't have a way to connect a phone to the speaker system. This is where an FM transmitter excels. 
An FM transmitter doesn't cost a lot and lets you connect your phone even if your car doesn't have Bluetooth or the necessary connection ports. Once connected you can listen to music, podcasts or audiobooks with ease. To help you find a high-quality option for your future travels we have reviewed some of the best FM transmitters available. 
If you're looking for a compact, low-cost FM transmitter this model from FirstE is one of the best options. It lets you take calls and listen to music through the FM stereo system and gives you the option of connecting media through Bluetooth, USB cable or TF card. 
The transmitter has a built-in microphone to allow for high-quality hands-free calls. It also has a hang-up button for quick and easy control so you can keep your eyes on the road. The sound quality using this transmitter is also great. 
One of the most convenient features on this compact device is the dual USB ports. This means you can charge two devices while listening to songs you love. In addition to this, the small screen lets you know if your car battery's voltage is low, normal or high so you can stay safe while driving. 
The Nulaxy KM29 is a user-friendly multifunctional transmitter. It has a large landscape screen that is able to show a lot of information while remaining easy to read. The screen is attached to a flexible gooseneck so you can adjust the angle to suit your position in the car. 
You can connect your device to this transmitter through Bluetooth, USB, Aux or TF card. This makes it compatible with the majority of phones and media players. Once connected, you can listen to music and enjoy hands-free phone calls. The system makes it easy to skip songs, go back a track and adjust between EQ modes. 
The sound quality with the Nulaxy is good too. Interference is minimal so the sound is clear. The system also uses CVC technology which helps to suppress wind and noise and create full duplex sound. Something else that is great about the KM29 is the built-in safety features which include intelligent temperature control as well as short circuit, overvoltage and overcurrent protection.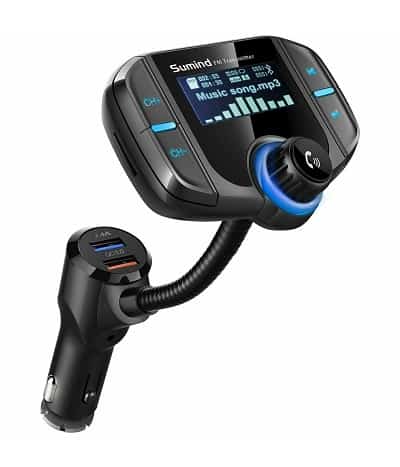 The Sumind Wireless Transmitter is one of the most stylish options. It has a large display and a flexible hose that lets you move the screen around to give you the best viewing angle. 
This FM transmitter is very intuitive and user-friendly, it has an easy to read display with large control keys located either side. There is also a large multifunction button for quickly answering phone calls and adjusting the volume. 
You can quickly charge up to 2 devices via the USB ports and you can connect your media using Bluetooth 4.2 or a TF/ Micro SD card. This system uses advanced interference and noise cancellation technology to provide excellent call and sound quality however you decide to connect your device.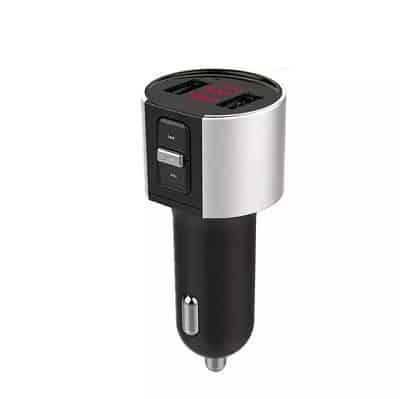 This FM transmitter from MPOW is compact, easy to use and low-cost. This small transmitter can connect with any Bluetooth device or you can plug your device in via USB. 
The transmitter has 2 USB ports so you can charge your phone on the go. You can also take and make phone calls with your connected device. The convenient, easy to use controls let you answer calls simply by pressing one button. The built-in microphone helps to make sure the call quality is clear even when driving. 
The MPOW FM transmitter lets you know your car's battery voltage and will alert you if the voltage goes below 12V. 
The Nulaxy KM18 is a reliable, high-quality FM transmitter. It is highly compatible and can connect to most devices. 
This transmitter offers Bluetooth, aux cable and TF card connections and delivers high-quality sound no matter which connection type you choose. The system uses advanced noise reduction technology to make sure the sound is crystal clear. 
Another thing we love about this FM transmitter is its large display. The LCD screen shows your music and phone call information. It even lets you know the car battery voltage so you can see the condition of your car battery at any time. The device also has a USB port so you can charge your phone while you drive. 
FM Transmitter Buyer's Guide 
An FM transmitter is an affordable way to transform your driving experience. It lets you listen to whatever you want without needing to install a whole new media system in your car. If your car is older you probably don't have Bluetooth connection or anything other than FM radio and a CD player. This is often fine at first but it soon gets old listening to the same songs over and over again. 
This buyer's guide helps you identify the key features so you can find the best FM transmitter for your phone and vehicle.
What Do You Need For An FM Transmitter To Work?
For an FM transmitter to work your car needs to have a cigarette lighter and a radio. You plug the transmitter into the cigarette lighter, connect your device via Bluetooth, USB, Aux cable or TF card (depending on the compatibility of the model you choose) and then all you need to do is match the transmitter's FM station and the car's FM station. 
Important Features To Consider
Capability 
Think about what you need your FM transmitter to be able to do. The higher-end models allow you to connect your phone or media in different ways, are able to charge devices while you use them, have a screen so you can see relevant information at a glance, have easy to use control buttons and include a microphone so you can make clear hands-free calls. 
A lower-end model may be cheaper but will simply connect your device to your car's FM station in one way without offering other features or connection options. Before you buy an FM transmitter consider which features are most important for you to have the best experience. 
Controls and Ports
The first button to look for is the power button, this should be located somewhere that is easily accessible. Having an on/off button may sound like a basic necessity but not all models have them. Being able to turn the device off when you are not using it helps save power and is easier than disconnecting it all together. 
You may want to keep a lookout for USB ports. Having one or two of these on the FM transmitter adds a considerable amount of convenience. Many old cars don't have a way for you to charge your phone on the go but if the FM transmitter comes with USB ports you can charge devices while still enjoying the music of your choice. 
Other controls you may find useful include skip forward and backward buttons, a volume dial and a pick up/ hang-up button for phone calls. 
RELATED: Best Hands Free Car Kit
Finding FM Stations 
The key to getting an FM transmitter to work is finding a suitable frequency. This can be time-consuming and frustrating if you need to manually scroll through channels to find one that will work so instead choose a transmitter with an auto-scan feature. This quick and convenient feature searches through all the stations to find a suitable option.
It is also handy to be able to save stations in a "preset" mode so you can access them every time you want to use the transmitter. This means you don't need to search for new stations with each use.
Audio Sources and Formats
The audio sources and formats that are compatible will depend on the transmitter you decide to buy. The best FM transmitters let you play music from all the key sources (Bluetooth, USB, Aux as well as a memory card) while some only let you connect your device in one way. In addition to how you connect your audio source, make sure the transmitter is able to play the necessary file formats (MP3, WAV and WMA).
Call Quality 
For some drivers, a key motivation for investing in an FM transmitter is to be able to make calls when they are on the go. If this is an important factor for you, make sure the transmitter includes a built-in microphone as this goes a long way in improving the call quality. Some also include noise reduction technology to make sure the ambient noise of driving doesn't get in the way of the call. 
Other features you may want to look at include control buttons to quickly answer or hang up calls and a screen that lets you know who's calling.
RELATED: Best Heads Up Display
Voltage Monitor
Finally, if the device has a screen it might display your car's battery voltage. This lets you keep an eye on the health of your car battery. Some models will make a noise or clearly display when your car battery voltage is low or falls below a certain level. This is a great safety feature that is very helpful to have.