A car seat cover is essential for protecting your seats from fur, dirt and claws. Our dog car seat cover selection includes plenty of different options so your four-legged friend can enjoy a safe and comfortable ride without ruining your car upholstery.
Dog Car Seat Cover Comparison Table
| | | | | | | |
| --- | --- | --- | --- | --- | --- | --- |
| Dog Seat Cover | Our Verdict | Type | Fabric | Waterproof | Machine Washable | Check Price |
| Boehner Dog Car Seat Cover | Best Rear Seat cover | Hammock | 600D Oxford | Yes | Yes | Amazon |
| Pic Auto Car Seat Cover | Best Single Seat Cover | Bench | 300D Oxford | Yes | No | Amazon |
| Pawever Pets Car Seat Protector | Best Value | Hammock | 300D Oxford | Yes | Yes | Kogan |
| Pawever Pets Booster Seat Cover | Best Booster Seat Cover | Booster | 300D Oxford | Yes | Yes | Kogan |
| Oureida Dog Car Front Seat Cover | Also Great | Bench | 600D Oxford | Yes | Yes | Amazon |
| Ezydog Drive Rear Seat Cover | Also Great | Bench | Quilted Ripstop Nylon | No | No | Pet Warehouse |
| Snooza Roadtripper Car Seat Cover | Also Great | Hammock | Polar Fleece | Yes | Yes | Pet House |
The Boehner Dog Car Seat Cover has a hammock-style design to keep your entire back seat area protected, including your carpets and the back of your front seats. Fitting is easy, simply position the four headrest straps complete with snap buckles and insert the seat anchors between your seat cushions.
Made from a highly durable 600D Oxford fabric, this dog back seat cover will stand up to scratching, as well as keeping your seats free from dog hair. For rainy days, beach trips or even the occasional accident, this seat cover is waterproof and features two side flaps. 
Unlike most other car seat hammock covers, this model has a mesh window to ease pet anxiety or travel sickness by improving visibility. There is also a handy storage pocket for your bowl, lead and accessories. Best of all, this seat cover is machine washable, saving you time and hassle.
Sometimes you only need to protect one seat. Suitable for the back or front seat, the Pic Auto Waterproof Car Seat is a bench style pet seat cover designed to provide maximum protection against dirt and indents. Easy to install, attach it to your head rest via the adjustable straps, the bottom stays in place thanks to a non-slip backing material located underneath, so it's less suitable for disruptive dogs.
This quilted dog front seat cover is made from a 300D Oxford material for strength and durability, plus a 12mm foam pad to protect your seat from your pet's claws. As it is waterproof, you won't have to worry about your wet, muddy dog staining your seat, provided they sit still and don't stretch out across the entire back seat. 
Two front mesh pockets make a great place to keep your dog's bowl and water bottle, or other small accessories and toys. Unfortunately, this cover is not machine washable, so you'll have to wipe it down with a damp cloth and leave it to air if it gets a little smelly.
This hammock-style car seat protector by Pawever Pets makes a great value buy. It keeps your rear seat and the back of your front seats fully protected from fur, paws and claws with a premium waterproof 300D Oxford material. Thanks to its non slip design, your pet will enjoy a comfortable slip-free ride.
Easy to install, simply attach the belts around your rear headrests and push in the seat anchors. Once installed, this cover stays in place very well and provides high levels of protection. However, note that there are no side flaps, so your door risks getting scratched and dirty, especially if your dog tends to jump up at your windows when you pass other dogs.
Easy to clean, this back seat cover can go in the washing machine before line drying. When not in use, simply unclip it and fold it up to accommodate passengers. With its soft quilted padding and easy fitting, this dog seat cover is a good quality buy for the money.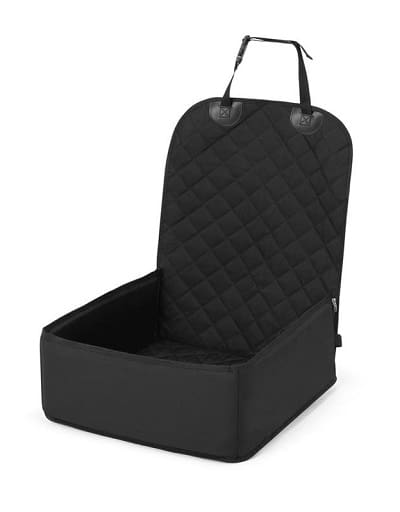 If you have a small dog or a puppy, the Pet Booster 2-in-1 Car Seat Cover makes an excellent choice to keep both your car upholstery and your pet safe and protected. Thanks to its seat belt and anchors, you get a secure fit. Use it as a bench seat cover or zip up the sides to form a cozy kennel box where your dog can securely sit or curl up while you drive.
Made from a 300D Oxford waterproof quilted fabric, this seat cover is built to last. When not needed, simply unclip it and fold it up. If your pup has an accident or it's a wet day outside, this cover can go in your washing machine for a rapid clean up. 
A good choice for smaller dogs and puppies, or dogs who tend to slide forward when you hit the brakes, this comfortable dog seat is less suitable for larger dogs when used with the sides up.
Thanks to its strong, claw-resistant 600D Oxford construction, the Oureida Dog Car Front Seat Cover is one of the most durable covers around – ideal if your dog insists on doing that scratching and turn-around routine dogs do before settling down. It stays securely in place with a seat anchor and easy-clip seat ties.
Whether your dog has been rolling in the dirt or swimming, this cover will keep your front seat clean being both waterproof and dirtproof. Its non slip backing ensures your front seat remains protected from dirt and hair, as does the lower seat skirt.
When it's dirty, this car front seat cover is machine washable for hassle-free cleaning. Overall a great, heavy duty choice, just bear in mind that this particular pet seat cover is less suitable for cars with high sided seats where you'll struggle to get a correct fit.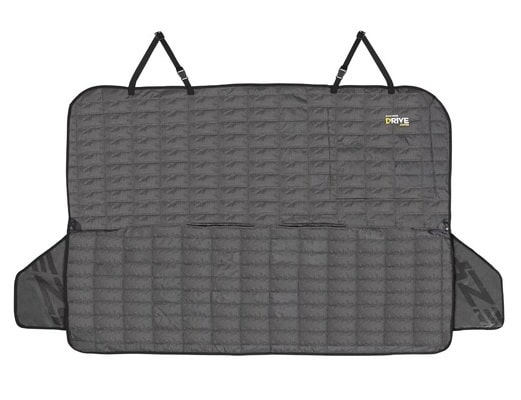 If you have a well behaved dog, the lightweight Ezydog Drive Seat Cover may be all you need to keep your car free from hair, dirt and scratches. This bench seat cover is fairly discrete and has holes for continued use of your seat belts and buckles with the dog seat cover in place.
Easy to install, this dog seat cover fits most cars. While it has an anti slip backing to keep it in place, you may find that your rear passengers and pooch slip around on it due to its ripstop nylon fabric construction. Also, this dog seat cover is only rated water resistant and is not as heavy duty as the other models in our selection. 
That said, if your dog rarely gets wet or really dirty, this dog seat cover could be all you need to keep your back seats clean. As it is hand wash only, you won't want to regularly use it for hiking trips with your dog.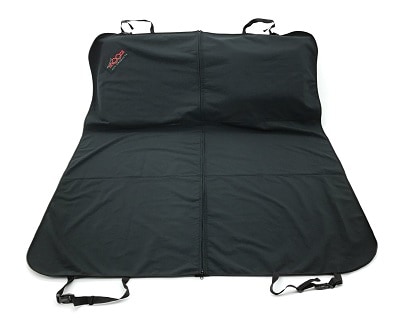 If you have a medium or large sized car, the Road Tripper by Snooze is a good choice to keep your back seat clean. Measuring 174cm by 144cm, this premium dog car seat cover provides complete protection from paws, dog hair and dirt. Depending on your destination and the weather, switch this reversible car seat cover over to its cosy polar fleece side or the water resistant one. 
This dog car seat cover also has some highly practical features. When you have human passengers, you can simply fold it up and store it in your boot in the included carry bag. Unlike other hammock style car seat covers on the market, this model features a handy zip which allows you to unzip half of the cover so a passenger can share the back seat with you dog. 
Complete with easy to fit snap buckle straps and seat belt buckle cutouts, it also washes in your machine, making it a highly practical choice for travelling with your pet. Given its high quality construction, this car seat cover should last for many years. If you regularly take your dog out in your car, it's well worth its higher than average price tag. 
Dog Car Seat Cover Buying Guide
Even the best-behaved of dogs will leave your vehicle interior covered with fur unless you invest in a dog seat cover. Here's what you should keep a look out for when choosing a pet seat cover for your car. 
Style
You'll want to choose a specific style of dog seat for your vehicle interior. Your choice will depend on how dirty or how fluffy your pet is, as well where they sit when you're on the go.
Cargo liner – if your dog travels primarily in your car boot, a cargo liner is the best option for you. It also has the benefit of keeping your back seat free, in case you need to pick up an extra human passenger.
Front seat cover/single seat cover – if you drive a van or have a two seater, a single seat cover will protect your passenger seat for dog fur and scratching.
Bench style seat cover – this style of pet seat cover is useful if you need to continue using your back seat for passengers as it doesn't obstruct your foot wells. That said, it won't provide any protection for your door panels or the back of your front seats from dirty paws. 
Hammock seat cover – this style provides you with full protection, often including door panels, but is usually unsuitable for use with passengers. 
Material
Most dog car seat covers are made from high quality fabrics that resistant dog's claws to protect your upholstery.The two most popular fabrics are Oxford and ripstop nylon for their high durability.
Heavy duty quilted versions can provide extra resistance to your dogs paws. Look out for fabrics with a high denier, the higher the figure, the more tightly woven it will be.
RELATED: The Best Dog Car Harness
Waterproof
A waterproof dog seat cover is pretty much essential. Even if your dog isn't a swimmer, rainy days with muddy puddles lead to wet paws which will soon soak your upholstery. A water-resistant model may be fine if your dog is very rarely soaking wet.
Extra features
Machine washable – an easy to clean seat cover will make it easier keep your car cleaner inside.
Pocket – useful for storing your pet's water bowl, toys and accessories.
Side flaps – a good extra to keep dust and dirt out from under your seats.
Seat anchors – essential for dogs who move around a lot to keep your seat cover in place.