Cold nights can make camping a miserable experience but a diesel heater can ensure life on the road is comfortable whatever the weather. These heaters are compact, energy-efficient and there are options available to suit all budgets.
To help you in your search, we've analysed the best diesel heaters on the market and assessed them against a range of important criteria. This review and comparison can help you find a safe and reliable heater for your caravan or camper.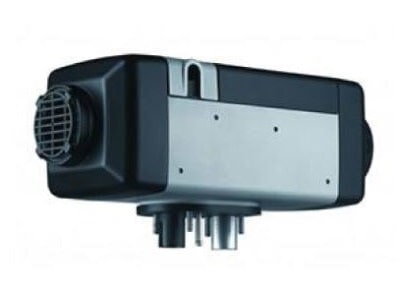 The Webasto 12v Twin Outlet is a quiet, powerful and economical diesel heater that you can rely on to keep you warm. Unlike the other heaters listed here, this is a twin outlet heater that can quickly distribute heat without making much noise at all. This is ideal for colder seasons where you need the heater on while resting and relaxing.
Webasto is one of the most trusted names in heating and cooling solutions for recreational vehicles. They have an excellent reputation for producing reliable, high-performance diesel heaters.
This heater is made in Germany and comes with a 2-year warranty. It's a high-quality heater that uses 0.12 – 0.24 litres of fuel per hour making it one of the most economical diesel heaters listed. Controlling this heating system is straightforward too, as it comes with a digital remote controller that looks sleek and is easy to use.
This is an air top heater that has a compact design that is easy to install in a caravan. The weight of this heater is just 2.6kg and it measures 3117 x 121 x 120mm so it won't take up much space when installed.
If you need a low-cost heater that can be used to warm up a caravan or motorhome, this is a great option.
This heater uses between 0.14 – 0.64l/h and has a single outlet. While this diesel air heater remains compact at 390 x 140 x 150mm it is one of the heavier models listed with a weight of 8kg. This slightly larger size may impact positioning in the caravan.
This 12V heater is best for heating areas of 15m2 and can be used safely for longer periods of time. It uses an energy-efficient fuel pump which helps to keep fuel consumption and running costs down. If we could change one thing about this unit it would be strengthening or covering the plastic fuel tank to help prolong its life.
The inclusion of a remote controller allows you to turn the heater on/off and adjust the temperature from up to 30m away, which is great for preheating your caravan before bed.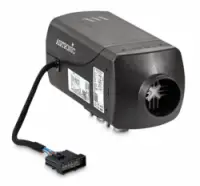 The Eberspacher Aitronic AM2 is a quality heater that will do all the work for you. You can program it to deliver hot air until the temperature you set has been reached. This diesel heater is perfect for longer trips or life on the road.
Unlike cheaper models, this caravan heater uses a brushless motor for more durability, better control and improved efficiency. There are multiple operation modes including a quiet night mode making sure the sound of the pump, fan or exhaust won't disturb you or other campers at night.
This diesel heater boasts a service life of 5,000 hours as well as optimised fuel efficiency, using 0.11 – 0.51 l/h keeping fuel and power consumption down. The diagnostic system on this kit helps users keep the diesel heater working safely and at its best.
The Airtronic AM2 is the most feature-rich of all the listed models, it gives users maximum control and easy monitoring of their diesel air heater. It doesn't take long to heat a caravan to the desired temperature and this heater will do it with minimum noise and maximum efficiency.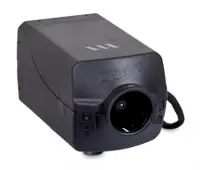 The Airtronic AS2 is the little brother of the Airtronic AM2. The AS2 is smaller in size measuring 310 x 115 x 122mm and weighs just 2.7kg making it one of the smallest diesel heaters listed. The AS2 uses less power than the AM2 reviewed above and has a lower output. This model uses between 0.1 – 0.28l/h of diesel fuel.
As with the AM2, the AS2 has been updated to dampen sound making the operation of the heater barely audible. This model also includes a pressure sensor that adjusts the air intake speed and fuel pump frequency based on the altitude you are at.
This is a great diesel air heater if you want to benefit from all of the features and updates seen on the new Airtronic range but you are trying to keep costs down or heat a smaller space.
This diesel heater kit from Maxpeedingrods is a large, low maintenance option that can be used while on the go.
The heater measures 415 x 180 x 415mm and weighs 9.7kg so is considerably bigger and heavier than the Airtronic AS2 and the Webasto 12V models. This heater is an affordable option that has an LCD display as well as a remote control so setting up and monitoring the heater is easy.
This heater boasts low power and fuel consumption and quick heating times. One thing we will say is that this heater does make some noise which can be an issue depending on where you plan to install the heater and when it will be used. The unit is also advertised as using 0.1l/h but this is just the lower value rather than the peak so it is generally going to use more than this.
This 12V diesel air heater is an all in one unit that is easy to install and user-friendly. It's a great low-cost option that will keep your caravan warm.
Diesel Heater Comparison Table
| | | | | | | | | |
| --- | --- | --- | --- | --- | --- | --- | --- | --- |
| Diesel heater | Our verdict | Check Price | Made in | Size | Weight | Fuel Consumption | Outlet | Warranty |
| Webasto 12v | Best Overall | Caravan RV Camping | Germany | 317 x 121 x 120mm | 2.6kg | 0.12-0.24 l/h | Twin | 2 years |
| Maxpeedingrods 5KW 12V | Best Value | Amazon, eBay | China | 390 x 140 x 150mm | 8kg | 0.14-0.64 l/h | Single | 2 years |
| Eberspacher Airtronic AM2 | Upgrade Pick | Caravan RV Camping | Germany | 371 x 140 x 150mm | 4.5kg | 0.11-0.51 l/h | Single | 2 years |
| Eberspacher Airtronic AS2 | Also Great | Caravan RV Camping | Germany | 310 x 115 x 122mm | 2.7kg | 0.1-0.28 l/h | Single | 2 years |
| Maxpeedingrods 12V 5000W | Also Great | Amazon | China | 415 x 180 x 415mm | 9.7kg | 0.1 l/h | Single | 2 years |
Diesel Heater Buying Guide
Buying a diesel heater is a necessity when travelling in cold seasons. Being able to control the temperature of your van is a game-changer. This guide takes a look at everything you need to know when choosing a diesel heater for your vehicle:
Size
Diesel heaters come in 2Kw and 5Kw sizes. 5Kw tend to be more popular than the 2Kw models but both should be able to heat an average-sized caravan without an issue.
The size and weight of the diesel heater should be considered as this will impact the installation. Consider where you want to install the heater and measure the available space so you can be sure the kit you choose will fit inside your vehicle. The weight of a diesel heater varies from just a couple of kgs to 10+ kgs so consider this if you need the kit to be portable.
Noise
One of the first things people say about a diesel air heater is that it is going to be noisy. However, this doesn't have to be the case. A diesel heater will make some noise when they are first started up but on a good heater, this sound is quickly reduced to a very low level during its operation. Most of the sound will be heard outside the van so if you are testing a new heating system make sure you consider the noise levels from inside and outside the caravan.
RELATED: The Best Battery Box
Fuel Consumption
The amount of diesel the heater uses per hour depends on its size and the power settings. Fortunately, diesel heaters have a reputation for producing plenty of hot air while using a minimum amount of fuel. Generally, a caravan diesel heater will use between 0.1 – 0.5 litres of diesel per hour.
Diesel Vs Gas
The diesel vs gas heater debate is a long-running one in Australia as both have their pros and cons. A diesel heater is generally preferred to a gas heater as they are affordable, efficient, and offer DIY installation.
However, gas heaters do make less noise, don't need an exhaust, and can be hooked up to your existing LPG fuel source. Gas heaters do require professional installation and use more gas to produce the same amount of heat so the one you choose really comes down to personal preference.
Top Brands
Webasto
Webasto is the market-leading brand in providing diesel heating systems for caravans. They have a strong reputation for producing reliable, high-performance systems that have been extensively tested.
Eberspacher
The Eberspacher brand produces quality German-made heating and air conditioner units among other climate-control products. Their heaters are packed with features and meet top safety standards. These systems are ideal for use in caravans as they are compact, economical and offer programmable heating.
Maxpeedingrods
Maxpeedingrods is the best brand if you are looking for a low price, portable heater that is made in China. These low-cost heaters are often designed to be standalone with a built-in fuel tank making them easy to install. Products from Maxpeedingrods offer fantastic value for money and they receive plenty of positive feedback from satisfied users.
German vs Chinese Diesel Heaters
Chinese diesel air heaters offer a cheap alternative to the expensive German models that are available. A heater made in China tends to be an all-in-one system with a fuel tank built-in, making installation quick and easy. There are many heaters that have been made in China available in Australia and they have proven to be extremely popular over recent years.
However, these cheap heaters do come with downsides. Firstly, they are often made of less durable materials so have a shorter life span meaning they are more likely to need repairing or replacing. As well as this, they tend to be noisier when in use which can be an issue when camping. These units also tend to come with unclear installation instructions so you will likely need to consult a YouTube video or other online resources if you are going to get the diesel heater installed on your own.
RELATED: The Best Caravan Antennas
Despite the potential downsides, a Chinese diesel air heater with a good reputation will cost a fraction of the price of a European heater and will be able to heat a caravan effectively.
Before buying a cheap diesel heater make sure it is reliable and meets safety standards (thermal protection and is not made from flammable materials). Cheaper units are more difficult to fix as replacement parts are harder to come by.
Chinese Heaters Pros
Low cost
Effective
All-in-one
Widely available
Chinese Heaters Cons
Lower quality/ shorter life span
Noisier
Harder to find replacement parts
German heaters are more expensive but are also highly capable and meet the highest safety standards. These heaters are high-quality offering maximum reliability and long product life. The heaters include diagnostics for finding faults and are easy to maintain.
You'll be paying more for a German diesel heater and this will buy you a more reliable heater with increased efficiency and more user-friendly features. This offers a longer-term solution as these heaters are built to last.
German Heaters Pros
High quality
High performance & better control
Reliable
Long product life
Easy to maintain
Quiet operation
German Heaters Cons
RELATED: Best Battery Management Systems
Diesel Caravan Heater FAQ
Are diesel heaters safe in caravans?
Yes, diesel heaters are considered to be safe. Good quality products have several safety features built-in and generally have fewer risks than LPG fuel heaters.
Do diesel heaters use a lot of electricity?
No, diesel heaters don't require a lot of energy and as such have relatively low running costs. However, they do typically have a higher electricity consumption than gas heaters.
Can you use a diesel heater inside?
Yes, diesel heaters are safe to use indoors.
Are diesel heaters expensive to run?
No, they are efficient and have low running costs.
How much does it cost to install a diesel heater in a caravan?
This can cost between $700 – $1500 depending on the specific diesel heater and location of installation.
Where do you put a diesel heater in a caravan?
Common installation locations include the storage area under a lift-up bed or a storage cupboard.
Are caravan diesel heaters noisy?
They tend to be noisy when they first start up but generally quieten down.