Choosing a deep cycle battery for your off-grid adventures is a decision that shouldn't be taken lightly. To help you find the best option for your next adventure, we've analysed the most popular deep cycle batteries on the market and assessed them against a range of important criteria including battery type, size, and amp hours to find the best options for various applications. Use these comparisons to help you find the best deep cycle battery for your specific requirements.
Deep Cycle Battery Comparison Table
| | | | | | | | |
| --- | --- | --- | --- | --- | --- | --- | --- |
| Deep Cycle Battery | Our Verdict | Type | Capacity | Size | Weight | Warranty | Check Price |
| Fullriver | Best Overall | AGM | 120Ah | 331 x 175 x 214mm | 36.5kg | 1 year | Amazon, eBay |
| Giant Power | Best Value | AGM | 140Ah | 305 x 173 x 222mm | 29kg | 5 years | Amazon |
| Exide | Best Budget Option | AGM | 50Ah | 258 x 170 x 203mm | 18.5kg | 2 years | eBay |
| Baintech PowerTop | Best Lithium | Lithium | 50Ah | 320 x 285 x 150mm | <12kg | 5 years | My Generator |
| Century 12V | Fast Recharge | AGM | 120Ah | 328 x 172 x 222mm | 32kg | 2 years | My Generator |
| Baintech 12V Slimline | Most Versatile | Lithium | 110Ah | 635 x 260 x 50mm | 11kg | 5 years | eBay |
| Giantz | High Performance | AGM | 140Ah | 330 x 171 x 216mm | 29.5kg | 1 year | eBay |
The number one recommendation you'll often hear when shopping around for a deep cycle battery is to go with a reliable brand. One such brand is Fullriver, being one of the most trusted names in batteries and producing a range of AGM and Deep Cycle GEL batteries designed to excel in a range of challenging conditions.
The DC120-12 is a high performance system designed for longevity. It is constructed using more lead which makes connections between cells stronger. As evidenced by this being the heaviest battery on our list, Fullriver also use heavier plates which provide increased reserve capacity. Note that weight is usually synonymous with quality when talking AGM batteries.
These batteries have been designed to outlast the competition via a unique chemistry for the active paste material within the plate. They are also highly resistant to shocks/vibrations and are suitable for a range of applications including Marine, RVs, Campervans, Camping, Off-Grid and 4×4.
The only downsides here are that these batteries are not suitable for a vehicle engine bay, and they cost slightly more than the budget AGM options. In our view, however, the price difference isn't significant enough to opt for a cheaper option considering the reliability you get with Fullriver.
This AGM battery from Giant Power is one of the best deep cycle battery units for caravans, 4×4 vehicles and campervans. It is tough, durable and has a high vibration resistance meaning it can withstand rugged 4×4 trails. A big advantage of choosing an AGM option is that it is maintenance-free so there is no refilling required and no risk of spills.
This battery is suitable for frequent discharges and can be used to charge and power a range of appliances including 12 volt fridges, solar panels, lights and inverters. We love that the Giant Power battery is reliable and clearly built to last, offering a service life of 12 years and featuring lead calcium internal plates and copper terminals that are corrosion-resistant.
The deep discharge recovery makes sure you don't lose performance of the battery when it has been discharged more than recommended (this can happen from time to time and that shouldn't mean your battery is no longer working). You can relax knowing you have an energy supply you can count on.
Other features we think are great on this Giant Power battery are the quick recharge rate and the ability to connect up to 4 AGM batteries to offer more amp hour power in rugged environments. This battery can be used for power (running appliances etc), used for charging with a solar panel, or can be run in a dual battery system.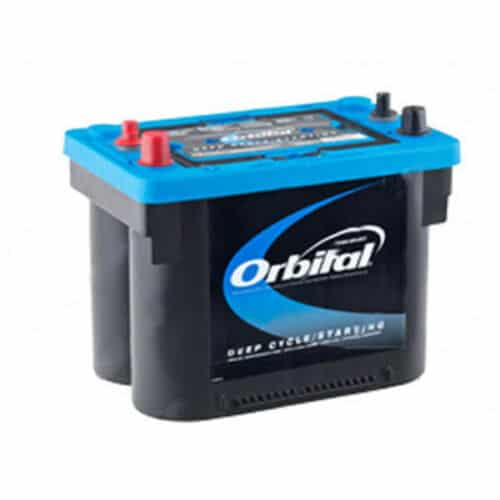 The Exide Orbital AGM Deep Cycle Battery is a much smaller option (the smallest of the AGM camping and caravan batteries we have reviewed). It offers 50Ah making it suitable for appliances and leisure as well as starting an engine.
50Ah is a good option if you are frequently taking your caravan to service pitches where you can use hookups. If you will be spending more than a day or two off-grid, it's best to look at one of the higher amp hour options such as the Fullriver 120Ah, Giant Power 140Ah or Century 120Ah AGM deep cycle batteries.
This option features calcium alloy plates to offer improved safety and it is small in size which offers more flexibility for installation. If you are looking specifically at AGM options but your camper space is limited the Exide Orbital could be ideal.
This is a maintenance-free deep cycle battery that can be left for long periods of rest between uses. It is vibration and tilt resistant and can be side mounted if needed. This is one of the best deep cycle battery units if you use your caravan seasonally or only on occasions as it offers the hours of charge needed for a camping weekend without going over the top with capacity.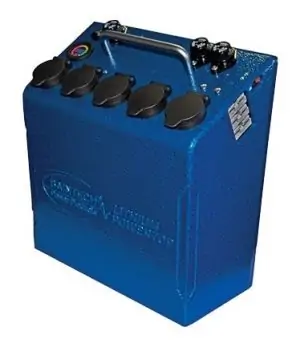 This Lithium battery from Australian manufacturer Baintech is lightweight, powerful, and easy to use. It is a high-performance option that boasts BMS protection and external fusing.
As this is a Lithium battery it is light weight while still offering high amp power. That's why this 50Ah battery weighs 6kg less than the Exide Orbital 50Ah AGM battery.
There are multiple ports that offer flexibility in charging options. The ports include 10A Ciga sockets, 2 Engel sockets, and 3 20A Anderson connectors suitable for vehicle charging. The unit also has dual USB and USB C sockets for use with a range of devices.
This camping battery also has built-in dual DC – DC charging. It charges efficiently and is a good off-grid option. However, the Baintech 50Ah Lithium PowerTop is not waterproof so take care not to expose it to water.
This deep cycle battery also includes a voltmeter that gives an indication of battery voltage. 100% is approximately 13.4V, 50% is 12.8V and 0% is 10V. This is an extremely compact, lightweight option that comes with a 5-year warranty but also has a higher price tag (as can be expected with lithium deep cycle batteries).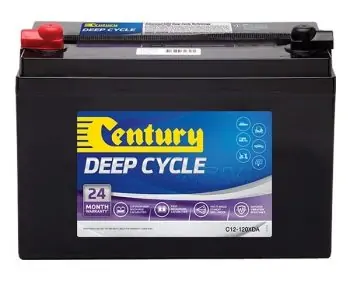 The Century 12 volt AGM deep cycle battery is a maintenance-free option that is durable and reliable. It is suited for use in a caravan or 4x4s but is very heavy (32kg), which is worth taking into consideration.
It offers 120 Amp hours and is spill-proof making it suitable for 90-degree side applications. This battery can be stored away for extended periods of time (when it is fully charged) so you don't need to worry about it losing lots of capacity in between trips.
This battery has a fast recharge time and a long cycle life so is a great choice for a caravan, camper or marine system. The Century 12V AGM batteries are designed to be strong, robust and user-friendly. You don't need to worry when driving along bumpy tracks as this has excellent vibration resistance and low levels of self-discharge.
It is worth noting that this comes with a 2-year warranty but the warranty coverage becomes void if the unit is mounted under the bonnet.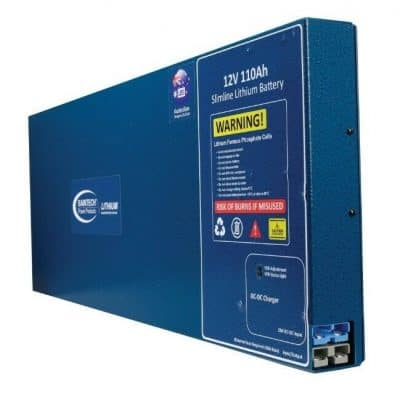 The lightest of all the deep cycle batteries listed is the Baintech 12V Slimline. It is the best deep cycle battery on the list if you have limited space for your set-up.
This Lithium battery offers 110 Amp hours and weighs just 11kg, which is as light as a feather when compared to the Century 120Ah AGM battery reviewed above which weighs over 30kg. Not only this, you can connect Baintech batteries up in parallel meaning you could easily get a few of these slim batteries where you may have previously installed a single larger unit. As you may expect, this slimline Lithium battery is considerably more expensive than its AGM competitors.
This battery is enclosed in a strong aluminium casing and the smaller size means it offers a lot more flexibility when it comes to installation. It comes with a 5 year warranty and has a long life cycle of 5000 cycles when the depth of discharge is up to 50% and 2000 cycles when the depth of discharge is up to 20%.
This lithium battery also has an internal 100A BMS and an external 100A fuse. As there are no internal fuses the external fuse needs to be used for the grey Anderson connector. The grey connector can be used to connect an external solar charger or AC charger. The blue connector is for DC input as this battery has an internal 20A DC-DC charger with a Voltage Sensing Relay (VSR).
The VSR has an LED light and adjustment trim pot so you can adjust what input voltage the charger will turn on and off at. This is one of the best options as it is powerful, compact, and versatile.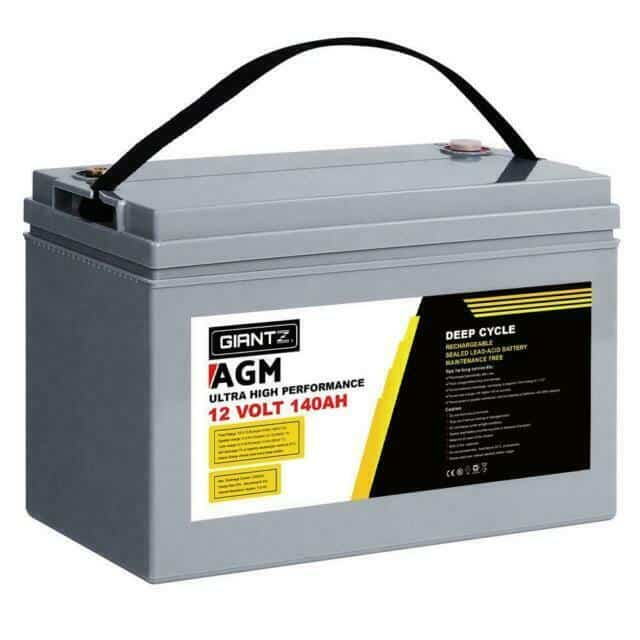 The Giantz 140Ah deep cycle battery is a high-performance option that is suitable for all off-grid uses from camping to inside a 4WD vehicle or caravan. It can power all 12 volt appliances including fridges and washers.
It has a life cycle of up to 1400 cycles making it reliable and long-lasting, even with periods of storage. Its operating temperature range is -20 degrees C to 50 degrees C which is a better low temperature performance than many competitors. If you know you will need a battery that can cope with low temperatures the Giantz 140Ah is certainly worth considering.
The battery is completely sealed, spill-proof, and leak-free. It requires no maintenance and boasts efficient deep discharge recovery. It comes with a carry handle to make it easy to pick up and reposition.
This deep cycle battery can be stored away when not in use but to help keep the battery at its best it should be charged every 3 months.
RELATED:The Best Jump Starters
Types of Deep Cycle Batteries
AGM Deep Cycle Batteries
An AGM Deep Cycle Battery is a compact, maintenance-free option that offers excellent performance. Absorbed Glass Mat (AGM) batteries are the most common type of deep cycle battery. They are small, light, and have a slow self-discharge rate meaning they can be stored for a long time. Sealed AGM batteries are a great choice, particularly for low ventilation areas.
They are robust and use glass fiber mats to absorb the electrolyte. The AGM battery plates eliminate the risk of acid spills or leaks. These batteries are quite pricey and can be damaged if it is charged too quickly.
Gel Deep Cycle Batteries
A gel deep cycle battery is sealed and uses a valve to coordinate the gel electrolyte. These batteries are also known as gel cells and one of the key benefits is that they stop the evaporation of electrolytes. Gel batteries have a higher resistance to vibration, shock, and extreme temperatures making them reliable for off-roading and use in a caravan/ camper.
Lithium Batteries
Lithium Batteries are highly efficient, offer excellent capacity, and are very popular. They boast a slow loss of charge when in storage, have no memory effect and they are lightweight making them easy to install and store. These batteries are able to offer much more energy density while weighing considerably less than other options.
Lithium batteries are not affected by partial charge which makes it easier to find a battery bank to suit your requirements. They are also available in a variety of shapes and sizes but all of the benefits of lithium batteries also come with a higher price tag.
RELATED: The Best Battery Box
Choosing the Best Battery for Your Application
With most of the deep cycle battery range, the best option for your use depends on your application, available space, required capacity and budget.
It's easy enough to say the best deep cycle battery is the new lithium batteries but these are expensive and for many people looking for a battery for camping or off-grid adventures they simply don't present as a reasonable solution (at the moment). If you're not sure which is the best deep cycle battery for your requirements, use this guide to point you in the right direction.
Caravans
If you are going to be staying at campsites regularly with electric hookups then a flooded lead acid battery will be able to give you the power you need. An open lead acid battery is the cheapest type available but it requires maintenance and shouldn't be discharged below 50%. A sealed lead acid battery is a safer and maintenance-free option but it remains heavy and also should not be discharged below 50%.
A lead acid battery is an affordable option but is not going to be a good option if you plan to spend more than a couple of nights away from an electricity hookup. If this is the case, AGM and Gel batteries are better suited to off-grid camping.
If you are looking for the best of the best for your caravan, go for lithium batteries. These are superior but they do cost a lot more too so may not be in everyone's price range.
RELATED:
Camping
We'd recommend looking at an AGM or Gel battery for camping. Both of these are low maintenance options. A gel battery is slightly better as it can be used for frequent off-grid adventures and the depth of discharge can be down to 80% without causing damage. They are more expensive but for the battery capacity and cycle life it may be a worthwhile investment if you go camping often enough.
4WD
As with camping, we'd recommend a AGM or Gel battery. One of the key benefits of an AGM battery is its ability to cope with vibrations, this makes them a good choice for 4WD vehicles. They are also leakproof and can be mounted on their side. A gel battery offers the same benefits with the addition of better performance when it comes to handling higher discharge and recharge rates.
Marine
The best deep cycle battery for marine purposes will depend on your budget. A flooded or wet cell battery is one of the most popular for boats as it is low cost and offers a long lifespan. However, a flooded lead acid battery is heavy and does require maintenance and attention. They also do not handle vibrations well which is another reason you may prefer a durable gel battery or a versatile AGM deep cycle battery. The downside to both of these options is that they are vulnerable to permanent damage as a result of accidental overcharging.
RELATED:
Solar
Any deep cycle battery type can be used with solar panels. The best options are gel and lithium batteries as these are able to handle the irregular charge better than the other battery types.