We understand that the various battery types, charging characteristics, and specifications of DC to DC chargers can be confusing. We also know how important it is for campers and 4wd offroaders to find a charger that optimises their set-up.
To help you quickly and easily find the best suited charger for your vehicle and batteries, we have analysed the most popular DC to DC chargers on the market in Australia. We've assessed them against important criteria including compatibility, capacity, and size to find which chargers are best suited for which situations.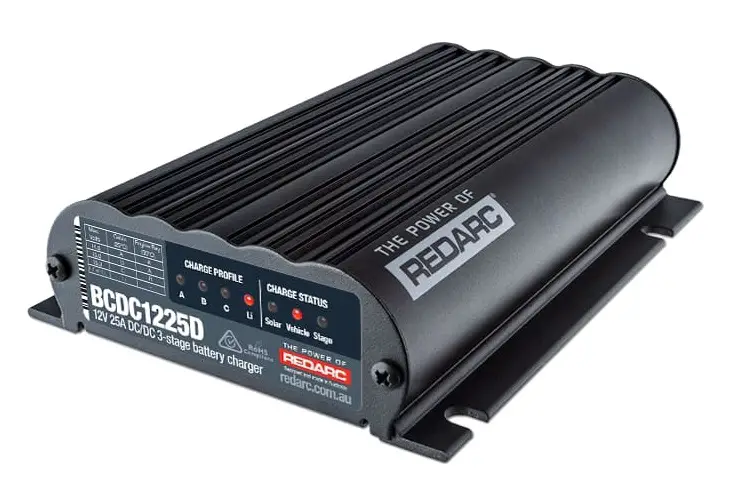 Likely the most popular DC to DC charger on the market, the Redarc BCFC1225D is a compact and lightweight unit. Its small size means it can be installed just about anywhere with ease. The charger offers an operating voltage of 9-32Vdc so it can support a range of voltages from various input types including solar panels.
One of the things that puts the BCDC1225D above other options is how versatile it is. Thanks to a charging profile upgrade, the unit can be used with Lithium batteries as well as gel, AGM, standard lead acid, and calcium batteries. This makes it incredibly flexible and desirable.
In addition to this, the unit is fully waterproof so you don't need to worry about it during water crossings. Most battery chargers are only water resistant so this is the one to choose if you need a waterproof charger that's built to last.
This DC battery charger also features a float mode that stores excess power when the battery is full and delivers a trickle charge. This means when power is needed it can be immediately delivered without draining the primary battery.
There are many benefits to choosing the Redarc as part of your battery setup but it does come at a higher price than many competitors. The flip side of this is that it is reliable, built to last, and comes with a 2 year warranty.
If you like the look of the Redarc but you need an affordable DC battery charger that can be used with larger batteries, the Projecta IDC25 is a great option. It is suitable for a range of uses and can be used with battery banks up to 300Ah.
This is the smallest and lightest charger of the reviewed models and it offers an output current of 25A. The design of the IDC25 reduces costs by not having a display but it does utilise indicator lights instead so you know it is charging, the power source it is using, and the battery type. Unlike the Redarc BCDC1225D, the Projecta IDC25 cannot be used with Lithium batteries but can be used with Gel, AGM, Wet and Calcium batteries.
A key benefit of the Projecta is that it can charge from the alternator and a solar panel at the same time. It has Maximum Power Point Tracking (MPPT) control helping to maximise solar energy supply from panels.
Although this battery charger doesn't offer as many features as the Redarc, it does have 3 stage charging making it a great option for use with deep cycle batteries.
RELATED: Projecta IDC25 vs Redarc BCDC1225D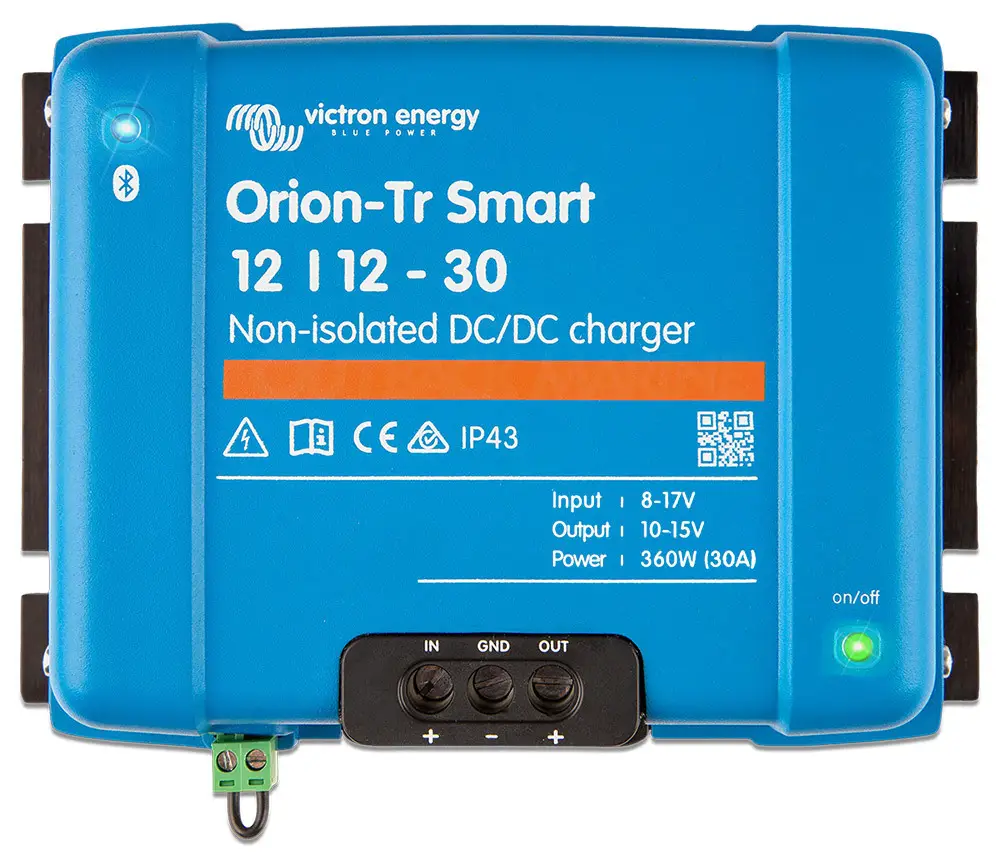 The Victron Orion-Tr is a smart DC charger meaning you can use your Bluetooth enabled smartphone or device to monitor the charger, change settings or allow software updates. This is a safe, efficient, and fully programmable charger.
It also has an impressive 5 year warranty (this is the longest warranty period of the reviewed DC chargers!). This unit has been built with the user in mind. One of the convenient features is the ability to turn the battery charger on and off remotely so it is only on when it is needed. This is a 12V, 360W battery and multiple units can be connected together to increase the output power.
This is a non-isolated charger meaning there is only one negative connection to the battery and one less wire is needed for installation. A non-isolated DC charger is well suited to automotive use but other applications, such as marine uses, will require an isolated version.
The Victron charger can be used with lead acid and lithium batteries. If you also want to use it with solar then a separate solar regulator can be bought to allow for this. If size and weight are a concern, this may not be the best choice as it is the heaviest on our list at 1.8kg.
This 50a DC battery charger from Renogy is a flexible unit that gives users options to suit a range of situations. Firstly, it can be used with AGM, Gel, Flooded and Lithium batteries. It also features dual input operation for charging using an alternator and solar, and it has MPPT technology which will maximum solar power.
This charger is designed to charge service batteries first and at the most efficient rate. The 3 stage charging is ideal for deep cycle batteries and ensures the battery is charged at the correct volt levels.
Setting up this charger is quick and easy and it will help you stay off-grid for longer so you can get the most out of your trips. There are also a number of built in safety features including temperature and voltage compensation. It has an aluminium heat sink to help keep the heat out and the system cool.
The output current of this charger is 50A, higher than the other options. This makes it well suited to charging larger batteries or simply charging smaller ones quicker (providing the battery can handle a higher capacity).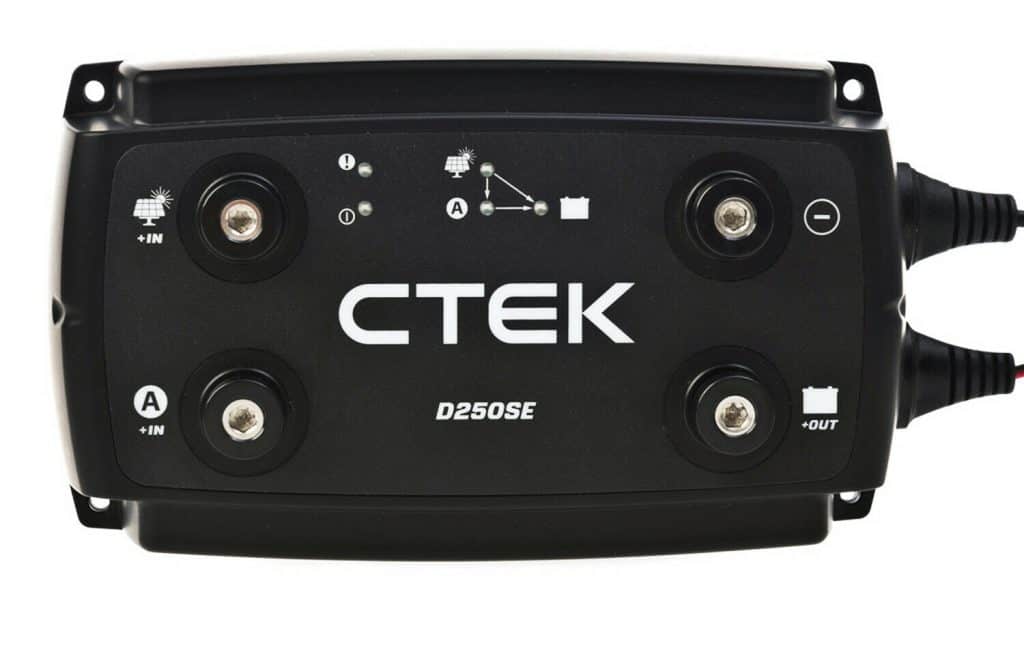 The final DC charger on our review list is the compact CTEK D250SE. Unlike the others listed, this charger boasts a 5 step system rather than a 3 step system. This fully automatic multi stage charger is the updated version of the popular Dual 250. The upgrade offers optimised charging for lithium batteries and the unit can also be used with AGM batteries.
This charger can use power through the alternator and solar power like the Renogy 50A, Projecta IDC25 and Redarc BCDC1225D can but has the added option of using charge from wind power as well.
This features an MPPT solar regulator making it efficient when used with solar panels. It is also smart alternator compatible and the unit will automatically redirect charge when the auxiliary battery is full.
This 20a DC charger is user-friendly, easy to install and can be used for multi-battery applications. It is splash and dust proof so is durable but if you need a fully waterproof DC charger you'd be better off going for the Redarc BCDC1225D.
DC to DC Charger Comparison Table
| | | | | | | | | | | | | | | |
| --- | --- | --- | --- | --- | --- | --- | --- | --- | --- | --- | --- | --- | --- | --- |
| DC to DC Charger | Our Verdict | Size | Weight | Gel and AGM | Lead Acid | Calcium | Lithium | Battery Capacity | Output Current Rating | System Voltage | Operating Temp | Warranty | Other Features | Check Price |
| Redarc BCDC1225D | Best Overall | 165 x 120 x 37mm | 1kg | Yes | Yes | Yes | Yes | 75 – 200 Ah | 25A | 12/24V | -10°C to +80°C | 2 years | Fully waterproof | Outback Equipment, eBay, Amazon |
| Projecta IDC25 | Most Compact | 149 x 122 x 42mm | 800g | Yes | No | Yes | No | 75 – 300 Ah | 25A | 12/24V | -10°C to +80°C | 2 years | Ignition connection | Tentworld, eBay, Kogan |
| Victron Orion-Tr | Excellent Warranty | 130 x 186 x 80mm | 1.8kg | No | Yes | No | Yes | Not listed | 30A | 12/24V | -20 to +55°C | 5 years | Smartphone connection | Caravan RV Camping, Kogan |
| Renogy 50A | Great for Solar | 244 x 146 x 77mm | 1.42kg | Yes | No | No | Yes | Not listed | 50A | 12V | -5°C to 65°C | 1 year | User-friendly indicator lights | Amazon, eBay |
| CTEK D250SE | Versatile | 192 x 110 x 65mm | 900g | No | Yes | No | Yes | 40 – 300Ah | 20A | 12V | -20˚C to + 50˚C | 2 years | 5 step charger | My Generator, eBay |
DC to DC Charger Buying Guide
Using a DC to DC battery charger in your vehicle is going to give you much more flexibility for your dual battery setup. The efficiency of the charger helps to prolong the life of your battery bank by charging at the correct voltage level. There is lots of information to consider when choosing a DC charger so use this guide to help you figure out the best option for your caravan, camper or 4WD vehicle.
Why Invest In A DC – DC Battery Charger?
A DC to DC charger will efficiently charge your starter and leisure batteries to a full charge while you drive. It will minimise damage to the system from over discharging and is a much more controlled system than a split charge relay. The charger keeps your auxiliary or service battery fully charged while ensuring it does not drain your vehicle's main battery.
A DC battery charger is efficient even if your service or leisure battery is located far away from the alternator, for example, in a caravan.
RELATED: Best Battery Management Systems
Size
One of the downsides to a DC charger is that it is an extra item that needs to be installed in the vehicle. Finding a good spot to mount the charger is important and a smaller, slimmer charger is much more convenient.
All of the chargers we've reviewed weigh around 1-1.5kg. The smallest is the Projecta at 149 x 122 x 42mm and the largest is the Renogy at 244 x 146 x 77mm. They are all compact which is one of the factors that makes them so good.
When you decide on the location and install the DC – DC charger, ensure the cabling is sized correctly too. Check the wiring and fuse ratings to make sure they will work with your system.
Capacity
Finding a charger that offers the right capacity is extremely important. A general rule to help you find the right battery charger is that a 25-amp dual battery charger can handle a 75-200Ah battery bank. A 40 amp charger is recommended for higher capacity uses.
Check the amps your battery requires as there is no point spending more on a higher capacity if the maximum absorption rate/ maximum charge current of the battery is considerably less. Choosing an over-sized battery charger may seem like a good idea but ultimately, it's not worth it. A charger that is too large will cost more and overwork the alternator. You can charge your batteries to the same level with a smaller charger and a bit more charging time.
Smart Alternators
Most vehicles have a smart alternator that works by varying the load on the engine. This means the voltage changes constantly. A DC charger is able to take the wide input voltage from the alternator and alter it to maintain a stable voltage according to a multi stage profile to charge the auxiliary battery at its optimum rate.
A traditional split charge system cannot be used with smart alternators which is another reason why DC to DC chargers are important for keeping your batteries fully charged.
Solar
Many DC-DC chargers can now work with solar as they have built-in solar regulators. This is hugely beneficial for keeping your batteries fully charged during extended trips and when you plan to stay in one place for a longer period of time. If you are planning to use solar input as well as the alternator, look for a DC charger that has Maximum Power Point Tracking (MPPT) solar regulator.
Put simply, MPPT optimises the electronics to ensure all of the watts available from the solar panels are extracted. This makes them operate at the most efficient voltage and ensures you get maximum solar energy supply.
Key Specifications
There are a few specifications it is worth keeping an eye on when choosing your new charger. These include:
Input Voltage
Most chargers are 12V as most vehicles have a 12V starter battery. Choose a unit with an input voltage that matches your vehicle starter battery.
Output Voltage
This is also usually 12V but some caravan and camper systems use a 24V system. The DC-DC charger voltage should match the vehicle leisure battery that it will charge.
Amps
DC chargers tend to draw a higher rate of amperage from the alternators. This can be 40A or more per hour, a higher rate means the vehicle and leisure battery are charged quicker. Something that can be useful if you don't plan to spend a lot of time driving. The output current of the Renogy is 50 amps while the other models offer 20a, 25a and 30a. A higher amp current is useful in certain situations but shouldn't be the only specification you consider.
Operating Temperature
We like to check the operating temperature of the system as a battery charger inside a vehicle can quickly become very hot during long summer drives. Checking the charger is durable enough to handle the temperatures it may experience gives us confidence in the system.
The Redarc BCDC1225D can operate in temperatures of between -10°C to +80°C making it suitable for summer desert adventures while the CTEK D250SE can operate in temperature of -20˚C to + 50˚C so is a great option if you are heading into cold winter climates. All chargers list their ambient operating temperature as it is so important to choose one that is suitable for your use and location.
While these figures might seem excessive, remember that it doesn't take long for an engine bay to reach these extreme temperatures during Australia's scorching summers.
Lithium Battery Charging Capability
Lead acid batteries are the most common battery type but new lithium batteries are growing in popularity. Using lithium batteries has many advantages which is why a lot of campers, 4WD and caravan owners are now choosing them for their systems.
If you've updated your caravan leisure battery and chose a new Lithium battery, make sure you check the battery compatibility with the DC battery charger you choose. The Projecta IDC25 for example is an excellent system but it is not suitable for use with Lithium batteries. In this case, go for one of the other chargers. Always double check the compatible battery types before buying the unit.
RELATED: The Best Diesel Heaters for Caravans
Durability
Most chargers are durable with some level of water resistance. There are a few that a fully waterproof. The downside to a fully waterproof unit is that it may not offer the same level of temperature control as water resistant models. Make sure the waterproof battery charger is recommended for your chosen use.
Installing a DC to DC Charger
Always check the installation instructions of your chosen charger. When you install the charger, keep these tips in mind:
Install the charger in a well ventilated area.
When wiring, use cables that are rated for the largest battery bank.
Make sure the fuses are sized to the amp rating of the battery charger.