Dashboard cameras are compact, low maintenance, and discreet. They offer drivers an easy and effective way of monitoring their time on the road. 
A quality dash cam can simply be set up and forgotten about, it will record the road in front of the vehicle and will maintain itself by recording over old, unprotected recordings. If there is ever an accident or incident, the footage can be taken from the camera and reviewed so you can find out exactly what happened. 
We've spent days researching the best dash cams on the market from sub $100 options all the way through to high-end premium devices. In this article, we present our findings and break down the key things you should look for when selecting one for your vehicle.
Offering many of the features found on higher end devices, the Apeman dash cam packs in a whole lot of value for its very reasonable price tag.
It comes with the standard HD 1080P resolution and 30 frames-per-second recording, which should be more than adequate for most people. It also has G-Sensor impact detection, so will recognise if there has been impact and save the footage from being overwritten.
The field of view on this device is impressive at 170°. This is one of the wider fields of view amongst the products we have reviewed, bettered only by the Garmin 66W at 180°. In terms of real-life testing, this dash cam receives glowing user reviews.
The one draw back we can find with this dash camera is there doesn't appear to be any kind of warranty available. However, with the low price tag this may be a sacrifice worth making.
Garmin is a big name when it comes to car accessories, they are known for producing high quality products that are built to last. The Garmin Dash Cam Mini is a sleek and simple camera that can be left alone once set up.
This camera is about the size of a car key, it can be discreetly mounted onto the rearview mirror and is able to record a 140-degree view of the road ahead. 
This camera captures 1080p high definition footage so you can be sure no important details are missed. The set comes with a dual USB power adapter allowing you to charge USB devices while the dash cam is plugged in.
Once the Garmin Mini is positioned and plugged in it will then automatically record and save footage of any incidents that occur. 
The built-in Bluetooth and Wi-fi means any footage can be immediately uploaded to your smartphone via the Garmin Drive app. The app lets you view, edit and share footage and can be used to manage multiple Garmin dash cameras. 
The Navman Mivue 765 is a feature-rich, safety-orientated dash cam. In addition to its wide-angle lens and HD recording, this camera has GPS tagging which shows the exact location the recording was made.
It also has driver fatigue warnings, Advanced Driver Assistance Systems (ADAS) alerts such as forward-collision warnings and lane-departure warnings and alerts the driver to upcoming speed and safety cameras too. 
This camera has a 3-Axis G-Sensor which gives information on the speed and direction of an impact – this is an extremely useful feature in the event of a collision. The Eco Drive feature measures fuel efficiency to help you get the most from your vehicle. 
Any footage can be uploaded and shared with EZYSHARE (a wi-fi connection is required for this). The camera will automatically send footage of an event to your smartphone if the devices are connected to Wi-Fi.
In the event of an impact or a sudden change in motion, the camera detects this and will automatically save a protected video of the event incase. 
This Dual Dash Cam from Vanture is able to capture the road ahead and the cabin inside the vehicle at the same time. This makes it ideal for ride shares such as Uber and taxi drivers. If the rear camera is only required at times, the camera can be set to only record the road too. 
All footage is captured in full HD, the front camera has a 170-degree field of view and the back camera has a 140-degree field of view so all details are recorded. 
The camera also has infrared night vision meaning it can still capture video within the car when the light is low. The HDR system automatically works to balance the light and dark areas within the video to give you the most complete and detailed picture. 
The Vantrue N2 Pro Dual Dash Cam has a G-sensor that automatically detects sudden movement and creates a protected copy of the footage to ensure it does not get overwritten by accident.
The camera also automatically records if it detects motion in front of the car, this means when your car is parked the camera will still pick up events. This is one of the best cameras for rideshares as it records inside and outside the vehicle simultaneously.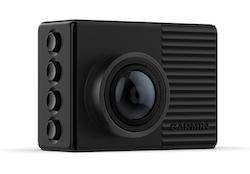 The compact Garmin 66W boasts a 180-degree field of view and the ability to record in 1440p HD. It has Garmin Clarity HDR that increases the detail of the footage in dimly lit situations.
This camera automatically records and saves footage of incidents and also auto-syncs to the Garmin Drive app so you can watch the footage back on your smartphone.
Voice control lets you use the camera without needing to touch any of the controls, you can start/stop audio recording, save a picture or video and start/stop Travelapse video capture just by saying the commands. 
In addition to recording and saving footage, this camera also gives the driver safety alerts such as forward-collision warnings, lane departure warnings and go alerts to help avoid unsafe situations.
The Garmin 66W works with Bluetooth and Wi-Fi allowing you to wirelessly access and edit footage.
Best Premium Cam: Thinkware F770
If you want the best then go to the experts. One of the world's leading Automotive tech manufacturers, you can be sure that any product from Thinkware will be high quality and reliable.
The F770 is one of the few products we've analysed that has both front and rear facing cameras, perfect for Uber or Taxi drivers or to capture rear collisions. It captures video in the industry standard 30FPS and has a field of view of 140°.
Compared to the other products we've looked at, this product stands out due to its inclusion of an Advanced Driver Alert System (ADAS). This includes features like a Lane Departure Warning System and Forward Collision Warning System. The only other product we've looked at with these features is the Navman Mivue 765 Safety.
Another thing we really like about this dash cam is the warranty, which at 2 years is the longest on this list.
Even though the F770 is only mid-range in terms of Thinkware's dash cam offerings, it is the most expensive product on this list and would represent a serious investment for most people.
RELATED: Thinkware vs Blackvue Dash Cams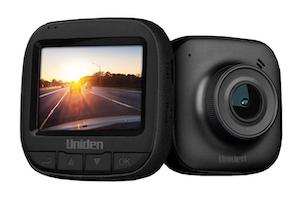 This compact dash cam is high-quality, records in full HD and has a 120-degree wide-angle view. Unlike many other dash cams, the Uniden iGo 30 has an LCD colour screen on the back. This makes it a great option for recording road trips and scenic drives.
It is also handy for being able to review footage without needing to connect the camera to a phone or another device. 
This camera records the whole road in front of the vehicle and has a parking mode meaning it is still able to record when your car is parked. A built-in sensor means recording will start if a sudden movement is detected.
With the Uniden IGOCAM 30 your car continues to be monitored even when you are away and the engine is off. This is a great dash cam for safety, security and adventures. 
Dash Cam Comparison Table
| | | | | | | | | | | | | | |
| --- | --- | --- | --- | --- | --- | --- | --- | --- | --- | --- | --- | --- | --- |
| Dash Cam | Our Verdict | Resolution | Max Frame Rate | G-Sensor | Field of View | Dual Cam | Audio | Auto-Record | Loop Recording | MicroSD Memory | LCD Screen | ADAS Alerts | Warranty |
| Apeman Dash Cam | Best Value | 1080P | 30 FPS | Yes | 170° | No | – | Yes | Yes | Up to 32GB | Yes | No | – |
| Garmin Mini | Most Compact | 1080P | 30 FPS | Yes | 140° | No | Yes | Yes | Yes | Up to 512GB | No | No | 1 Year |
| Navman Mivue 765 | Best for Safety | 1080P | n/a | Yes | 130° | No | – | Yes | Yes | Up to 128GB | Yes | Yes | 1 Year |
| Vantrue N2 Pro | Best Dual Cam | 1080P x 2 | 30 FPS | Yes | 170° | Yes | Yes | Yes | Yes | Up to 256GB | Yes | No | 1.5 Years |
| Garmin 66W | Best Video Quality | 1440p | 60 FPS | Yes | 180° | No | Yes | Yes | Yes | Up to 512GB | Yes | No | 1 Year |
| Thinkware F770 | Best Premium Cam | 1080P x 2 | 30 FPS | Yes | 140° | Yes | Yes | Yes | Yes | Up to 64GB | Yes | Yes | 2 Years |
| Uniden IGOCAM 30 | Best Compact with Screen | 1080P | – | Yes | 120° | No | Yes | Yes | Yes | Up to 32GB | Yes | No | 1 Year |
Dash Camera Buyer's Guide 
Dash cams are great but they are not all created to the same standard. It is important to choose a camera that is reliable, easy to install and records high-quality video. This buyer's guide looks at some of the important considerations to make when choosing a dash cam for your vehicle. 
Types Of Dash Cam 
When looking at different dash cams you will notice there are forward-facing cameras and front and rear facing cameras. Which one you choose depends on whether you are only interested in recording what happens at the front of the vehicle or if you also want to record either the cabin of the car or what happens behind the car.
Most Popular Type Of Dash Cam 
A forward-facing dash cam is the most common, there are lots of options to suit all budgets and requirements. Due to their popularity, it should be easy to find a forward-facing dash cam that includes the features you require. 
This type of camera is more affordable but it does mean you won't capture footage of what happens behind or to the side of the vehicle. If someone hits your vehicle from behind you will only have the front view of that incident when using a forward-facing dash cam. 
Dash Cam With The Most Coverage 
If you choose a front-and-rear facing camera it will cost slightly more but comes with the peace of mind of knowing the front and back of your car is being monitored.
If you are a taxi or Uber driver you may be interested in a front-and-rear facing camera such as the Vantrue N2 Pro which records the front of the vehicle and inside the cab. 
The downside to a dual camera where the two cameras are separate is that installation is not as easy as a forward-facing camera.  
Location Of Dash Cam
Before you buy a new dash cam consider where you would like it to sit. Does it need to be compact and discreet or do you need a camera that is larger and has a built-in screen? You need to make sure the dash cam does not obstruct your view or get in the way when you are driving. 
Most dash cams are easy to install and require very little attention or maintenance. They are usually attached somewhere on the windshield with an adhesive mount or suction cup meaning they can also be easily removed too. 
Power Supply
For a dash cam to be powered it will need to be plugged into a USB port or a car power adaptor. Consider the ports you have available in your car and if you need to choose a dash cam that comes with a power adapter with extra USB slots so you can still charge your devices during journeys. 
Some more expensive dash cameras need to be hard-wired into the car, this cannot be done at home and the camera will need to be professionally installed. 
Video Resolution 
The video quality is extremely important, there is no point going to the effort of getting and installing a dash cam if the footage is blurring or indistinct. Most dash cams have the ability to record in full HD (1080p). This provides clear, detailed images. 
Some newer models can record in 2K or 4K as well if you want the images to be even sharper and defined. The resolution needs to be high enough that you can read another car's number plate and see the details of the recorded events.
If you hope to be able to use dash cam footage as evidence for an insurance claim, make sure you choose a high-quality camera.
RELATED: The Best Android Auto Head Units
Field Of View
During our reviews, we mentioned a lot of viewing angles such as 120-degrees and 170-degrees. This is referring to how much of the road the camera is able to see (a.k.a how wide the field of view is).
As you want the dash cam to be able to record everything that is happening you want it to have a large field of view. 
The best dashboard cameras have a 180-degree viewing angle meaning it can see everything that is happening in front and some of what is happening to the side of the camera too.
The wider the field of view, the less likely it is for the camera to miss important details when recording.  
Recording Modes
Some of the higher end dash cams offer different modes such as night mode or parking mode. These modes can help you get the most out of your camera. 
Night mode gives the best settings to make sure the camera is still able to record when in low light conditions. This is particularly important if you often drive during the night (or at dusk and dawn). 
Parking mode is when the camera's sensors remain active even when the car is parked and it will automatically record if it senses an impact.
This is very useful for getting footage of events that have taken place when you are away from your car and offers a form of around-the-clock surveillance.
Dash Cam FAQ
Do Dash Cams Use Wi-Fi? 
Some dash cam models do work with wi-fi, those that do make it quick and easy to download and access footage directly from your smartphone. Most brands that offer dash cams with wi-fi also have an accompanying app where footage can be downloaded, edited and shared. 
If the dash cam does not have wi-fi or Bluetooth, the footage will need to be transferred using a cable or via a memory card. This is often more time consuming but does not rely on a wireless connection which can be useful when you are away from home. 
Should I Get A Dash Cam With G Sensors? 
G sensors recognise when there is an impact or change in motion and save the recorded footage to ensure it does not get overwritten. This is useful for protecting important footage and preventing it from getting recorded over before you've had a chance to transfer it. 
Can I Get A Dash Cam With GPS? 
Yes, a dash cam with GPS is very useful as it helps to build a more complete picture of the journey or incident. GPS pinpoints your location and can also provide your speed as well as the route you were taking. More and more dash cameras feature GPS which means there are now options to suit all budgets. 
Will My Dash Cam Run Out Of Memory? 
Most dash cams come with internal memory or a memory card (often to be purchased seperately), which is where the footage is saved. When the memory is full, the camera works by recording over old footage but don't worry it will have a protected file where recordings from incidents are placed to keep them safe. This means a dash cam can run out of memory but it is unlikely.