The world of caravan antennas can be confusing, to say the least. To help you in your search, we've analysed the best caravan antennas on the market and assessed them against a range of important criteria including size, weight, frequency band, and whether they are directional or omni-directional. Use the reviews and comparisons below to help you find the best TV antenna for your caravan.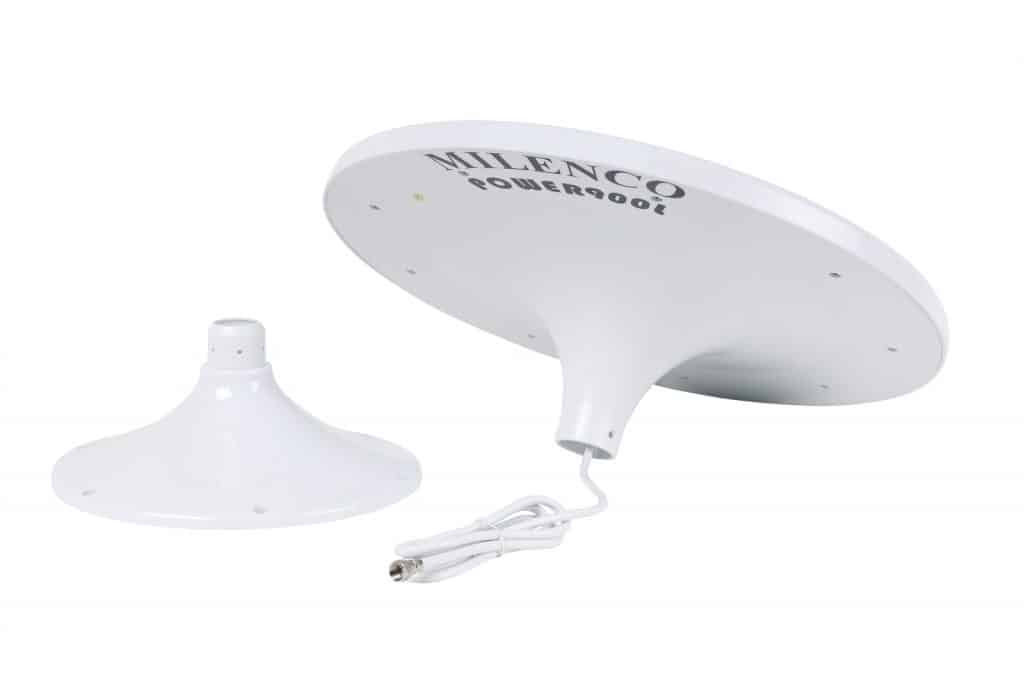 The Milenco Power 900L Antenna is our favourite option as it is an omnidirectional antenna that performs as well as a one-directional antenna does. This means you have the convenience of receiving all channels with great reception without needing to adjust the antenna manually.
The built-in high gain and low noise signal amplifier help to make sure the antenna can pick up strong signals no matter where you are in Australia. It is also extremely user-friendly and will automatically adjust itself so you won't need to raise, lower or rotate it. It will find the most direct signal for you so you can sit back and enjoy sports, news and more. This Milenco TV antenna is also 4G compatible so you won't experience interference from 4G signals.
At 48 x 26 x 32cm the Milenco Power antenna is compact so it won't take up much installation space on the caravan. Although, it's not the smallest or lightest option (look at the King Jack or Digitech TV antennas if that's what you're looking for). The installation is simple and the antenna is made from ABS plastic and uses stainless steel screws to ensure it can withstand all weather conditions.
The operating voltage is 12/24V DC, it offers 38dB gain and 76 ohms impedance so is a high performing choice. Its omnidirectional design offers 360-degree reception when roof-mounted. This Milenco antenna is our top pick because it is sturdy, efficient, and easy to use.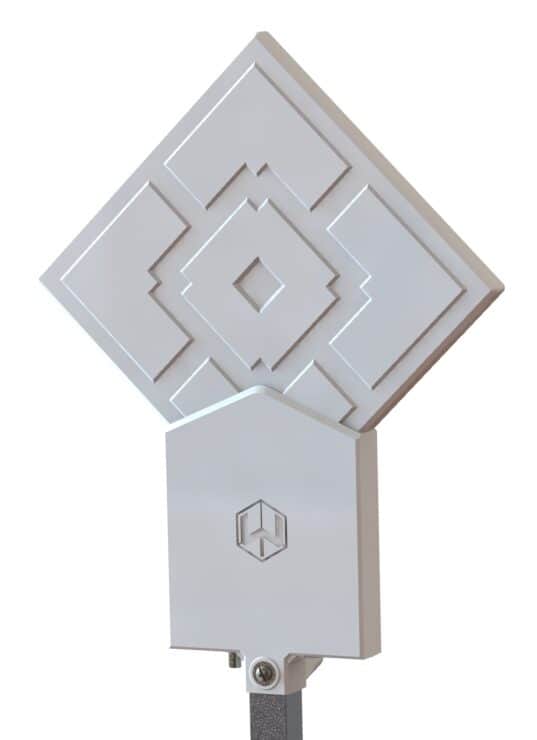 The Winsig 4.0 Retrofit TV Antenna is ideal for all camping and travel purposes. It is omni-directional so it receives signals from all directions without needing to be adjusted. This model is able to pick up all transmissions including older VHF and UHF signals, although it doesn't pick up AM signals like the Milenco does.
This is a compact caravan TV antenna that measures just 890 x 320 x 76mm. Despite its small size, the booster makes sure the signal is strong even at a long distance. The booster adds 24-32dB of gain ensuring the antenna continues to deliver in remote locations making it a great choice for Australian offroad and overland travels.
This is a new design that features smart technology to give users an improved experience. This includes a useful filter that prevents mobile phone signals from interfering with the transmission so it's great when using your camper in busy campgrounds.
This Winsig antenna has been designed as a replacement for Antennatek and Winegard units, this means it can be used with existing mounts and wiring so you can save time when retrofitting.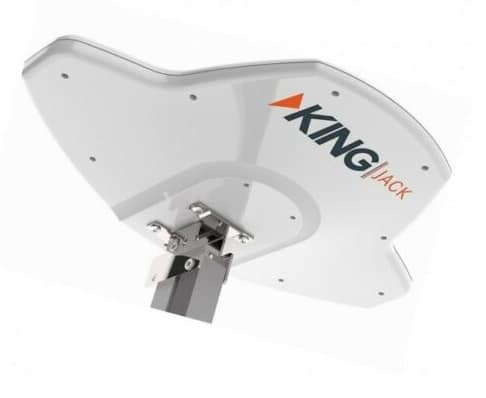 The King Jack TV antennas are another favourite, they pick up horizontal signals and have a built-in amplifier so you can enjoy maximum reception across Australia. This is an upgraded version that offers a higher level of tech and provides better signal for UHF signals while still being able to receive older VHF channels. It has a wide reception range and offers 20-25dB of gain which is not quite as high as the Winsig or Milenco but is still very high.
This set comes with a universal antenna bracket for pole mounting as well as an adapter that can attach to the elevating arms of a Winegard Sensar antenna. These attachments make it simple to retrofit the King Jack Antenna and upgrade your caravan set-up with minimal effort.
This is a great option for a quick and easy upgrade to a modern, high tech antenna. The UV stabilised plastic construction is sturdy and long-lasting so you can rely on this antenna wherever you are camping.
The Sphere Automated Satellite System (often referred to as SASS for short) is a strong, reliable and high-quality caravan accessory that has a great reputation.
One of the features we love is the twin LNB that lets you watch one channel while recording another. This brings a layer of convenience you don't often get when enjoying TV from your RV or caravan.
As this is a satellite system it is quite large and heavy so isn't a good choice if you are limited on space. With that said, it can be installed easily thanks to the aluminium mounting plate that is ready to be screwed in position. The satellite does have a foldaway design that makes it low profile and ensures you don't need to worry about overhead clearance when travelling.
This system searches for and locks onto Optus C1/D3 satellites which allows it to provide excellent coverage across Australia. These antennas can receive free and pay TV.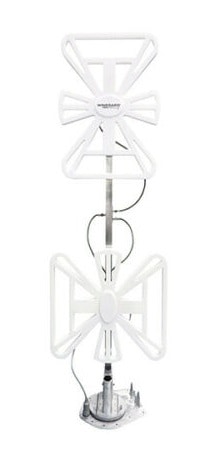 This retrofit antenna from Winegard is a cost-effective way to upgrade your existing Winegard antenna without needing to buy a whole new unit. It fits onto your existing base and is able to pick up a wider variety of free channels.
This antenna has a range of 144km and is bi-directional meaning it can receive horizontal and vertical frequencies. It has 2 TV antennas that are independently amplified to get the best signal and is able to receive analogue, standard and HD signals.
The Winegard antenna can be rotated and wound up from inside the caravan making it convenient to use. If you don't want to manually adjust your caravan antenna then take a look at the Milenco as this automatically adjusts itself.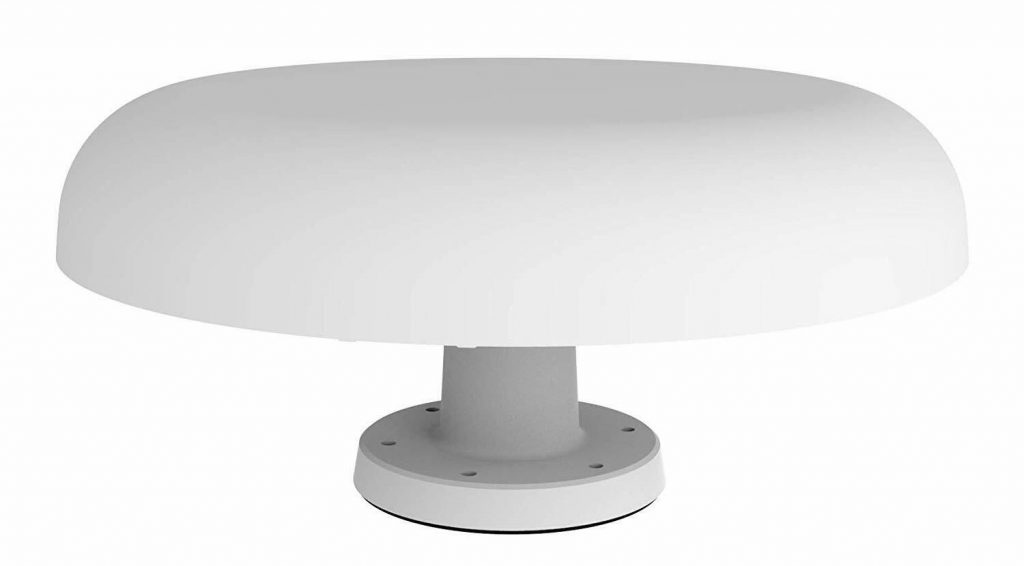 This lightweight and compact antenna is perfect for use where there is limited space on the caravan. The unit is weather resistant, anti-rust and UV protected so it can withstand harsh environmental conditions that are often experienced across Australia.
This omni-directional antenna has an inbuilt low noise and high gain booster. It has a wide frequency range allowing it to pick up free-to-air analogue and digital TV as well as DAB+ digital radio and FM radio.
The antenna can be mounted on a base or a mast and comes with a few important accessories including a mounting bracket as well as a mains power adaptor and in-car charger. This is a versatile option that offers the flexibility of listening to radio as well as the ability to watch a range of TV.
Caravan Antenna Comparison Table
Caravan Antenna Buying Guide
When choosing a caravan TV antenna consider the following factors:
Directional Vs Omnidirectional
A directional aerial results in a strong and reliable signal but it needs to be pointing in the direction of the TV mast. These antennas often require manual adjustments to find the best signal.
A omnidirectional aerial is able to receive signals from all directions making them easy to install and user-friendly. The downside is finding a strong signal can be difficult as it is less focused than a directional aerial. However, if the antenna is relatively new and includes an amplifier then signal issues should be minimal.
Amplifier
Antennas with built-in amplifiers will be able to offer improved signal strength and better picture quality. Most modern TV antennas have some kind of booster or amplifier and this is a necessary addition to get signal across remote areas of Australia.
RELATED:
Frequency Range
Most caravan TV antennas are able to receive VHF and UHF frequencies. This gives you access to all the most common frequencies whether you are in major cities or more remote areas. In addition to VHF and UHF, you will also find some TV antennas that pick up AM and FM signals too.
Ease of Installation
TV antennas need to be connected to the outside of the caravan in order to get the best signal. This can be done in a variety of ways from adhesive mount plates to screw-on brackets, magnets or suction cups.
Using the drilled on mounting brackets provides sturdy support and is best for long-term use but the other installation types can be effective and have the added benefit of increased portability. Caravan antennas that are attached to masts can be more susceptible to wind movement which can impact the TV reception.
RELATED: The Best Towing Mirrors
Most TV antennas can be installed at home but if you are unsure professional installation is available too. Before installing, consider the location of the antenna, the height of the antenna and the ability to move it or dismantle it when needed. Some antennas can be very large so need to be foldaway or easily dismantled for between uses/ when you go back on the road.