The cooling solution for your caravan can be one of the most difficult decisions you'll need to make. What heating and cooling capacity do you want? Is your setup best suited to rooftop, built-in, or portable?
To help you in your search, we've analysed the most popular caravan air conditioners on the market and assessed them against a range of important criteria including power, features, and cooling technology.
The reviews and comparisons below can help you to find the best air conditioning unit for your caravan so you can stay comfortable throughout your travels across Australia.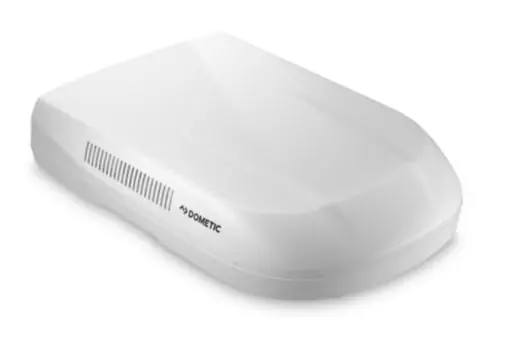 Dometic is a top brand that offers a range of air conditioners for recreational vehicles. The Ibis MK4 was released in 2019 as the replacement model for the popular Ibis MK3. The MK4 is more refined, streamlined, and lighter than its predecessor. It has been designed using EPP (expanded polypropylene foam) meaning it now weighs only 40kg.
The MK4 suits caravans up to 7 metres in length and is the first in the Ibis series that can be fitted in 360 x 360mm or 400 x 400m roof openings. This is a compact air conditioner and it is low profile which helps to reduce towing drag and means it is less likely to impact your ability to park in low clearance areas.
The Dometic Ibis MK4 offers a cooling capacity of 2.6kW and a heating capacity of 3.0kW. It also has 4 fan speeds including a turbo speed.
This is a user-friendly option with a built-in timer and a sleep mode so you can set the AC unit to work more quietly or switch off after a certain amount of time to give you the best sleep. The noise of the MK4 in normal mode is still extremely quiet.
The MK4 features a dual-cylinder horizontal compressor which is highly efficient and helps to reduce vibration. The roof top air conditioner has been built for use in Australia and can operate in –2 °C to +52 °C temperatures. Conveniently, this AC can be remote controlled and there is an auto mode that lets you set the temperature and the unit will do the rest for you.
This is the best option for most people because it is quiet, lightweight and energy-efficient. It is covered with a 3-year warranty too.
The Harrier Plus Roof Top Air Conditioner is a powerful new unit that is packed with great features. It offers a slightly higher cooling capacity (3.0kW) than the MK4 making it suitable for longer vehicles up to 7.5 metres.
The Harrier Plus is the direct replacement of the Harrier Inverter. This version was first released in 2020 and includes a variable speed compressor and a much sleeker design. It also comes with an improved remote control that has automatic brightness adjustment, sleep mode, auto mode and turbo fan speed settings.
The variable-speed compressor is an energy-efficient and quiet addition to the unit. The compressor plays an important role in reducing how much noise and vibration is experienced.
One of the things we love about the Harrier Plus is the low start-up power it demands. This is thanks to the inverter compressor and means it can be started with a portable 2000W generator. This effectively eliminates many of the start-up issues caravan and RV users may experience with air-con units.
Installing the Dometic Harrier Plus is simple and straightforward. This AC unit can fit 360 x 360mm or 400 x 400mm H-Frame roof openings straight from the box. With that said it is best for 400 x 400mm H-Frames as this is when the noise reduction is at its maximum.
The Dometic Harrier Plus is a powerful, feature-rich AC unit that offers a higher cooling capacity suitable for larger vehicles. It is one of the latest models and doesn't cost much more than the MK4.
The Houghton Belaire HB3500 is a high-performance option that offers great value for money. It keeps things simple offering a high output and the basic features users expect from an AC unit.
This large capacity roof top air conditioner offers 3.5kW for both cooling and heating and has three fan speeds. This is a slightly larger capacity than both the Dometic models but the trade-off is that it is not an inverter air conditioner like the MK4 and Harrier Plus.
This caravan air conditioner comes with a remote control that lets you adjust the temperature setting, dehumidifying, dry, sleep and timing functions. The fan is quiet and high efficiency and has been designed to handle Australia's climate. This unit is suitable for a 360 x 360mm roof opening.
This is the best caravan air conditioner for users looking for a high capacity, low-cost model. The HB3500 also comes with a 2-year warranty for added peace of mind.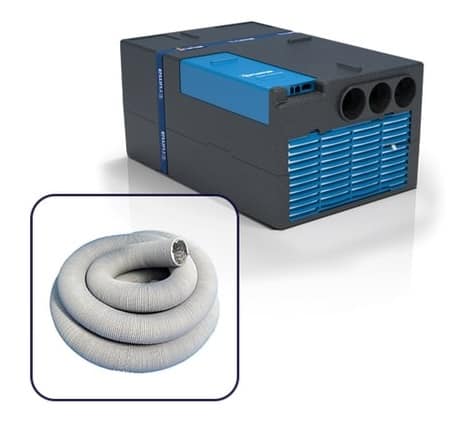 The Truma Saphir is a reverse cycle ducted air conditioner designed to be fitted under a bed or cupboard in the vehicle. It doesn't offer quite as much power as the roof top models discussed above but it is suitable for caravans up to 6.5 metres in length.
This compact conditioning unit weighs just 23.5kg making it incredibly lightweight and easy to install.
The kit comes with a control that lets you adjust all the functions of the unit from anywhere in the vehicle. For added ease of use, the system can automatically monitor the interior temperature and you can also set the AC onto a schedule using the timer function.
The cooling capacity of this unit is 2.4kW and the pump-based heating is 1.7kW. There is also a dehumidification feature that helps ensure ultimate comfort. The Truma Saphir Comfort comes ready to install and is much smaller and lighter than the rooftop units on this list.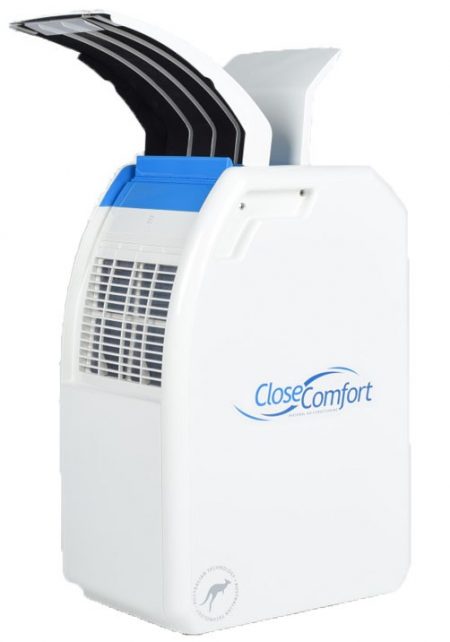 The Close Comfort Cool Focus model is a lightweight, easily portable air conditioner that just needs to be plugged in. As the unit is highly efficient it can be powered by batteries, solar (if you have a suitable inverter) and a small generator.
This is a personal air conditioner that is designed for small spaces including caravans. It has three cooling speeds and can be remotely controlled. This portable air conditioner does not have a heater option but it can be used as either a regular fan or as a refrigerated air conditioner.
This air cooler weighs just 18kg and has carry handles and wheels to make moving it around as easy as possible. It uses just 300 watts of electricity making it an energy-efficient option. However, the unit is not as powerful as the rooftop and under-bunk options as it offers 2kW cooling power.
The Close Comfort Cool Focus is compatible with 220 – 240 volts and offers a low-cost way of keeping cool in your caravan without requiring a permanent installation.
Caravan Air Conditioner Comparison Table
Caravan Air Conditioner Buying Guide
There are a number of factors to consider when buying a caravan air conditioner. It is a serious investment and there are a couple of different types to choose from. The best unit for one vehicle is not necessarily the best for another. This buying guide takes a look at the types of caravan air conditioners available, the main cooling technologies used, and key features that are worth considering.
Rooftop Vs Built-In Caravan Air Conditioners
The two places you can install an air conditioning unit in a caravan or recreational vehicle are on the roof or in a storage compartment. Each has its advantages and disadvantages.
Rooftop Models
These are made to fit in the 360 x 360mm or 400 x 400mm rooftop opening of a caravan. Two of the big advantages of these air conditioners are that they don't take up living space and they are easy to install. Rooftop AC units are a popular choice. However, they can add height to your rooftop so take care when entering low profile car parks.
Advantages
Quick installation
Can easily be changed over to another vehicle
No accessories needed
Doesn't take up any storage space
Effective
Built-in Air Conditioners
Built-in air conditioners are designed to be fitted in a cupboard or under a bunk. They are split system or ducted and make a great choice for camper vans with a single skin roof and pop-top caravans. A built-in air conditioner tends to be quieter than roof top models.
Advantages
Doesn't impact the vehicles outside dimensions
Keeps the roof window as a window
Flexible positioning of air vents
Portable Air Conditioners
There is one other option that can be useful if you don't want a permanently installed air conditioner. A portable air conditioner is compact, lightweight, and "plug and play". They are also low cost which makes them a popular budget option.
The portable set-up means you only need to bring the air con on trips when you need it and it can be left behind when you won't be needing it. This will help you save space and weight during trips. The portable nature of these units also means you could easily sell your AC if you decided you no longer needed it.
The downside to using a portable air conditioner inside a caravan is that you will lose valuable interior space and it will need to be stored somewhere during travels. Another disadvantage is that they are not energy efficient.
Overall this is a good, relatively low-cost choice for some situations but it definitely does not suit everyone.
RELATED: The Best Jockey Wheels
Reverse Cycle Vs Heating Elements
How the cooling of the AC works will impact the units efficiency, noise and power usage. The two key technologies are reverse cycle and heating elements.
Reverse Cycle – this is a common type of air conditioner that uses a compressor to heat and cool. Reverse cycle technology is more efficient than heating elements. These units are a very popular choice in Australia but they aren't ideal for use in extremely cold temperatures.
Heating elements – these units use heat exchange for cooling and a heating element for warming. It is not efficient but does work, particularly in very cold temperatures. Generally, heating elements are not best for Australia unless you are planning to travel to cold climates too.
RELATED: Best Diesel Heater for a Caravan
Energy Usage
A caravan air conditioner uses a lot of energy. It is one of the most energy-intensive appliances used in caravans. On average you can expect a caravan AC to use 1,000 – 2,000 watts.
It's important to make sure your generator has the power capacity to handle the requirements of the air conditioner. If you are relying on powered campsites then this won't be as much of an issue.
Cooling and Heating Capacity
The capacity gives a clear indication of how much power and airflow you will be able to get from the unit. This is what lets you know if the model is going to be powerful enough for the caravan space you plan to use it in.
A lower power option will be effective in a smaller space but not in a larger caravan. 3kW+ is recommended for caravans that are up to 7 metres in length as this offers enough power to cool the space in the camper effectively.
Cooling Capacity – this is the power output when cooling and is typically around 2-3kW.
Heating Capacity – most units are also able to transfer heat inside your caravan during colder weather. The heating capacity is often around 1 – 3kW.
Weight
Air conditioners are heavy, particularly roof top units. The weight is important as it will impact the overall weight of the vehicle as well as its fuel consumption and handling. How heavy the unit is is also an important factor when choosing an RV air conditioner as the rooftop may not be able to support high weights, particularly if you have a pop-top or single-skin rooftop.
Size
In addition to considering the weight of the air conditioner, think about the size of the unit. For example, if it is a rooftop unit think about how much additional height this will add to the top of your van. There are many compact and low profile options that won't add too much height.
If you are going for a built-in air conditioner then make sure it will fit in the storage area you have available for it.
It's essential to find the right air conditioner size for your caravan. If the unit is too small then you will not enjoy adequate cooling. Smaller or lower power units may cost less but it needs to produce enough power to suit your caravan otherwise it isn't a good investment.
Noise Level
The amount of noise the AC makes is an important consideration as you will be relaxing and sleeping in your caravan while the AC is working. Most air conditioners that have been designed for caravan use operate very quietly.
Some models come with specific quiet or sleep modes, this is perfect for use at night time.
Additional Features
There are a few additional features that can make an air conditioner more convenient and user-friendly. These include:
Auto Mode – this lets you set a temperature and the AC will automatically work to keep the temperature inside your caravan consistent with this.
Sleep Mode – This mode makes sure the noise and vibration levels of the unit are at a minimum while the cooling airflow continues to keep you comfortable.
Heat Pump – most air conditioners can heat up an area as well as cool an area. If this is something you need, make sure the model you choose offers these capabilities.
Remote/ Smart Controls – being able to control the speed, airflow, temperature etc. from the comfort of where you sitting is much more convenient than having to get up and use the control buttons on the system itself. Most come with a controller included and some even offer smart controls so you can use the built-in timer or auto mode to operate the unit.
Installation Accessories
Most caravan air conditioners come with everything you need to fit and install the unit. Always make sure the size and accessories will work with your caravan. Some common accessories you may need include:
Thick roof adapter – if you have a thicker roof (85mm+) then you will need an adapter so you can install the air conditioner.
Size adaptor – you can get frames that allow you to fit a 360 x 360mm unit in a 400 x 400mm roof opening.
H-Frame – a H-frame is used to provide additional strength to RV's and caravans so that it can safely support the weight of a roof top air conditioner.
Installation Tips
Most air conditioner systems are full kits that come with everything you need to install it in your camper yourself. However, it is recommended a qualified electrical contractor/ installer handles the installation. If you are considering installing it yourself, double-check the terms of the warranty before doing so.
In some cases, a licensed air conditioning technician needs to carry out the installation, for example when refrigerant lines are required in split system units.