Getting car windows clean isn't the easiest of tasks. A shiny and streak-free finish seems impossible unless you are using the right product for the job. We know how satisfying it is to get your car looking brand new but it is also important to keep your windscreen clean and clear for safety and visibility when driving.
There are lots of glass cleaners on the market but they aren't all as good as they say they are. We've reviewed some of the best auto glass cleaner available so you can enjoy high-quality results every time.
If you're looking for a cost-effective solution for cleaning glass, Mothers Professional Auto Glass Cleaner is one of the best options. This glass cleaning solution has a recommended dilution rate of 1:10 (for general purpose cleaning) so this 3.78L pack will last a long time and a lot of car washes.
This versatile concentrate formula effectively removes dirt, grime, oily film and fingerprints from glass and most other surfaces. It can be used on tinted windows and for auto detailing too.
This is a professional option that dries quickly without any streaks and gives glass a shine in any weather.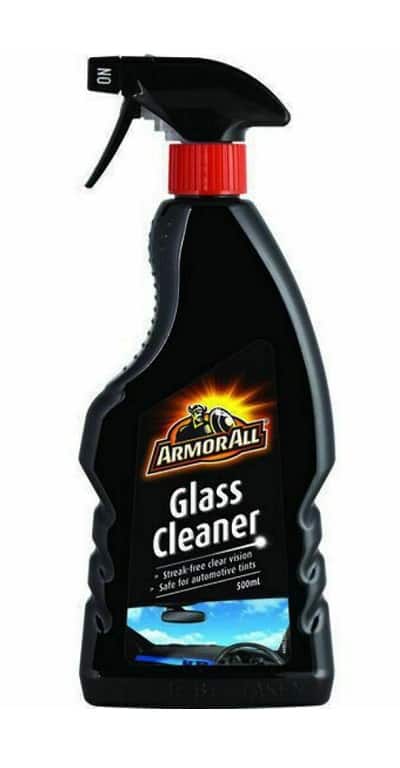 Armor All Auto Glass Cleaner is specifically designed for use on car windscreens and windows. It comes in a 500ml spray bottle making it easy to use and effectively tackles dirt, grime and insects.
This cleaner also cuts through any build up on interior windows. It helps provide maximum visibility by leaving a streak-free shine.
This formula is safe to use on all windows, including tinted windows. All you need to do is spray it onto glass and use a lint-free cloth or paper towel to wipe the window.
This glass cleaner from Michelin is multi-purpose, effective and long-lasting. When you spray this concentrated cleaner it foams which stops the formula from dripping down onto other surfaces and helps prevent stains.
This is a multi-surface cleaner that can be used on mirrors, glass, plastic and laminated surfaces making it ideal for cleaning the car. It effectively removes dirt, insects and silicone to provide a streak-free look and protects the glass to help it stay cleaner for longer.
The Micheline Foaming Glass Cleaner is also scented to leave a pleasant scent after cleaning. This comes in a 650ml spray bottle to make cleaning quick and easy.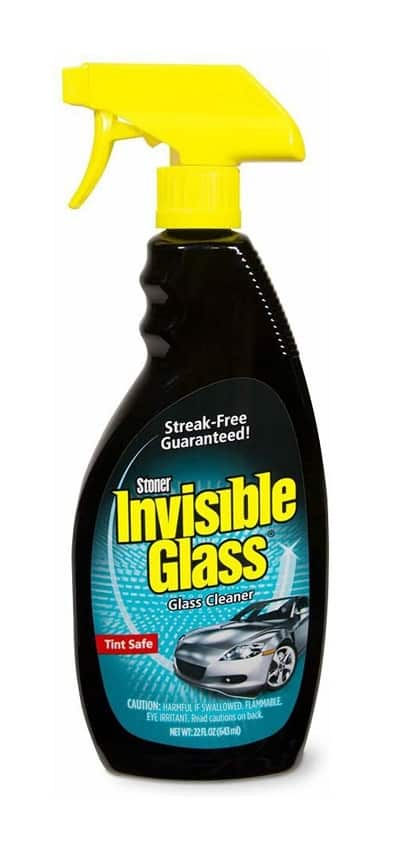 If you're fed up of residue and streaks being left behind after cleaning your car windows, try Stoner Invisible Glass. This is a clear dry formula that comes with a streak-free guarantee. Stoner says it leaves windows so clear that it looks like invisible glass.
This glass cleaner is an aerosol that you can spray in a fine mist onto the surface to remove grease, oily dirt, fingerprints, permanent marker, grime and more.
After spraying the invisible glass formula, gently wipe the glass to remove grime and then dry with a towel or cloth. Stoner Invisible Glass is made in the USA and is one of the best auto glass cleaner products in the USA. It is safe for use on all windows including tinted.
This revision glass and surface cleaner from Mothers is great for use on glass, mirrors, headlight lenses and chrome. This professional strength formula is safe to use, is ammonia free and won't damage tinted window film.
This cleaner comes in a convenient 710ml spray bottle so it is easy to apply to glass for quick cleaning. This formula won't leave behind any streaks and will leave windows shiny.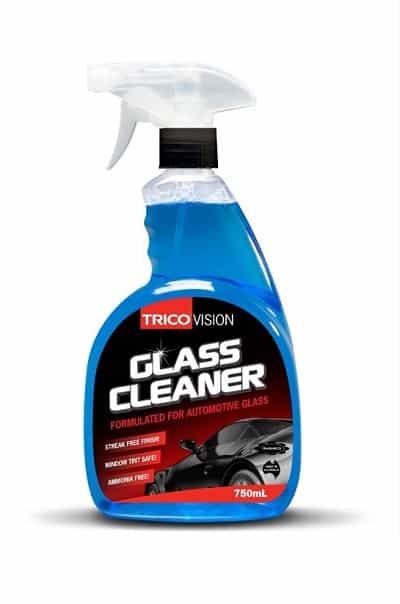 Trico offers high-quality products and their glass cleaner doesn't disappoint. This is an original equipment formula that is easy to use and provides a streak-free finish.
This product is lightly fragranced so your car is left looking clear and smelling fresh. It can be used on the outside and interior windows and is ammonia free meaning it can be used on tinted glass (although it shouldn't be used if the tinted film is damaged).
This glass cleaner comes in a large 750ml bottle so is economical and can be used again and again.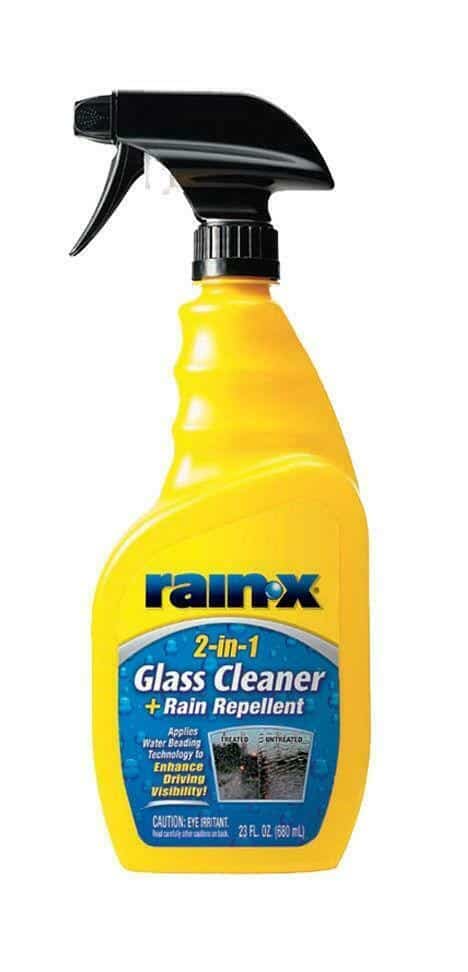 The Rain-X is a glass cleaner and rain repellent combined. It is the best auto glass cleaner for wet weather conditions as it enhances your driving visibility in rain, snow and sleet.
This car window cleaner comes in a trigger bottle and simply needs to be sprayed on and wiped away. You don't need to buff the glass to get the results you want making it quick and simple to use.
Rain-X comes in a large 680ml bottle and uses water beading technology to cause water to bead up and roll away. You may need to reapply for heavy-duty jobs.
Auto Glass Cleaner Buying Guide
A dirty windshield reduces overall visibility, increasing the risk of accidents and collisions. However, keeping your car windshield and windows clean on the inside and outside is effortless with the right cleaning products.
As there are so many automotive glass cleaners on the market, it can be hard to tell which products are actually good. This buying guide takes a look at what sets the best glass cleaner products ahead of the rest.
Avoid Ammonia
An ammonia free glass cleaner is the best option as ammonia can be harsh and can cause damage to tinted windows (be sure to never use on tinted windows). A premium glass cleaner should be strong, non-toxic and ammonia free to give high-quality results on all car windows and glass surfaces.
If you use an ammonia cleaning product on glass surfaces in your home you will know that is an effective cleaner. You might be tempted to use this on your vehicle instead of buying a specific automobile cleaner. However, ammonia can be harmful to car interior and glass surfaces including window-tint film, rubber, vinyl and leather. Using ammonia on interior car windows can also be harmful to your health so to stay safe go for an ammonia free glass cleaner.
RELATED: The Best Windscreen Chip Repair Kit
Use Car-Specific Cleaners
Before you use the glass cleaner on your windshield, read the bottle to make sure it is safe to use on automobiles. Glass cleaners that are made specifically for use on vehicles will not haze or streak.
A premium glass cleaner is able to cut through any mineral deposit buildup, dirt and stains and will not contain the oily or waxy residue that traditional cleaners often include to give a glass surface shine. This residue will usually result in streaks which are something you don't want to see on a car window.
When a cleaner has been made specifically for vehicles it takes all of these factors into account so you won't need to worry about them.
Other Considerations
Spray Bottle Vs Aerosol Vs Liquid
A spray bottle is convenient but there is a risk of getting spray back on your vehicle's upholstery or interior. Some sprays foam up to stop it from running down the glass surface which makes it easier to clean.
Aerosols are a good option and many people say don't get streaks when using aerosol glass cleaners but you can lose a lot of product in the wind.
If you're looking for a more affordable option, go for a liquid concentrate. This usually lasts a long time as you only mix a small amount of concentrate with water each time and you can make sure you only use the amount you actually need.
There are also glass cleaner wipes, these can be good for cleaning a car window when out and about (for example for spot cleaning to remove bird droppings) but they aren't the most suitable option for a full clean. The wipes can also be handy for cleaning windscreen wiper blades.
Rain Repellent
Some premium glass cleaners even help to improve visibility in wet weather by including a rain repellent. This makes any water bead up and roll off the windscreen to keep the glass surface as clear as possible. If you are looking for a cleaner that will leave behind no residue and will ensure the glass is crystal clear even in rain choose a product such as Rain-X which is a combination of glass cleaner and water repellent.
Other Equipment You May Need
Microfiber Cloths – high-quality microfiber cloths are the best for cleaning glass. Always make sure the cloth you use is clean to avoid leaving behind dirt, residue or scratches. It's a good idea to use two cloths, one for cleaning and one for buffing.
Protective Gear – you may want to consider wearing gloves to protect your hands from any chemicals in the cleaner. If you are using an aerosol glass cleaner, a mask will help prevent you from inhaling the product.
Cleaning A Car Windscreen: Step By Step
Once you have selected a suitable glass cleaner (ammonia free if you will use on tinted glass), get a lint-free cloth and follow the instructions on the product to check the cleaner does not need to be diluted before applying. When you're ready, follow these steps to get a streak-free windshield:
Lift the windscreen wipers away from the windscreen so you can access all of the glass.
Spray the cleaner directly onto the glass or if you'd prefer you can spray it onto the cloth you will be using. It's best to do this in the shade so the product doesn't dry too quickly. Note: If the surface is very dirty with bird droppings, tree sap etc. you may want to give it a wipe with soapy water first and then use a glass cleaner afterwards.
Wipe the glass with a clean cloth, making sure you get all parts of the window. Do this in a methodical way until all of the window glass has been wiped.
If there are streaks or there is still some dirt visible, clean glass with glass cleaner for a second time using the clean side of the cloth.
For the best results, get a second clean, dry cloth to buff the window.
When cleaning the windscreen remember to spray the windscreen wipers. Wipe downwards to remove any dirt or grime build-up.
Repeat this process on all the windows on the inside and outside of the car.