Did you know that car wash soaps with pH-neutral formulas are essential for effectively cleaning and protecting your car's paint? Or that a high-quality pre-wash can help prevent swirl marks when washing? Car wash products may seem pretty rudimentary at first, but there's actually a vast range, and it's worth learning a little bit about how each can help clean and protect your car.
Whether you're driving it or it's safely parked somewhere, your car is frequently exposed to all kinds of dirt and grime. These have a detrimental effect on your vehicle's paint which makes choosing the right car washing product extremely important.
In this guide, we list our picks for the best car wash products on the market so you can confidently keep your car protected and looking great. We've also included a buying guide covering everything you need to know to select the best products for your vehicle.
Aero Cosmetics Wet or Waterless Car Wash Wax Kit isn't your "run of the mill" car wash soap. This high-performance, aircraft quality wash and wax can easily clean any car surface while simultaneously leaving a non-stick UV coating that continues to protect.
It's water-based (alcohol and ammonia-free) formula is biodegradable and safe to use for both interior and exterior detailing. It's also suitable for use on boats, RV's, motorcycles, appliances, windows, furniture, and various other surfaces.
As its name suggests, the Aero Cosmetics Wet or Waterless Car Wash Wax Kit can be used either as a waterless wash or be applied after wet washing. The kit itself consists of 3.8 l of Wash Wax All fluid and 470 ml of fluid in a separate spray bottle. You also get four 40x40cm microfiber towels for mandatory drying after applying the formula to the surface.
Pros:
Applicable to a wide range of surfaces
Waterless or wet washing
Extremely effective
Cons:
Still won't achieve the same result as a wax
Pricey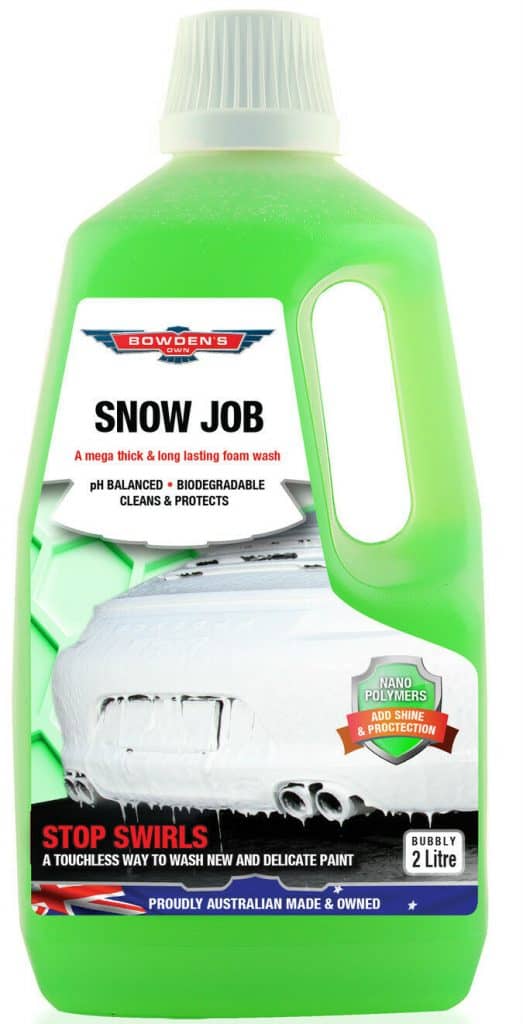 Bowden's Own Snow Job is a deep-cleaning pre-wash snow foam that degrades even the hardest of dirt and helps prevent swirl marks from appearing while washing. It's suitable and recommended for all types of vehicles as quality foam can go a long way in keeping their paint intact.
This very concentrated foam provides as many as 80 washes from a 2 l bottle, but for best results, it's advisable to use more of the product and cut the number of washes in half. It's also advisable to use a quality pressure washer which can make this pre-wash foam somewhat expensive if you intend to utilize its full potential.
Another bonus of Bowden's Own Snow Job foam is the fact that there's no need for fear of streaking from use under direct sunlight, which is a rarity among similar products.
Pros:
Can be used in the sun without fear of streaking
Dissolves the toughest of stains
Long-lasting
Cons:
Requires a quality pressure washer for best results
Can get pricey with optional gear
The Australian-made Bowden's Nanolicious Wash is created from the finest modern ingredients available on the market to provide the ultimate car washing experience.
Its deep cleaning formula is Ph-balanced, so it doesn't strip wax and paint protection coating, but at the same time boasts super-thick lubricating suds that encapsulate dirt and debris and, in turn, stop them from potentially scratching your car's surface.
This oily residue and streak-free wash and wax sheets off faster than most washes, while simultaneously rejuvenating and repairing the protective layer of the car's paintwork. Don't get your hopes too high when it comes to the latter, as this isn't a polish.
Only 25 ml of Bowden's Nanolicious Wash is required per 10 l of water which means that one 500 ml bottle will be enough for 20 car washes. Aside from 500 ml bottles, Bowden's Nanolicious Wash also comes on 125 ml, 2 l, 5 l, and 20 l packaging to accommodate a wide range of potential buyers.
Pros:
Won't damage wax or paint protection
Provides a lasting shine
Concentrated formula means a bottle lasts a long time
Cons:
This is still neither wax nor polish
Meguiar's Ultimate Car Wash N Wax gently cleans the surface of your vehicle with its hybrid Carnauba and synthetic polymer pH-balanced formula mix while leaving an impression of a just-waxed vehicle in a single step.
It's perfect for cleaning and protecting the paint in-between regular waxing as it not only enhances gloss and shine but also boosts the protection of your car's paint.
This pH-neutral car wash and wax comes in a 1.4 l bottle to last a while and provides plenty of suds that aren't irritant to the skin but still manage to clean most dirt and grime with ease. It's somewhat of a trade-off, however; much like most car soaps that double as a wax. While it does do what it advertises, a proper wax will still do a better job.
Pros:
Hybrid Carnauba wax and wash mix
Leaves a nice glossy finish
Foams well and smells nice
Cons:
Very thick which makes accurate dosing difficult
Not the cheapest as it requires somewhat higher density mixes
Like so many quality vehicle care products, Mothers California Gold Car Wash strikes a fine line between cleaning and keeping the pre-applied layer of protection (e.g. wax) intact.
The Mothers California Gold Car Wash is pH-balanced and safe for both your hands and your car's paintwork. It's more than capable of dealing with everything from dirt, road film, bugs, bird droppings, airborne pollutants, to all kinds of other grime. Boasting rich suds and resisting water spots, this car wash is as good a choice as any.
Available in 1 l, 2 l, and 3.8 l packaging, the Mothers California Gold Car Wash is intended to last for prolonged periods and to provide multiple washes before needing to resupply. A typical car wash does tend to require more of the product – especially if you're looking for more foam and longer-lasting lather.
Pros:
Easy to use
Leaves a nice shine
Smells nice
Cons:
Requires some time to dissolve harder dirt
Some users have reported issues with the quality of the bottle
Can be more expensive as more product is required for best results
As with most multi-functional cleaning solutions on the market, the Rain-X High Foaming Wash & Wax does an admirable job if used properly. However, if you're looking for the perfect wax finish from a product that essentially isn't a wax, then you might want to reassess your expectations.
Regardless, the Rain-X High Foaming Wash & Wax is a great choice for those who can't afford to spend too much time on car care. Its deep-cleaning foam easily dissolves all but the toughest of dirt, and its soft gel Carnauba wax beads help protect the paint while leaving a shiny finish in the process.
Being on the thin side and losing the lather after a while, it's best to apply the Rain-X High Foaming Wash & Wax by using the proven top-to-bottom technique. It's also best to dry the solution using chamois or 100 per cent cotton cloth and avoiding direct sunlight in the process. Otherwise, you're likely to get spots.
Pros:
Very good UV protection
Deep shine
Affordable
Cons:
May not clean tough and encrusted dirt
Must be applied in a specific way for best results
Lacks the thickness and longevity of lather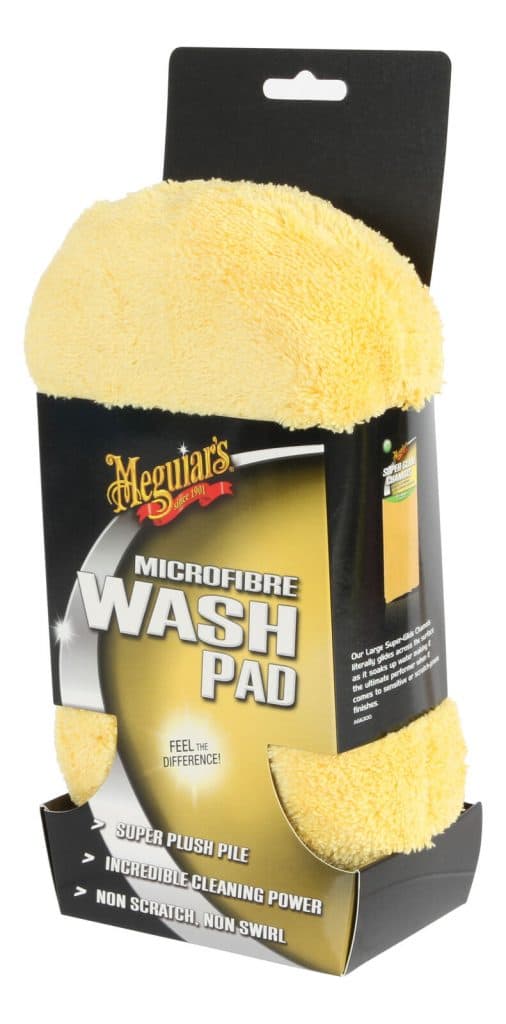 The trusty sponge is one of the few essential pieces of equipment necessary to properly wash your car, and our pick of the bunch is the Meguiar's Microfibre Car Wash Sponge. It's high-quality, lightweight, and easy to use.
Made from deep pile ultra-premium microfibre, this wash pad boasts exceptional cleaning power due to its high foam action. It also easily picks up dirt and grime and releases them via a simple squeeze to avoid potential scratches to the paintwork.
The microfibre itself consists of thousands of fibre endings in each square centimetre of the pad. This is what gives the edge over other similar products. It's best suited for use on open flat surfaces as its thickness can prevent it from entering tighter openings and reaching out-of-view spots.
Pros:
Simple yet reliable
Inexpensive
Trusted brand
Cons:
Too thick to access hard-to-reach surfaces
The MR.SIGA Microfiber Car Wash Mitt pack is proof of how simple products often are everything you need.
This chenille microfibre car wash mitt pack of two (blue and yellow) can be used wet or dry. It's scratch and lint-free and exhibits great dirt absorbing potential, which is why it can find its use outside of mere car cleaning as well.
At 25×17 cm, some people might find it too big and heavy when soaked, so it's best for those with average-large sized hands.
Pros:
Good absorbing power
Affordable
Cons:
Can be heavy when soaked
Reports of tearing on some occasions
Buyer's Guide to Car Wash Products
Choosing the right car wash product is half the task when it comes to car care. As with most things, paying more initially can often lead to savings in the long run. With that in mind, it's advisable to always choose the best quality product you can afford.
In the buyer's guide below, we cover the key things to look out for when selecting your cash wash soap, what you get in different price brackets, and provide some basic tips for effective car washing.
Things to look for in a quality car wash product
pH-balanced
A pH-neutral value means that the product won't strip away the protective surface of the paintwork such as waxes or polish and that it's safe to use it on both your car and your hands.
Suds
Your car wash should be rich in suds as they encapsulate the dirt within them and lift it from the surface to help prevent scratching.
Protection
While not as effective as proper wax, quality washing products still offer lasting UV protection.
Finish
Good products leave a swirl and spot-free glossy finish that resembles car polish. The better the product, the shinier your vehicle will be.
Biodegradable
While not every product is environmentally-friendly, the high-quality ones almost exclusively are.
Car wash pricing (per litre)
Under $10
The most affordable car wash products often lack one or more important features like UV protection or a shiny finish. Even if they don't, they often require a higher concentration of fluid in the water, lowering the number of available washes. Their foaming ability leaves a lot to be desired as well.
$10-$20
The middle ground is often the best place to get the most for your money. These car wash products are as capable as they come and provide everything a quality product is expected to.
Above $20
The most expensive products aren't necessarily better than those that are slightly more affordable but often come in a combination with another product.
RELATED: The Best Car Scratch Remover
Car Washing Tips
Although it seems like a pretty straightforward job, washing your car can be accompanied by numerous pitfalls. Here are some useful tips for effective car washing:
Choose the right products
Whether it's a car wash soap and wax, sponge, chamois, or cloth, do your research before committing to it. The safest way is to always go for a pH-balanced car wash and wax formula that won't damage your car's paint or a high-quality microfibre cloth.
Wash from top to bottom
Never start washing your car at random. Always rinse the car from top to bottom first, and then move on to applying the car soap. Like with initial rinsing, do the roof first and then rinse immediately to prevent your soap dry on the paint. Break down your car into smaller areas and repeat the process on each.
Don't wash under direct sunlight
Most car soaps tend to leave spots if they dry too fast, and that's exactly what'll happen under direct sunlight. Work in shade or during specific times of the day if you can.
Use two buckets
Use separate buckets for your car soap and washcloth, mitt, or sponge rinsing. That way you'll ensure your suds remain clean at all times and your paint remains free of scratches.
Use a microfibre drying towel
Microfibre towels should be used for drying as they're much more absorbent and dry quicker than cotton or chamois. That way, scratches and water spots are less likely to appear.
Car Wash FAQs
Is it safe to wash a car with dish soap?
No. Dish soaps often contain abrasive chemicals that eat away your clear coat paint and, in turn, destroy your paintwork.
What products can I use to wash my car?
Depending on how dirty your car is, you can either use a combination of pre-wash foam and car wash soap or jump straight to the latter. As far as cleaning tools go, a specifically designed car sponge, mitt, or cloth will do the trick.
Can I just use water to wash my car?
Technically, you can. However, a mere rinse of a car with water won't be nearly as effective as a professional product. Not to mention that it'll leave spots and provide no protection whatsoever.