Keeping a car clean is easy if you have the right tools for the job. Instead of dragging your heavy household vacuum cleaner out to the car try a lightweight, cordless car vacuum. There are lots of car vacuums to choose from and they are not all made to the same high standard. 
We've hand-picked some of the best vacuum cleaners in Australia so you can find a high-quality vacuum with ease. 
This Black and Decker Pivot Dustbuster is one of the most popular car vacuums available. It has the perfect combination of a compact size and powerful suction making it ideal for cleaning the car. The vacuum is made to be durable so it is long-lasting and can be stored in a garage without being out of place or vulnerable to damage. 
This lithium pivot dustbuster is lightweight making it easy to hold, carry and use. It can also fold away for storage and it has a handy side door for emptying collected dust into the bin. The nozzle can pivot to help it reach different areas with ease. 
It takes just under four hours to fully charge this vacuum. A full charge will last around 10 minutes which is enough for a quick clean of a car. A longer battery life would be better but if your car doesn't get that dirty or you don't mind doing a quick clean, ten minutes should be sufficient. There is an indicator light that lets you know when the battery level is low. 
ThisWorx TWC-01 is a corded vacuum that plugs into the cigarette lighter of your car. It is a powerful option that can handle wet and dry dirt so it's perfect if you have pets or enjoy days at the beach. 
Although this vacuum is not as powerful as one that plugs into a wall socket it does offer more power than a cordless vacuum. It also has a long cord for ease of use, a HEPA filter for effective cleaning and a nozzle set for reaching all parts of the car. The TWC-01 comes with a special brush for keeping the filter clean too. 
This car vacuum is one of the best value for money options. It is built to last, doesn't need to be recharged and is compact enough to keep it in the boot when you're travelling.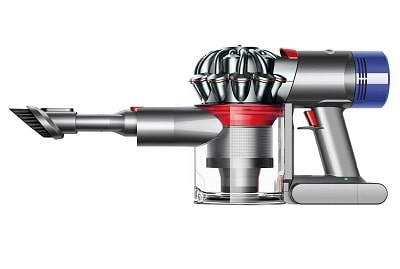 If you are looking for a high-quality, powerful vacuum the Dyson V7 is a great choice. It is able to handle all kinds of dirt, including pet hair, food and mud, making it perfect for use in cars. 
This Dyson model has two power settings, quick recharge and around 15 minutes of usage time with each charge. If used on the max mode the batteries will last around 10 minutes, or there is an eco mode that provides around 20 minutes of run time. 
This vacuum is operated by a trigger which needs to be held in position for the duration of cleaning. The V7 is a powerful vacuum that can handle all car cleaning tasks effortlessly. 
Car Vacuum Cleaner Buyer's Guide 
When looking for a car vacuum cleaner there are a few key factors to keep in mind. If you're not sure what you need from your new vacuum, this buying guide will help you narrow down the choice to find the best option for you. 
Car Vacuum Vs Regular Vacuum 
A car vacuum is small, easy to manoeuvre and is designed to reach into the tight spots of a car interior. There are many hard-to-reach spots in a car such as the door pockets, air vents and under the seats that a regular vacuum would struggle to clean. 
If you are going to use the vacuum exclusively to clean the car it makes sense to buy a car vacuum as this is not only more convenient but it will also save you money. For ease of use, they are usually cordless or work with your car's cigarette lighter. 
Other benefits of a vacuum made specifically for use in a car include easy storage, helpful accessories such as crevice tools and nozzles and the ability to use the vacuum in tight spots around the house too.
The downside to choosing a car vacuum compared to a regular vacuum is battery life. The run time is generally short on these appliances which can be frustrating if you want to carry out a deep clean of the car or clean multiple cars in one go.
Key Features 
Cord Vs Cordless
Cordless car vacuums are the more popular option as they are more convenient and are easier to use in and around a car. However, they need to be recharged regularly which may be a reason to choose a corded version. Although a cord can limit the vacuum's reach and manoeuvrability you can use it for longer periods meaning you have enough time to thoroughly clean the car.
Power
A vacuum cleaner is no good if it isn't powerful enough to pick up the dirt. A corded vacuum is the most powerful option, with a corded vacuum that plugs into your car's cigarette lighter offering slightly less suction power and a cordless model offering the least power. Whichever option you go for, make sure it is powerful enough to carry out the jobs you need it for. This is particularly relevant for more stubborn messes such as mud and pet hair. 
Battery Type 
We'd recommend you choose a model that uses a Lithium-ion battery rather than one that uses a Nickel Cadmium battery. Lithium-ion should be your top choice as these batteries have a longer life cycle, charge faster and hold their charge for longer. 
HEPA Filter 
A HEPA (High-Efficiency Particulate Air) filter is an effective, high-quality filter that is often used to help people who suffer from allergies or asthma. The filter works to capture tiny particles including dust mites and pollen as well as dust and dirt. You will generally find HEPA filters on high-end car vacuums. 
Other Features To Consider 
Additional Tools – when buying a car vacuum cleaning consider which tools and accessories will be useful (such as an extension hose or dusting brush). 
Tank Size – the size of the tank is important as this controls how much dirt the vacuum can collect before it needs to be emptied. You will need a vacuum that can at least handle one full clean of the car without being emptied. 
Wet/ Dry Capabilities – if you have pets, you often go to the beach or you spend time outdoors in all weathers you will probably benefit from a model that has wet and dry capabilities so you can easily clean wet sand, mud or food.
Car Vacuum Cleaner FAQ 
What is the best car vacuum cleaner? 
The best car vacuum cleaner is one that is user-friendly, compact, lightweight and offers enough suction power and run time for a full clean of a car. While you may be tempted to use a small handheld vacuum instead of a car vacuum, you might find it more difficult to manoeuvre around the hard to reach areas of the vehicle. We've reviewed some of the best car vacuum cleaners available above. 
What's the best way to vacuum a car? 
The easiest way to clean a car is to open all the doors and take out any personal items and floor mats. Then, use the car vacuum cleaner with a large attachment to vacuum the floors and seats. After this, you can attach a narrow attachment to clean the harder to reach areas such as the gaps between the seats, under the seats and around cup holders. After vacuuming the inside of the car, remember to shake and vacuum any floor mats you have removed before replacing them. 
Do gas stations have vacuums to use for your car? 
No, most gas stations don't have vacuums anymore. You can often find vacuums in self-service car washes that are available to use for a fee.