Experiencing back pain when driving can ruin car journeys. A lumbar support cushion can help with posture and pain relief but few are designed specifically for use in a car. To help you find the right one for long hours on the road, we've analysed the best car seat lumbar supports on the market. We've assessed each one against a range of important criteria including comfort, material and size.
This small, lightweight back cushion from Above & Beyond is designed for comfort. It is 100% high-quality memory foam and has a hypoallergenic, breathable mesh cover. This helps to keep your back cool and makes long drives more comfortable.
The pillow weighs 450g making it the lightest of the listed cushions. It is also the most compact, this makes it a great option for use on the go and for targeted pain relief. You can use this in the car, on office chairs or around the house.
The lumbar cushion comes with two adjustable straps. You can use these to attach the pillow to the majority of seat types with ease. These hold the cushion in the exact position you want it making it fantastic for use in cars.
Another beneficial feature of this pillow is the washable removable cover. This makes it easy to keep the support cushion clean and fresh without trying to wash the memory foam. It also has a lifetime warranty, the best coverage of all the products listed. You know this back support is high quality and built to last.
This orthopedic design lumbar support from CompuClever uses therapy level memory foam. This high-quality material doesn't flatten out or lose its integrity. It comes with a 30-day guarantee so users can test it out and see if it works to ease their back pain.
For versatility, this back support comes with four straps so you can secure the backrest to any seat. These can fit horizontally or can cross over each other to add extra stability. This makes the CompuClever pillow a secure choice for all car and truck seats including SUVs.
This lumbar support cushion is 46 x 12 x 38cm. It provides an extra 14cm of length compared to the Above & Beyond pillow making it great for overall posture. The contoured design helps to support your spine along the entire length of the car seat.
This lumbar support has been specifically designed for use in a car. It is memory foam and takes up most of the car seat.
It is one of the larger options measuring 53.1 x 15 x 41.9cm. This back cushion weighs 880g, making it the heaviest of all the options. As it is designed to be in a car it can stay in position rather than moving it between your home/car/office with each use. The benefit of this size is that it offers full back support and improves your posture while you drive.
The Dreamer support cushion comes with two straps. One goes from the top of the support around the headrest and the other around the lower section of the seat. This is ideal for positioning the lumbar support in the car without the risk of it dropping down to the bottom of the chair.
The Dreamer Lumbar does seem to pick up hair and dirt easily so regular vacuuming is necessary to keep it clean. It also comes with a 1-year guarantee.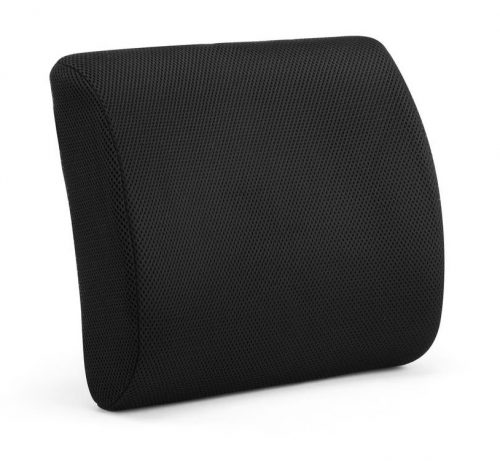 If you are looking for a portable, low-cost lumbar support cushion, this one from Ergolux is a good option. It is 34 x 33 x 10cm and weighs 480g making it one of the more compact options.
The adaptive memory foam molds to your shape and will return to its original shape when you're not using it. Despite the compact size, this still offers enough coverage for lower back support. The cushion has a breathable polyester cover that is removable and washable too.
The Ergolux comes with one adjustable elastic belt. This can attach the support cushion to any size chair but isn't as secure as other options. Users may find the cushion does not sit as well as an alternative option with a second elastic strap.
Last on our list is this well-padded support pillow from Samsonite. This lumbar pillow is tall but not too wide making it comfortable to use in the car.
The high-grade memory foam supports your spine without feeling too hard or uncomfortable. The pillow also has an ergonomic design that follows the natural curve of your body.
The cushion has a fabric cover that can be removed and washed as needed. The cover has breathable mesh to help keep you cool during long drives. Like the Ergolux, this has a single adjustable strap and buckle. It is easy to attach the pillow to any chair but is not quite as secure as the Dreamer, CompuClever or Above & Beyond.
This lumbar support is softer than other options. Depending on personal preferences and type of lower back pain this could be a pro or a con.
Lumbar Support Comparison Table
| | | | | | | | | |
| --- | --- | --- | --- | --- | --- | --- | --- | --- |
| Lumbar Support | Our Verdict | Check Price | Material | Size (cm) | Weight | Installation | Machine Washable cover? | Guarantee |
| Above & Beyond | Best Overall | Amazon, Kogan | Memory Foam | 32 x 10 x 32 | 450g | 2 x adjustable straps | Yes | Lifetime |
| CompuClever | Best For Larger Seats | Amazon | Memory Foam | 46 x 12 x 38 | 590g | 2 x adjustable straps | Yes | 30 days |
| Dreamer Car | Easiest to Position | Amazon | Memory Foam | 53.1 x 15 x 41.9 | 880g | 2 x adjustable straps | No | 1 year |
| Ergolux Lumbar Support | Budget Option | Kogan | Memory Foam | 34 x 10 x 33 | 480g | 1 x adjustable strap | Yes | 1 year |
| Samsonite | Softer Option | Amazon | Memory Foam | 43.18 x 10.4 x 25.6 | 590g | 1 x adjustable strap | Yes | N/A |
Lumbar Support Buying Guide
Driving for hours can lead to back pain and discomfort. The extra support of an ergonomic lumbar cushion can make the world of difference. Take a look at the factors to consider when purchasing a new lumbar support pillow for your car.
Materials
A lumbar support cushion should be high-quality memory foam with a breathable mesh covering. The material needs to be high quality to support your spine. Otherwise, the pillow will lose its shape and will become less supportive the more you use it.
The breathable mesh helps to keep you cool and prevent discomfort caused by sweating. High-quality support cushions make the cover machine washable too.
Installation
Lumbar support pillows come in a limited range of sizes so they need adjustable straps. These are used to secure the cushion exactly where you need it. Adjustability is important so they can fit around different sized seats. They also need to be secure so the lumbar support stays in position.
A lumbar pillow will only work for lower back pain if it is correctly positioned. The pillow should come with two high quality, adjustable installation straps.
RELATED: The Best Car Seat Covers
Backrest Height
As you will be using the lumbar pillow in a car it is worth considering the height of the pillow. Do you want a small lumbar roll that focuses only on the lower back? Or do you want something that extends up the length of the spine supporting your upper back as well?
A long lumbar support cushion that takes up most of the car seat can help with general back pain and can encourage good posture. However, this can also limit the cushion positioning so if you are shorter it might not sit in the right place for you. In this case, a smaller cushion gives you a lot more positioning flexibility.
Portability
Consider if you want your lumbar support to be portable. This means the memory foam pillow will be lightweight, compact and easy to move from place to place. Portability also gives you flexibility. You can use the pillow in the car, position it on your office chair and use it at home too.
Some lumbar support cushions, such as the Dreamer cushion, are designed for use in a car so are not ideal for use with an office chair. If you are planning to use the same lumbar support in multiple places make sure you choose a versatile design.
RELATED: The Best Dog Car Seat Covers
Resistance Levels
The best lumbar support pillow is comfortable yet supportive. This is a difficult balance to get right. This is why it is best to go for a memory foam cushion made by a reputable brand with lots of positive user reviews. If the material is low quality it will not improve your posture, support your spine or reduce back pain.