A quality car seat cover looks great, protects your seats and helps maintain your car's resale value. Car seat covers are a low-cost, stylish way of keeping your car's interior clean and protected.
However, unless you know where to look, it can be hard to find a car seat that is high quality, properly fitted and affordable. Use the reviews below to find the best seat covers for your vehicle.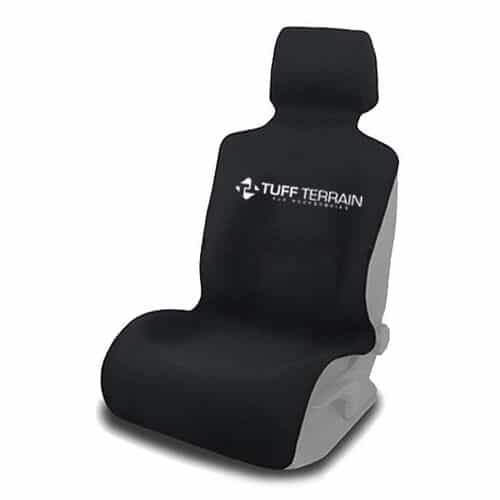 These seat covers from Tuff Terrain are perfect if you're looking for a quick and easy way to protect your seats.
Constructed from neoprene, these covers stretch to fit most car seats and feature a rubber backing to keep them in place. They're not only soft and comfortable but also waterproof, making them perfect for trips to the beach, sports, camping, or for pets.
When they get dirty you can simply hand wash or hose them down and then hang outside to drip dry.
The main downside of universal seat covers such as these is that they aren't designed to be compatible with in-seat airbags, so if these are fitted in your vehicle you'll need to opt for a custom option.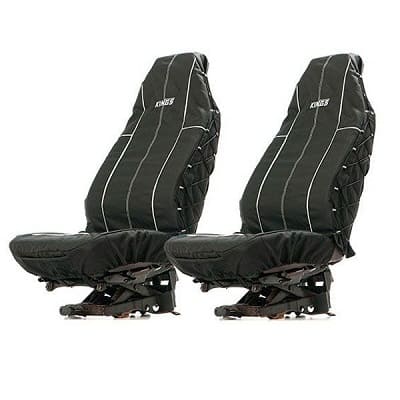 Need durable water resistant seat covers that are perfect for adventures? Adventure Kings seat covers may be just what you're after. They can be used with most 4WD vehicles and use an adjustable drawstring side so you can tighten them to your seats.
These heavy duty covers are PU coated polyester making them tough and easy to clean.
The seat covers feature an elastic fitted base so will protect the sides of the seats too. These seat covers offer a universal fit but should not be used in cars that have airbags within the seat.
This water-resistant car seat cover from Pic Auto is durable, comfortable and ideal for family cars and busy lifestyles. It has a 12mm foam cushion padding and the cover can be wiped with a damp cloth.
This is one of the best car seat covers for pets or children as the material is odour-free and has a non-slip bottom. The adjustable top straps are used to tie the cover securely to the seat headrest to ensure it is properly positioned.
The cover also has 2 built-in pockets so any essentials can be kept within easy reach. This seat cover offers large coverage and is designed to fit most cars.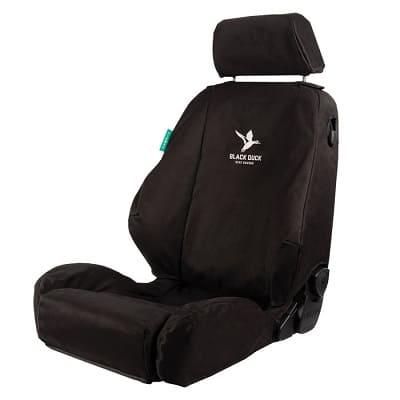 Black Duck offers a wide range of car seat covers that are durable but also look great.
Using Motoquipe, you can simply enter your vehicle's make, model and year and the site will automatically show you the suitable Black Duck products so you don't need to waste time comparing products and looking at seat measurements.
There are lots of seat covers available so you can choose the material and style to suit your taste. Car seat covers are available in neoprene, canvas, velour, sheepskin, leather-look, mesh and tweed.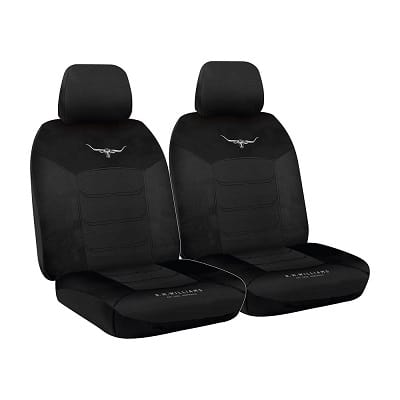 These smart mesh black car seat covers are perfect for keeping your vehicle clean and comfortable, whatever the weather.
These seat covers are a general fit so they can be used in most cars. The cover features a simple pull over design that attaches with a buckle making it easy to attach and remove the covers as needed. The foam backing protects the seats and provides added comfort.
R.M. Williams covers are known for being high quality, sturdy and functional. They can be fitted in cars with or without side airbags in the seat and they have adjustable headrests too.
If you're looking for a soft, warm seat cover that provides ultimate driving comfort, these sheepskin seat covers are worth a look.
They are available in grey, black and charcoal so you can choose the colour that best suits your car and style.
These seat covers feature foam padding for added comfort, heavy duty fasteners for secure fitting and a rear map pocket for convenient storage. Although higher in price, these seat covers are durable and come with a 2 year warranty.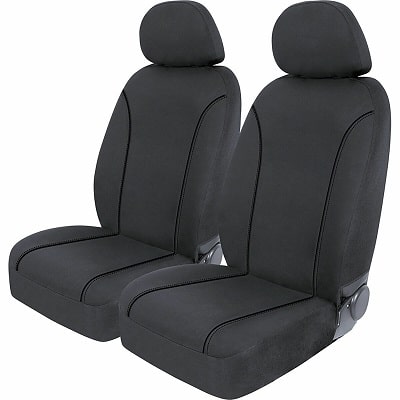 The SCA Canvas seat covers are simple but effective. They can be used for bucket seats with adjustable headrests and are suitable for cars with or without side airbags.
The canvas material used is highly durable and waterproof, perfect for protecting the seats whatever the weather conditions. The fabric ties make it easy to secure the seat covers.
This is a great option for rideshare and company vehicles as the design is professional and the padding adds comfort as well as protection.
These high back seat covers look smart, are easy to install and make it easy to keep the interior of your car pristine.
This durable polyester car seat cover features mesh side panels and have advanced stitching technology making them airbag compatible. They also work with heated seats so you can still enjoy warm seats on cold days.
These long-lasting seat covers use high elastic fabric that fits with most cars. The three-panel design means these provide a better fit and work with car seats, truck seats, van seats and SUV seats.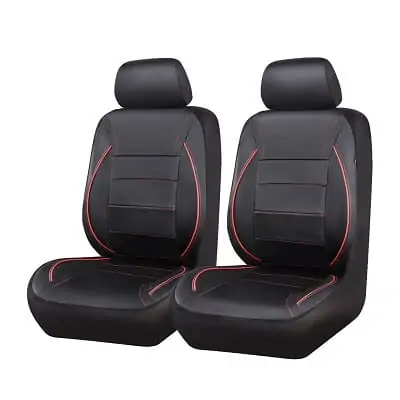 These smart PU Leather seat covers look great with their colour detailing. They are breathable, durable and long-lasting making them comfortable to use in all seasons.
Installation of these seat covers is straightforward and they can be fitted in around 20 minutes without needing to dismantle the seats.
The car seat cover does not affect the airbag, child safety seat or seat belts and is a universal fit meaning it can be used in most cars.
FitMyCar Seat Covers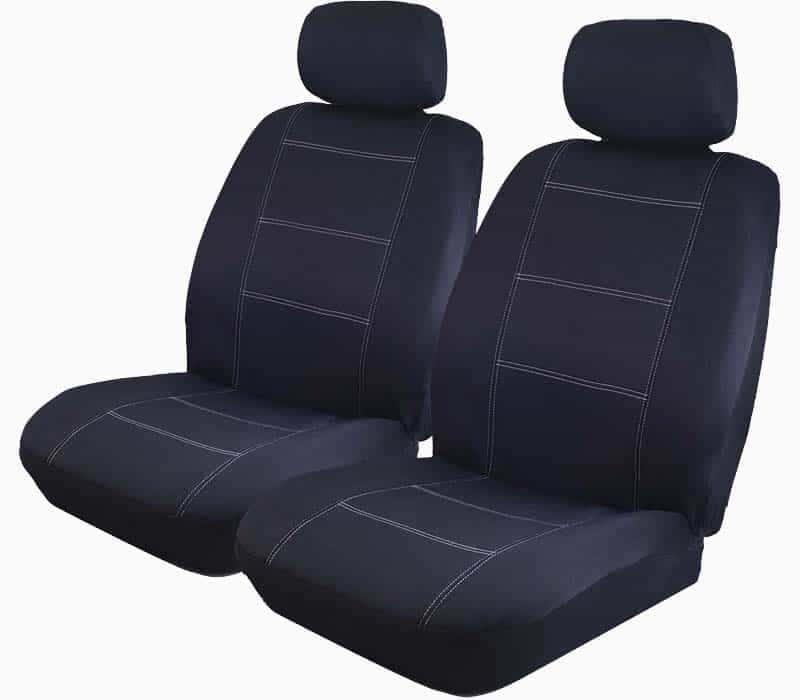 FitMyCar Seat Covers offer a range of covers that are made specifically for your vehicle. This means they will fit perfectly and will look great. They also allow your airbags to function as normal.
The seat covers protect the interior of the car from mess and they are easy to install. There are lots of options to suit a range of needs from durable waterproof covers to stylish, comfortable ones.
FitMyCar seat covers come in Fabric, Canvas, Microsuede, and Neoprene so you can select the option that best suits your personal tastes and requirements.
The seat covers also have pockets for added convenience and are covered with a 1 year warranty so you can take confidence in your purchase.
Car Seat Cover Buying Guide
Regardless of whether your car is new or old, car seat covers are an important addition that will protect your car seats, add style to the interior of your vehicle and maximise your car's value. When finding the best car seat covers there are a few things to consider.
This buying guide will help you find the right fit, style and type of car seat cover for your car.
Types of Fit
Universal
Universal fit is the most common option for seat covers so there are lots of styles and materials to choose from. They are more affordable but can sometimes be slightly too big or too small, impacting the look of the vehicle's interior.
A universal seat cover is a great option if you are looking for something that you can throw on and off without worrying about it being a perfect fit.
Custom
A custom fit seat cover will cost more but is made to fit your car model perfectly. The seat cover is designed with the headrests, seat controls, armrests and centre consoles in mind making sure it fits perfectly without obstructing your access to anything in the car.
A custom seat cover usually complements your car's interior and is made from quality materials to produce a high-end finish.
Semi-Custom
Some seat covers are designed to fit a selection of car models, these are similar to custom fit options but are usually cheaper and offer fewer features.
Semi-custom is the middle ground between universal and custom fits, with the right research you can find comfortable, easy to clean and well-fitting semi-custom seat covers.
RELATED: The Best Car Seat Lumbar Support
Material
Leather
Leather seats have always been a popular option for car interiors but they may not be the best for hot climates as it gets very hot. There are high-end leather seats and seat covers available that look smart but they do tend to cost more and are harder to maintain.
PVC
PVC is a low cost option that is easy to maintain. It's a great choice if you need a throw-on seat cover for muddy walks.
Nylon
Most factory seats are covered with nylon making it one of the standard options for covers. Nylon is easy to maintain and is inexpensive. As it is a common material, there are lots of covers to choose from.
Another top feature of nylon is it's usually machine washable.
Vinyl
Vinyl is one of the go-to materials for replacement factory seats. It is easy to maintain and provides a leather look. Faux vinyl is another great choice if you want something that looks like leather but is more affordable and easier to maintain.
However, faux vinyl gets hot and sticky when in the open sun so may not be the best choice for warmer climates.
Sheepskin
Sheepskin seat covers are luxurious with their soft feel. Sheepskin keeps cool in summer and warm in winter.
This material effectively protects seats against wear and tear, is available in a range of colours and is able to absorb moisture without feeling damp.
Faux Fur
If you are looking for a luxurious, soft feel but don't want to buy sheepskin then take a look at faux fur. Faux fur is a great option that can bring comfort and luxury to the interior of the car.
Neoprene
Neoprene seat covers offer comfort and protection against spills and stains. Neoprene seat covers are made from the same material as wetsuits, it is soft, smooth and is often machine washable.
Cotton canvas
Canvas seat covers are strong, durable and comfortable. They are great for protecting seats and are usually machine washable for ease of cleaning too.
Factors To Consider
Quality
When you are considering buying a new car seat cover, it is important to look at the quality of the materials being used. Seat covers experience a lot of general wear and tear so to get the best results you will want to pick something that is hardwearing, fits well and has strong stitching.
Cheaper covers may seem like a good deal but they won't protect your seats as effectively and the chances are you will need to buy new covers quickly as the cheaper ones will deteriorate.
Side Airbag Adaptability
Many vehicles use side airbags that are built into the seat. It is extremely important you know whether your car has side airbags in the front seats and make sure the covers you buy are compatible.
You will need to select a seat cover that is made with side-impact seams otherwise the cover can cause more harm than good by getting in the way of the airbag.
Is The Cover Waterproof?
Waterproof seat protectors are ideal for protection against bad weather, spilt drinks and muddy pets or children. If you have kids, pets or an outdoorsy lifestyle you will likely benefit from a waterproof cover.
Water resistance is important when protecting against water, spills and sweat. This can be particularly useful for the rear seat where your pets, children or wet coats are more likely to be.
Is The Cover Machine Washable?
While washing the seat covers may not be too high on the priority list, it is useful for car owners to know if the covers can be washed should they ever need it. Most seat covers can be wiped with a damp cloth but machine washable options make it easy to keep your vehicle interior clean.
Heating
Some car seat covers are able to work with the cars built-in seat heating which is great if you live somewhere cold and want to still enjoy a warm seat even when the cover is fitted.
Another option is buying a car seat cover that has a heating element built-in so the cover itself warms up when you want it to. This will cost more but might be worth it during cold winters.