Preventing surface scratches on your car is near impossible but that doesn't mean you need to see scuff marks every time you look at your car. A simple, affordable way of getting rid of scratches is using a car scratch remover. There are lots of options available and they make your car look smart, sleek and well cared for. The following reviews take a look at some of the best car scratch removers on the market.
Scratch Remover Comparison Table
| | | | | | |
| --- | --- | --- | --- | --- | --- |
| Scratch Remover | Our Verdict | Inlcudes drill attachment? | Extra tools required? | Features | Check Price |
| Meguiar's Scratch x 2.0 | Best Overall | No | Yes | Apply by hand or with polisher | eBay, Automotive Superstore |
| Turtle Wax | Runner Up | No | No | Apply by hand or with polisher | Amazon, eBay |
| 3M Scratch and Scuff | Also Great | No | No | Includes rubbing compound and all equipment | Amazon |
| Meguiar's Quik Scratch | Best for Big Jobs | Yes | Yes | Uses drill for fast and easy application | Amazon |
| T-Cut Scratch Remover | Best Value | No | No | Multiple colours available | Automotive Superstore |
| K2 Wax Paste | Also Great | No | No | Universal professional abrasive paste | Amazon |
| Clear Coat | Best for Minor Scratches | No | No | Quick and easy | Kogan |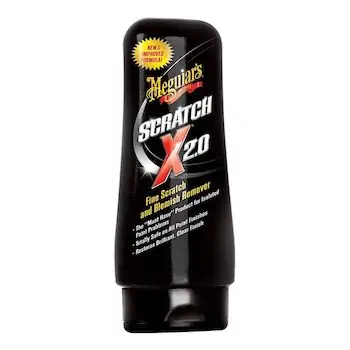 Meguiar's Scratch x 2.0 is our go-to product for everything from fine scratches, swirl marks, scuffs, paint transfer, and damage from bird droppings. As discussed in our detailed Meguiar's Scratch x 2.0 Review, this product can be applied using a polishing machine but results are also perfectly achievable if applying by hand.
Thanks to the "micro-abrasive system" in Meguiar's Scratch X 2.0, it will remove most, if not all, minor blemishes from the surface of your vehicle. The application process is as simple as applying some of the product to a towel and gently rubbing it on a small area of the panel you wish to work on. Following that, you can rub it off with moderate elbow grease.
Note that Scratch X is for use on cars with a conventional clear coat and shouldn't be used on vehicles with matte or satin paints.
This car scratch remover from Turtle Wax removes dulling scratches and oxidation and is safe to use on all finishes including clear coats. This is a versatile option that can be used for deeper scratches and swirls too. This is also a tried and tested scratch remover for a black car.
This scratch repair solution can be used with cotton pads, foam pads or microfibre pads and is suitable for use with or without tools. As the Turtle Wax solution is silicone free it is safe for use in professional paint and body shops too.
The 500ml solution is a medium cut compound that contains a blend of polishing agents to clean and rejuvenate the car 's paint without damaging the surrounding paint surface. It takes just a few minutes and a bit of elbow grease to remove surface imperfections and get your car looking like new.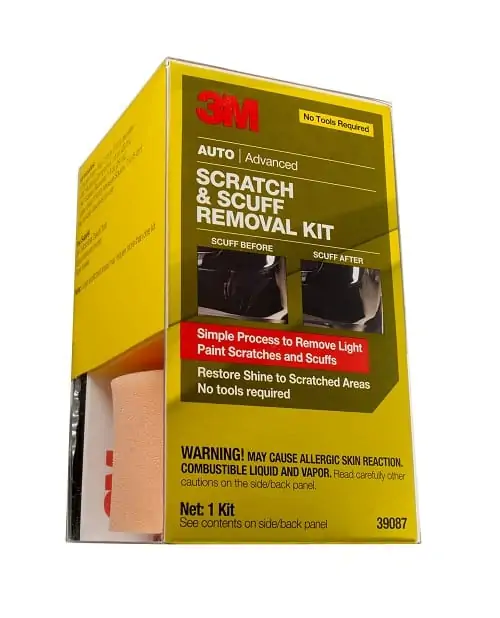 This scratch removal kit from 3M is clear coat safe and is designed to be used without tools. This kit makes it quick, easy and affordable to sort out scratches by hand.
The kit includes 3M rubbing compound, 3M scratch remover, a 3000 grit abrasive square and a foam pad. This compound is professional-grade and wears down sharp edges and smooths out the paint's surface while the scratch remover uses fine minerals to remove the scratch.
The abrasive square and foam pad are easy to hold and ideal for gripping so there's no need to use power tools. The kit allows you to restore scratched painted areas and bring shine and gloss back.
This scratch eraser kit is ideal for erasing scratches and swirl marks. The kit includes everything you need to remove imperfections in paintwork.
The 4-inch eraser pad attaches to a standard household drill making it quicker and less effort to remove car scratches. The kit comes with Meguiar's Scratch 2.0 product which should be used with the eraser pad. The microfiber towel can be used to remove any excess scratch remover compound and bring up some shine.
This scratch and swirl remover kit is perfect for use with a drill and is safe and effective for use on glossy paints and clear coats.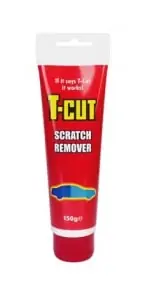 T-Cut is a well-known and respected car care brand, this scratch and swirl remover is designed for use on light blemishes. This is a great car care solution to keep on hand as it is versatile and can be used for a range of car maintenance and home projects.
The T-Cut Scratch Remover can be used to remove small scratches on car paint, enamel ceramic metal and other painted surfaces.
This paste can be applied to scratches using a cloth and then a microfibre cloth can be used to wipe away any remaining solution. This is a versatile, universal scratch removal kit.
This 100g tube of wax paste is great to keep on hand for small paintwork repairs. The small size means you can easily store the car scratch remover in the glove box, boot or with your car cleaning kit.
The K2 wax paste removes scratches, blemishes and imperfections from paint leaving the surface smooth and shiny. This paste can be used on all kinds of paints and is easy to use.
The K2 wax paste is made in Europe and offers high quality at a low price. Only a small amount is needed for each paint job so this 100g tube will be able to touch up paint on a large number of fine scratches and swirls.

This car scratch repair kit comes with two filler and sealer pens. The pen makes it quick and easy to accurately apply the solution to surface scratches.
This is a low cost option that is effective, user-friendly and can be used on any car and any colour.
The clear coat car scratch repair pens are non-toxic, odourless, permanent and water resistant. It takes a couple of hours to see the full results so after you have applied the pen to the car scratch, wipe off the excess and leave it to work its magic.
Scratch Remover Buying Guide
A car scratch remover is a quick, easy and low cost way of improving the exterior appearance of your car by removing scratches and imperfections. As you will have seen, there are lots of different factors to consider when looking for the best car scratch removers. This buying guide will help you find the best product for your needs.
RELATED: Purple Metal Polish Vs Autosol
Type of Scratch
Before you buy the product, take a look at the scratches you need to get rid of. Most car scratch removers are designed to work on light scratches, swirls and fingernail marks. If you need to remove deep scratches then you will need to go for a product that has been created for use on deep scratches.
For the best results, look for car scratch removers that are designed for the type of scratches you are dealing with. All options should be able to effectively handle surface marks.
Full Kit
The best scratch remover for you depends on your situation. You can either buy a scratch remover solution on its own or buy a full kit.
A kit usually comes with the car scratch remover, sanding blocks, rubbing compound, polishing compound, applicator pads and microfiber cloths. The compound polish and cloth help you to get a shiny, professional finish after you've removed the scratch.
RELATED: The Best Car Polish
If you already have a couple of items for removing light scratches you will probably only need the remover but if this is your first time then a remover kit is best. These complete kits bring simplicity and you can often get a good deal on them.
Application Method
Some scratch/swirl remover solutions need to be applied by hand while others are designed to be used with tools. The best option comes down to personal preference and how deep the mark is. Most scratches can be removed by hand.
If you don't already have the relevant tools then its best to go for a car scratch remover kit that can be applied using a buffer pad or by hand. These tend to require a bit of elbow grease to get the desired result but are still effective and easy to use. A removal system that uses tools (such as buffing pads that attach to a drill) is quick and effective.
RELATED: A Guide to Carnauba Car Wax
Touch Up Pens
In addition to bottled remover solution, there are also touch up pens available which can help make application even easier. There are two types of touch up pens, one has scratch removal solution inside that helps you quickly remove a scratch by running the pen over the area. This is good for very light marks and is perfect for someone who isn't experienced in removing scratches.
The other option is a paint pen which helps remove scratches where the metal is exposed by painting over it. Car paint pens come in different basic colours and can also be bought in custom colours. Using a paint pen can help prevent a deep scratch from causing rust or further exposure damage.
While a scratch removal pen can be used on cars of all colours, a paint pen can only be used with a car of the matching colour.
Versatility
Some car scratch removal kits are made just for use on cars while others can be used on all types of paint and all vehicles. Consider what your application requirements are and whether you need a product that can be used on a range of surfaces. For example, T-Cut can be used on car paint, enamel ceramic metal and other painted surfaces.
RELATED: Best Spray Paint for Rims
Abrasiveness
Each compound type has different levels of abrasiveness. This means you can expect different care products to achieve different things. For example, a cutting polish is not the same as a rubbing compound.
Rubbing compound is a more abrasive compound that helps remove scratches. After using this compound a polish should then be applied to bring the shine back. A scratch removal compound focuses more on enhancing the paint. It will give the paint a new lease of life by adding shine so won't need to be polished afterwards.
Pricing
You can pick up a car scratch remover compound for around $10-$20. This is often either a single bottle or a single bottle with an applicator. If you are looking for a full care kit for scratches on your car then it will cost more but includes everything you need to restore your car.
RELATED: How To Touch Up Car Paint
How To Remove Scratches From Your Car
Paint on a car is made up of three layers; the primer, base colour coat and clear coat. Most scratches are surface imperfections and only impact the clear coat layer making it easy to get rid of them. This step by step guide will help you restore your car's paintwork to its former glory.
First, make sure the area with the scratch is clean. You want to ensure there is no dirt or dust around as this can impact your repair work and even cause more damage.
Every scratch and swirl remover is different so read the instructions on the one you have bought. The instructions will let you know how to apply the product and whether or not you need to use other tools or equipment. If you chose a complete kit then all of the equipment you need will be in the pack.
For deeper scratches, you will need to buff the paint scratch before applying the remover. Once buffed, apply the remover to the scratch as specified in the instructions. The scratch remover will need to be worked into the car scratches using a back-and-forth or small circular motion.
You can now polish the area to give the repaired scratch a protective coating.
That's it! The surface scratches have been removed and your car should look as good as new again.