For most car owners, taking care of your car's exterior stops after you've washed and dried it. While this is better than nothing, it is really only half the job if your car isn't new and has tired and oxidated paint.
To maintain your car to the highest possible standard, every so often it will need a polish; to do that efficiently and effectively you will need to go to a detailer, or do it yourself with a polishing machine.
To help you in your search for the best polisher for your vehicle, we've compiled a list of offerings we think are worthy of your consideration and money.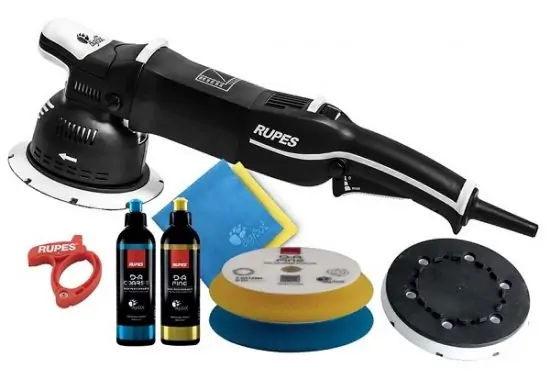 Rupes is arguably one of the most respected names amongst car detailing circles. The Bigfoot Mille LK900 is ideal for novices and professionals alike, offering supreme control with both an electric speed control dial and a progressive trigger, allowing for infinitely variable speed control. This is one of the most important factors between doing a great polishing job and a bad one, so it really matters.
The biggest point of difference here is that it is a gear-driven machine, thereby making this a forced-rotation DA polisher; most DA polishers (like the Autocomestica and Rockwell reviewed here) are random-orbital polishers and use a spindle for the oscillation. The benefit of the forced rotation means higher levels of friction and heat, like a rotary polisher, but the safety net of it still being dual-action.
Its 900 watts (W) motor spins the pad clockwise which is unique amongst its competitors, and claimed by Rupes to reduce fatigue by decreasing the amount of lateral movement while in use. If you plan on doing lots of detailing, this is noteworthy. A 5mm orbital stroke length, or throw, is not a lot but does mean it can work in tighter, awkward areas.
A 9-metre power cord adds to its user-friendliness for moving around a car in a garage, as does the excellent carry bag that is part of the DLX (Deluxe) kit. Included in the kit are several various polishing pads, compounds, polishing cloths, and a claw pad tool for removing polish residue off the pads.
Without a doubt, this is the most expensive option out there, but its quality and the results achieved with its use are not in question and should be the first choice for any professional.
The Mini Polishing Machine from SPTA is a useful little polisher because sometimes size doesn't matter and with some power tools, the smaller option is the better one. With a weight of only 2.2kg, it is some 600g lighter than the Rupes Bigfoot.
The SPTA is a rotary polisher, which is preferred by some as it is a more aggressive tool to use on paint (but less forgiving of mistakes by beginners), however, with a 6-point variable speed dial, there is still relatively good control.
The smaller backing plate size of 75mm is ideal for awkward detailing jobs or work on a smaller scale, but better yet are the various extension rods included that make polishing hard-to-reach spots a breeze.
Polishing or buffing an entire car with this machine would take some time and might become tedious, compared to using a larger polisher, but the assortment of accessories (wool and foam pads, microfibre buffing pads) means you will be able to carry out almost any job imaginable.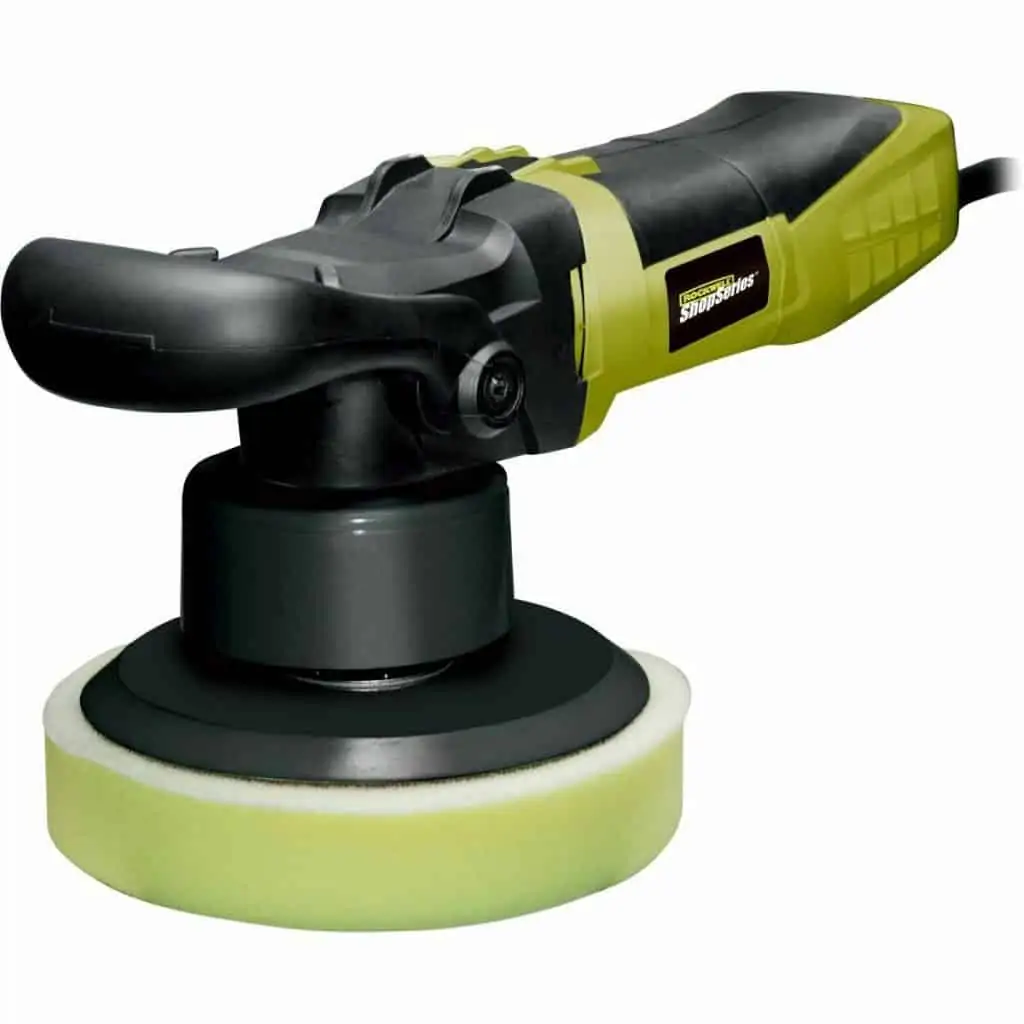 Dual-action, variable speed, 180mm backing plate, and an ergonomic design makes the Rockwell ShopSeries polisher a worthy choice. Users of this buffer regularly highlight its effectiveness given the reasonable price.
For those looking to start with polishing (and thus, more advanced car detailing), this 600W polisher is an ideal option. Dual-action polishers are easier on the painted surface, and the variable speed settings let the user choose how aggressively they can work between polishing and buffing, and it is more than capable of removing a range of paint imperfections and surface swirl marks.
The Rockwell polisher generates no-load speeds of up to 6800 RPM, and its 180mm backing plate can use a wide range of available accessories like sanding discs and buffing pads.
User reviews suggest it isn't as capable of removing sanding scratches from a car as other buffers or polishers, but this machine is aimed at the amateur car detailer, as opposed to the professional spray painter. While it isn't perfect, it is generally highly praised for being excellent value for money, and with a 2-year warranty and a huge sales network, it comes with that peace of mind as well.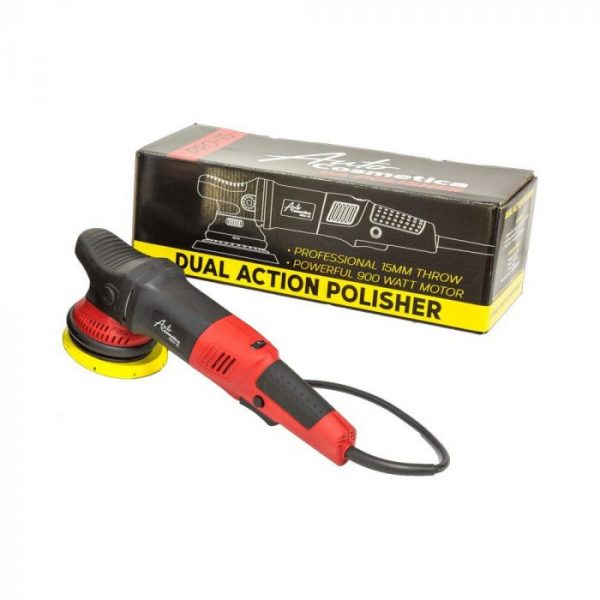 Meguiars is as famous a name in car detailing circles as any, and the Autocosmetica PRO-15 features a 15mm throw and is the tool they've brought to market to utilise their wide range of products.
Meguiars say the PRO-15 is the ideal paint correction tool; it will easily and painlessly remove swirls and other paint defects, and it can apply various paint protectants like waxes and ceramic coatings.
With a 10-step variable speed dial and a velcro (hook and loop) backing plate for use with many pads, it has heaps of user-friendliness.
The PRO-15 has a wide speed range between 1800 and 4800 RPM (also referred to as orbits per minute), meaning it is perfect for car buffing and applying wax, or more intense work like cutting and polishing. It represents excellent value as most long-throw polishers are much more expensive, and carrying the Meguiars name suggests the quality will be high.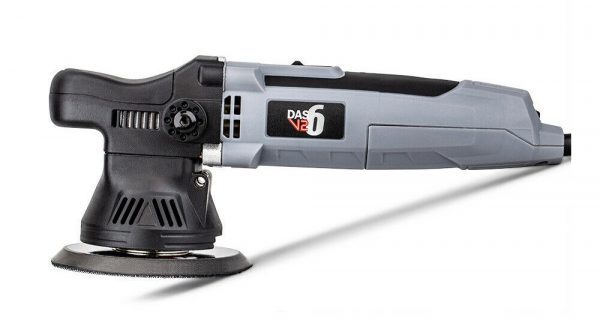 This dual-action polisher from Mint Protools is a well-considered tool for hobbyists and professionals alike. The 75mm and 125mm backing plate options give it a level of versatility that combines intricate detail work in tight spaces with fast and efficient polishing jobs on a larger scale.
The DAS6 V2 features a good 8mm throw, and the 600W motor is ample for most paint correction jobs. The 6-step variable speed control gives enough flexibility to the user, and the 5-metre power cord should be enough for most situations. It comes with a removal D-handle that further adds to its practicality.
We think this is the best all-rounder, given how much potential it packs into a package at such a low price. It even comes with spare carbon brushes for the motor and a handy carry bag.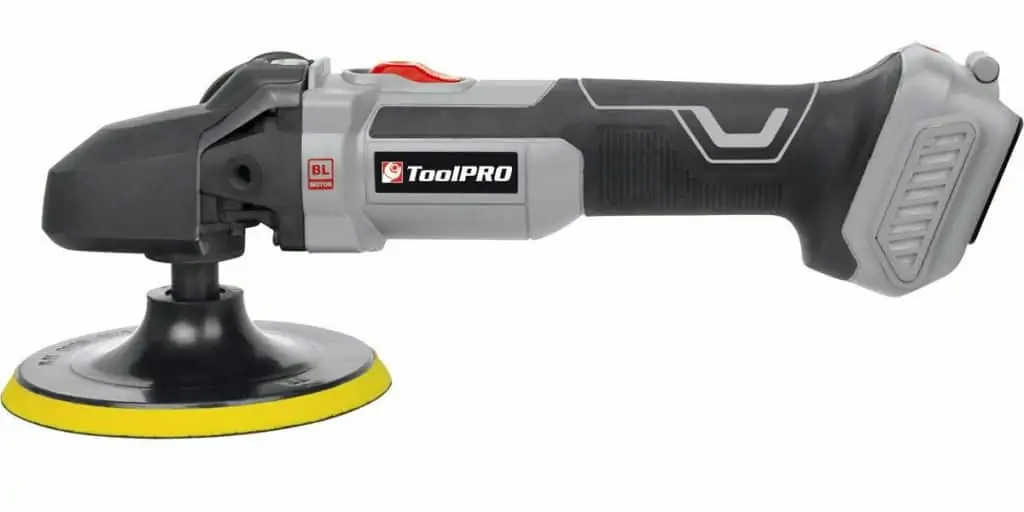 Power tools are frequently hamstrung by a short power cord and power point locations, so going cordless can really ease the burden when working on a car. The brushless motor of the ToolPRO polisher provides a speed range between 850 and 2800 orbits per minute, so while not as powerful as a 240V polisher it is still powerful enough for everything but the most extreme jobs. Even though it's a rotary polisher, beginners would still find this easy to use.
It comes with a side handle and three possible mounting locations for it (unique flexibility amongst this group) and is one of the lightest polishers here (with a weight of 1.8kg excluding battery). The 180mm backing plate means it is compatible with a large range of pads and capable of doing large jobs quickly.
The lithium-ion battery (up to 4Ah) and charger are purchased separately, but it is a modular battery system designed for use with many other cordless tools in the range so that might help justify the higher overall price. If you have no access to mains power or don't have a garage, this is a great solution.
Car Polisher Comparison Table
Car Polisher Buying Guide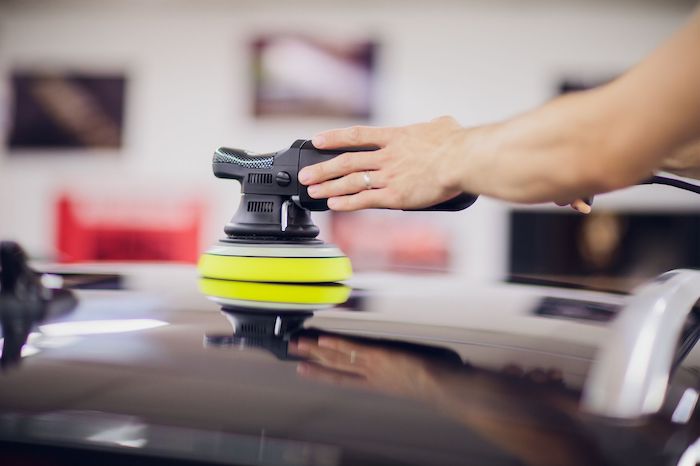 Buying a polisher or buffer can be an expensive investment, and it must be said that a lot of people initially very excited about this level of detailing soon get deflated at the amount of work required.
However, there are a few considerations to be taken that will help ensure that the purchase you make is the best one.
Rotary or dual-action polisher
Straight off the bat, any buffer you consider should be a variable speed polisher. The cheapest ones out there will be fixed speed and should be avoided.
Having control over the speed is essential to produce good results and minimise the risk of damage to your car.
While there are many different types of polishers, there are two versions that dominate the market:
1. Dual-action
If starting out, a dual-action polisher is definitely the best choice. A dual-action random orbital polisher works on two different axes; the backing plate spins on a spindle in concentric circles, while the spindle itself also spins in a circular motion. This secondary rotation means a DA polisher generates less heat and friction.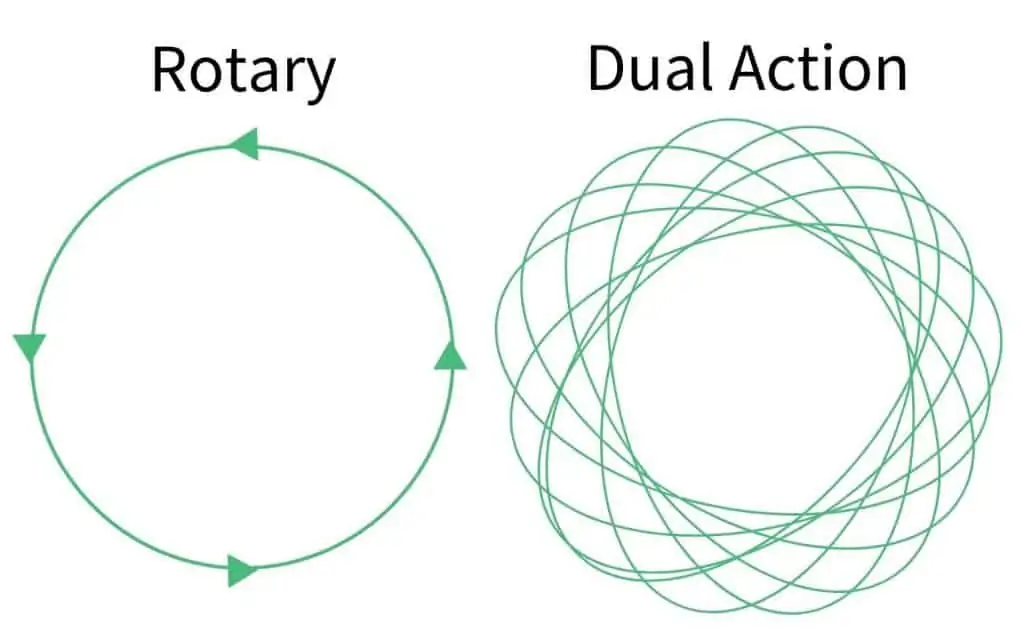 A forced rotation orbital polisher swaps the spindle for a gearset, which prevents the pad from stopping even when lots of pressure is applied and spins in a consistent pattern.
A forced rotation DA polisher, therefore, generates more heat and friction than a random orbital DA.
The amount of oscillation on a random orbital DA polisher can be controlled and stopped deliberately (or accidentally) by applying too much pressure, which is why they are safer to use and less likely to cause damage. The amount of pressure needs to be just right to ensure it works the polish effectively.
2. Rotary
A conventional rotary polisher is a simpler but often more powerful device with only one axis the backing plate spins on.
By focusing on one area, the greater heat and friction generated means deeper scratches can be removed more easily and it is the ideal choice for use on sanding scratches after a respray or paint repair.
Rotary polishers are not recommended for beginners as the risk of damage is far greater.
Long-throw or short-throw polisher
Pertinent to dual-action polishers, the amount of "throw" or action is the width of the oscillation of the pad. On conventional short-throw DA polishers, a throw up to 8mm is expected, but as much as 21mm can be had depending on the long-throw machine.
The biggest drawbacks of these long-throw polishers are cost and the types of areas you can work on; this longer throw restricts work in small, tight areas like door jambs and tight angles, and thus they are best suited to larger surfaces and panels.
Additionally, work can often be completed faster with a long-throw polisher.
Preparation before polishing
It is often said the final result is only as good as the preparation, and this definitely applies to detailing a car. To achieve the best swirl-free result possible, you need to put the work in at the beginning.
Naked paint
If your paint is dirty and contaminated, you'll never achieve the optimal result when polishing the car. Those contaminants will clog up your polishing pad while scratching and damaging your paint.
A car that is washed (using the two-bucket method) and thoroughly clay barred is the blank canvas necessary to effectively polish your car.
Paint test
Before going in all guns blazing, test your setup (polisher and pad, compound and compound volume) with your paint. You're looking for things like the amount of paint residue coming off the surface onto the pad, and if you are using enough (or not enough) compound).
Pad priming and pad maintenance
To begin with, evenly apply a thin coating of compound all over the pad, and while you are polishing the car you want to every so often "blow" out the paint residue that is left on your pad (with compressed air, a claw pad tool or just a clean microfibre towel).
Frequently spray water on the surface before and during polishing (wetting), as this will keep the pad cleaner while also requiring less compound to be used.
Use the least-aggressive compound and pad combination available to you, and work your way up if you're not seeing the desired result. Less is more.
RELATED: Meguiar's Scratch x 2.0 Review
Car Polisher FAQs
What is the difference between car buffer and polisher?
There is no clear nor definitive answer in terms of the technical differences, but for all intents and purposes, a buffer and a polisher are the same machines.
As far as techniques go for working on cars the terms are just used interchangeably, the result is the same. However when working on bare metal, polishing is often done just with an abrasive wheel, and at the same time, this will remove imperfections like scratches and pitting. Buffing has the same effect but uses an abrasive compound on a pad to remove the imperfections and finish the surface. Which we also call polishing, and therein lies the crux of the problem; these days they are the same thing.
What is the best speed for polishing a car?
The correct speed is just fast enough to complete the job. When removing scratches a higher speed is normally necessary but caution must be paid concerning burning the clearcoat (likely with a rotary polisher). When applying a protective product like a wax, a slower speed produces a better result. Every car and polisher is different, and trial and error is the norm when finding the right balance between compound, speed, and the area you are polishing.
What's better DA or rotary polisher?
A DA polisher is an easier tool for beginners to use and is less likely to damage the paint if used incorrectly. A rotary polisher can be used to remove deeper scratches than a DA polisher as it works more aggressively on any given area but is recommended for experienced hobbyists or professionals.
What should I look for in a car polisher?
Speed adjustability, motor refinement, and good ergonomics are the key things to look at. Speed control, because all paints and compounds respond differently when being worked on; motor refinement, because vibrations will be unpleasant or downright painful; and ergonomics, because it can take hours to polish a car so the user needs to be as comfortable as possible.