Despite being a place where a lot of time is spent, the interior of a car is often neglected. It's a space that quickly picks up dirt and there are lots of nooks and crannies for dust to collect.
Cleaning the inside of your car is made easy with the right product. A high-quality cleaner can not only remove dirt, grease and stains but will also protect your car's interior and keep it looking and smelling great for longer. Below we've reviewed some of the best interior cleaners available.ca
This dash and trim cleaner form Michelin is a pleasant citrus-scented spray that can be used on all plastics as well as imitation leather.
It contains active agents that help to restore colours and remove stains and you don't need to rinse it off making cleaning the car quicker and easier. As well as removing mess this cleaner also protects the car's interior to help keep it in great condition for longer. The advanced UV protection protects against fading and cracking caused by sunlight.
This cleaner is anti-static which prevents dust and as the formula is non-greasy it doesn't leave any streaks so your car looks flawless and dust-free. This comes in a 650ml bottle so it will last a long time.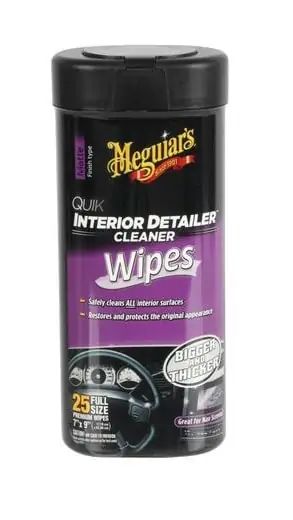 Meguiars Quik Interior Detailer Wipes are perfect for quickly and conveniently cleaning the car interior. Each wipe is thick and contains with Meguiar's cleaning formula which works well for dirt, dust and spills.
You can keep this pack of wipes in your car so they are always on hand to wipe up spills. These wipes are safe to use on all surfaces including interior plastics, leather, LCD touch screens, vinyl, metal, rubber, audio/ visual equipment and navigation displays.
These wipes wash and protect your car's interior and make it easy to keep your car in great condition as no other equipment is needed.
If you are looking for a cleaner that does it all, this interior shampoo from Autoglym is perfect. It can be used on fabrics and hard surfaces so you can care for all of the interior in one go rather than needing a different product for each material.
This shampoo smells fresh and is strong enough to remove stains and grime. It has a blend of surface-active ingredients that help to deep clean and deodorise the car's interior.
This is an effective all-in-one with a fresh scent. It is easy to use and doesn't need to be left to work, you just apply and wipe away so getting the vehicle clean will take next to no time.
If your car interior is leather, it is best to choose a leather-specific cleaner. This conditioner from Leather Honey provides a deep clean that rejuvenates and protects leather.
This is one of the top leather care cleaners as it is non-toxic, odourless and is water-repellent too making it suitable for year-round use.
This leather conditioner can be used on all types and colours of leather but it cannot be used for faux leather or suede. When using this leather cleaner, a small amount goes a long way so this bottle will last a long time (and can be used on other leather items such as shoes and accessories as well as the car).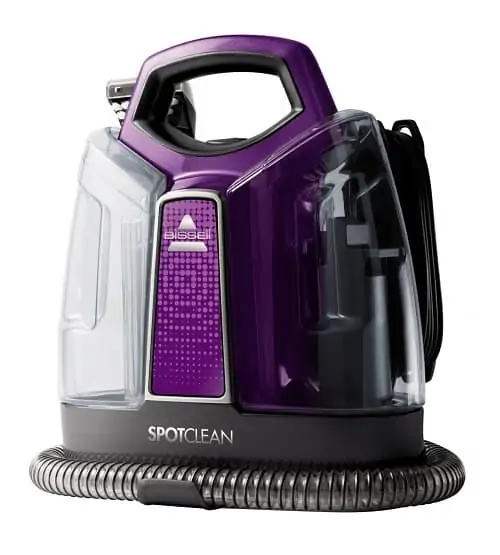 Fabric seats and floor mats are not only likely to get dirty they are also incredibly difficult to get clean. This SpotClean Carpet Cleaner from Bissell is one of the best tools for the job.
The Bissell SpotClean boasts powerful suction, a 1.09L tank capacity and a soft grip handle for added portability. The compact design and light weight mean it is easy to move this carpet cleaner around and the 4.5m cord length adds convenience too.
This is one of the best options for deep cleaning car seats and floor mats, it removes stains and restores the fabric to its former glory. This set comes with Bissell Spot and Stain formula and OxyBoost so you can clean your car like a professional.
This ammonia-free cleaning formula can be used on all car interior surfaces. It has micro-emulsifying agents and biodegradable surfactants that dissolve dirt as well as fingerprints and oily film.
It leaves the inside of your car looking good and doesn't streak or leave behind a greasy residue. This interior detailer is a good price and you don't need to use much product to get great results.
The Mothers Speed Interior Detailer cleaner comes in a 710ml spray bottle and is designed to just be sprayed and wiped away. There's no need to rinse it off as it will protect your surfaces against future mess including grime and stains.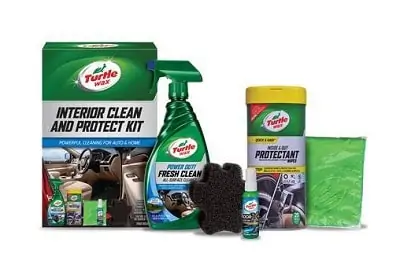 This Interior Clean & Protect Kit from Turtle Wax includes an all-surface cleaner spray, inside & out protectant wipes, odor-X spray, a sponge and a cloth. It's the best car interior cleaner kit for a deep clean as well as ongoing maintenance.
This set contains everything you need to care for your car. The Power-Out All Surface Cleaner can be used on soft and hard surfaces, it effectively removes stains and gets rid of odours. The formula is non-toxic so is safe for family cars where children and pets are around and it gives your car that "new car" scent.
The wipes are perfect for cleaning mess and spills as they happen. If you don't yet have anything on hand for cleaning your car, a complete kit is great value for money.
This Carpet & Upholstery Shampoo from Chemical Guys is a cost-effective and efficient cleaner. It works in removing stains and dirt from all fabrics including cloth, carpet and upholstery.
The shampoo foams to lift dirt and stains away from the material. It also removes unpleasant odours and helps prevent odours from forming. This solution is highly concentrated and uses an advanced blend on cleaners and protectants. It needs to be diluted down before use (1 part of this product should be diluted with 20 parts of water).
The Chemical Guys fabric cleaner helps to restore car interiors so they look new again. This is a deep cleaner that doesn't use chemicals, bleach ammonia, or colour damaging detergents or solvents. It is also biodegradable.
Buying Guide
You don't want to clean your car today and find it looking streaky, sticky and even dusty a few days later. You want your car to look good for a long time and this means choosing an interior surface cleaner that actually works.
A quality option is a cleaner, conditioner and protectant rolled into one. It will continue to work making sure your vehicle is kept looking great long after you have cleaned it. This guide will help you find the best car interior cleaner for you and your vehicle.
Interior Cleaner Types
Spray – a cleaning spray is by far the most popular option. Spray interior cleaners are often multi purpose so you can clean multiple surfaces in your car with a single product. They are versatile, easy to use and some options add extra protection against UV rays.
Wipes – interior wipes are great for getting into every part of the car to achieve a thorough clean. Using wipes is more time consuming for a full clean but they are a convenient option for getting a professional detailing finish and for keeping on top of dirt and grime. Interior wipes are not the best option when it comes to tackling stains.
Leather Wax – if you have leather inside your car, choose a leather wax or cleaner. This car interior cleaner is excellent for not only cleaning but also conditioning and protecting leather surfaces. After a clean with a quality leather wax you car leather will look rejuvenated and will be protected against UV rays.
Compatibility
Ideally, you will want a product that works on all of your trim and detailing whether it is plastic, vinyl, rubber, metal, LCD displays etc. This versatility is more convenient and will save you time and money.
However, it's recommended you invest in a separate automotive glass cleaner and a specialist leather cleaner to ensure you achieve the detail you want on these surfaces. Cleaning leather takes time and is essential to stop it from cracking or fading, a leather cleaner helps to condition and protect the material to provide the vest results.
Glass including windows and mirrors are quite unforgiving, they will show every smudge and will streak if there is any residue left behind so a specialist glass cleaner will leave the best results. Aside from these two areas of special care every other surface in the car can usually be cleaned with one product.
Features That Make An Interior Cleaner Great
Dust Repellent – a great thing about a quality upholstery cleaner is that it doesn't just work at the time you apply it, it continues working afterwards. They can act as dust repellents that stops your dashboard and seats from getting dusty.
UV Protection – the best car products provide protection against UV rays. As UV exposure is responsible for most of the fading, wear and tear seen in car interiors, products with UV protection are ideal. Most multi-purpose sprays come with UV protection but this is something that you may miss if using wipes, vacuums or carpet cleaners.
Other Considerations
Non-Toxic – when you want to remove a smell or stain from your car, the products use chemicals to help this happen. Choose one that is non-toxic and water-based so it doesn't leave behind nasty chemicals that can be damaging for you, your car and the environment.
Scented – consider if you would prefer scented or odourless cleaners. There are many scented products available ranging from a flowery fragrance to that lovely new car smell. If you decide scented interior cleaners are best, make sure the product you choose isn't overpowering particularly if you plan to do a full clean on all the interior surfaces.
Final Finish – how the car looks after cleaning is the main test of whether the product works well. The best car cleaners don't leave behind any residue or streaks, they clean the surface and ensure it is free from stains. Many users prefer products that give the surface a matte finish.
Kit Vs Individual Product
If you already have microfiber cloths and other cleaning products then the chances are you won't get much benefit from a full cleaning kit. However, if you haven't yet bought any products for cleaning the dashboard trim and inside of your car, a kit is going to be a good option for you. Find a kit that at least includes a couple of quality cleaners for different materials and microfiber cloths.
When tidying your vehicle, you always want to vacuum first to get rid of large particles and dust then you can focus on the dashboard and trim with a cloth. If you are using an upholstery cleaner that is suitable for one material in your car but harmful to another, its best to put the product onto a cloth rather than spraying it directly onto the surface as this helps prevent the product from splashing onto other surfaces and staining or damaging the material.
Big Name Brands
There are many tried and tested products that provide excellent results but there are a few big names you will see again and again. These include:
Meguiar's
Frank Meguiar Jr started Meguiar' s in 1901. This California based company starts in the Meguiar garage and grown to become a global brand. Meguiar 's makes everything from leather conditioner to detailer wipes and you know their products are high quality and work well.
Chemical Guys
Chemical Guys started in 1968 making detailing products for car enthusiasts. Their high quality, well made products now sell around the world and they offer everything from microfiber towels to carpet upholstery cleaner.
Turtle Wax
Turtle Wax launched in 1944 and are now an award winning car care brand. They began making wax but now offer a wide range of vehicle cleaners including spray wax, carpet and upholstery cleaner and more.