Replacing your factory car floor mats with new, better quality ones not only takes your car's interior to the next level but also helps keep the carpet clean and can improve your car's resale value.
The right floor mats will be durable, well-fitting, and will effectively protect your carpet from dirt and spills.
There are lots of options to choose from and some are not as high-quality and long-lasting as others so check out our reviews below to find reliable floor mats for your car.
These rubber floor mats from Carfit are durable, long-wearing and look great. They have ridges and grooves to help contain any moisture from spills or muddy boots.
These mats are non-fading, non-delaminating and non-tearing so you can rely on them to protect your car's interior. These mats are good quality and low maintenance. This is a complete set of 4 so there are 2 front and 2 rear car mats.
The non-slip backing is important for making sure the mats won't move around when you drive. The size of these Carfit mats are 46cm x 68cm (front) and 43cm x 36cm (back) so are large enough for most cars and can be easily trimmed down to create a more tailored fit.
The Kings Premium Deep Dish Floor Mats are the last pair of floor mats you'll ever need.
These ultra-tough floor mats come in a universal design with pre-moulded cut lines to fit most vehicles.
They're crafted from heavy-duty rubber to stand up to all the abuse your feet can dish out, and they're thick enough to contain any mess.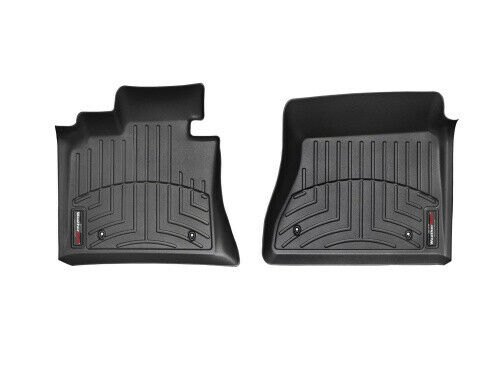 WeatherTech offers floor mats to suit a range of vehicles. The mats are heavy duty and feature deep ridges to catch any dirt and fluid making them effective for keeping your car interior clean.
The WeatherTech range includes plastic fitted liners, moulded rubber boot liners and all weather floor mats so there are options to suit any situation.
The boot liners also have a raised lip to help keep any mess contained. Some of the mats can be trimmed to size while others are made for an ideal fit. If you need heavy duty floor protection that is reliable and will last a long time, the WeatherTech range is one of the best.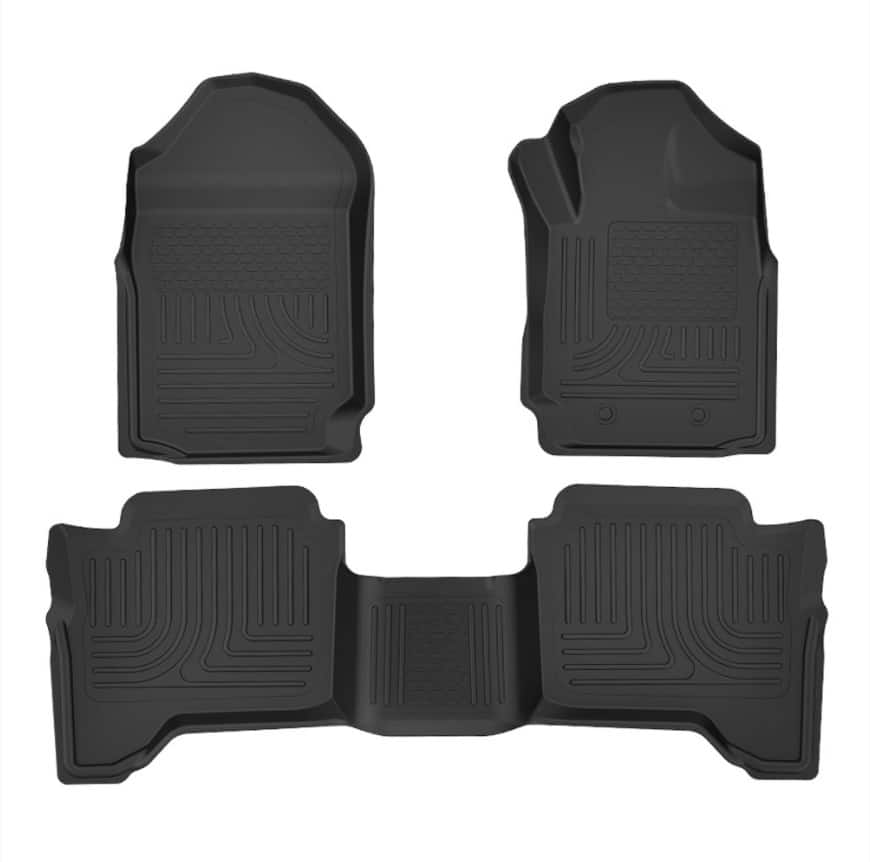 These rubber floor mats look and feel great. They are made with high quality, durable and flexible TPE material so they hold their shape well.
The mats are heavy duty and are designed to catch all the dirt from your shoes to keep the interior of your car clean. They offer excellent coverage, are a perfect fit for a Ford Ranger and are non slip too.
These mats have an IP68 rating making them waterproof and resistant to stains.
These all-weather floor liners are Australian made, offer a perfect fit and are pedal safe. They offer complete coverage including the door sill so nothing will get past these floor liners. The Bedrock All-Weather Liners are extremely effective at keeping the carpet as good as new.
Bedrock liners are available for single and double cab vehicles. The material has a textured surface to provide grip underfoot and catch any dirt.
These liners are strong, durable and tear-resistant. They are made to suit specific car makes and models so will fit exactly right. They are also much higher quality than the factory floor mats and they come with a lifetime warranty too.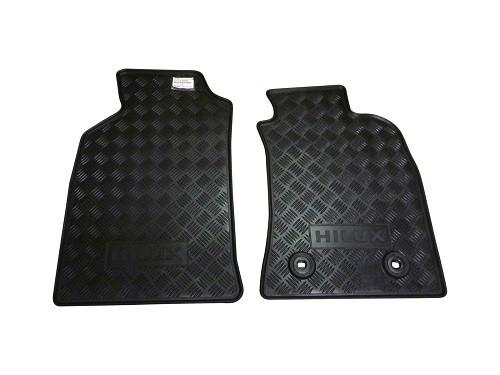 These rubber front floor mats are tailor-made to suit a Toyota Hilux (2011-2015 models). They are good quality, genuine mats that offer excellent value for money.
This is a front set and the driver's side has installation clips so it can be secured in position to ensure the mat does not move around. These genuine mats are perfect for replacing old, worn or damaged mats without spending a lot of money.
As the mats are made from rubber they are low maintenance, easy to clean and look great.
These universal floor mats offer a great low-cost option that suits most vehicles including sedans and SUVs. They are a universal size of 41.5 cm x 66cm (front) and 43.5 cm x 66cm (back).
This a set of 4 mats to cover the front and back of the vehicle. The mats are made from PVC polyester. They have carpet, a section of PU, an anti-slip underside and a strong border around the edge.
These anti-slip mats are an affordable and effective option that suit most vehicles. This is great if you need a simple, budget mat that protects floors from mess and moisture.
FitMyCar Australian Made Floor Mats
FitMyCar is the place to go if you are looking for Australia made car floor mats that fit your vehicle perfectly. They offer full sets and front sets that are guaranteed to fit your car.
These mats are affordable and can integrate most existing installation systems so you can slot them into position with minimal effort.
There are rubber and carpet floor mats available and you can buy floor mats by vehicle model, making it quick and easy to find the perfect mats for your vehicle. FitMyCar is a fast and straightforward way of finding custom mats that are affordable and locally made.
Car Floor Mat Buying Guide
A car floor goes through a lot each day and a simple floor mat helps to keep your carpets clean. This will reduce smells, mess and the risk of mould in your car and will also help contribute to the resale value of your vehicle. There are lots of floor mats to choose from so use this buying guide to find the best option for you.
Custom Vs Universal
A universal mat is designed to fit in the floor space of just about any vehicle. They can often be trimmed to size if needed and offer an affordable solution. The fit of a universal floor mat can be surprisingly good but it won't be a perfect match like a custom floor mat will be.
A custom or tailored floor mat is one that is specifically designed to fit the make and model of your vehicle. These car mats will fit easily into the floor space and should fit in the same way as the original floor mats. They should also have the same installation clips to make them easy to install.
While custom fit mats are not going to be identical to the original equipment manufacturer mats, they will be very similar in shape and size. They may have a few additional features that help you get the best floor protection and should be higher quality too.
Material
The most popular car mats are made from carpet and rubber. Carpet mats look good, catch dirt effectively and are not impacted by extreme temperatures. Rubber mats are durable, handle moisture and dirt well and don't crack under hot temperatures.
Ridges
A defined edge or ridge on the floor mat can help keep any mess contained on the mat. This is very helpful when it comes to cleaning up water, spills or mud.
If water, mud and rain are something you deal with often, consider choosing a floor mat that has raised edges or deep ridges to catch water and channel it to the basin to be cleaned.
Non-Slip Backing
Many people don't look at the bottom of car floor mats but you should. Take a look to see if it has non-slip backing as this is important for stopping the mat from sliding around and getting in the way when driving.
The front floor mats should also have a locking system that lets you hook them onto the floor so they won't move once installed. These plastic or metal clips/ posts that are used to lock a floor mat in position is usually found at the bottom end of the front mats (or if only one mat has this it will be on the driver's mat).
Thickness
Although not as vital as the other factors, consider the thickness of the material. Thicker carpet floor mats tend to be more expensive as they are considered more luxurious. The thicker material is also able to absorb more moisture and adds an extra feeling of comfort. If you are choosing rubber floor mats, consider ones with deep ridges to catch more mud/ water and keep your carpets clean.
Ease of Cleaning
The floor mats should require minimal maintenance and be easy to clean. This is often as simple as vacuuming them or removing the mats from the car and giving them a shake before wiping them with a cloth and some gentle detergent. Once any mess has been wiped away, let the mats dry before putting them back in the car.
RELATED: The Best Car Interior Cleaners
Style & Position
Floor mats don't only offer protection, they can also enhance your vehicle's interior with a splash of colour and style. You can select a colour that matches your car and personality. Think about how many floor mats you want and where they will be positioned.
Are you looking for a front and rear set or do you only need mats for the front of the vehicle? Another option is investing in floor liners that are positioned in truck beds and boots to add protection from everyday wear and tear. Floor liners are particularly useful if you are often transporting heavy loads or you have pets or children that are often in the car.
Floor Liners Vs Floor Mats
While the overall function of mats and liners are the same, they are different in the level of protection they offer and how they look. Floor mats are generally the more affordable option as they are smaller and less precise in their fitting.
Floor liners are different from floor mats as they usually have high edges that contour to the side of the car. They cover the entire footwell so protect the whole floor area. Liners are extremely durable and can withstand everything from bad weather to oil. They usually have a non-slip backing to ensure they do not move around. A liner is ideal for dirty work equipment, pets, children etc.
Floor mats are designed to be versatile and capable of enduring a range of situations. They are made to lay flat along the car floor and can be custom fit or universal. They tend to be less precise in their fitting compared to a floor liner. A floor mat usually has deep ridges or channels to deal with accidental spills and can usually contain a few cups of liquid.