A car cover protects your car against everything from the weather to potential theft. It is a simple yet effective way to keep your car looking new. Different covers offer different levels of protection so before you pick one, think carefully about the size you need and what you want to protect your car against. Use the reviews below to help find the best car cover for your requirements.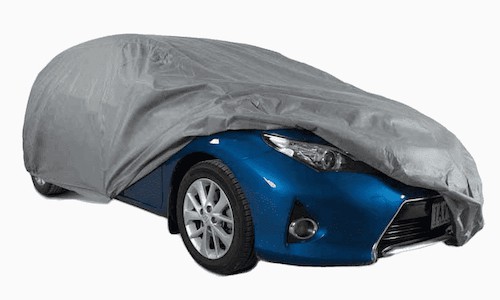 FitMyCar Car Covers are made specifically for your car's make and model. This means they offer a 100% fit that provides complete coverage and protection. These covers look good, fit well and protect your car from the elements.
They are easy to install and include fitting straps to secure the cover in place. The covers are breathable and the soft underside is non-scratch so will keep your car protected and will prevent damage and fading.
These car covers come with a 1-year warranty and there is also a 100-day return policy so you can buy with confidence.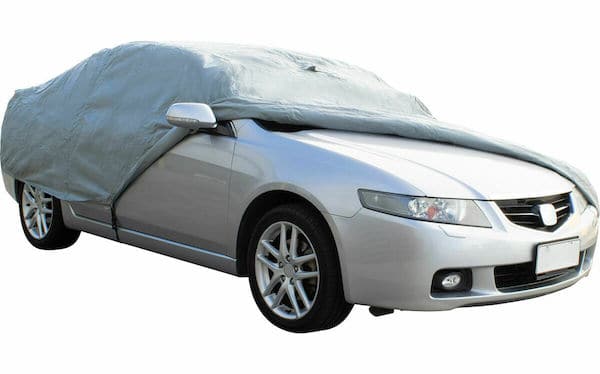 The All Weather Protection car covers from CoverAll are strong, durable and can withstand rain, snow, UV rays and tree sap. The weatherproof covers provide a shield that protects your car from the Australian weather, bird droppings and moisture.
The covers are fully waterproof, they have stitched hems and a vent system that offers maximum breathability with no leaks. Ventilation is important to prevent rot and mildew from setting in.
These covers are offered in different sizes to suit different types of car and are easy to install and remove.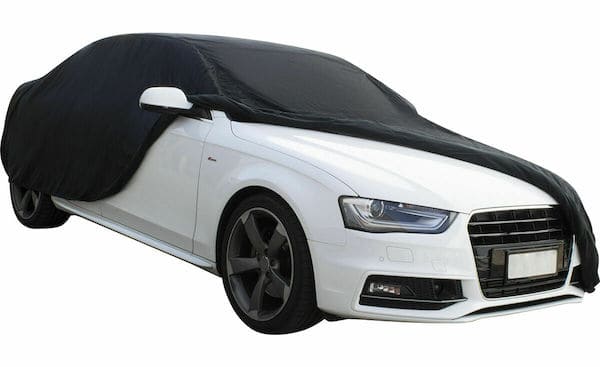 The CoverAll Prestige Car Cover is designed with a premium fleece lining that protects the paintwork from dust and abrasion.
This is an ideal option for protecting and storing classic or show vehicles parked indoors, in a garage or showroom. The fabric is strong with a polyester outer layer for full protection against dirt and scratches.
The covers are available in different sizes to fit cars of different lengths. The elastic cord helps to provide a snug fit and means the edge of the cover is tucked under the vehicle so it won't move around or accidentally come off when there is a breeze.
The Autsop Waterproof covers for cars are made up of 6 individual layers. This provides complete protection from rain, dust and UV rays. The inner layer of the cover is made from cotton to protect the car's paint.
This is an all-weather cover that can be used outdoors in all seasons. It has a zipper opening that allows you to access the car without removing the whole cover. This opening is perfect for quickly grabbing something out of the car. The fabric straps help you secure the cover to the car so the material won't come loose, even in high winds.
This cover comes in 8 different sizes and also comes with a convenient carry bag for storage. This is a durable, user-friendly option that is thick, fits well and doesn't damage the car.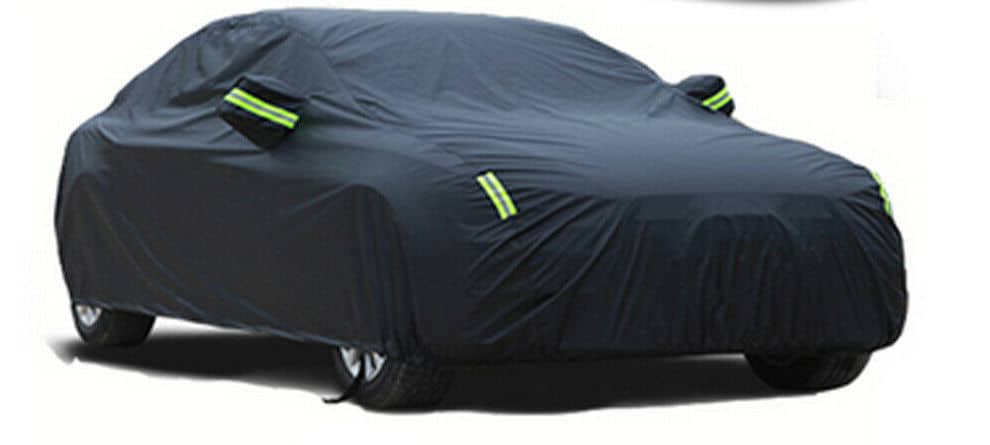 This car cover is suitable for indoor and outdoor use. It is waterproof, dustproof and sunproof so can provide ample protection from the weather.
This is a high-quality option made from durable Oxford fabric. This is a large cover of 530cm x 200cm x 150cm. It looks smart, is sturdy and has stitching around the side mirrors and headlights so you can fit it with ease.
This is a great option for protecting your vehicle. The only downside is that the black colour (although stylish) can attract more heat so may not be great if parked in open areas on hot days.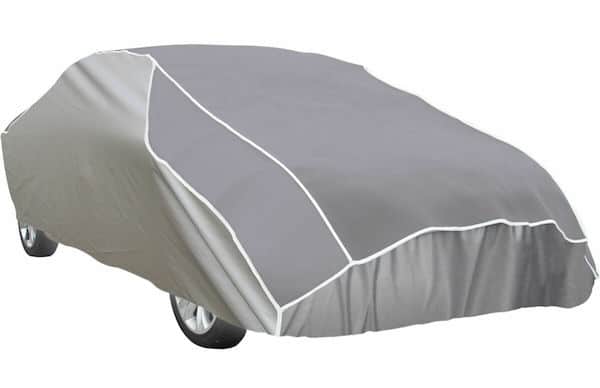 Hail can be very damaging to cars and it's not always possible to move the vehicle undercover in time. This hail protection cover is a great option for reducing hail impact as well as protecting your car from snow and sleet.
The Coverall Hail Protection Car Cover features 5mm EVA foam that sits across the top of the car and thick polyester sides. You can secure it in place with dual adjustable buckles so the cover won't move during a hail storm.
The set also comes with a storage bag so you can keep the cover safe when not in use. If you are worried about storms, this is the car cover to choose.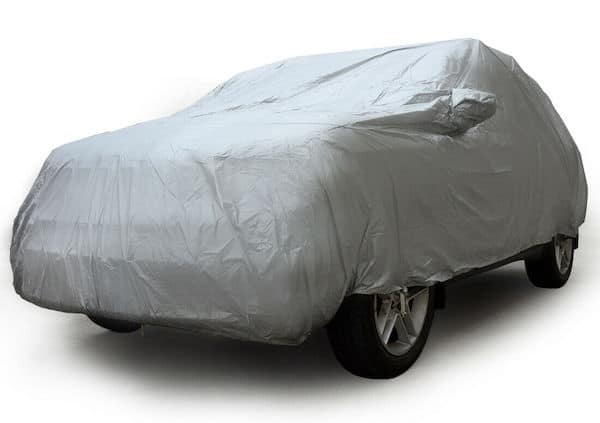 This XL SUV cover is a high-quality polypropylene material that is durable, waterproof and breathable. This fabric is lightweight and can provide light protection against UV rays.
The wind straps help to hold the car cover in place and the snug fit elastic hem makes sure the cover protects the whole vehicle. The cover can protect from water, pollution and bird droppings. It is a smart grey colour and can fit cars up to 510cm x 200cm x 180cm.
The cover is marked with "front" so you can immediately see which way to install it. It also comes with a bag for convenient storage. This option is great for SUV vehicles but is not suitable for vans, pickup trucks or RVs.
Car Cover Buying Guide
The best car cover for you depends on your vehicle, where you park it and the level of protection required. This buying guide takes a look at each of the key factors to consider when choosing a car cover.
Size
A car cover is most effective when it fits well. If it is too large for the car, the material is likely to catch the wind and water will be able to get inside. If the material is too small, not only will you have a hard time putting the cover on, it may put stress on the side mirrors and it won't provide full coverage and protection. The best car cover has a snug fit and features adjustable straps and an elastic hem to help keep it in position.
Universal Fit
There are a lot of universal cover options. These can be effective but it is always worth comparing your car measurements to the cover measurements before buying. If you do choose a cover offering universal fit, make sure it has an elastic hem and adjustable straps so it can be properly positioned and adjusted to suit your vehicle. A universal cover is an inexpensive option.
Semi Custom
A semi custom car cover has been made to suit a specific range of vehicles. This makes it a better fit than universal but still not a custom fit made specifically for your car. These covers can be used with cars of similar dimensions and usually offers a good level of protection.
Custom Fit
This is a car cover that has been made to fit the exact make and model of your car. The fit will be perfect and will provide full protection with mirror and antenna pockets in exactly the right places. A custom fit car cover is the most expensive option but ensures your car is properly protected. Some people try a semi custom cover first and upgrade to a custom cover if they find the fit isn't right for their requirements.
Cover Materials
The best material for a cover varies depending on the level of protection needed. There are single layer and multi-layer options available. The multi-layer covers usually have a soft or padded inside lining to help prevent your vehicle from being scratched or damaged. Most covers are made from polyester or polypropylene fabric as they are durable and can withstand high and low temperatures, moisture and wind.
Inner Lining
A soft inner lining can help protect your vehicles paintwork. The best inner lining is made of microfiber, fleece, woven nylon or polypropylene. These fabrics all offer a level of softness that is gentle and won't mark the car's paint. If your car is brand new or in perfect condition, this is a factor worth considering to help make your car resistant to marks.
RELATED: The Best Motorcycle Covers
Indoor Vs Outdoor Use
When choosing the material, consider if you will be using the cover indoors or outdoors. Some covers are designed for use indoors, in a garage or carport. These are not as heavy-duty as outdoor covers. Indoor covers mostly offer protection against dust, humidity and accidental scratches. A cover designed for indoor storage won't be any good for rain or hail protection but will be perfect for keeping dust away.
Covers designed for outdoor use are more durable and provide effective protection against the sun, UV damage, snow, wind and rain. They also help to keep the interior of your car like new as they stop your seats from drying out and cracking.
There are also ultra heavy-duty (or all weather) options that protect against hail too. These weatherproof covers are usually thicker and are perfect for keeping your car protected against heavy rain, snow, hail and other extreme weather.
Coverage
Are you looking for a full cover or a half cover? The most common option is a full cover but there are also lots of half cover options to suit a range of situations. You may be looking for a half cover that protects your roof and windshield from snow or a cover just for your truck cab or truck bed or to cover your open convertible.
Portability
If you want an easily portable car cover, look for a lightweight material that comes with a storage bag. This makes it easy to put the cover away after use and store it in your car without taking up much space. Thicker, multi-layer covers are going to be bulky, heavy and will take more work to pack away.
UV Sun Protection
If you want to protect your vehicle against the harsh UV experienced across Australia then look at covers that have a coating that offers UV protection. This coating will help maximise sun reflection to provide the best protection. As these sun covers are usually at least 2 layers they are thicker offering more effective protection against dirt and other potential issues too.
Breathability
Whatever kind of protection you are looking for, the car cover needs to be breathable. If the cover is not breathable then there is a high risk of damp and mildew occurring under the cover. With breathable fabric, any moisture will be able to evaporate.
Other Considerations
Reflective Stripes – reflective stripes can help ensure your car is visible at night or in low light car parks.
Front/ Back Tags – this is really simple but makes putting the car cover on a lot easier and quicker. A front or back tag lets you know what way round the cover goes at a glance.
Style – most covers are a simple grey or silver colour but you can get ones that are two-tone or patterned. Two-tone covers can be helpful when it comes to installing the cover as the top is often one colour with the sides another.
Double-stitched seams – seams that have been double stitched are stronger and more durable. They last longer and are of higher quality than single stitched seams.
Zips – some car covers offer zip opening that let you easily enter the driver side door. This can be helpful if you want to get things out of the car without completely removing the cover.
Mirror pockets – mirror pockets are great but only if the cover perfectly matches your car. If you are choosing a universal or semi-custom cover then it may be better to choose one without mirror pockets as it is unlikely they will line up with the mirrors.
Storage bag – a storage bag is a useful accessory that helps keep your cover clean and protected when it is not in use.
Lock – if you intend to lock the cover onto the vehicle to keep it on in high winds or avoid vandalism then make sure the cover has grommet holes at the base. A lock is a simple way to keep the cover secure.
Warranty – some car covers come with a 1+ year warranty. If the cover comes with a warranty it is often a good sign that it is high quality and built to last.
Tips When Using A Car Cover
Make sure the car is clean before fitting. This helps avoid the paint being scratched while the car is covered.
Before removing and storing the cover, shake it off to ensure there is no dust or debris left on it.
Fold the cover away and place it in a storage bag when not in use.
Clean the cover every so often to remove dirt, moisture, sap etc. It's best to do this semi-frequently as build-up can damage the fabric and can also seep through to your vehicle.