A car bike rack helps you transport your bike safely and easily without taking up valuable space inside your car. A bike rack can be fitted in minutes and many models can hold multiple bikes making them great for family outings.
There are lots of rack styles available to suit a range of budgets, needs and capacity requirements.
Below we review the best bike racks on the market. After the reviews is an in-depth buyers guide that covers everything you need to know when choosing a car rack from types and key features to the best known brands.
This twin hitch bike rack from CyclingDeal is stable, secure and easy to use. The A-frame structure is compatible with a twin pole tow ball hitch trailer and can hold up to 4 bicycles at once making it ideal for family trips.
The quick-release design makes de-assembling the rack easy so you can access the rear of the vehicle without needing to remove the rack. It also has quick-release bike straps so loading and unloading bikes is quick and easy.
This is a heavy-duty steel rack that is equipped with rubber holders that protect the bike from damage. The CyclingDeal rack also comes with a 5 year warranty giving peace of mind to users.
This 4-bike trunk mount rack can fit most sedans, SUV's, hatchbacks and minivans. The rack attaches to the rear of the car and takes seconds to set up and install.
The tie down system individually secures the bikes and the wide bottom foot and side straps help to keep the rack stable and secure on the vehicle.
As well as protecting your bikes, the design includes clear arch top and bottom feet to protect your vehicle too. This is a patented system that is backed by a lifetime warranty.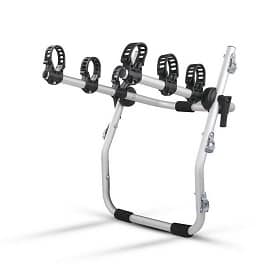 This solid steel bike carrier rack can hold up to three bikes with a total weight of up to 45kg. It works with most vehicle types and can be used with 3 and 5 door cars.
For ease of use, there is a secure tie-down system as well as a tightening sturdy strap for attaching bikes. Installation is easy and the rack is fully adjustable. It also has a convenient quick-release lever.
This design is suitable for 20″-28″ bikes. This is a simple, compact rack that can be folded flat for storage.
This two bike rack is a platform carrier which features a tray that is easier to put bicycles on than a clamp holder and can be used with all kinds of bikes. The bike sits in the tyre holders so the wheels won't spin and the handlebar won't swing.
There is an adjustable foam protector that helps protect the bikes and the vehicle. If you need to access the trunk of the car you can fold the arms out of the way.
This 2 bike platform style carrier has a safe, strong design. It has a 360-degree rotating clamp that lets you position the bike at any angle by clamping on the frame or seatpost.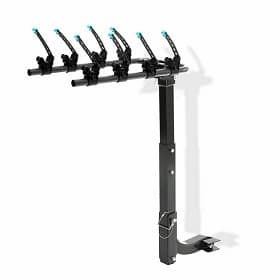 This hitch rack from Monvelo is made from heavy-duty steel making it extremely strong and durable. The steel is also powder-coated so it is resistant to chipping and scratching.
This carrier can mount onto any 2 inch hitch receiver and has a loading capacity of 70kg. You can attach up to 4 bikes and most style and type of bike can be accommodated for.
This option is easy to install and comes with mounting straps. Once installed, the rack is able to tilt back when needed and the arms can be folded out of the way when not in use.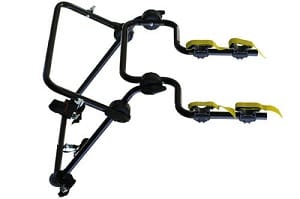 This universal spare tire bike rack career is able to transport up to two bikes without the use of your vehicles trailer hitch. This is one of the best bike carriers if you don't have a trailer hitch or roof rack (or they are already in use).
The rack can attach to spare tyres from 7″ to 10″ thick making this great for SUVs, campers, motor homes and more.
This CyclingDeal carrier is made from heavy duty steel and can carry a maximum of 30kg. This is a 2 bike design so is great for solo use, coupes or cycling with a friend. For ease and convenience, it can be adjusted to work with left and right mounted spare tyres.
When it comes to buying a bike rack, Thule is well known and trusted as one of the best. This Thule roof-mounted bike rack locks the bike, rack and vehicle together safely.
It has a versatile design that is able to accommodate a range of bikes including those with non-traditional frames and carbon frames.
This is one of the best bike rack models for keeping your bike safe and secure. The Thule Upride grabs the front wheel of the bike rather than the bike frame so you don't need to worry about it getting damaged.
This is a simple design that is easy to install, user-friendly and it has a built in cable lock to help keep the bike secure. The Thule Upride rack is perfect if you don't want to transport your bike on the tailgate. Whether you're a pro or a beginner this roof bike rack will keep your bike safe.
If you need a rack that can be used for the whole family, this hitch rack can hold up to 4 bikes. It comes with the hitch pin and is compatible with a 2″ tow hitch receiver.
The rubber holder inserts protect the finish of the bike and the quick release bike straps make it fast to load and unload the bikes.
The bike carrier folds down so you can access the back of the vehicle without needing to remove the rack. This is a robust, powder-coated steel bike carrier that you can trust up to its load capacity of 60kg.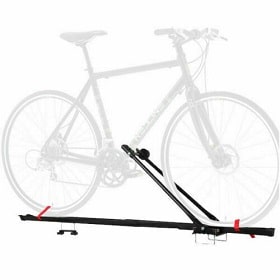 If you're looking for a low-cost roof top carrier for your bike, this one is a great choice. This lightweight rack is only suitable for bikes that have a quick release front wheel as it uses a fork mount that secures to the bicycle frame.
This rack can fit cross bars of up to 30mm high and 80mm wide, it can fit a range of square and aero crossbars brands including Rhino, Thule, Prorack and Ralo. This model can carry one bike at a time so is best for solo adventures.
This fork mount rack is made from solid steel and is useful for carrying one bike on the roof of your vehicle. However, it does need a thru-axle adapter which isn't included.
Bike Rack Comparison Table
| | | | | |
| --- | --- | --- | --- | --- |
| Brand | Style | Attachment | Bike Capacity | Check Price |
| CyclingDeal | Traditional | Tow Ball | 4 | Amazon |
| Allen Sports Deluxe | Trunk Mount | Trunk Straps | 4 | Amazon |
| Velobici | Trunk Mount | Trunk Straps | 3 | eBay |
| Venzo | Platform | Tow Ball | 2 | Amazon, eBay |
| Monvelo | Traditional | Trailer Hitch | 4 | eBay, My Deal |
| CyclingDeal | Traditional | Spare Tyre | 2 | eBay |
| Thule | Roof Mount | Roof Racks | 1 | Amazon |
| CyclingDeal | Traditional | Trailer Hitch | 4 | Amazon |
Bike Rack Buying Guide
As you can see, there are lots of bike racks available and each one offers something different from the last. If you've never used a car rack before it can be confusing deciding which is best.
To get started, first consider how many bikes you want to transport, the bike styles and what rack type will best suit your vehicle. Use this guide to compare the different bike racks and features.
Types Of Bike Rack
Roof Rack
A roof rack is a great option if you don't have a lot of storage space, it is easy to use and gives you full access to the vehicle's trunk.
Roof mounted bike racks are able to accommodate most wheel dimensions and there are options to mount the bike fork (removing the front wheel) as well as upright racks that don't require you to remove the wheel.
Fork-mounted and upright roof racks are great for vehicles with a lower roof height and vehicles that don't have a towbar.
Safe & secure
Can accommodate most bikes
Gives you access to the trunk of the car
Considerations When Choosing Roof Mounted Racks
We mentioned you will find roof racks that require you to remove your front wheel to attach the bike. This means you will need to store the wheel in the car or on a separate mount.
If you are looking at these, keep in mind the axle type of your bike to make sure you choose the right adaptors for your bike fork.
If you want to leave the front wheel on then look at frame clamp or wheel clamp roof racks. Both are good options but frame clamping can cause damage and may impact your bike's warranty so it is worth checking.
Trunk Rack
If your vehicle does not have a towbar or a roof rack then trunk mounted racks are a suitable option. This design is foldable, can be easily stored when not in use and can be used for up to three bikes.
If you don't ride often and you need a low cost option that doesn't take a lot of space, time or effort then a trunk rack is ideal.
Perfect for occasional use
Quick to install and remove
Low cost
Tow Ball Rack
A tow ball rack, also known as a towbar-mounted or hitch racks, is the easiest to install and is generally a good choice if you want to carry multiple bikes.
A towbar rack can usually carry up to four bikes and limits how much heavy and high lifting is required when loading bikes.
Hitch racks are ideal if you need to carry bikes of different frame styles and you want a simple way to put the bikes onto the rack.
Strong
Stable
Lower height so easier to load
Spare Tyre Rack
Spare tyre mounted racks are another option to load bikes onto the tailgate of your vehicle. This design is straightforward to mount and uses your spare wheel to carry up to two bikes.
Great for larger vehicles
Easy to mount
Convenient
RELATED: The Best Roof Box
Key Features
Different bike racks offer different features. Generally, the more features offered the more it is going to cost. Below we have listed some of the key features that are worth looking out for.
Ease of Installation
Whether you are looking at roof mounted bike racks or tailgate racks, installation should be straightforward. The style, capacity and type of rack will impact the way it attaches to the car.
Most bike racks do not require any tools for installation but attaching hitch racks often requires a wrench. Generally, mounted racks are simple to install and can be left on the car between uses. Just keep in mind there is variation between racks from different brands.
Attachment Points
Mounted bike racks need to be securely attached to the vehicle, it's best to choose one that has padded attachment points that protect your car from damage. When it comes to attaching bikes to the rack, the securing points need to be strong without damaging the bike.
The frame, paintwork and wheels are the main areas of concern here but a well-made rack will be both strong and gentle. Some bike racks have padding that helps ensure the bicycle doesn't get scratched during transport.
Locks
While the racks are designed for transporting bikes, you may want to choose one with a cable lock that ensures only you can remove your bike. Locking cables can be used to hold the bike in place and protect it from being stolen.
Locks are often seen on standard to high-end models and some brands offer it as something you can buy separately. This may be an important feature if your bike is expensive or you know it will be left on the rack unattended at times.
Stability
The bike rack should hold the bike stable as you drive. Some mounted bike racks include an anti-sway cage. This helps prevent bikes from knocking into each other when you are transporting two or three bikes. It also makes sure the bikes are held stable so they won't affect the handling of the vehicle when driving at higher speeds.
Popular Bike Rack Brands
There are three brand names you are bound to come across when searching for a new bike rack; Thule, Yakima and Saris. All three have excellent reputations for creating high-quality racks that prioritise ease of use and durability.
Thule – Thule is a well-known brand that was established in Sweden in 1942. Thule offers a wide range of products that help you bring equipment with you when travelling in a car. Their bike racks are simple to install and come with a fit kit to help you fit the rack onto your vehicle.
Yakima – Yakima is a brand that believes in outdoor adventures. Yakima are one of the leading brands producing car racks and they offer models of each of the styles we discussed above. Yakima has a wide range of racks available with a max capacity of up to six bikes. They have a few RV suitable models too so whatever your requirements you should be able to find a style that suits you.
Saris – Saris manufactures bike racks that can be attached to your car's rear hitch and trunk. They also offer speciality bike racks including single track, triple track and spare tyre racks. The Saris products such as the Saris Bones are designed to be simple to use and last years of use.