While a car may seem to be running fine, its battery can lose power due to age, use and temperature. This can be problematic and frustrating, leaving you stranded on the side of the road waiting for roadside assistance or trying to find someone who will help you with a jump start.
A car battery charger offers an easier and safer solution as you can power your vehicle's battery at any time, wherever you are. 
We've rounded up the most popular car battery chargers on the market and assessed them against a range of important criteria. Below we present our findings and also outline the key things you'll want to keep in mind when choosing the best option for your vehicle.
The Noco Genius range includes all the features found on high-end smart battery chargers, but what makes them really stand out from the pack is the reputation they have built as being reliable, easy to use, and affordable.
The Genius5AU is an Australian model that is very popular thanks to it being compatible with all types of vehicles. This 5 Amp charger is high-performance, energy-efficient, and can be used on all lithium-ion and lead-acid batteries.
Recently re-designed, the Genius5 is now 34% smaller and packs 65% more power. It is compact, easy to use and is able to work as a trickle charger, maintainer and battery desulfator (loosens the sulfate build-up which can rejuvenate and extend the life of a battery).
It can also charge extremely dead batteries using its "force mode", a feature not found on all car battery chargers.
This automatic smart charger also has thermal sensors that detect temperature changes in order to protect the batteries. The charger settings adjust to avoid over or undercharging. This is a quality, adjustable option that is ideal for jump-starting and maintaining a range of batteries. 
This user-friendly car battery charger is an excellent option for most people. It is advanced microprocessor controlled and offers a fast and reliable charge. The CTEK MXS 5.0 charger automatically takes into account temperature fluctuations and gives the best charging performance by compensating accordingly. 
This charger can be used on just about any battery (1.2Ah – 110Ah) and can be used to assist with a wide range of issues. This is a fully automatic 12V charger that makes it easy to solve car battery issues. It's safety features include reverse polarity protection, it is also spark-free, splash-proof and dustproof.
This is a safe, durable and easy to use car battery charger that is reliable and offers selectable battery programs.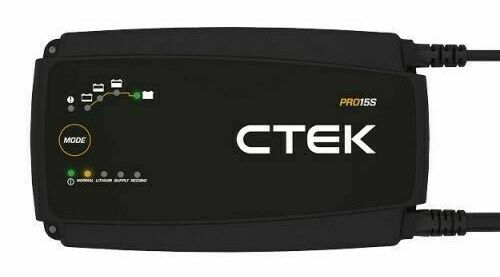 If you have a larger battery, for example, a truck, caravan or workshop vehicle, you will need a charger that offers enough power. The CTEK PRO 15S offers exactly that. It can provide enough power for large batteries and will give an effective charge in any situation. 
This charger has automatic temperature sensors that adjust the voltage output to suit the battery being charged. There are different modes and settings to choose from to ensure quick and efficient charging. This charger is also able to correct issues such as acid stratification. If you have a large battery to charge, recondition and rejuvenate this is a great option.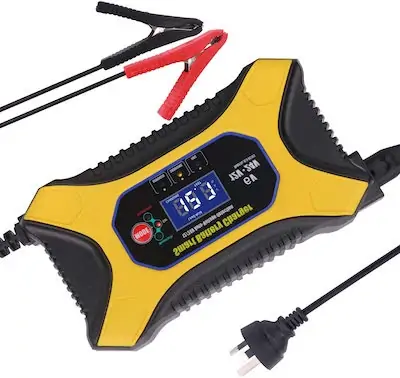 The Beleeb 6-Stage Charger is one of the best budget options. It is an all-in-one charger that can be used on any battery-powered vehicle or equipment including cars, boats, lawnmowers etc. 
This charger can be used on all types of lead-acid batteries from 6V- 24V (under 100Ah). The unit simply plugs in and automatically mirrors and maintains voltage without damaging or overcharging the battery. It also has a repair mode that can reverse damage caused by long periods of low or no charge. 
The Beleeb 6-Stage Car Battery Charger is safe and reliable, it is ideal if you have multiple batteries to maintain and you don't want to spend too much on a charger. 
If you have a smaller car battery that needs regular charging, the CTEK MXS 3.8 is ideal. It offers long-term maintenance capabilities in a compact unit. Charging is fully automatic so you simply need to connect it up using the crocodile clamps or ring-terminals and let the charger do the rest. 
This unit is compatible with a range of accessories. It is able to work at most temperatures so can be used indoors or outdoors. The stable 12 V operation produces a quick and simple charging process. The CTEK MXS 3.8 is also one of the safest options thanks to its automatic operation, shock-proof design and reverse polarity protection.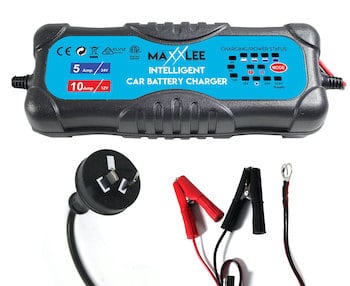 This smart battery charger from Maxxlee is an advanced model with a high-tech 9-step charging system. It is able to automatically diagnose, recover and charge batteries using its range of maintenance modes. This charger can be used for all 12V, 24 Wet, AGM, GEL and MF batteries. 
The cooling fan prevents overheating, bad connections and short-circuiting and the charger is also protected from reverse polarity and overcharging. This system uses indicator lights to let you know what is happening. This is one of the more complex chargers but it is able to do a huge amount and is available at a great price. 
Car Battery Charger Comparison Table
| | | | | | | |
| --- | --- | --- | --- | --- | --- | --- |
| Charger | Our Verdict | Voltage | Battery Size | Fully Automatic | Suitable for | Compare Prices |
| NOCO GENIUS5 | Best Overall | 6V, 12V | Up to 120Ah | Yes | Motorcycles, Cars, Trucks, Deep-Cycle | Amazon, eBay |
| CTEK MXS 5.0 | Runner Up | 12V | 1.2 – 110Ah | Yes | Cars, 4WDs, Boats | eBay, Kogan, Edisons |
| CTEK PRO 15S | Best for Larger Batteries | 14.4V | 28 – 300Ah | Yes | Caravans, Small Trucks | Amazon, eBay |
| Beleeb | Best Value | 12V | 4 – 100Ah | Yes | Motorcycles, Cars, Trucks, Boats | Amazon |
| CTEK MXS 3.8 | Best for Smaller Batteries | 12v | 1.2 – 85Ah | Yes | Motorcycles, Cars | Amazon, Kogan, Edisons |
Car Battery Charger Buyer's Guide 
The right equipment is essential when it comes to charging a vehicle's battery. There are lots of options available, each one suited to varying battery sizes, types and situations. It's important the chosen battery charger not only works with your vehicle but also has the features you require. This guide will help you find the best car battery charger for your needs. 
Types of Battery Chargers 
There are three types of car battery chargers to consider. Most are able to charge, maintain or restore and a few are able to do all three. If you need a charger that is going to do all three you can expect to pay a considerably higher price for the convenience and abundance of features. 
1. Standard Charger 
A standard battery charger is a popular and low-cost option. As you would expect of a charger, this type basically gives power to your car's battery. If a battery is completely discharged a standard charger may be able to restore it but they are mostly used for simply charging batteries.
2. Battery Maintainer 
A charge maintainer is used to stop a battery from completely discharging. This can help maintain the car battery's overall health. Using a battery maintainer is not as popular as the other types but it can make charging car batteries easier. 
3. Restorer
If you are working with old batteries you may want to consider buying a full battery restorer. This breaks down contaminants in the battery cell to help restore and bring new life into the battery. As they are restoring totally flat or old batteries they do tend to cost more than the other types but they are worth the extra cost. 
Features To Look Out For 
Charge Life – Before you buy a car battery charger take a look at the charge life and how long the recharge time is. The best way to look at charge life is how many full car battery charges you can get out of the fully charged device.
Power – Take a look at the amperage and voltage offered by the charger. Check this against the amps and volts needed to charge your battery.
Time – How long will the charger take to fully charge a battery? When you charge a car battery it can take hours depending on the voltage and amperage so be sure to take this into consideration when choosing a new charger.
Indicator Lights – LED lights are a useful feature that let you know what is going on. These lights will let you know if the charger is on, holding or receiving charge. 
Budget – There is a lot of variation in the price of battery charges. A standard charger is going to cost less than a restorer so take into account what you need the charger to do and what your budget is. You will pay more if the device has a lot of features so you will be able to save money by buying one that has only the features you will use.