An aftermarket car alarm is one of the best investments for car owners concerned about protecting their vehicle. By upgrading the level of security you can enjoy a range of vehicle protection and convenience features including alarms, keyless entry and remote start. The installation of a quality car alarm can give you peace of mind wherever you leave your car.
There is a wide range of options to choose from and the first hurdle is knowing what you are looking for. Use this guide to find the best car alarm for your vehicle's security.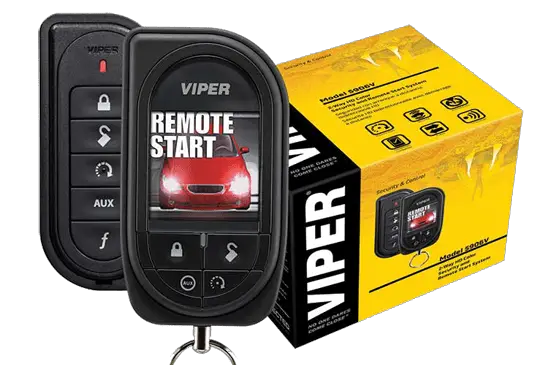 The Viper 5906VR is a high-end security system that combines protection with convenience and ease of use. It will help keep your car safe while also offering keyless entry, remote start and interior temperature control. It can help you keep track of parking meter timings too.
Unlike other car alarms, this system can be used to control a second paired vehicle too so if you have two vehicles this is ideal.
As with most alarms, there is an onboard shock sensor with adjustable sensitivity to help prevent false alarms. This Viper alarm has a new feature that lets you know if any sensors have been bypassed by the Nuisance Prevention Circuitry (NPC) when arming.
A noticeable difference between the Viper 5906VR and previous models is the upgraded user interface. It has a new menu wheel designed to be user-friendly and ensure the 3 menus are accessible and easy to navigate. This means the car alarm system can be set up and adjusted in no time.
This is a two-way system, it includes a display panel on one of the remotes so you can review settings, confirm commands and see system events. Compared to most keychain remotes on the market, the display on the Viper is much larger. This is good as it helps you see and use the system but it also makes the remote more cumbersome to carry around.
Another impressive feature of the Viper 5906VR is the 1 mile/ 1.5km operating range. This brings ultimate convenience as you can arm and disarm your vehicle from a distance.
With its versatile and up to date features, this is one of the best remote car security systems currently on the market. You can also expand the system with additional sensors and back up batteries if desired.
We'd definitely recommend switching on the keypad lock to prevent accidentally pressing buttons. This happens too easily when the remote is in a pocket so locking the buttons is a big help.
It does make a sound if you accidentally press the buttons but this is better than accidentally unlocking your car or activating the remote start feature.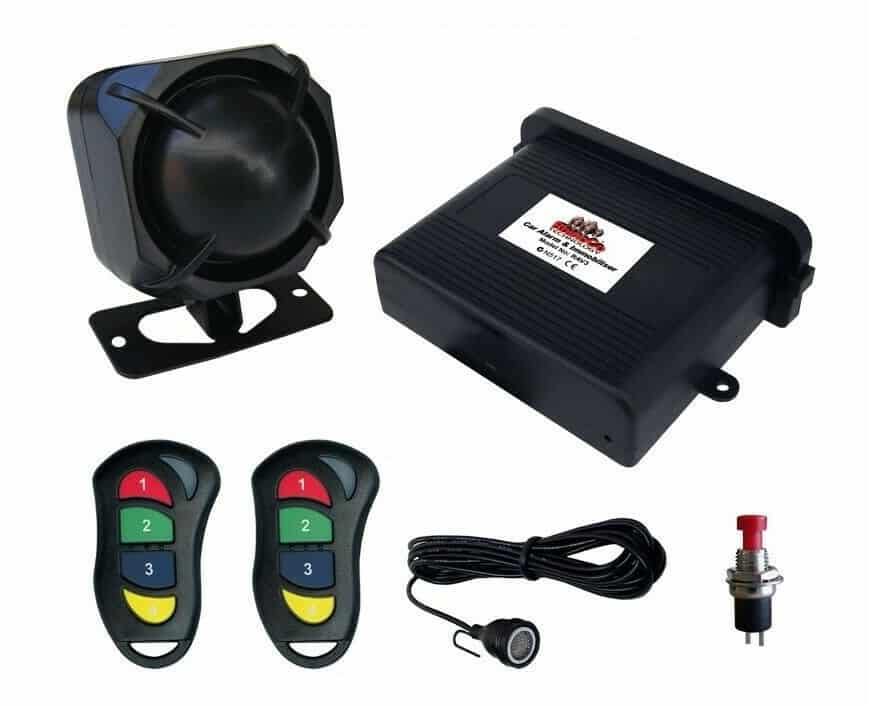 The RAV3-PNG from Rhino offers the same features as the RAV3 with the added ability to prevent hijacking. When the anti-car hijack mode is activated there are three automatic immobilisers that will kick in if there is a carjacking event.
It is a great car alarm system if you have a turbo vehicle or want an alarm with an automatic immobilise feature.
The dual-stage shock sensor lets you know if there has been a light or heavy impact and can distinguish between someone breaking in and an environmental shock such as a passing vehicle. The sensitivity automatically adjusts to suit the environment when the alarm is armed.
The RAV3-PNG has been designed for use in turbo vehicles and offers 2 turbo timer options. The first is the onboard timer that is armed as usual but the car continues to run for 1, 2, or 4 minutes.
If the alarm is triggered then the car will shut down and the alarm will sound. The second is the turbo timer interface which can be linked to an external turbo timer if you have one.
The system also has a new courier function which lets you keep the car running while the car alarm system is armed. The alarm system includes a glass breaker sensor and has a siren that sounds if the car is broken into.
Unlike the Viper 5906VR, the Rhino system doesn't have a screen. Instead, the remote has 4 colour coded buttons (arm/ disarm, boot release, panic mode and silent arm/ disarm). As well as the remote, you can also use your car's factory key fob to operate the alarm system. Each remote has a rolling code to prevent code grabbing and is waterproof for durability.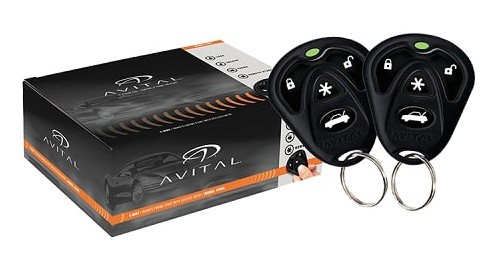 The Avital 3100L is a low-cost car alarm system that allows you to protect your vehicle and enjoy keyless entry.
The set comes with two Avital remotes that have a communication range of up to 1,500 feet (0.28 mile). This is around the same range as the Viper 3400V so if you need something with a larger range go for the Viper 5906VR instead as this can reach up to 1 mile.
The key features of this alarm system include an impact sensor, starter interrupt to prevent hot-wiring, nuisance prevention to prevent false alarms and a revenger siren.
The siren will either chirp or fully alert depending on the impact that is sensed. The warn-away feature is a lower-level response that provides an early warning to stop car theft before it progresses.
This is a simple car alarm system, it doesn't offer the two-way communication that other options such as the Viper 5906VR offer. It does have the added benefit of being easy to configure though, it can be programmed using Bitwriter. The Avital 3100L also comes with a limited lifetime warranty.
In the event of car thieves, the alarm will sound and the starter interrupt would prevent the car from being started but as it is one way, the system cannot notify you of this.
If you are looking for convenient features such as remote start or being able to adjust the interior temperature of your vehicle, this isn't the right car alarm for you and you should look at other options.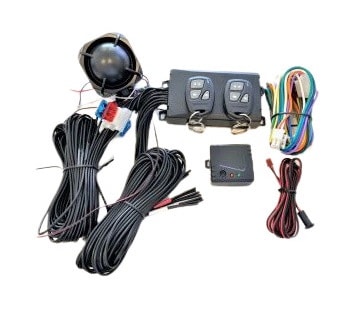 The Mongoose M80II is a 2 in 1 system that can work with most 12 volt vehicles. The system includes automatic engine immobilisers, a 2 stage impact sensor, a full alarm function and a glass break sensor.
The system comes with 2 remote controls and can be used with your vehicles usual central locking remote control too. When used with the included remotes the system offers a range of protection features including silent arm/ disarm, sensor disable, car finder and a panic button too.
There are several similarities between this and the RAV3-PNG. If you like the RAV3-PNG but you want different features or a lower price bracket, the M80II is definitely worth a look. Both systems include three automatic engine immobilisers to prevent your car from being stolen and they also feature a built-in turbo timer. The M80II timer is programmable and can be set between 1-5 minutes.
When you arm the vehicle there is a chirp and indicator confirmation so you're never left unsure as to whether it is armed or not. The bonnet, boot and all doors are protected with the M80II system and it has a battery back-up siren too.
The system has a programmable 4 digit PIN override as well as a range of programmable features such as auto door lock, ignition door lock and door diagnostics. This Mongoose car alarm system comes with a 3-year warranty.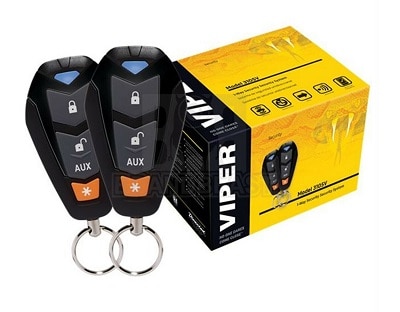 If you liked the sound of the Viper 5906VR but don't need a car alarm system with quite so many features, the Viper 3400V is the entry-level option. It doesn't offer a two-way long-distance remote but still features the shock sensor and siren.
The 3400V offers a Failsafe starter kill to ensure car thieves are not able to hotwire your vehicle. The 4 button remotes are clone-safe and the CR+ receiver offers a 1/4 mile range. There are 2 auxiliary outputs if you want to protect your vehicle further by including additional security features.
The control centre is one compact unit and includes the valet switch, antenna and status LED. This protection system is simple to use and easy to install.
While you don't get a two-way system or remote start with this Viper car alarm system, you can still enjoy the convenience of keyless entry. It also comes with a warranty and the Viper brand is known for offering reliable, high-quality products.
Car Alarm Comparison Table
Car Alarm Buying Guide
The best car alarm system is going to reliably prevent theft while also offering convenient features such as an immobilising system, keyless entry or a remote start function.
This guide will help you find the features you need in your aftermarket vehicle security system.
Installation
Installing a car alarm system can be fiddly and confusing. It is usually best to get the installation done professionally. Professional installation is often a requirement of the warranty coverage too so check this before you attempt to install the car alarm yourself.
Range
Most car alarm systems offer a range of around 1/4 of a mile. Some alarms, such as the Viper 5906VR have an impressive range of a mile. A good range is convenient and will help ensure you are always confident your alarm is set.
Two-Way Vs One Way Remote
A two-way remote is very useful if you want to turn your alarm system on from a distance and receive notifications about what is happening.
A two-way system makes it possible for you to respond to issues quickly. Some of the premium two-way car alarm options come with a key fob that has an LCD or OLED display panel so you access the information and make adjustments with ease.
Unlike a two-way system, a one way remote means you can arm and disarm the car alarm but you do not receive any information back. Most systems are one way and they are usually effective enough to deter theft and damage.
Sensors
Alarms should be used in conjunction with sensors. The sensors detect the potential security issue and the alarms sound to grab attention and deter theft.
Shock Sensors
Shock sensors will detect when the vehicle is hit by an impact or when a window is broken. Many car alarm systems have adjustable shock sensitivity settings.
Adjusting the sensitivity helps to prevent false alarms. Common false alarms include larger vehicles driving past and high winds.
Glass Break Sensors
These sensors are microphones that detect the sound of glass being broken. They are designed to listen for sudden sound changes that may indicate a break-in.
Door Sensors
These detect tampering with the doors. If a door is opened when the car is armed then the alarm will sound. They are the most popular sensor type and are an effective way to protect the vehicle from theft.
Pressure Sensors
These monitor the air pressure inside the vehicle. If doors or windows are opened the air pressure will change and the alarm will go off.
Motion Sensors
These detect motion within the vicinity of the vehicle and the alarm sounds if the object gets too close to the sensors. As they monitor activity around the vehicle they can be prone to false alarms.
Tilt Sensors
These trigger the alarm if the car is lifted, for example, if it gets jacked up for wheel theft. They are not prone to false alarms and are effective for preventing the wheels from being stolen or your car from being towed.
Security Features
Modern technology also comes with modern problems, car theft today often involves signal hacking to beat the high tech car alarm systems.
One way a professional alarm system prevents this is by using encrypted transmission and code rolling remotes. These security features make it a lot more difficult for a thief to tap into your car alarm system.
Smartphone capability
Many modern alarms come with an app or some kind of smartphone capability. This allows you to use your smartphone as a key fob to unlock or lock your car and control your security system.
Some high-end options also have vehicle diagnostics available on your smartphone so you can check your car and ensure everything is running as it should via the app.
As well as being able to unlock your car using your smartphone, you may also be able to track your vehicle's GPS location which is extremely helpful if it has been stolen.
Convenience
If you are looking for security and convenience, consider features such as keyless entry, remote start and valet mode. Valet mode disables the system to allow for valet parking or other situations when the alarm is not needed such as at a mechanic or dealership.
Some remotes can also be used to open the boot and others can even close the windows for you. The best car alarm system is not just going to protect your vehicle from being stolen, it will also make your life easier too.
Alarm Type
Any car alarm can help deter thieves but fine-tuning your alarm preference can help ensure you find the aftermarket security system that best fits your vehicle and circumstances. Below are the 5 main vehicle alarms you will encounter during your search:
Immobilizing
An immobilizing alarm system means no one can start your vehicle unless the system has been disarmed using the key fob. This security system stops thieves from being able to drive the vehicle away.
Remote start
Security systems with a remote start feature are great for getting the vehicle started to warm it up or turn the AC on before you hit the road. This is an added layer of convenience and control that allows you to get your car ready to go before you even get in it.
Silent
A silent car alarm system notifies you of an issue rather than setting off a siren. This is a more popular option in noise restricted zones.
Active
An active security system needs to be manually activated and deactivated by pressing a button on a remote. The regular key fob that is used to unlock or lock the car doors will not automatically activate the alarm.
Passive
Opposite to an active system, a passive system automatically activates when the vehicle is locked or the engine is turned off. This is a great choice for people who don't want an extra step to carry out to protect their car. A passive car alarm is simple and hands-off.
Top Car Alarm System Brands
Choosing a well-known and reputable brand will help you enjoy reliable vehicle protection that has been tried, tested and improved upon over the years. Selecting a quality brand will help you get the most out of your security system.
Viper
Viper has been making car alarm and security systems for over 30 years. They have a strong reputation and offer some of the most popular systems on the market. Their security products are known for being professional, high tech and feature-rich.
Avital
Another big name producing top car alarm systems is Avital. They have almost 20 years of experience and offer a range of innovative car security products. Avital has a reputation for creating systems with user-friendly features and easy installation.