Rarely does a bull bar not get fitted to a 4×4 in Australia, due to the great number of benefits that come with their installation. It is, however, a reasonably expensive accessory and there is a wide range of options and regulations to consider before going out and buying the first bar you see.
In this article, we will review some of the most popular bull bar options available in Australia. These products are compatible with vehicles including the Toyota Hilux, Toyota Landcruiser, Toyota Prado, Ford Ranger, Nissan Patrol, and others. We'll outline the pros and cons of each to help you select the best option for your 4WD.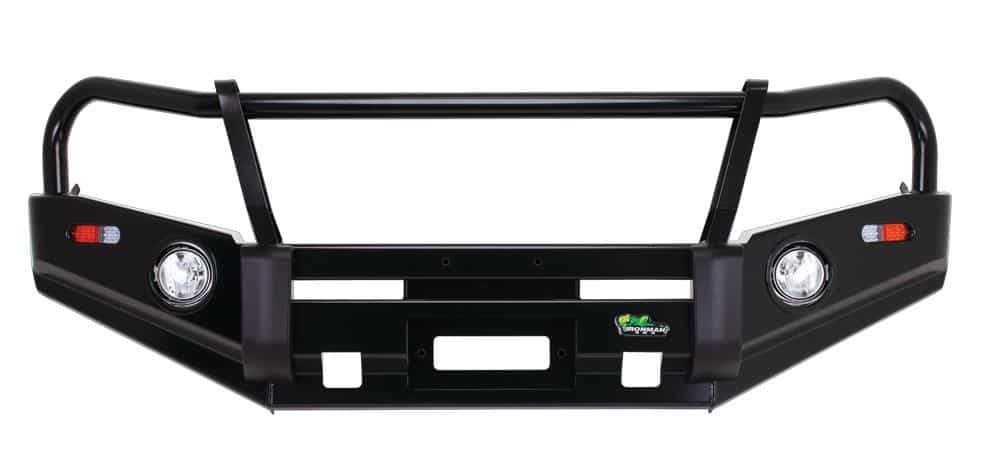 From one of the trusted names in 4×4 accessories, the Ironman Deluxe Commercial Bull Bar is an excellent option for most vehicles.
With a sturdy steel construction and a sleek design in keeping with the modern 4×4, it includes the typical features expected of any bull bar; antenna and auxiliary lighting brackets, winch mount, and high-lift jacking points. Integrated recovery points are also part of the design.
It is SRS airbag-compliant (not a huge surprise), and includes integrated LED fog lights (a nice surprise).
Weighing approximately 80kg, it is one of the lighter steel bars compared here.
The Classic Black bull bar from Dobinsons follows the more traditional look of older bull bars. Like most bars, it includes LED indicators and parking lights, along with polyurethane bumpers to prevent damage from very minor frontal impacts.
It's a heavy bar, so with a winch and accessories added it is quite a bit more weight in front so that is a consideration.
Finished in a heavy-duty black powder coat, it's a high-quality option where function is the priority.
XROX has brought to market a bull bar to meet the demands of the modern 4×4 enthusiast, where greater clearance and approach angles are a requirement along with sporty looks.
The benefits of the minimalist design are clear; at around 50kg, this is one of the lightest steel bull bars you can find, and despite losing some protection for headlights, the all-important radiator protection is still there with the big central loop also allowing for easy spot light installation.
If you're a regular at off-road courses or 4×4 parks, this would be an excellent option.
Smartbar's inception came about due to a need for a lightweight yet durable solution to prevent damage to their founding company's fleet of cross-country trucks. The result was the first version of today's Spartanbar (a typical triple-hoop style bull bar). The Stealthbar featured here is the sportier, debatably better looking, and 30% lighter version of the Spartanbar but the benefits of using either are numerous.
Things you don't even consider with traditional bars like aerodynamics are vastly improved thanks to the snug vehicle-specific fitment.
Don't be put off by the fact they aren't metal. These bars are still winch-compatible, can accommodate various other accessories, and offer much higher levels of pedestrian and vehicle safety than any steel or alloy option.
The weight savings over a steel or even alloy bar are significant; a Stealthbar can weigh as little as 28kg. The cherry on top is the fact these bull bars are still manufactured in Adelaide, South Australia, and supporting local is always a good thing.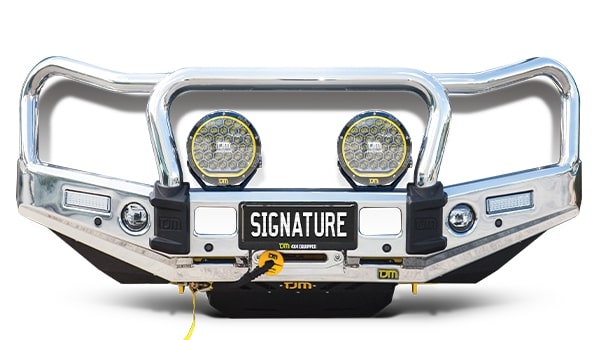 TJM has nearly 50 years of innovation behind them and it shows in the wide range of aftermarket parts and accessories offered for 4x4s and SUVs alike.
The Signature polished alloy bull bar is a handsome triple-loop design with a style in keeping with the modern 4×4, featuring 63mm outer and 74mm centre tubing making for a tough aesthetic.
It comes with 8,000kg-rated recovery points, and is compatible with various driving and parking sensors as well as other accessories.
It is one of the more expensive options here, but it comes with a three-year warranty and is fully ADR-approved and SRS-compliant.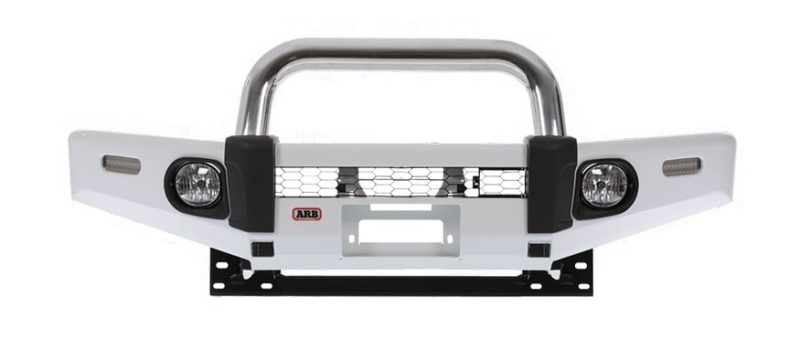 The ARB Summit Sahara bull bar is a modern contemporary and unique option that still shares the typical attributes common for most conventional bull bars (lighting and antenna mounts, polyurethane bumpers and so on).
The standout feature on the Summit Sahara bar is definitely the integrated light bar in the optional alloy central tube, modernising the bar even further and solving a problem many ask regarding how best to mount auxiliary lighting.
It's a great light bar as well, with 10 OSRAM LED lights and IP68 water resistance, producing 1Lux @445m, and a good 44m light spread. Fog lights can also be added like many other bars here.
Offering better protection than any standard bumper, the Summit Sahara is aesthetically one of the most pleasing designs here.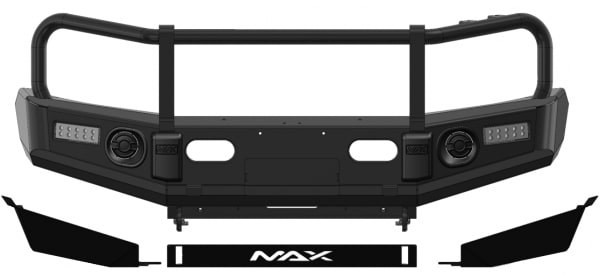 Australian-owned Max 4×4 Accessories is a new player, having set up shop in 2016 with the intention of offering 4×4-related products capable of handling the tough Australian conditions and elements.
The steel two-post Gen II bull bar ticks all the boxes expected of any bull bar, with provision for a winch and a wide range of accessories.
The fitment of fog lights is also allowed for, and it comes with two 4,000kg-rated recovery points. An under-body stone tray provides limited protection, too.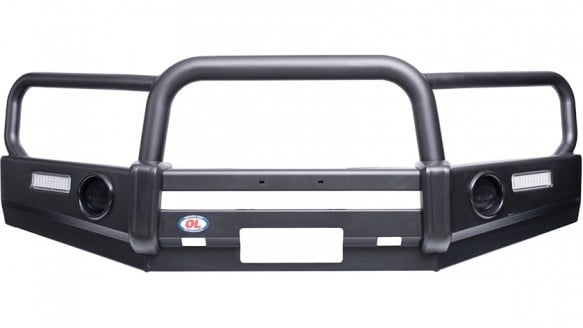 Since 1974, Opposite Lock has been providing rally and off-road racers equipment and today they cover the entire country. They offer a wide range of accessories for hundreds of vehicles, including bull bars.
The three loop option here is made of steel, powder coated in matte black as standard, and comes with a two-year warranty.
Any number of accessories can be added as well, making it a versatile and quality choice for any HiLux.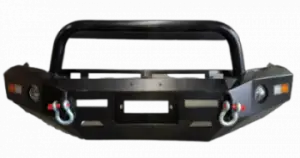 For the budget-conscious vehicle owner, the PS4X4 bar is a minimalist, single-loop option that should cover most needs.
It is winch-compatible, includes fog lights as well as LED indicators and parkers, and underbody skid plates. It skimps on plastic bumpers but comes instead with twin recovery points.
It is available only in a black powder coat, weighs 50kg, and meets the necessary ADR and SRS requirements.
Bull Bar Comparison Table
Bull Bar Buying Guide
If there is one thing you can be certain of when considering accessories for a 4×4 vehicle, it's being spoilt for choice.
There are dozens of manufacturers fighting for your hard-earned dollars and while most dance to the same tune, there are some noticeable exceptions when it comes to specific details, as outlined below.
Bull Bar Materials
Bull bars are intended to protect the vehicle from damage, especially the engine cooling system and, to a lesser extent, the headlights and other ancillaries.
Choosing a material strong enough for this is straightforward, but as technology has improved so have the materials used.
Steel
The most common material used for bull bars, the overall toughness of a steel bull bar is its greatest strength.
Most 4×4 owners live with the weight penalty and accept it comes with having a bar that will withstand most animal strikes.
Steel bars are often cheaper, too, and easier to repair if banged up, but will be more susceptible to corrosion once the protective paint surface is scratched. The heavier weight might mean a front suspension upgrade is necessary, too.
Aluminium
The biggest difference between an aluminium (coined "alloy" in the industry) and a steel bull equivalent is the weight saving; they are often 25-30% lighter than a steel equivalent.
Aesthetically more pleasing when offered with a polished finish (but requiring more care to keep them looking sharp), they're a more expensive option than steel, but the greater resistance to corrosion should mean they last longer, too.
Plastic
There is a strong stigma attached to plastic bull bars, but for the vast majority of 4×4 owners, they probably make the most sense.
Modern plastics are incredibly durable and resistant to permanent damage (the Smartbar products are able to return to 95% of their original shape after being compressed 85%), and they offer far better pedestrian impact properties, too.
Their lighter weight (more than 50% lighter than an equivalent steel bar) and better aerodynamics mean better fuel economy and less noise. These concerns might not bother some 4×4 vehicle owners but when you have various other accessories it is easy to overload a vehicle while generating lots of additional intrusive noise.
RELATED: The Best Roof Racks
Types of Bull Bars
Bumper Bar
These bumper-replacement bars have really grown in popularity over the last few years thanks to their sporty and unobtrusive look. They obviously lose some protection higher up (making them arguably less suitable for touring), but most impacts occur below the headlights anyway. They are light, and a well-designed bar will help increase the approach angle, too.
Post
A post-type bull bar utilises two or more vertical pieces across the front of the structure, that normally go from the top to the bottom. This is the most traditional design of a bull bar.
Regularly seen on road trains and vehicles spending the bulk of their time in the outback, these bull bars are by far the toughest and offer the most vehicle protection possible. They're an older looking style and have been surpassed in popularity by loop-type bars.
Single Loop
Single loop bull bars have a sportier look to them but are able to offer good frontal protection for the radiator, as well as providing mounting flexibility for various accessories.
They're lighter and a little more aerodynamic than a traditional bull bar.
Triple Loop
A triple loop obviously provides more protection against animal strikes and accidents than a single loop.
Protecting not only the lower half of the vehicle but also headlights and radiator, these make the most sense for touring vehicles.
RELATED: The Best All-Terrain Tyres
Safety and ADR Compliance
As with many modifications and accessories, extensive testing must be completed to ensure certain criteria are met for on-road use.
Bull bars have to be designed and manufactured to comply with legislation pertaining to both vehicle and pedestrian safety. States also have their own various laws and restrictions, though most stick with the national legislation.
There are about a dozen separate Australian Design Rules (ADR) bull bars comply with, from the lighting, bull bar design, and how they function in an accident. In addition, Australian Standard AS4876.1-2002 'Motor Vehicle Frontal Protection Systems Part 1– Road User Protection' pertains to how bull bars (or any modifications to the front of a vehicle) affect pedestrian and vehicle safety in the event of an impact.
This document from the NSW Government goes into a lot of detail about the rules for bull bars, like critical dimensions and angles, lighting, ground clearance, and number plate mounting. Ultimately, when buying a bull bar, be sure to see the appropriate documentation relating to its compliance for road use.
Chassis Attachment
Bull bars mount directly to the chassis rails, or to the monocoque, of a 4×4. This ensures they provide the necessary vehicle protection without damaging any non-structural cosmetic and exterior trims, or harming the passengers.
High-tensile bolts are used to attach the bull bars and winch mounts, normally utilising existing holes (but sometimes holes will need to be drilled).
Bull bars are very vehicle-specific, and will come with the required nuts, bolts, and brackets for installation.
Airbag Deployment
For a bull bar to be fitted to any SRS airbag-equipped vehicle, it must comply with both ADR 69/00 (Full Frontal Impact Occupant Protection) and ADR 73/00 (Offset Frontal Impact Occupant Protection).
A bull bar is tested to ensure it doesn't make an airbag deploy at too slow a speed; a certain amount of compression is therefore accounted for to ensure airbag deployment occurs as if the vehicle was still standard.
RELATED: The Best Battery Box
Mounting Points
The installation of a bull bar is a dream for those wishing to fit more accessories, and most bull bars are manufactured with that in mind.
Winch
Most bull bars are winch-compatible, but the mounting for the winch itself (or additional bracket) will be directly on the chassis as it is the strongest part of the vehicle.
Lights
Bull bar designs facilitate the installation of a wide range of auxiliary lighting, be it spot lights or light bars.
Depending on the specific bar, there might be a limit on the size, but today's modern lighting options pack a lot of punch in small packages.
Additionally, many bull bars are designed to accommodate either OEM or aftermarket fog lights, in addition to LED indicators and parking lights (the standard for today).
Antennas
Most bull bars come with the ability to install two antennas, though it is worth checking the specific bar and if it meets your requirements.
High-lift jack points
Like above, most bull bars have jacking points on either side. From a safety perspective, these are vitally important because lifting a vehicle can be a very dangerous exercise and ensuring the vehicle is undamaged when lifted is essential.
Recovery points
Not all bull bars have integrated recovery points. Most vehicles still need to utilise the chassis-mounted recovery points, but most bull bars take these into account when being designed.
RELATED: Fit 33 Inch Tyres To A Toyota Hilux