We know how overwhelming battery management systems can seem. However, the right system can be an invaluable addition to your RV or Camper, adding efficiency and protection while also improving the health and longevity of your batteries.
In this article, we've analysed the best battery management systems on the market and assessed them against important criteria including compatibility, features, and ease of use. This review and comparison can help you find the best system for your off-grid adventures.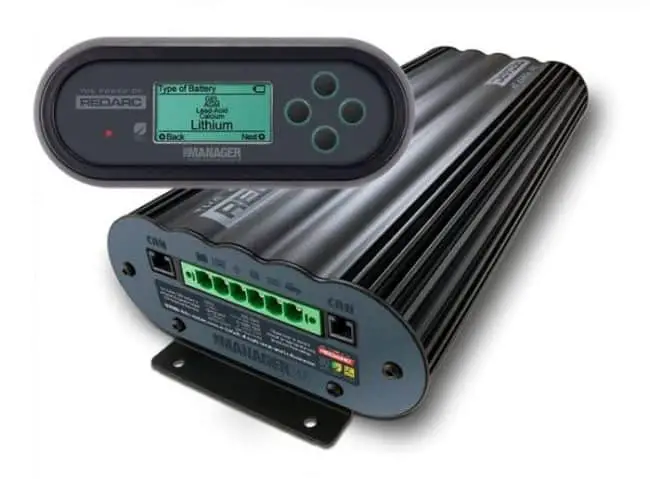 The Redarc Management System is designed to charge and maintain auxiliary 12V and 24V batteries. For convenience and ease of use, it incorporates an AC, DC, and solar input. If solar power is used it has green energy priority meaning solar will be used first.
This model features an improved colour display that is easy to use and gives clear information about the battery state of charge and the amount of time remaining until the battery is full or flat. The display also lets users control how the house battery is charged and allows connection to a smartphone via the RedVision app.
The Redarc system includes a multi-stage AC-DC battery charging unit and a multi-stage DC to DC charger. The battery management system is very quiet so it won't interrupt your peaceful camping experience. It offers a 30 amp charge, this capacity is ideal for use when camping without power sources and for staying at powered sites too.
This system is ideal for 4x4s, caravans, camper trailers and motor homes. It is one of the best battery management systems for most people as it combines 6 key products in one. This includes DC-DC and 240 volt chargers, a battery isolator, MPPT solar regulator, a load disconnect controller and a remote battery monitor.
Compatibility is not an issue for the Redarc Manager30 either. It works with the majority of dual battery systems as is compatible with AGM, Calcium, Lead Acid, Gel and Lithium Iron Phosphate battery types. It is also compatible with all vehicles and alternator systems. The main reason people may choose another system instead of the Redarc Manager30 is the price but when you consider all the functions, input options, charge accessories, and reliability, it offers good value for money.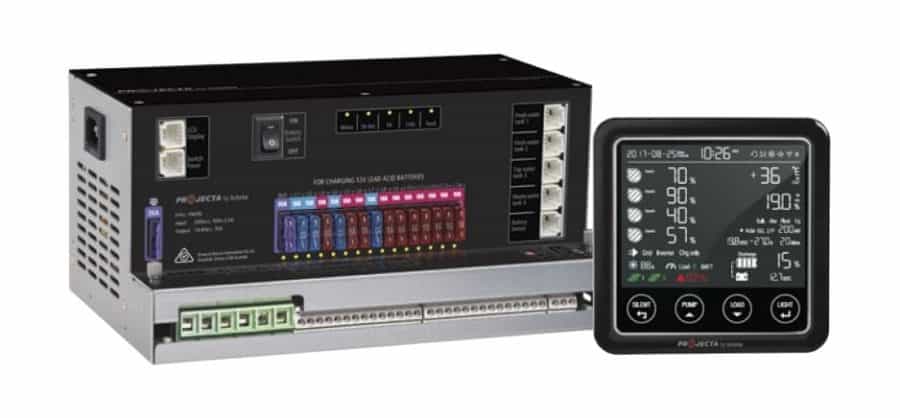 The Projecta PM300 is another comprehensive option that offers a slightly higher output current of 35 amps. It comes with a remote LCD screen so you can check the status of the battery and charging information. As well as this the advanced system lets you check on the solar power, water level, and electrical systems.
The system includes a load switch, a night mode and a silent mode so it can still be used to maintain your dual battery system without disrupting the quiet moments of your trip.
This deep cycle battery power system is backed by a 1 year warranty and has a number of protection features and sensors that make sure it operates safely. This unit is a 20A mains better charger and offers a 35A power supply. It also has an MPPT 30A solar charge controller too to optimise the power from solar panels.
The PM300 wiring unit has 14 channel fused output and WAGO terminals for easy installation. The WAGO terminals offer vibration-proof and maintenance-free wiring so it doesn't take long to get the electrical components installed and they won't come loose or get damaged when travelling on rougher terrain.
This all in one power management solution is ideal for use in RVs. Unlike other options that feature a 3 stage charging system, the PM300 uses a 5 stage battery charging system. This model doesn't include Bluetooth but if that is important for your system, the next model up (the PM400) is slightly more advanced and does offer Bluetooth connection.

The Enerdrive K-AGM-Board-F is a complete and advanced system that brings everything you need in one organised kit. This high capacity 40A AC and DC installation kit is mounted on a 12mm water-resistant and rot-resistant plastic board and is pre-wired where possible to make installation as easy as possible.
The 12V system includes everything a camper needs including a DC to DC battery charger, a 40A battery charger, load/charge module and main battery shunt.
The system has a WiFi monitoring screen that is high contrast with an anti-reflective coating so you can clearly see the information being displayed. The screen is waterproof and dustproof so it is suitable for indoor or outdoor installation. As the screen uses WiFi, you can conveniently view the battery data on your smartphone using the Simarine app.
The system includes 3 circuit breakers; one for the main system, one for the inverter and one for solar input. It has a fuse connection for the DC to DC charger and for the AC charger as well as 2 30A load output fuse connections and a 24 hour critical load 4 circuit fuse block.
The K-AGM-Board-F has a 3 stud main negative bus bar, a 40A low battery cutout and a 2000W AC transfer inverter too. There is also a battery restart switch. All of these features mean the kit is bulky, weighing 23kg so take care when choosing where to position the panels in the vehicle. It also comes with a 5 year warranty giving users confidence in the system and peace of mind.
There are a lot of factors that come together in this system but there are no cut corners with each one being reliable and high quality. The ePOWER DC to DC charging unit for example is fully automatic, multistage and can receive input from an alternator or solar panel. It has a programmable LCD screen that keeps you up to date on the battery status.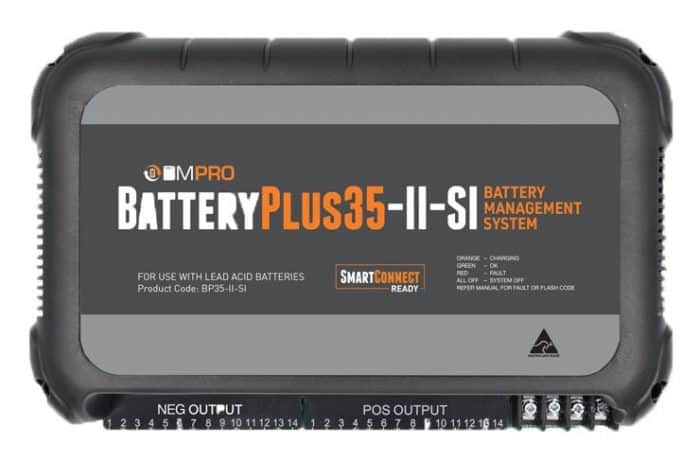 The BatteryPlus35 is designed specifically to manage the dual battery set-up in caravans. It operates from 100-240V AC mains power supply, auxiliary battery and solar panels, has a voltage output of 12V and can provide 35A to charge batteries.
This is the updated version which includes high side current sensing, a single LED output indicator, a reset switch, better battery terminals, a 40 amp peak battery output rating and improve over-voltage protection.
This system is pre-cabled with a mains power supply cord for use in powered sites. It also has a 40A rated uncontrolled +BRK battery output that can be used for loads that have a higher current rating such as heaters.
This is reliable, compact and made in Australia. The BatteryPlus35 system is fully equipped to charge deep cycle batteries, work with solar panels and can support the transition from lead acid to lithium batteries seamlessly. It's a good choice if you are planning a system update in the near future.
This Victon bundle includes a SmartSolar MPPT Charge Controller, Orion-TR Non-isolated DC-DC Charger and Blue IP22 Smart Charger. It also has a Bluetooth-enabled battery monitor that can display battery voltage, current, power, ampere-hours consumed and charge status.
This is the system to go for if you want to access, control and monitor the battery system from your phone. Each of the devices in this set is Bluetooth-enabled so you will be able to remotely monitor and control the entire set-up with ease. The system is portable, smart, and user-friendly, it can be used with 12V and 24V battery systems.
The monitor includes a programmable alarm and a programmable relay so non-critical loads can be turned off or a generator can be run when needed. The DC-DC unit can work with lead acid and lithium batteries. You can turn it on or off remotely and it is fully programmable too.
The solar charge controller uses up to date technology to maximise the energy gathered. It is highly efficient and has Bluetooth that allows monitoring and remote control.
This set is efficient and perfect for anyone who wants to handle battery management from their smartphone. Just as the Enerdrive model does, this system also comes with a long 5 year warranty.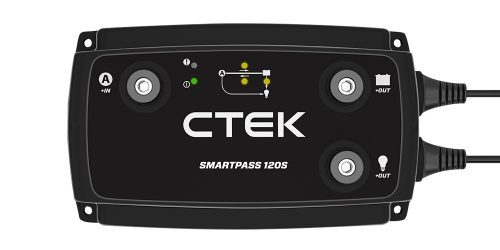 The CTEK SmartPass 120 is an automatic onboard power management system that offers an impressive 120A output current. That is the largest output current of all the power management systems reviewed on this page. The next closest is 40A offered by the Enerdrive system so this is the one to choose if you have high power appliances and high capacity requirements.
The system distributes power between the starter and service/ auxiliary battery as well as onboard devices. It boosts the alternator output to facilitate faster charging and it works with all lead-acid batteries but, unfortunately, not lithium batteries.
The CTEK SmartPass 120 has dynamic over-current protection, gives priority to critical equipment and makes sure important battery functions always have power. It cares for the health of your dual battery set up while providing efficient charging. Another helpful feature is the start assistance that lets the auxiliary battery start the engine if the vehicle starter battery is flat.
Battery Management System Comparison Table
| | | | | | | | | |
| --- | --- | --- | --- | --- | --- | --- | --- | --- |
| Battery Management System | Our Verdict | Output Current | System Voltage | Compatibility | MPPT Solar Regulator? | Display? | Warranty | Check Price |
| Redarc Manager30 | Best For Most People | 30A | 12/24V | Lead Acid, Gel, Calcium, AGM and Lithium | Yes | Yes | 2 years | My Generator |
| Projecta PM300 | Runner Up | 35A | 12V | Wet, Gel, AGM and Lithium | Yes | Yes | 1 year | My Generator |
| Enerdrive K-AGM-Board-F | Upgrade Pick | 40A | 12V | Gel, AGM, Flooded, Lithium | Yes | Yes | 5 years | My Generator |
| BMPRO BatteryPlus35 | User-friendly | 35A | 12V | Lead Acid and lithium | Yes | Yes | 2 years | Caravan RV Camping |
| Victron Bundle | Long Warranty | 30A | 12/24V | Lead Acid and lithium | Yes | Yes | 5 years | My Generator |
| CTEK SmartPass 120S | High Power Pick | 120A | 12V | Lead Acid, Wet, AGM, Gel, EFB, Ca/Ca and MF | No | No | 2 years | Amazon |
Battery Management System Buying Guide
The power equipment you have in your vehicle or camper is your lifeline when heading on offroad adventures. Choosing an appropriate deep cycle battery management system is an easy, automated way to monitor and maintain your equipment. This buying guide will help you make sense of battery management and figure out which system is best for you.
Basics
A battery management system connects your caravan or auxiliary battery to the main battery and ensures the charges are not shared until the main battery is fully charged. It handles your dual battery set-up efficiently and ensures the health and longevity of the individual batteries. It also protects the draw voltage so you are always able to start up your car.
Some systems offer additional functionality including accepting power inputs from other sources such as solar. Multiple input sources can be connected at once and the system will draw power from the best method automatically. This is hugely helpful when there are multiple power sources connected.
In short, a battery management system brings together all the individual components of your battery set up and gets them to work together as one within safe voltage and capacity requirements.
Charging Methods
DC-DC Charger
A DC-DC charger is the best option as it helps you fully utilise your battery setup. It uses a multi-stage charging profile to safely top up batteries. Vehicles with smart alternators need a DC-DC charger.
Anderson Plug
Anderson plugs are a common charging method in caravan and campers. The downside to an Anderson plug is that it will charge batteries to 75-80%, not to 100%. This means you lose a considerable amount of the battery's capability which can be problematic on longer trips or trips away from electrical power points.
240V Charger
Most campers have a 240V charger that brings the battery up to 100%.
Display
Many management systems include a screen that lets users monitor and manage the power system. Being able to check the state of charge as well as the incoming and outgoing current helps to give a good insight into the system and helps users make important energy-related decisions when camping.
The system manages and monitors itself and keeps the batteries working within their abilities. Having a panel that provides key information removes any guesswork for users which is very helpful when camping or using multiple high power devices in the caravan.
Multi-Stage Charging
You will see that a lot of systems say they use multi-stage charging. This usually means the charging system uses 3 key steps: bulk, absorb, and float. Some charges have 5 stages but the majority offer these 3:
Bulk – this is when the charging system gives as much current as it can and the battery's voltage rises until reaches the bulk voltage.
Absorb – this is when the system gives as much current as it takes to keep at the absorb voltage number. This gives the batteries just enough current and the amount reduces over time as the battery needs less.
Float – Once the battery is full it will go to the float stage where the charger will deliver a low current to maintain low voltage levels. The current required to maintain the low voltage will become less and less. The battery is fully charged at this point.
These steps help to keep the batteries and accessories charged without using a lot of capacity or experiencing a lot of discharge. Deep cycle batteries need this multi-stage charging cycle to properly charge while also caring for the battery health and life.
Safety Features
As with all power management systems, safety features are a must. These include:
Temperature Protection
Temperature protection helps ensure the system is cooled or shut down if temperatures become too high.
Under-Voltage and Over-Voltage Protection
This prevents damage by making sure the cell voltage doesn't get too high or too low.
Short Protection
A power management system usually features protection from shorts too as shorts can lead to thermal runaway.