Battery boxes offer an alternative option to portable power packs or a dual battery system, the difference being that a battery box is much more flexible and versatile. There are many things to consider when choosing a battery box for your off-grid travels; the size, output ports, and charging options being just a few.
To help you in your search for better power output when camping and travelling we have analysed the most popular battery boxes on the market and assessed them against a range of important criteria including compatibility, design and user features. This comparison will help you quickly and easily find the best battery box for your specific application.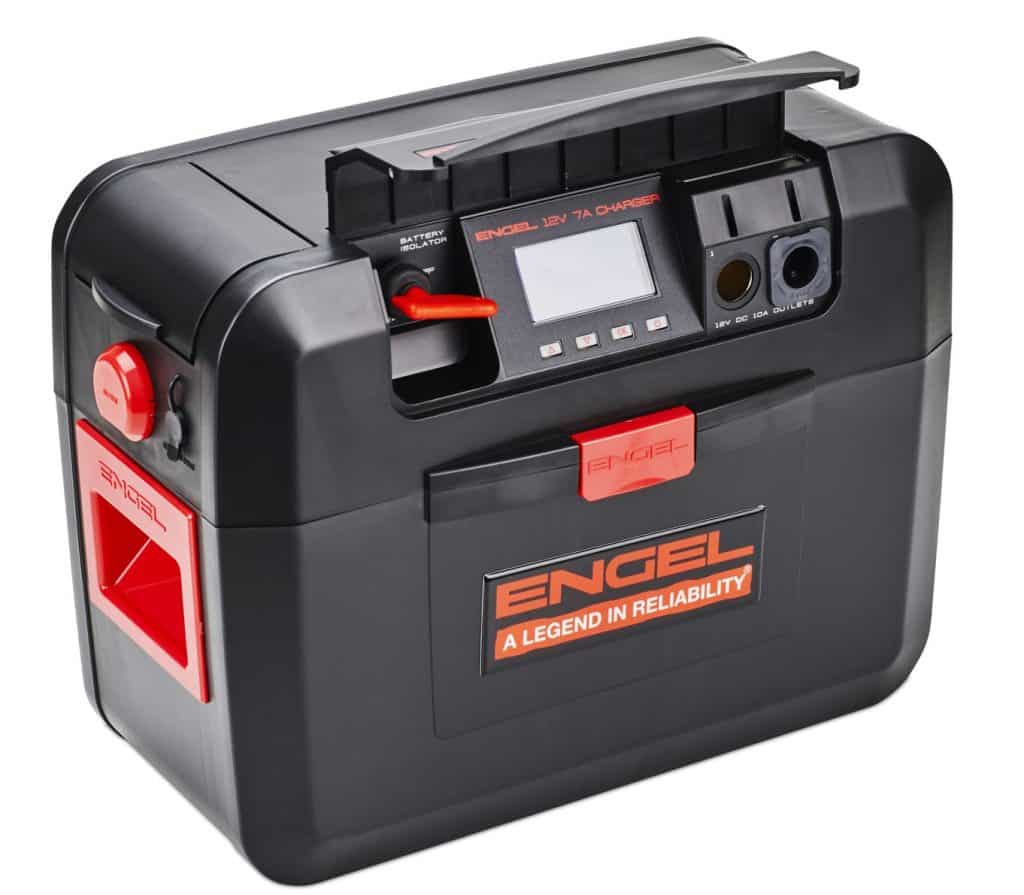 This is a versatile, user-friendly battery box that has been updated to make it compatible with all common battery types including Lithium LiFePO4 as well as Gel, Calcium, AGM and Lead Acid batteries. It is also worth noting that this battery box is best suited for use with batteries up to 130Ah.
The Engel Series 2 offers improved power performance and optimum charging to give users the best experience. Despite being packed full of features including multiple sockets, an LCD screen and a 300 watt inverter the Engel Smart Battery Box Series 2 weighs only 4.62kg and measures 44 x 24 x 32.7cm. While not the smallest or the lightest option, it isn't a bad size for a portable battery box.
The LCD screen makes it very easy to see what the unit is doing and manage the power. It can be recharged via 240 volt mains power, the car 12 volt cigarette lighter or using solar panels (via the 50a Anderson plug).
The unit has 5 output ports which isn't quite as versatile as some models and there is only one of each type (USB, cigarette socket, Engel, Anderson, 240 volt socket). It charges at 7 amps for AC and DC and has a built-in 12V – 12V smart charger. A DC to DC charger is often not included as a standard feature so it is a definite bonus to see this offered on the Series 2 model.
This is the best battery box to choose if you are using lithium batteries. It is ideal for charging multiple devices or for use with high power devices. The Engel Series 2 offers increased battery choice and a range of connections to create a portable power station wherever you are camping.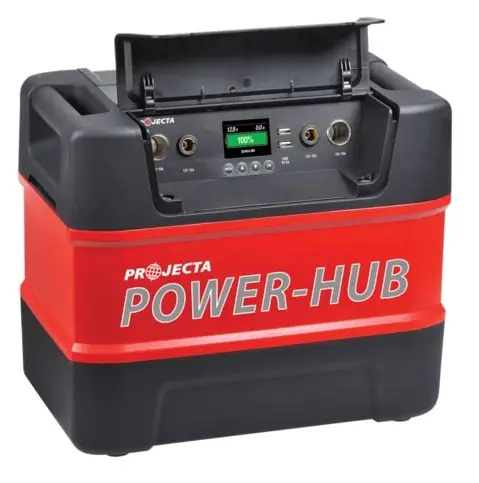 The Projecta Power Hub is a suitable alternative to a dual battery system. One of the things that makes this unit stand out is the range of power connections it offers. The 10 outlets offered include a 240 volt AC socket, 2 x USB port, 2 x cigarette lighter ports, Engel port, DC terminals, 50A heavy duty and 2 x merit sockets. This gives you complete flexibility and freedom when powering devices.
The Projecta is a great option for most uses including camping and 4WD adventures. It has been designed for use outdoors and has weatherproof covers to protect the plugs and even has gutters on the top of the housing the direct water away from the electrics.
The unit has a smart battery gauge which provides information on the battery status. Another thing we like about this heavy duty battery box is the wide compatibility offered, it can be used with batteries up to 33.8 x 17.7 x 23cm and can handle a range of chemistry types. It's recommended you use this power hub with deep cycle batteries up to 123 amp hours.
The Projecta 12V can also be used to jump-start your car battery and is a great portable power option for 4×4, caravan and camping trips.
The ATEM Power battery box combines being lightweight with being durable. It has impact-resistant housing that is able to withstand everything from shock and impact to battery acid, UV and corrosion.
The unit weighs just 0.9kg and features carrying handles for easy transport and has mounting bars and straps for secure positioning. This box measures 45 x 27 x 24.5cm and has multiple sizing options inside to secure different sized batteries.
With this model there are 2 x USB ports, 2 x 50a Anderson plugs, 12 volt charging port, 12V cigarette port and external terminals so there is no shortage when it comes to connection options. There is an on/off switch, a circuit breaker to protect the electrical circuit and there's also a handy LCD display showing the voltage status.
This is a great value battery box that is ideal for 4x4s, it is compatible with most 4WD batteries and won't add much to your packing weight.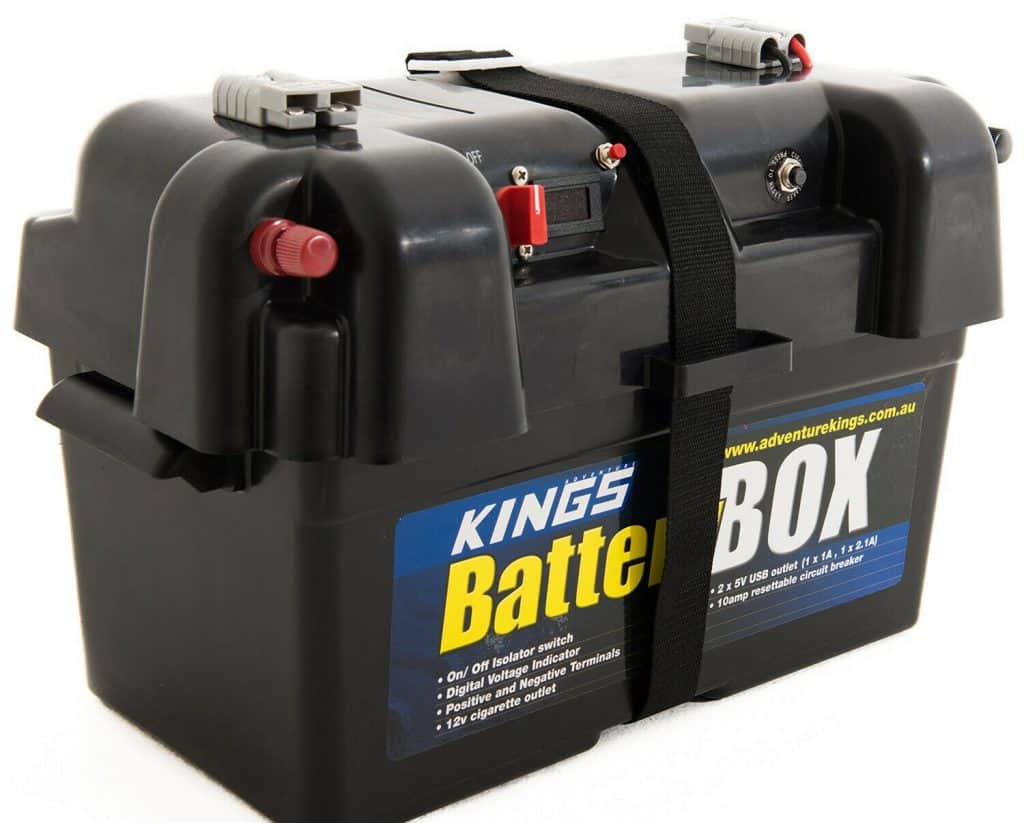 The Kings Battery Box is lightweight, minimalistic and ideal for off-road adventures. It is pre-wired so is quick and easy to set up and can be used with batteries up to N70 size.
This portable battery box has carry handles that let you move the unit around to where it is needed. It can also be mounted into your car or trailer.
This battery box offers basic features including a resettable circuit breaker, an isolator switch and external screw terminals. It also has a volt meter which isn't often seen on battery boxes of this price point. It also has 2 quick connect plugs for connecting a regulated solar panel.
With 2 USB ports and a cigarette plug there isn't quite as many connection options as the Engel. This is an excellent budget option that has everything you need for a weekend of camping.
The box comes with two USB ports and a mounted 12v cigarette socket, all with covers and overload protection. The 50 amp connectors also have fuse protection and there is a digital voltage meter on the top of the box so you can monitor the status.
This kit is not suitable for starting batteries or marine application but is an affordable option for weekend trips. Some users have found that the handle isn't as strong as it could be so if you carry the unit with a deep cycle battery installed then take extra care to ensure the handle doesn't break under the added weight.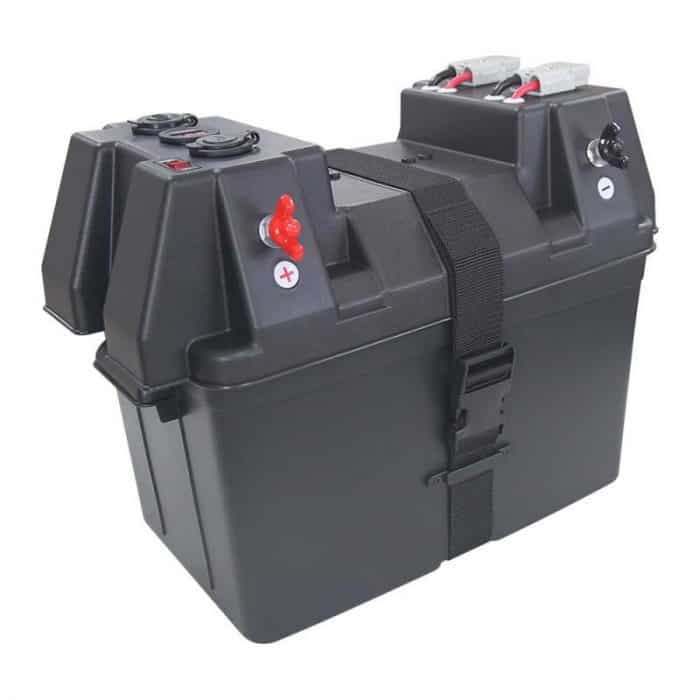 If you need a low cost battery box for occasional camping trips the XTM is a great option. This is may not be as robust as the ATEM Power battery boxes but does offer some great features.
The Vision 75Ah AGM Battery Box comes with the battery included. All in all this battery box weighs 22.5kg which is heavy but the weight is due to the battery.
The 12V deep cycle Vision battery has a 10 year design life and the unit comes with a 2 year warranty so it is reliable and you can expect good results from it use after use.
The unit includes bolt down terminals but there is no screen or indicator to let you monitor power usage and voltage.
This battery box measures 25.8 x 20.6 x 16.6cm which is one of the more compact units on this list. It won't take up much space making it ideal for your next camping trip.
This deep cycle battery from Giantz is a great option for off-grid adventures including 4WD vehicles and caravans. It is completely sealed making it spill proof and durable.
This is an AGM battery that can handle frequent charges without the performance being affected. It is a great choice of battery to use in battery boxes and measures 33 x 17.1 x 21.6cm meaning it could fit inside most of the battery boxes discussed above.
This battery weighs 25.5kg, slightly more than the Vision battery discussed above. Although the Giantz is a 100 amp hours 12V battery so it offers higher capacity than the slightly smaller 75Ah vision battery.
The battery has a carry handle for easily moving it around. The bolt down terminals help to create a strong, reliable connection even when on the move. This offers an impressive 1400 cycle life making it one of the longer lasting batteries on the market.
Battery Box Comparison Table
| | | | | | | | | | | | | | | | | |
| --- | --- | --- | --- | --- | --- | --- | --- | --- | --- | --- | --- | --- | --- | --- | --- | --- |
| Battery Box | Our Verdict | Check Price | Compatibility | Battery Size | Capacity | Weight | Size | 12V Socket | Anderson | External Terminals | USB | 300W Socket | 240V AC | 15A Merit | Solar Charging? | Warranty |
| Engel Smart Battery Box v2 | Best Overall | Tentworld | Lithium, Gel, Calcium, AGM, Lead Acid | Up to 33 x 18 x 23.8cm | Up to 130Ah battery | 4.62kg | 44 x 24 x 32.7cm | Yes | Yes | Yes | Yes | Yes | No | No | Yes (regulator required) | 1 year |
| ATEM Power Battery Box | Best Value | Amazon | AGM | Up to 39.3 x 18.3 x 21.5cm | Not listed | 0.9kg | 45 x 27 x 24.5cm | Yes | Yes | Yes | Yes | No | No | No | Yes | 2 years |
| XTM Power Box | Also Great | BCF | AGM | Up to 32.5 x 18.5 x 20cm | Up to 100Ah | Not Listed | Not Listed | Yes | No | No | Yes | No | No | No | Yes | N/A |
| Kings Battery Box | Best Budget Option | Adventure Kings | AGM | Up to 36 x 18.5 x 23cm | Up to 120Ah | 1.6kg | 28 x 26.5 x 44cm | Yes | Yes | No | Yes | No | No | No | Yes | N/A |
| Projecta 12V Power Hub | Best All-Rounder | My Generator | Wet, AGM, Gel, Calcium, Lead Acid | Up to 33.8 x 17.7 x 23cm | Up to 123Ah | 5.5kg | 39 x 23.5 x 33.7cm | Yes | No | Yes | Yes | No | Yes | Yes | No | 1 year |
| Vision 75Ah | Also Great | eBay | N/A | 25.8 x 20.6 x 16.6cm | 75Ah | 22.5kg | 25.8 x 20.6 x 16.6cm | n/a | n/a | n/a | n/a | n/a | n/a | n/a | No | 2 years |
| Giantz 100Ah | Also Great | Amazon | N/A | 33 x 17.1 x 21.6cm | 100Ah | 25.5kg | 33 x 17.1 x 21.6cm | n/a | n/a | n/a | n/a | n/a | n/a | n/a | Yes | 1 year |
Battery Box Buying Guide
Finding the best battery box for your off-grid adventures involves considering your specific needs and application. As you begin to compare the options, you will notice each battery box has their own advantages and disadvantages. This buying guide will help you find the best option for your power requirements.
Key factors to consider
Size
The battery box should be relatively lightweight, secure and easy to move. The size of the portable power boxes reviewed above vary from 28 x 26.5 x 44cm to 45 x 27 x 24.5cm. The best option for you will depend on the outputs, features and the size of the battery you plan to use with the battery box.
You can usually adjust the internal space to secure smaller batteries inside the battery box which is why the battery size listings are often "up to" a certain size rather than one size only. This is very useful for using different deep cycle batteries in your power pack.
Battery Types
If you are planning to use a lithium deep cycle battery with your portable power pack then you will need to find a battery box that is compatible with this more advanced power technology. Of all of the battery boxes we discussed, the Engel Smart Battery Box Series 2 is the only one listed above that is able to handle lithium batteries.
Most battery boxes are designed to work with AGM lead acid battery types but calcium, gel and wet are often compatible too.
Carry Handle
Battery boxes are usually made of plastic so shouldn't weigh too much on their own. The deep cycle battery is the heavy part and the box should be able to hold the battery safely and securely. A heavy duty battery box needs to have strong carry handles that allow you to move the portable power pack to exactly where it is needed.
Most battery boxes have either moulded carry handles on the sides of the box or a folding handle positioned at the top of the box. Both are good but the top handle needs to be strong and secure in order to handle the weight of the battery without breaking.
Outputs
A battery box is a portable power station and one of the big conveniences is having multiple outputs so you can charge and run a range of devices and appliances from the battery. Take a look at the type and number of outputs on offer as it varies between models. Common output ports include:
12 volt charging port
12 volt cigarette socket
USB charging port
Merit Plug
Engel socket
External terminals
Generally speaking, as the amount of power outputs increases so does the price of the unit. With this in mind, it is cost effective to choose a battery box that offers what you need without too many extras.
Inverter
Some battery boxes such as the Projecta 12V Portable Power Hub come with an inverter that lets you power small 240v devices and sensitive electrical equipment. Having a pure sine wave inverter increases the price of the battery box so it is worth considering whether or not it is important for your planned uses.
Display
A display lets you monitor the charge level of the battery while it is in use. This is extremely useful so you know how much power you are using and when you need to charge the battery. Some displays also show the current voltage and others have indicator lights that let you know the battery charge status (charging, fully charged etc.).
Cheaper units tend not to offer a display but it is one of the features that is worth spending a few extra dollars as it gives you important information that will help you get the most from your power source.
Charging
One of the great things about battery boxes is that they can be charged in different ways. Most come with positive and negative power terminals that let you connect to different battery chargers and others also include Anderson plugs too (ideal if you want to charge with solar). Consider how you will be charging the battery box and make sure the unit you choose offers the compatibility required.
Solar
Many of the battery boxes we have reviewed are able to work with solar panels. However, the solar panel should have an external voltage regulator in order to work with the battery box. The best way to connect the solar power to the battery box is by using an Anderson plug as this is both sturdy and convenient.
Warranty
A 1 – 2 year warranty is standard for a battery box. The best battery box warranty on our list is 2 years, offered with the ATEM Power Battery Box.
Other Features
The final feature that it is worth noting is that some battery boxes can be used for high power/ high current needs such as jump starting your car battery while others cannot. If this is something you would like from your battery box make sure you look out for this in the specs. Many battery boxes have fuses and circuit protectors that prevent high current and high levels of power from being used.
Dual Battery vs Battery Box
A dual battery requires a higher initial investment but offers reliability and convenience while a battery box offers more flexibility, portability and can be charged from multiple sources. Choosing between the two can be a challenge, below we've taken a closer look at the pros and cons to help you decide which is best for your battery set up.
Battery Box
A battery box is a very useful piece of equipment that can help your battery management system run smoothly. It makes it easy to access various plugs and connection types and the battery can be removed or replaced as needed. Battery boxes are great for use in vehicles or for outdoor trips.
Advantages
Requires no modifications to the vehicles electrics
Portable
Flexible – can use them anywhere and change batteries easily
Can be charged via car, solar or generator
Disadvantages
Heavy and large (with a battery inside)
Need to be recharged after use
Dual Batteries
A dual battery system is created using the vehicle's existing battery plus an additional second battery.
Advantages
Convenient
Reliable
Integrated into the vehicle's system – charges via an alternator
More compact than a battery box
Disadvantages
High cost
High installation cost (where professional installation is used)
Modifications to the vehicle's electrics and structure necessary