Connecting your iPhone to your car's head unit is effortless with Apple CarPlay. This infotainment system allows you to use voice control, send text messages and make phone calls and access a variety of apps such as Spotify or Apple Maps in a safe, distraction-free way while you drive.
There are lots of head units available so we've created this guide to help you find the best Apple CarPlay Head Unit for your vehicle.
Apple Carplay Head Unit Comparison Table
| | | | | | | | | |
| --- | --- | --- | --- | --- | --- | --- | --- | --- |
| Head Unit | Our Verdict | Display Size | Wireless or USB | Screen Type | Inputs | Bluetooth | Wi-Fi | Check Price |
| Kenwood DDX920WDABS | Best Overall | 6.8″ | Both | Capacitive | USB, CD, Cameras, RCA pre-outs | Yes | Yes | Automotive Superstore |
| Eonon GA9453B | Best Value | 9″ | Wireless | IPS | Micro SD, Aux | Yes | No | Amazon |
| Kenwood DMX9720XDS | Upgrade Pick | 10.1″ | Both | Capacitive | USB, Cameras, RCA pre-outs | Yes | Yes | eBay |
| Sony XAV-AX1000 | Budget Friendly | 6.2″ | USB | Resistive | USB, Aux, Cameras | Yes | No | eBay |
| Pioneer DMH-Z5350BT | Most Customisable | 7″ | USB | Capacitive | USB, Aux, Cameras | Yes | No | eBay |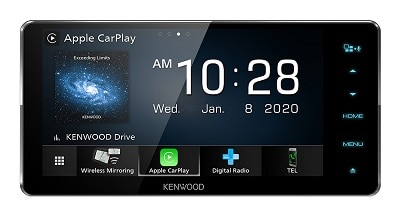 This double din Apple CarPlay head unit from Kenwood is a hugely popular option thanks to its sleek, premium appearance and wide range of useful features.
This is the upgrade from the 2019 DDX919WS and offers a couple of new capabilities compared to that model. The biggest change is the inclusion of the DAB+ receiver, this means you can now enjoy DAB+ radio and retain all features of the car stereo using one unit. This gives you more entertainment options with excellent signal and sound quality.
Another new feature of the upgraded DDX920WDABS is the inclusion of USB mirroring, this provides added versatility and connection capabilities. There is no HDMI input on the new model but this shouldn't be an issue unless you have a specific device you want to use.
The DDX920WDABS is a 200mm Toyota Style display meaning the size and appearance fits perfectly with Toyota vehicles. This head unit is an all-in-one option, offering wireless Apple CarPlay as well as USB connections, it can wirelessly connect to two devices at once and it also has dual 1.5A charging ports.
When it comes to operating this Kenwood CarPlay head unit the vibrant, HD display has a touchscreen and the key navigation controls are to the right-hand side of the screen. You can also enjoy hands-free voice control with Siri and Google Assistant. The screen is adjustable with different viewing angles which means it is easy to stop glare so you can clearly see the screen whatever the weather.
As you can see, there are loads of features on this Kenwood Apple CarPlay head unit. It also has three camera inputs and is HD front/ rear camera ready. It also has 3 X 5V RCA pre-outs so you can set up additional speakers and amplifiers with ease. The Digital Time Alignment feature helps you get the most out of the car stereo by synchronising the output of the speakers to provide a rich and immersive sound.
This double din head unit from Eonon is an Android 10 stereo system that is designed for use with Volkswagen, SEAT and SKODA vehicles. It offers all the features you need to utilize Apple CarPlay while still having access to GPS navigation and car radio. As the unit is compatible with most steering wheel controls you can switch songs, turn the volume up/down and more without needing to look at the screen.
The 9 inch IPS screen is easy to see and read at any angle which is important because unlike competitor units once installed the screen cannot be moved to prevent glare or improve visibility. The colours are accurate and touch controls are responsive. Installation of the GA9453B unit may seem initially daunting as there are lots of wires and adapters in the pack but connecting it up is simple and the instruction booklet is easy to follow.
This version is different to the GA9453 as it has a built-in DPS 30-band graphic equaliser. This lets you tailor the equaliser settings to provide the best audio experience. It uses the Android 10 system which is newer, faster and more responsive.
Key features of this head unit include Bluetooth and wifi connection, there is no USB port built-in but the set does come with an adapter cable. Unlike the Kenwood DDX920WDABS reviewed above, this Eonon unit lacks a CD or DVD function.
This Apple CarPlay unit is compatible with the iPhone 5 and later models. Once connected and up and running there is a split-screen function that lets you run 2 apps side by side at the same time. This is a useful feature when you want to view apple maps but still see the radio or music streaming information on the screen too.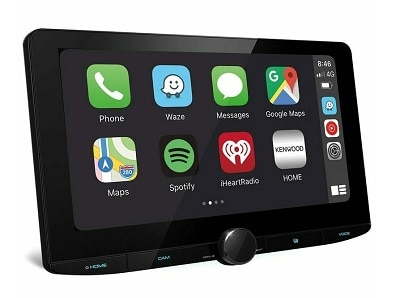 This huge 10.1″ Apple CarPlay Head Unit from Kenwood looks great and is packed with all the features you could want. The large floating display is completely adjustable, it has a universally compatible head unit with multiple mounting options allowing you to mount it to suit your vehicle. It features a very responsive touch screen that does a great job of not reflecting the sun so you can always see the screen.
The DMX9720XDS offers wireless Apple CarPlay, DAB+ radio, has a HDMI input and a single USB input. The USB input allows access to Android Auto so that's useful if your partner wants to connect their Android smartphone during a long trip. It also has 4 camera inputs, dual Bluetooth connection and can play high resolution audio (wired and wireless). This stereo does not have a CD or DVD reader but you can continue to enjoy radio and music through your iPhone or through Bluetooth.
One of the exciting developments of this Apple CarPlay head unit is the inclusion of the iDatalink port. This is something we haven't seen on any other models. It is a software comms port that allows a lot of the car information and data to be displayed on the screen. When plugged in you should be able to access a range of info such as tyre pressure on the screen of your Kenwood unit.
One of the other features that users are very appreciative of is the inclusion of an analogue volume dial, this is a simple addition but is something that is rarely included on these double din head units.
There is also a wireless mirroring feature but it doesn't work with the Apple iPhone (this is due to Apple, not Kenwood). However, if this is something you want to utilise the Kenwood app may have a feature that allows you to use the mirroring on an iPhone.
The Sony XAV-AX1000 is a 6.2″ budget-friendly double din unit for Apple CarPlay. It offers great functionality and has a touch screen for ease of use, although it can't handle pinch or swipe movements as seen on some of the higher-end head units.
Installation is quick as it is compact and offers good cable management options. It has a front USB port as well as an aux input making the connections easily accessible. The head unit will stick out a small amount when it is installed so it may not be the best option if you are looking for something that sits flush.
The front of the Sony XAV-AX1000 also has a volume control wheel which can be used to navigate the settings too. The Apple CarPlay feature will only work when your iPhone is plugged in rather than connected wirelessly. The stereo head unit also offers Bluetooth connectivity but this won't give you full access to Apple CarPlay.
You can enjoy high audio quality with this unit and the Dynamic Stage Organiser is essentially virtual speakers that provide clear sound with excellent clarity and no distortion. Using this feature improves the speaker positioning virtually to give you the best sound experience.
Although not as popular on car stereos anymore, it is worth noting there is no CD player on this model. There is a dedicated rearview camera input so users can have peace of mind when reversing or parking. Overall, this is a great low price option but it does lack some of the personalisation and customisation features seen on other models such as the Pioneer DMH-Z5350BT.
This Apple CarPlay unit from Pioneer is one of the most customisable options available. It is full of personalisation settings so you can create a home screen and interface you love the look and feel of. The 7-inch interface works like most smartphones and you can rearrange the app layout to sure all of your most-used phone apps are positioned for quick access.
This has the same user interface as previous versions but it now has a 7-inch high-resolution capacitive touch screen. This is a big step for the Pioneer product range as it was the one key feature everyone wanted. Now it has touchscreen capabilities you can easily navigate the menu and adjust the apps and settings.
You can also adjust the illumination colour of the control buttons to match your in-car lighting. This brings a smart and seamless look to the whole setup.
The DMH-Z5350BT is a mid-range option that supports both Apple CarPlay and Android Auto. You can connect two devices through Bluetooth simultaneously but you need to plug your iPhone in to access the Apple CarPlay features. The system is excellent value for money but offers Wired Apple CarPlay only.
If you are looking to expand your system the Pioneer DMH-Z5350BT is a good option as it includes dual camera inputs as well as 3 X 4V pre-outs for speakers. There is no CD drive so if you still want to be able to play CDs this isn't the option to choose.
Apple Carplay Head Unit Buying Guide
Infotainment systems are one of the must-haves for modern vehicles. CarPlay combines apps, music streaming, phone calls, messages and navigation needs in one system.
Investing in an aftermarket head unit is a cost-effective way to enjoy all of the connectivity and convenience of Apple CarPlay. As there are many Apple CarPlay head units available, this guide will help you make sure you choose one that meets your requirements.
USB Vs Wireless
A wired USB connection is not as quick or convenient as wireless which is why wireless CarPlay options are generally more popular. A wireless CarPlay connection is seamless, versatile and keeps your car free from wires and clutter. Wireless Apple CarPlay units do generally cost more so if you are looking for a budget-friendly CarPlay you may find the wired option to be worthwhile.
Many Apple CarPlay units can still support Android Auto when the Android device is plugged into the vehicle.
Display
Look for at least a 6-inch touchscreen when choosing a new car stereo display. The best display for an Apple CarPlay head unit depends on your preferences and how much space you have in your vehicle but a 6.8 – 9 inch touchscreen is generally the range you will find.
The Kenwood DMX9720XDS is a huge 10.1-inch screen that is amazing and works incredibly but it does take up a lot of room so make sure it will fit nicely in your car before buying.
Capacitive Touchscreen Vs Resistive Touchscreen
When choosing your new Apple CarPlay system you may notice the product talks about a certain type of touchscreen. These are the two you are likely to come across:
A capacitive touchscreen works by detecting changes in electrical conductivity rather than pressure, it is a durable option that displays sharper images. It is a much more responsive screen type so it reacts to sensitive touch, is very reliable and can also provide multi-touch sensing.
Resistive means the touchscreen relies on pressure to work. They are lower cost, have a higher resistance and a higher sensor resolution and they are less likely to respond to accidental touches. The downside to this is that they don't tend to respond to light touch and they won't respond if you are wearing gloves.
If you want the Apple CarPlay Head Unit display to work more like a smartphone then the best Apple CarPlay Head Unit for you will have a capacitive touchscreen rather than a resistive one.
Connectivity
For ease of use and added convenience, look for an Apple CarPlay Head Unit that has multiple inputs and ports (e.g. USB input, aux input and Bluetooth) so you can connect whatever devices you want.
Sound Quality
This is your car stereo so the sound quality is an important factor. Look out for options that include HD radio, stereo equaliser options and music controls so you can get the best from your car audio. Expanding your car's stereos by adding speakers can help produce an immersive audio experience so look out for units with pre-outs.
Ease of Use
A head unit and car stereo should be simple to navigate and easy to use. The whole point of an Apple CarPlay Head Unit is that it makes it safe for you to access the features of your smartphone while you drive. Therefore it needs to be user-friendly.
Connecting your iPhone should be seamless and switching between the variety of functions should be intuitive. Voice control is a must for composing messages and making calls. Some head units let you split the screen so you can view two applications at once side by side, this can be helpful if you are using a navigation app and you still want to see messages or music information too.
Compatibility
Many of the Apple CarPlay units also work with Android Auto. Even if you use an iPhone, you may want to consider a unit that offers Android Auto compatibility in case you change your smartphone or your friends/ family use your vehicle and want to connect up their phone too.
While not essential, a quick look at phone compatibility and connectivity options can save headaches later on down the road.