If your car stereo needs upgrading don't settle for basic replacement head units with limited features. Treat yourself to a high-quality and reliable Android Auto head unit – the ultimate navigation and entertainment experience when you're on four wheels. Seamlessly stream music and live traffic updates from your Android phone. Want to know more? Here's how to choose the very best Android Auto head unit for your specific needs.
Comparison Table
| | | | | | | | | |
| --- | --- | --- | --- | --- | --- | --- | --- | --- |
| Head Unit | Our Verdict | Display Size | Wireless | Dual Bluetooth | AUX input | Reverse Camera Input | DAB+ Tuner | Check Price |
| Atoto A6 Pro Gesture | Best Overall | 7″ | No | Yes | Front | Yes | Yes | Amazon |
| Atoto A6 Pro | Best Value | 7″ | No | Yes | Front | Yes | Yes | Amazon |
| Kenwood DDX9020DABS | Upgrade Pick | 6.75″ | Yes | Yes | None | Yes | Yes | eBay |
| Sony XAV-AX5000 | | 6.95″ | No | No | None | Yes | No | eBay |
| Alpine iLX-F309E HALO9 | | 9″ | No | No | Rear | Yes | Yes | eBay |
| Pioneer AVH-Z5250BT | | 6.8″ | No | No | Rear | Yes | No | eBay |
The A6 Pro Gesture Android Car Navigation Stereo is Atoto's most technically advanced model, packed with essential features. Specially designed to make it both simple and safe to stay in touch and entertained when you're on the road, the 7-inch full HD capacitive touchscreen display has a 178-degree full-viewing angle and an extra fast boot time of under two seconds. 
Navigation is easy, thanks to pre installed Google Maps, complete with a built-in GPS receiver and external antenna. Connect your Android phone via WiFi, USB or Bluetooth to stream your favourite audio tracks. There are three USB interfaces, plus one Micro SD slot for all of your media file devices. Mirror your phone screen, this unit pairs in just seconds with two easy steps.
Keep your eyes on the road with Gesture Control and quickly switch tracks, adjust volume or access apps with simple movements. Update the system firmware to benefit from your smartphone voice assistance via Bluetooth for hand free calls and messaging. Complete with a rear camera input, 2A rapid phone charging and a powerful Toshiba preamplifier, for the price, it's a top choice head unit.
If you're on a budget, the ATOTO A6 Double Din Android Car Navigation Stereo makes an unbeatable value-for-money buy, packed with extremely useful features at a low price. With its SoC chip, not all PlayStore apps are compatible, however, unlike premium models, it has an ultra-fast boot up time of just two seconds so you can get on the move straight away.
Listen to your favourite radio stations with the built-in FM/AM radio tuner or connect your USB device and play your entire music library in your car. Thanks to its dual Bluetooth chips, you can also stream tracks from your smartphone or use it to access the internet. Installing the "Hound" app allows you to use voice dialling for hands free calling and safer driving. 
Google maps is conveniently pre installed and it is very easy to navigate thanks to the full HD 7-inch touchscreen display that features a built-in GPS receiver and external antenna. Complete with three USB interfaces, a micro SD card slot, plus an AUX audio and video input, your entertainment options are virtually unlimited. There is also an input for a reverse camera to make parking easier than ever.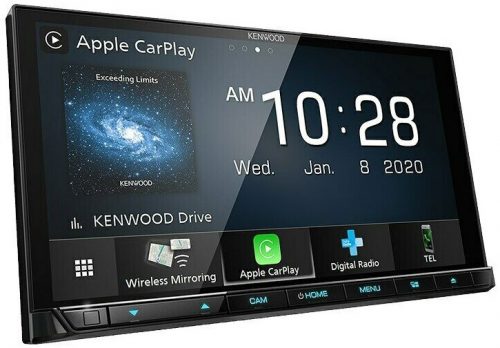 Treat yourself to the Kenwood DDX9020DABS., one of the very best units for music lovers or anyone who spends long days on the road. Apple CarPlay and Wireless Android Auto compatible, stream audio, send SMS, make calls and navigate all hands free with Google Assistant. Two phone fulltime connectivity allows you to answer both your work and personal phones when you're on the road. 
Dual 1.5A fast-charge USB ports keep both of your phones or electronic devices charged up all day, while wireless mirroring for Android smartphones allows you to share your content with passengers. The highly impressive 6.8-inch capacitive display gives you touch access, as well as a CD player, DAB+ digital HD radio tuner and three camera inputs for your rear view cameras and dashcam. 
Upgrade your stereo system simultaneously with the three 5V RCA preouts for additional amps and speakers, for a customisable configuration. Use the 13 band equaliser to get your tunes sounding just right or Kenwood's Digital Time Alignment to create a richer, more immersive sound quality with next to no configuration. The DDX9020 is one of our top choice double din head units to make long journeys fly by.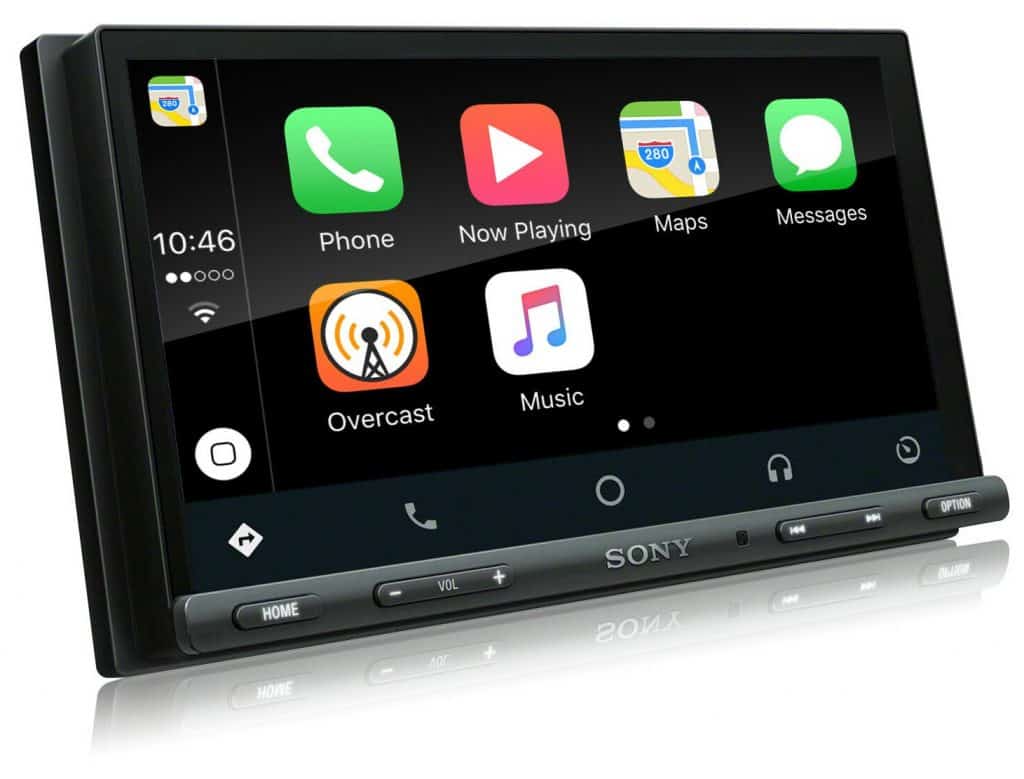 With its stylish bezel-less 6.95 inch touchscreen display and clear amplification, if you are looking for a double din android audio head unit that looks as good as it sounds, the Sony XAV-AX500 makes a great choice. It comes with a remote control for when your passengers want to play DJ, as well as easy-to-navigate buttons, so you can keep your eyes on the road.
Take advantage of the dual USB ports to hook up your music library storage device and your smartphone simultaneously. The built-in 4 x 55W Dynamic Reality Amp 2 amplifiers give you detailed and powerful sound quality, while the three RCA preouts give you the option to customise your sound with additional amps and subwoofers. A must for music lovers.
Rear-view camera ready, this unit has customisable and removable guidelines to assist parking. Use voice control via Bluetooth with Android Auto or Apple CarPlay to stay in touch safely when you're on the go. The external microphone ensures your calls will be much clearer with reduced background noise. In short, this Android auto head unit is easy to use and install, plus it's a great looking model.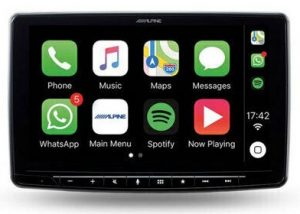 The feature-packed Alpine iLX-F309E is one of the most advanced Android auto head units on the market. While it doesn't come cheap, it is most definitely well worth the extra cash if you are looking for a premium brand model that boasts HDMI, USB and Bluetooth connectivity, plus CAN-UART compatibility to display your vehicle's park assist and climate control information on screen. 
The large nine-inch capacitive touchscreen is highly intuitive. Despite its size, it comes with a single DIN chassis, making it compatible with a wide variety of car models. Plus you can adjust the display angle and height to ensure your air vents or buttons aren't obstructed. You also get an automatic setting change for two users, a white LED backlighting system and a choice of illumination colours.
Android Auto and Apple CarPlay compatible, use your voice to access messages, make phone calls, to navigate, use Spotify or play music. There is also a steering wheel control function, four 50W high power amps, DAB+ Digital Radio and an RCA input for your rear view camera. For safe driving and entertainment on the go, this is without a doubt one of the very best Android auto head units around.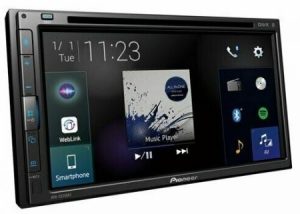 Looking for a good-value Android auto head unit with a physical DVD drive and CD player? The AVH-Z5259BT by top brand Pioneer is a popular choice at a reasonable price. Easy to use, with a highly customisable 6.8-inch touchscreen that offers a similar interface to your Android phone, you can even simultaneously connect and control two smartphones via its dual Bluetooth connection. 
Stay entertained on the road with Spotify Connect via your smartphone's Bluetooth connection, use the USB port with your music storage device, Weblink, or the built-in FM/AM radio tuner with presets. Just be aware that there is only one USB port and this Pioneer unit does not have a DAB+ HD radio tuner. Dual camera inputs for your rear camera help to ensure safer parking.
For music lovers, Pioneer has done a great job with its integrated Specialized Audio Parts for impressive car audio control and sound quality levels. Complete with an Auto Time Alignment Function, Auto EQ plus a 13 Band Graphic EQ, as well as an Advanced Sound Retrieve and three 4V RCS preouts, it's a great all-round choice for improving your existing car sound system.
Android Auto Head Unit Buying Guide
Before you take the plunge and upgrade your car stereo, make sure you know exactly what you need to look out for in an Android auto head unit. We'll cover all the essential features in our buyer's guide, so you can make your purchase with confidence.
Android Auto vs full Android head unit
Android Auto was created to allow you to keep your car navigation and stereo system up to date, as well as staying in touch safely on the road. It's an increasingly popular Android app that is available to download on smartphones running Android 9 or under and it even comes built-in with Android 10. 
Play content off your smartphone through your car stereo, enjoy HD radio, navigate with up to date maps courtesy of Google Maps and Waze, answer calls and send messages hands free – there are numerous advantages to using Android Auto. But do you need a full Android head unit?
While some older systems just aren't compatible with Android Auto, meaning you need a full Android Auto head unit, you may decide to upgrade to a full unit even if yours is compatible. Full Android Auto head units are designed with user-friendly interfaces, advanced intuitive touchscreens, an easy connection to your smartphone and are compatible with a multitude of useful apps.
Chances are, you are going to have the best experience upgrading to a full Android head unit, so you can prioritise your preferences and choose a device that really works for you.  
USB vs wireless
Bluetooth wireless connectivity is a good choice if you're often in and out of your car on short journeys. However, before you pay up for a Bluetooth wireless Android Auto head unit, bear in mind that for longer journeys, or when you've been using your phone a lot, you're going to want to plug in regardless to charge it up via your head unit's USB port. 
So while connecting your smartphone and other devices wirelessly through Bluetooth is a great option to have, wireless Android Auto isn't absolutely essential and you will occasionally still want to plug in your devices nonetheless.
RELATED: The Best Heads up Display
Installation
In most cases, Android Auto head unit installation is relatively straight-forward provided you have a little knowledge and plenty of patience. All of the most popular models (Pioneer, Kenwood etc) have well documented installations online to give you an idea of what you'll need. Otherwise, you can get yours installed professionally for a reasonable fee.
Compatibility with vehicle
Before you purchase, you'll need to make sure that your unit is compatible with your vehicle. If your current stereo is a single DIN, then you will need a single DIN replacement unit for a flush fit. Likewise, double DIN models are replaced with double DIN head units. 
Otherwise, if you want a large double DIN screen but only have space for a single DIN, opt for a floating screen with a single DIN chassis. Steering wheel control compatibility with an aftermarket device will usually require some sort of adaptor – so make enquiries first if this is important to you. 
Other Important Features
Power output – if your car doesn't have an onboard amplifier, you'll need to  make sure your Android Auto head unit has an equivalent RMS power rating to the unit you're removing. The higher the watts, the more power is sent out to your speakers. 
Preamp voltage – if you are looking to add an external amplifier, make sure that your new head unit has at least a 4V preamp output. More pre-amp power means you can turn up the volume higher with less distortion.
D/A converters – all car stereos have Digital to Analogue convertors to playback digital audio. For the best sound quality look for a device from well-known brands such as Pioneer, Alpine or Kenwood.
UI – screen size, touchscreens and buttons all affect how easy your head unit is to control. Large screens with prominent lower buttons make for easier use without having to divert your eyes too long from the road. 
HDMI input/output – opt for a head unit with a HDMI input to watch HD video content on your screen when you're parked up. 
Volume control –  whether you opt for a head unit with a volume knob or buttons, make sure they are located in a position that is easy to access when driving.
Multiple USB – multiple USB inputs allow you to charge up more than one phone or multiple USB devices simultaneously. 
Floating screen – if you want a large touchscreen but only have space for a single car stereo DIN unit, opt for a floating screen with a single DIN chassis.
iDatalink – when connected via iDatalink, compatible head units can display car factory infotainment features and vehicle information on screen.