All-terrain tyres are a great option for vehicles that spend most of their time on the tarmac but need something that can occasionally handle rougher terrain.
While it's easy to go and buy the first set you look at, finding tyres that best fit your needs requires a little more consideration.
In this guide, we've rounded up the most popular 4×4 tyres in Australia and assessed them against a range of criteria including on and off-road handling, noise and comfort, and durability.
Whether you're a novice or an experienced 4×4 owner, hopefully this will help you make a more informed choice.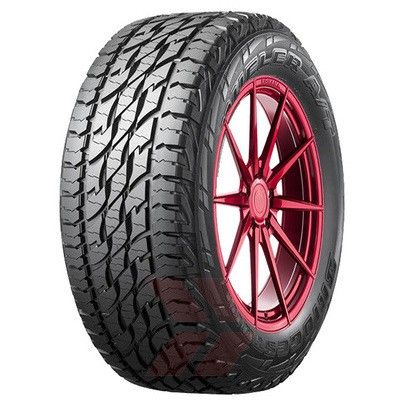 For the weekend warrior who needs a car capable of comfortable weekly commutes, the less-aggressive 697 is a good choice. With puncture resistance that has been proven to withstand more abuse than many of its competitors, the Bridgey is unlikely to leave you stranded, thanks to its Light Truck (LT) construction.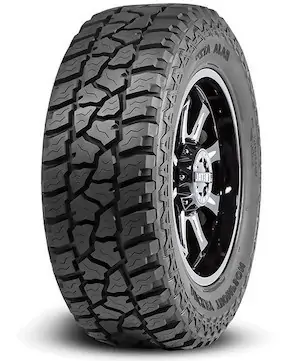 Mickey Thompson's ATZ P3 is one of the most off-road biased tyres on this list, and when you check out the wide, chunky tread pattern it's easy to see why. With big stone ejector ribs for better puncture resistance and side biters for both increased traction and sidewall protection, the Baja has many traits commonly found on a M/T tyre.
That said, a silica-rich rubber compound and big tread blocks make it a winner for on-road performance by maximising traction when cornering.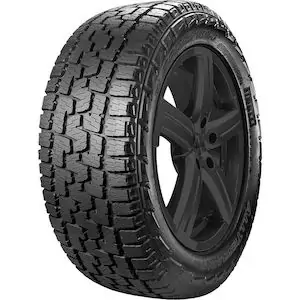 The attractive-looking Scorpion has been around for a while, and features a design more suited to off-roading than the Scorpion ATR it replaced. With plenty of tread sipes and irregular tread blocks, wet-weather traction on a variety of surfaces is at the forefront of this tyre's USP, including mud and snow.
The AT+ has good stone-ejection capability which is a plus off-road, along with stiff and reinforced sidewalls. Considering their overall on-road bias, off-road ability remains high.
RELATED: Pirelli Scorpion ATR vs Bridgestone Dueler
The AT3LT's high-silica and rubber compound helps make it a high-grip, high-mileage tyre. Light Truck construction maximises durability and the deep tread further protects the tyre from punctures, too. Cooper's "Gentle Whisper Groove Shields" in the tread pattern are claimed to reduce tyre noise by as much as 20%, making it a fine choice for those where touring comfort is a priority.
RELATED: Bridgestone Dueler D697 Vs Cooper AT3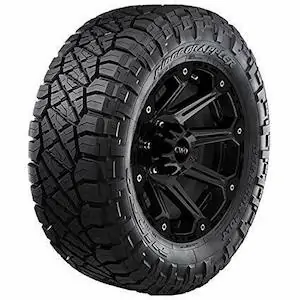 The Ridge Grappler is an interesting choice here, walking the line between conservative A/T and more hardcore M/T tyre. With designs considerations like being able to choose between a 2-ply or 3-ply sidewall construction (depending on the tyre size), the driver can therefore choose to maximise daily comfort or off-road prowess.
The tread design takes elements from both Nitto's Terra Grappler A/T like staggered shoulder lugs for increased off-road traction, as well as the Trail Grappler M/T, with a higher void ratio to better clear mud and gravel away to better deal with off-roading. It is the unique lateral Z-grooves that really bite into any surface that sets the Ridge Grappler apart from other A/T tyres.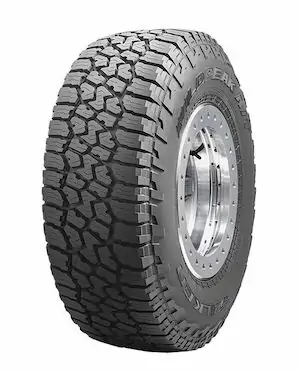 Falken has worked hard on the AT3W to bring a tyre to market that can go off-road, tour, and handle heavy loads. You can see in the lower sidewall geometric ridges designed to dissipate heat, especially important when towing or fully laden, and a beefy upper sidewall to prevent damage from sharp rocks while on extreme trails.
The Falken Wildpeak also has tread blocks that incorporate support ramps and a step‐down profile to maintain rigidity, which improves handling stability on the road and maintains traction when off it.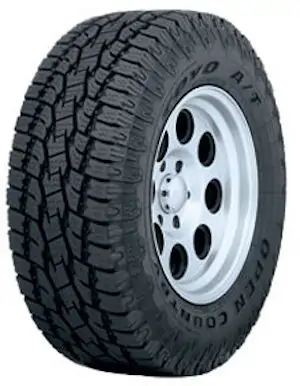 The Toyo Open Country has a strong following in Australia, with many repeat buyers. One of its strongest advantages is excellent mileage, with some drivers reporting over 100,000km from a set.
While hardly a one-trick pony, the Open Country does prioritise road performance, with a less-aggressive tread pattern giving it better driving characteristics on sealed roads. The tread blocks are joined by tie bars to further improve dry braking and overall handling for various on-road conditions.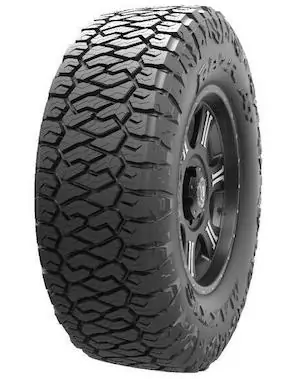 Saw-edge shoulder blocks, side-biter lugs, 3-ply sidewall construction, and a tough polyester carcass all point to a tyre that can handle a mix of conditions on unsealed trails and rough off-road tracks. Its robustness is highlighted by the fact it is almost exclusively available in LT construction, which will no doubt appeal to those spending more than just the occasional weekend off-road.
Maxxis' high elasticity lower sidewall filler compound is meant to significantly improve ride comfort, adding some more weight to its jack-of-all-trades persona.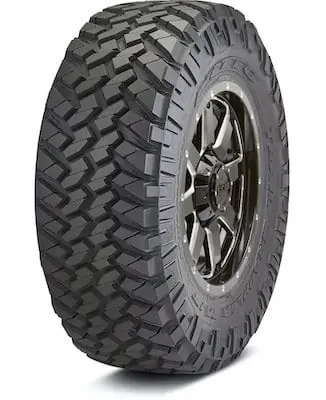 The Trail Grappler is a fully-fledged Mud Terrain, so why is it included here? Its overwhelming popularity helps, but it also provides a good comparison to All Terrain tyres.
You can see it has wider grooves that contribute to its high void ratio, so grip on loose, uneven surfaces is excellent. The aggressive sidewall design is also there to enhance both grip when the pressures are loose and protection from sharp stones and debris. It is a very heavy duty design.
These off-road attributes naturally reduce on-road performance, but when fitting these, or any M/Ts to your vehicle, that compromise often has to be accepted to ensure you can drive home again after any weekend our bush.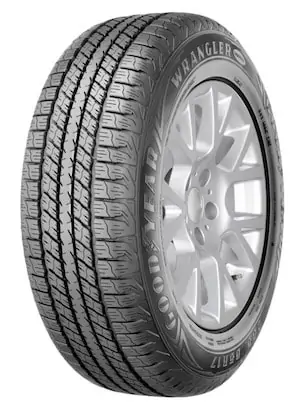 The AT SilentTrac is focussed on being a civilised and quiet 4×4 tyre, and it does this by having a thick, under-tread rubber layer and angle tread blocks designed to redirect wind noise; very clever.
The benefits don't stop at NVH (noise, vibration, and harshness), with a good tread pattern able to handle off-road work, better than average puncture resistance and good grip on loose surfaces. Both passenger and Light Truck versions are available, depending on the driving conditions expected.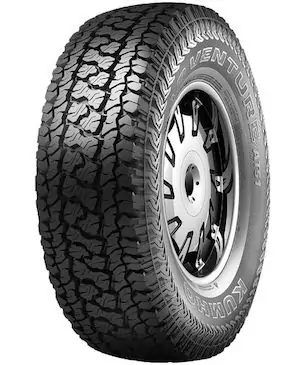 The AT51 subscribes to a similar 70:30 on-road:off-road bias like many other tyres here, with the chunky tread pattern and sipes designed to enhance wet performance on sealed and unsealed surfaces.
Good stone ejection ability and cut/chip resistance is vital for off-road driving, but this isn't at the expense of ride comfort and noise.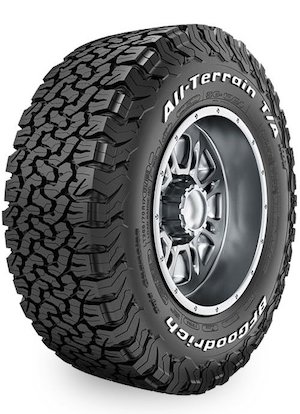 BFG says the KO2 is their toughest A/T tyre ever. This claim is backed by testing which shows the KO2 has 20% greater resistance against sidewall splitting, and 15% more mileage (thanks to a new tread design and rubber compound) compared to its predecessor, the KO.
The T/A KO2 has a 50:50 on-road:off-road split, meaning that while it sacrifices some on-road ability compared to other tyres here, it will go further off it.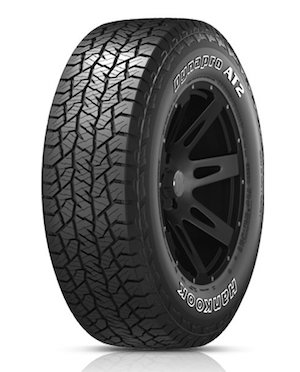 The Dynapro AT2's tread pattern is a good indication of its road-going bias; while it can handle some off-road work, it's designed to do most of its driving on the tarmac. Nylon-reinforced belts improve steering feel and performance, and Hankook claim it has better tyre wear than previous Dynapros.
The closely-grouped tread blocks minimise noise and enhance on-road grip, and a compound to boost cut and chip resistance, clawing some ground back on the off-road environment. Wet-weather performance is further improved with multi-way grooves and tread sipes helping to evacuate water quickly and efficiently.
AT Tyre Comparison Table
Use the below table to compare the tyres listed above. Each tyre has been rated with a score out of 10 for each category.
| | | | | | | |
| --- | --- | --- | --- | --- | --- | --- |
| Tyre | Rim Size (inches) | Road Handling | Off-Road Handling | Mud/Snow Performance | Noise & Comfort | Durability |
| Bridgestone Dueler A/T 697 | 15-18 | 7 | 6.5 | 6 | 6 | 8.5 |
| Mickey Thompson Baja Radial ATZ P3 | 15-22 | 6 | 9 | 8.5 | 5 | 9 |
| Pirelli Scorpion AT Plus | 16-20 | 8 | 7 | 8 | 8 | 8 |
| Cooper Tires AT3LT | 16-18 | 7.5 | 6.5 | 7.5 | 6 | 7 |
| Nitto Ridge Grappler | 16-22 | 6.5 | 8.5 | 8.5 | 7.5 | 9 |
| Falken Wildpeak AT3W | 15-20 | 7 | 6 | 8 | 8.5 | 6 |
| Toyo Open Country A/T II | 15-20 | 8.5 | 6 | 5.5 | 7 | 6 |
| Maxxis Razr AT811 | 15-20 | 6 | 8 | 8 | 5.5 | 7.5 |
| Nitto Trail Grappler | 15-20 | 4.5 | 10 | 9 | 5 | 9 |
| Goodyear Wrangler AT SilentTrac | 15-18 | 9 | 5 | 6 | 10 | 6 |
| Kumho Road Venture AT51 | 15-20 | 7.5 | 7 | 6 | 8 | 7 |
| BFGoodrich T/A KO2 | 15-20 | 6 | 8 | 9 | 6 | 9 |
| Hankook Dynapro AT2 | 16-20 | 9 | 5 | 6 | 8.5 | 6 |
All Terrain Tyre Buying Guide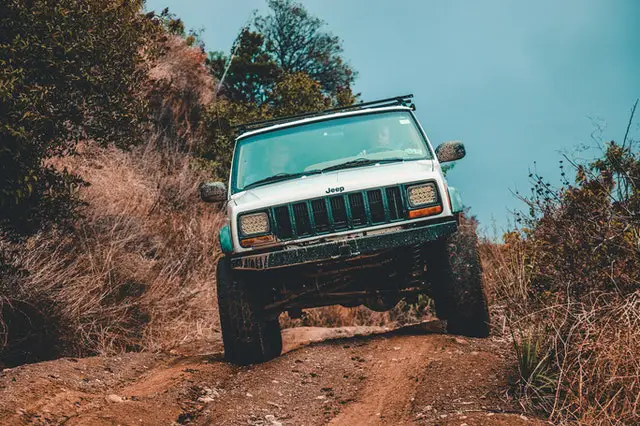 Highway-Terrain, All-Terrain, or Mud-Terrain?
Highway-Terrain (HT) tyres
While this guide looks mostly at A/T tyres, it might be worth considering the likelihood of you ever going on unsealed tracks and beyond.
There's no shame in buying a 4×4 because you need the space or load-lugging ability, but road-biased SUV tyres or Highway-Terrain (HT) tyres with more conservative, road-focussed tread patterns will mean a quieter and more comfortable ride, better braking and, most importantly, better handling.
A tyre like Cooper's CS5 Grand Touring will likely put most of the above tyres to shame with excellent on-road handling comfort levels, as well as low noise, but will suffer more in muddy off-road conditions (and ultimately not be at all suited for serious off-road work).
Mud Terrain (MT) tyres
Mud Terrain (MT) tyres have their place as well, and the way they handle mud (obviously), wet weather on unsealed roads, and their better off-road traction make them the go-to option if you're regularly using your 4×4 or truck off-road.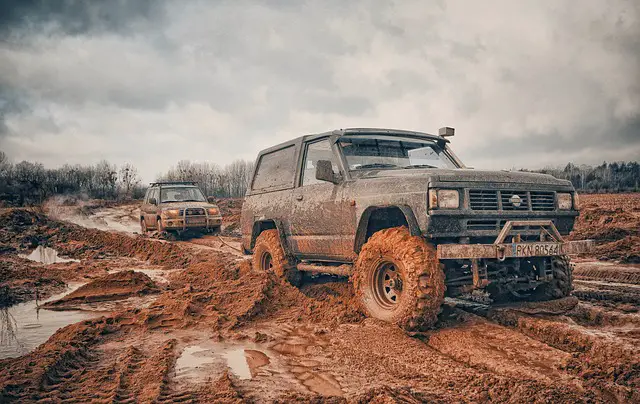 Just be aware of the trade-offs in on-road performance and road noise (not to mention also being thirstier with fuel). The aggressive tread is there for function, not form.
Mickey Thompson's Baja MTZ P3 will be noisy, uncomfortable, and probably offer less fuel economy, but what this MT tyre offers to the driver in terms of off-road ability and handling harsh conditions means it will go further than any A/T tyre can.
Key Considerations when Buying A/T tyres
While A/T tyres may be more or less grouped together, as you can see from above they can cover a wide range of attributes.
A tyre that performs well on tarmac is unlikely to perform as well off-road, and the opposite also applies.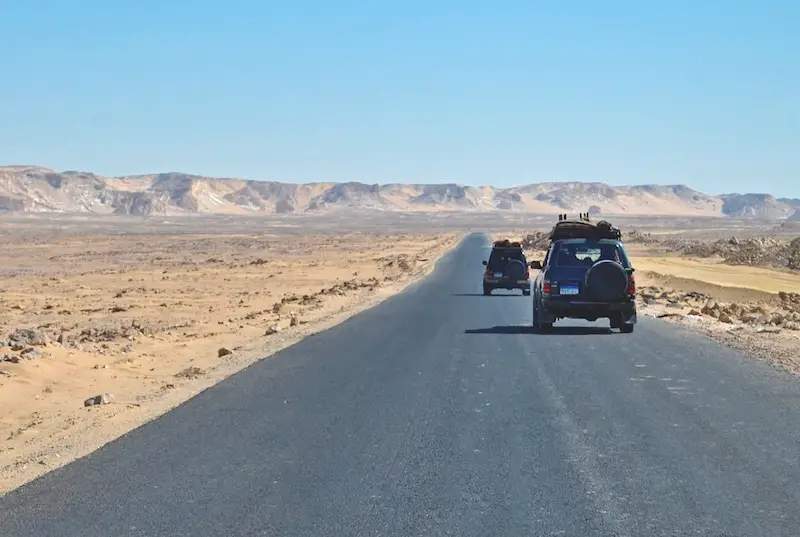 Buyers, therefore, need to be mindful of the attributes they are looking for in a tyre, and the sacrifices that will also have to be accepted.
The following categories are the main ones to consider during your search for new tyres:
Road handling. If you are spending the majority of your time on-road, how your 4×4 handles on tarmac is essential.
Off-road handling. If your 4×4 never ventures off-road, you should think twice about A/T tyres as there'll be better options. However, if weekends in the bush are frequent, this should be given due consideration.
Mud/snow performance. If you live in the highlands, tropics, or Tasmania, mud or snow won't be a rare occurrence. The tyre's tread pattern and compound are responsible for how well it handles these conditions.
Noise and comfort. A/T tyres will generate more road noise than H/T tyres, and while your chunky tyres might look great, you can't see them while you're driving and feeling every single bump in the road while listening to what sounds like helicopters all around you will quickly become tiresome.
Durability. This is a bigger factor for those doing a lot of off-road, as it is these varying conditions that test tyres the most. Puncture, chip, and cut resistance are paramount when miles from the nearest town.
Price. It can be a significant number, but many factors play a part in determining how much you should spend (which could easily be over $500 difference for a set of four tyres). Is a more expensive tyre worth the premium if it can handle more kilometres? If it gets punctured at the sight of a big stone, then it is fair to say it might not be money well spent, either. Lastly, what price do you put on safety? Cheap tyres are often cheap for a reason, and while no tyres here are a bad choice, plenty exist out there with limited research and development.
Size, Load and Speed Ratings
Before taking into consideration the various attributes of a tyre, you need to make sure the minimum requirements are meant for fitment to your truck or 4×4.
While it is normally possible to use a slightly wider or taller tyre, there's almost nothing to gain from using something smaller for off-roading.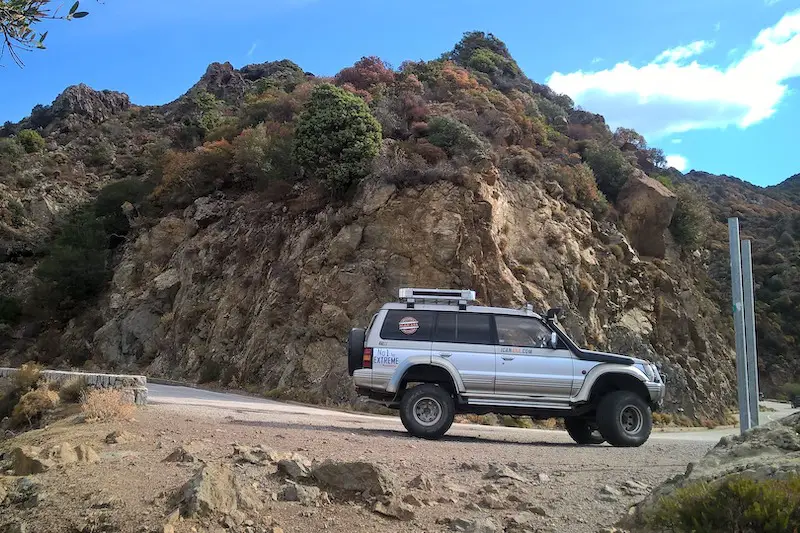 Likewise, tyres with a load and speed rating that is greater than the minimum required is also OK. If you lug around heavy loads, that is one reason to consider a tyre with a higher load rating.
Let's look at one example of an AT tyre, a pretty typical 265/65 R17 116T XL:
265 – This is the cross-section, or width, of the tyre measured in millimetres. It is what is in contact with the road, and where the tread pattern is cut into.
65 – This is the profile, or sidewall, of the tyre and is a percentage of the cross-section above. In this case, the sidewall is 65% of 265mm. Sports cars will generally have a lower profile, and 4x4s and SUVs higher profile.
R17 – R is a reference to the tyre being of radial construction, with over 95% of tyres sold today being radials. 17 means the tyre is meant to be mounted on a wheel 17 inches in diameter.
116 – This number refers to a tyre's maximum load rating index (the maximum weight each can carry). A load index of 116 means one tyre can carry a maximum load of 1250kg. Some tyres have two load ratings, like 121/118. This indicates the load rating for a single-wheel fitment on an axle (121, or 1450kg per tyre), and the load rating per tyre for a dual-wheel axle (118, or 1320kg per tyre). Most 4×4 owners only need to consider the first number.
T – This letter refers to the speed rating of the tyre, or the maximum it is designed for, in this case 190km/h. Tables for speed and load ratings can be found here.
XL – This means Extra Load, and is a sign the tyre is designed to carry a heavier load than expected of tyres in this particular size. It will therefore have a greater load rating.
Imperial tyre sizes
4×4 tyres continue to also be available in imperial measurements, for example, a 31×10.5 R15:
31 – This is the overall diameter of the tyre in inches; so at 31″ across, this tyre is almost 790mm in diameter.
10.5 – This is the tyre's width, also in inches. At 266mm, it is the equivalent of a 265 cross-section.
R15 – This still refers to the diameter of the wheel the tyre can be fitted to (15″). Most tyres available in these imperial sizes are normally in the 15-17″ range, however, there are a select few choices that are available up to a 20″ rim diameter. This is mainly driven by the US 4×4 market.
What all terrain tyres last the longest?
It's hard to go past Cooper's range, with most of the tyres backed by a 50,000km-80,000km warranty, which is a pretty good indication of how strongly the company backs the rubber it sells (and most drivers get within this range, sometimes more).
It isn't a simple warranty replacement, of course; the driver makes a claim and a Cooper dealer determines the mileage shortfall, then you are reimbursed on a pro-rata basis based on how far the tyres have already driven. More information can be found here.
The Toyo Open Country A/T II has had some reviews stating that as much as 120,000km from a set of tyres is possible, which is extraordinary. Of course, this is very much dependent on driving style and conditions, but for most Australians that is up to six years on a single set of tyres if you drive sensibly.
Going back to maximising tyre life, Cooper asks that you have your tyres inspected every 10,000km, but every driver should have a wheel and tyre inspection every 10,000 or once per year, whichever comes first, as a minimum. This will ensure tyre wear is even and consistent, and that any components affecting tyre life can be replaced or repaired.
Correct tyre pressures, wheel balancing, alignments, and rotations (if desired) maximise tyre wear and vehicle safety.
AT Tyre FAQ
How long do Bridgestone Dueler tyres last?
Drivers report anywhere between 30,000 and 80,000km for the D697, though as always this depends on the conditions and the driving style. Most A/T tyres typically get 60,000km or more if driven sensibly.
What is the difference between HT and AT tires?
The biggest difference between a H/T and A/T tyre is the tread design, with a Highway Terrain tyre having a lower void ratio, meaning a greater contact patch on the road surface. The H/T is a much better tyre to drive on sealed roads. However, this makes it less capable off-road as it can not as easily clear mud nor maintain traction on loose surfaces, unlike an All Terrain tyre with wide and deep grooves (the higher void ratio is better for off-road performance).
Along with the above, H/T tyres are of a slightly less-robust construction, with the intention of improving ride comfort and reducing noise. An A/T tyre will have stiffer sidewalls and, if they are of a Light Truck construction, they'll have a thicker internal layering of plies.