Fun as it is, 4WD driving tends to become a bit more difficult once the sun falls behind the horizon – not to mention dangerous. A set of aftermarket driving lights can make a world of difference on bush roads as stock lights are rarely capable of illuminating every nook and cranny.
Choosing the perfect driving lights to meet your requirements can be a daunting task. There is a huge range of brands and products out there, each with their own pros and cons.
To help you in your search to find the right solution for your vehicle, we've listed below our picks for the best 4×4 spotlights currently on the market.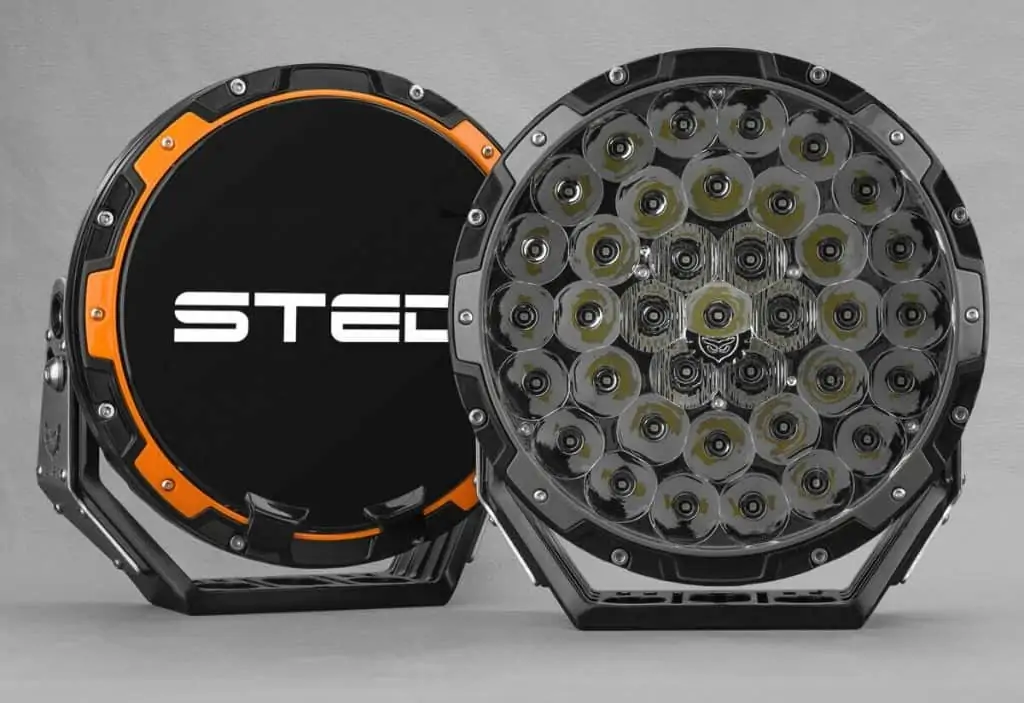 The STEDI Type X PRO LED are some of the most popular driving lights on the market. They are highly capable, well-built, and look great.
Measuring 234mm in height and 215mm in width, the STEDI Type X PRO houses no fewer than 37 Oslon High-Flux diodes providing a combo beam. More specifically, six diodes are spread beam reflectors, and 31 provide the long-range pencil beam.
Their focal point has range of up to 1,155 metres if used in a pair. That's a staggering improvement compared to the previous generation of STEDI Type X's that were only able to reach 838 metres.
Furthermore, thanks to their Oslon LEDs that boast the highest lumen density per mm2 on the market, the Type X PRO offers a higher net light volume than most LED light competitors and a corresponding 13,135 lumens per spotlight.
Aside from impeccable performance, the STEDI Type X PRO driving lights provide a rich package that includes – aside from a pair of spotties themselves – a set of protective covers, a set of grey and orange rings for further customization, and a new die-cast aluminium mounting bracket to replace the outgoing stainless steel one.
Needless to say, all the electrical components are included as well. Actually, STEDI provides everything you need inside a box, which is something you'll be hard-pressed to find anywhere else.
RELATED: Stedi Vs Kings Headlights
Pros:
Superior range
Stylish, customizable, and sturdy
Relatively affordable price
Cons:
Customisation costs extra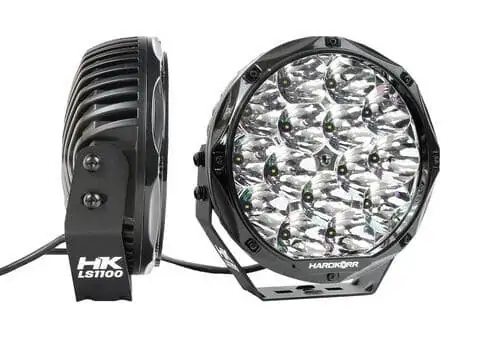 Hard Korr have quickly cemented themselves as manufacturers of some of the best value lights on the market. It comes as no surprise that their goal is to produce products that are equal to or better than the existing market leaders, but without the high price tag.
The Lifestyle 8.5 LED Driving Lights are a great example of the value available in the Hard Korr range.
These spot beam headlights feature an impressive 1100m distance and a brightness rating of 9,900 lumens (each), putting them up there with many of the more expensive lights on this list.
The Lifestyle LED Lights have a IP68 waterproof rating (the same as the Stedi lights above), which means they are completely dustproof and can be fully submerged in water for an extended period. The durable aircraft aluminium housing and powder-coated steel mounting bracket encase the UV-resistant polycarbonate lens that contains 15 x 4W LED bulbs.
These lights also come with a plug-and-play wiring harness so you have everything you need to get them set up and hit the road.
For peace of mind, all Hard Korr products come with a comprehensive 12-month Australian warranty.
Pros:
Affordable
Durable, high-quality construction
IP68 weatherproof rating
Solid beam distance
Low power draw
Cons: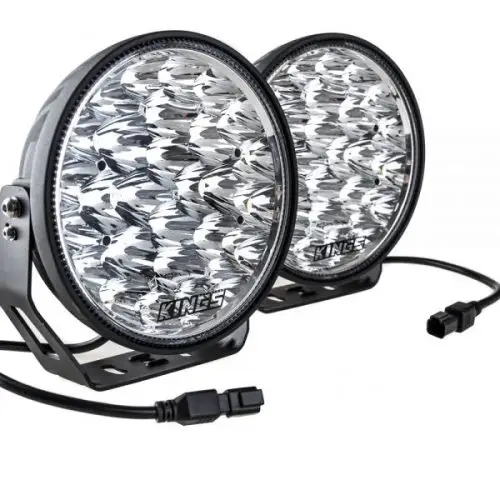 The largest pair of spotties on the list comes from one of the leading providers of 4WD and camping products in Australia, Adventure Kings.
Their Domin8r Xtreme 9″ LED driving lights feature 28 genuine Osram LEDs for ultimate performance, but that's to be expected from a spotlight measuring some 230mm in diameter.
The Adventure Kings Osram Xtreme 9″ spotlights can light the road up to a distance of 1,384 metres (14 per cent longer than their predecessor), making them one of the most potent 4WD driving lights on the market. Their short distance rating of 19,796 lumens per pair is equally impressive.
The Xtreme 9″ boast an IP68 rating, which means that they can be submerged in water at a depth of one metre for about an hour. They can also run on both the 12V and 24V vehicles making them highly versatile as well.
View the full range of Adventure Kings lights
Pros:
Great range
Waterproof and well-built
Can be used in all vehicles
Affordable
Cons:
Warranty only covers 2 years
High current draw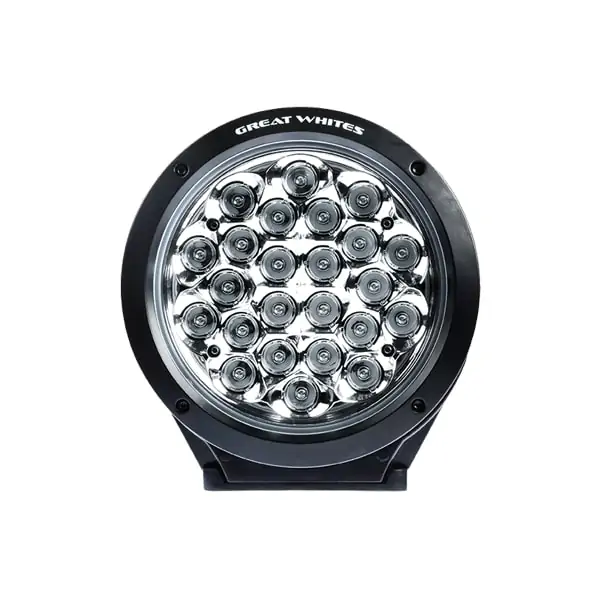 Great Whites is an Australian brand synonymous with off-road driving lights and these LED spotlights don't disappoint.
With their spread beam, the Gen2 Great Whites are capable of illuminating everything around you at up to 430 metres. Their iris-reflector technology makes sure that their short but wide beam represents a perfect combination for those in need of lighting up the entire surroundings.
Dustproof and submersible up to three metres, they're also durable and long-lasting. In fact, the manufacturer offers a warranty of five years or 50,000 hours, whichever comes first.
At 220mm in diameter, they're large enough to house 24 Cree XP-G2 LEDs for a combined power draw of 133W.
Pros:
Great spread beam
Long-lasting
Waterproof
Cons:
Best if paired with a more narrow beam light
Expensive
Very high current draw
Also from Great Whites:
Another excellent option from Great Whites is the 170mm Round Attack Driving Light.
These lights integrate the same iris-reflector technology as the Great Whites 220 above but have a more narrow beam and a distance of 810m, making them more suitable as a pair for general off-road use. They also cost about half the price.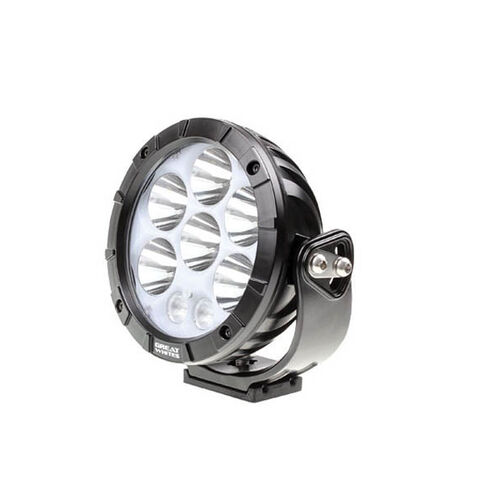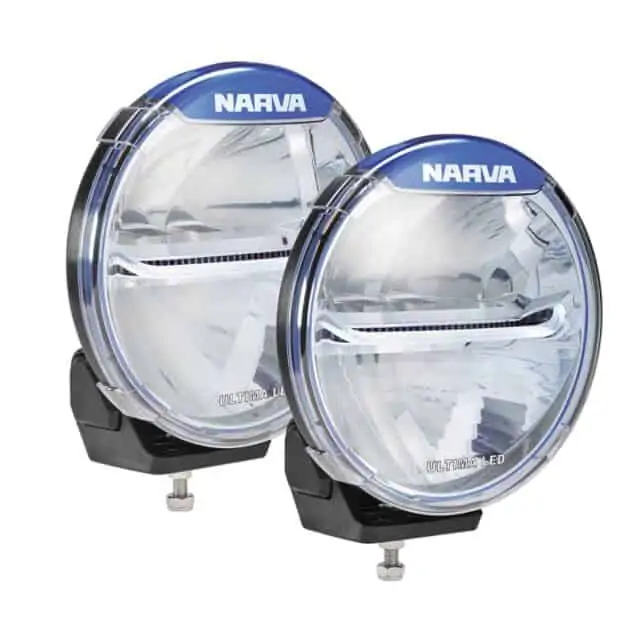 The Narva LED Ultima 225 spotlights represent the pinnacle of 4WD LED driving lights. As their name suggests, they come in a 225mm diameter case featuring three Cree-supplied 15W LEDs.
Due to their size, fitment might be an issue in some vehicles, so check that your 'roo bar is capable of accommodating them before proceeding with a potential purchase.
Depending on how you set up their beam, the Narva 225 LEDs will give you up to 800 metres of visibility (two pencil beams) or some 10 per cent less if you decide to go with one pencil and one spread beam.
The Narva LED Ultima 225 spotlights boast a fully waterproof casing able to withstand water submersion of up to one metre of depth for 30 minutes. They come with a 5-year warranty and are perfect for people with smaller car batteries due to their low current draw.
Pros:
High range
Customizable
Waterproof
Low current draw
Cons:
Too large for some vehicles
Expensive
Unlike the other options on this list, the KC HiLiTES 1150 Apollo Pro 6″ are more affordable yet still highly adequate halogen lights. These smaller 152mm lights feature a single 100W H3 halogen bulb that's easily replaceable.
Despite its smaller frame, the KC HiLiTES 1150 Apollo still manages to throw its spot beam to as far as 886 metres. The same frame is available with spread (1151) and fog (1152) beams as well.
The KC HiLiTES logo itself guarantees quality, and the Apollo Pro 6″ spotlights don't disappoint. With their slim black polymax housing, they're a universal fit for any type of 4WD vehicle, while their lens is protected by an integrated stone guard.
What's more, they weigh only 454 grams per spotlight and are IP67-certified.
Pros:
Affordable
Adequately powerful
Well-built
Cons:
Not as powerful as comparable LED light
The wiring harness, relay, and switch only come if bought in pairs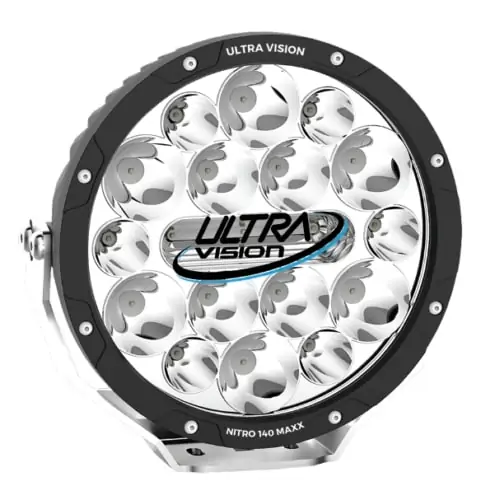 The Ultra Vision Nitro 140 Maxx four-wheel drive spotlight is among the larger and more powerful spotlights on the market.
Measuring 230mm in diameter and drawing as much as 140W, it'll provide the bright light in either 4,000K or 5,700K colour temperature. They feature 19 6W Luxeon LEDs per spotlight.
Being on a larger end of the scale, the Ultra Vision Nitro 140 Maxx's are naturally blessed with an extremely long beam range. Delivering at least 1 lux at up to almost 1,300 metres with the Combo beam or 100 metres less with the Wider beam, the Ultra Visions should provide ample time to react.
At 110mm, they're slimmer than most other options on the market, which should help with achieving a clean fitment on any type of vehicle with regulations in mind.
The Ultra Vision Nitro 140's come with a 5-year warranty and most cables you'd need for a quick installation. They don't come with an H4 adaptor, however.
Pros:
Extremely long range
Slim build
Customizable and well-built
Cons:
The Bushranger Night Hawk VLI Series LEDs boast 19 high output Osram LEDs for 6,450 active lumens in a compact package measuring 178mm (7 inches) in diameter and weighing only 2.4kg per spotlight.
Thanks to their loose octagonal shape, the Night Hawk's can be fitted even to more space-constrained bull bars, which usually isn't the case with their competitors.
They feature a highly customizable beam that can be changed using clip on/clip off protective covers. The max distance spot beam from the pair reaches 1 lux at 967 metres.
One spot and one flood beam shine up to 748 metres, while dual floods max out at 498 metres. Width-wise, the dual-flood setup will provide up to 153 metres of light.
Designed to withstand both water and dust, the Bushranger VLI Series driving lights feature the IP67 and IP69K ratings. They also boast an advanced cooling technology design with an active temperature control system. The manufacturer provides a 5-year warranty.
Pros:
Customizable light beams and range
Sturdy and waterproof
Relatively affordable price
Easily fittable and lightweight
Cons:
Sold individually
VLI Series Wiring System sold separately for $89
High current draw
4×4 Spotlight Comparison Table
| | | | | | | | | | | |
| --- | --- | --- | --- | --- | --- | --- | --- | --- | --- | --- |
| Spotlights | Our Verdict | Check Price | Type | Brightness (Lumens) | Power (Watts) | Current Draw (Amperes) | Beam Length (Metres) | Colour temperature (Kelvins) | Weight (Kg) | IP Rating |
| STEDI Type X Pro | Best Overall | eBay | LED | 13,135 | 137 | 10.4 at 13.2V | 1155 | 5700 | 2.86 | IP68 |
| Hard Korr Lifestyle | Best Value | Outback Equipment | LED | 9,900 | 60 | 10.0A @ 13.5V | 1100 | 6000 | 2.3 | IP68 |
| Great Whites 220 | Best Spread Beam | My Generator | LED | 6,720 | 133 | 22.1 at 13.2V | 430 | 6000 | 6.6 | IP68/69K |
| Narva Ultima 225 | Best Low Power Draw | eBay | LED | 5,700 | 45 | 4.6 at 12V | 800 | 5000 | 2.2 | IP67 |
| KC HiLiTES Apollo Pro | Best Halogen Spotlights | Amazon | Halogen | 2,452 | 100 | 8.3 | 886 | 4000 | 0.454 | IP67 |
| Kings Osram Xtreme 9 | Budget Option | Adventure Kings | LED | 9,898 | 110 | 15.72 at 14.4V | 1384 | 6682 | 4.6 | IP68 |
| Ultra Vision Nitro 140 Maxx | Also Great | eBay | LED | 14,600 | 140 | 9.6 at 13.5V | 1300 | 4000/5700 | 2.95 | IP68 |
| Bushranger Night Hawk VLI | Also Great | Amazon | LED | 6,450 | 85 | 15.9 at 14.4V | 967 | 5700 | 2.4 | IP67/69K |
Spotlight Buying Guide
Spotlights are arguably your best companion once the night falls on the trail. They emit a strong and focused beam that can be pointed in any direction, which makes them one of the most common off-road driving lights.
There are many things to consider when making a decision on spot lights. Read on as we guide you through the process.
Brightness
Brightness is arguably the most important aspect of any 4×4 spotlight. Generally, you want driving lights with as high beam intensity and illumination as possible to fully illuminate the terrain.
In the world of 4×4 spotlights and light bars, brightness is nothing other than luminous flux which, itself represents the total amount of light coming from a source. It's measured in lumens (lm), and the light output you should be looking for is typically north of 5,000 lumens.
Beam Pattern
Beam pattern is another important aspect of off-road driving lights. There are a few different light beam patterns, and the best choice depends on your requirements.
Spot Beam (Pencil)
The long-range, spot beam, or pencil beam, provides the most capable deep-penetration type of beam, but it leaves a lot to be desired when it comes to lighting anything on the side of the road or trail. Its focused circular pattern is typically useful for high-speed off-roading due to its long-distance visibility.
Spread Beam
Spread beam is similar to conventional driving lights, but since it's not constrained by specific road safety standards (due to being off-road-oriented), it also tends to be brighter, wider, and even taller than the regular driving beam.
A spread beam is a well-rounded option suitable for different 4WD scenarios.
Flood Beam
Flood beam emits a wide and high light pattern that illuminates (floods) a large area around and in front of the vehicle. It's often used as stationary light due to its capability to illuminate the surroundings.
Wattage
Much like the case with brightness, every spotlight will display wattage that represents the amount of electrical power used or the rate of energy consumption. The higher the wattage, the brighter the intensity of the light will be, but the power consumption will be higher as well.
HID vs LED vs Halogen
There are three types of technology used in 4×4-specific lights: HID, LED, and Halogen
HID
High-Intensity Discharge lights rely on an inert noble gas inside a bulb to provide the initial spark, which then ignites the metallic mixture that greatly increases the light intensity. They're typically brighter than halogen bulbs and cheaper than LED lights.
LED
A light-emitting diode is a semiconductor light source that emits light when current flows through it. LEDs are extremely long-lasting and require significantly less power than their HID or halogen counterparts, which makes them a perfect choice for all off-road applications and beyond. They're also the most expensive of the three, however.
RELATED: The Best LED Driving Headlights
Halogen
Halogen lights are similar to conventional household incandescent lamps. The main difference is that they use halogen gas to increase light output. They are the least efficient of the three but usually come at a lower price.
Construction
Off-roading requires a certain amount of sturdiness from your equipment, and aftermarket driving lights are no different. They need to be quality and durable enough to withstand a certain amount of vibrations and impact, as well as to be impervious to dirt and the elements.
Depending on your requirements, their housing should also be waterproof.
Mounting brackets are another significant element of 4WD spotlights as they often bear the brunt of the impact due to their mounting position on the front bumper.
RELATED: Safari Snorkel Armax vs V-Spec
Spotlights vs Lightbars
Let's simply start this debate with the conclusion – there's no clear winner here. While there are particular advantages and disadvantages to both options, they mostly converge around the following: spotlights will give you better range, while light bars provide a better spread.
Of course, there are way too many options to generalize as a low-quality spotlight, for instance, might not even be able to beat a quality light bar at its own game. Furthermore, one has to consider the availability of mounting positions that tend to go in favour of light bars.
On the other hand, installing a light bar might get you into some trouble from a regulatory perspective depending on your State. Spotlight installation is regulated too, but it's somewhat less strict than for light bars.
In the end, it all comes down to your requirements and perspective, but why not simply go for the combination of both?! That way, you can reap the benefits of both the great depth and wide field of vision.